In a Nutshell
Aptly named, Trifecta covers all 3 of the areas you need to lose weight, get fit, and live a healthier lifestyle. From the menu planning to the actual meals, fitness blog, and vast community support, Trifecta truly covers all the bases so you can see results. Organic meals come ready to eat and nutritionally-balanced for optimal weight-loss, and Trifecta accommodates a range of dietary preferences including keto, paleo, vegan, and vegetarian.
pros
Prepared organic meals made fresh and delivered weekly
Mobile app with tons of useful information, recipes, workouts
Lots of plans and weekly menu changes
cons
No personal training available
Need to pay extra to access workout videos

Trifecta Visit Site
Best for: Losing weight, getting ripped, eating clean
Weight loss: No weight loss guarantee
Support: Community support, nutrition coaches
Pricing: From $108.34 per week and a la carte
Special offer: N/A
What's Unique About Trifecta?
Trifecta is the diet plan for serious athletes who want to get ripped or maintain their impressive physique. But it's also a great option for people who just want to eat healthier, cleaner diets and don't know how to go about doing that. Because Trifecta's diet consists of ready-made meals, it's literally the easiest way to get healthy food into your body, inside your schedule. Here are a few reasons we love Trifecta:
Trifecta doesn't just deliver fresh meals, it delivers TOP quality fresh meals. And we mean the works. We're talking whole grains, lean proteins, sustainable meats, grass-fed beef and bison, free-range chickens, wild caught seafood, organic fruits and vegetables, non-GMO ingredients, no additives, you name it! What's more, meals are made on the spot, prepared by professional chefs. In fact, Trifecta might have the most premium quality meals on the market.
One of the biggest reasons people fall off the healthy lifestyle wagon is time. Between work, life, and relationships, there just isn't enough time to also prepare healthy meals, and, sadly, that's one of the first things to go when life gets too hectic. Trifecta takes care of this problem by delivering ready-made meals to your door. You can skip the menu planning, shopping, and any prep work, cutting serious hours out of your busy week. Fresh meals delivered weekly ensure that you can stay on target and get the nutrients you need without all the hassle and time it usually takes.
Anyone can starve themselves, but Trifecta has spent a long time figuring out exactly what your body needs to thrive. All meals are perfectly-balanced so you know you are getting precisely the right amount of nutrients and filling your macronutrient goals. Plus, each meal comes with a clear breakdown of its macronutrients, so you really have a clear picture of what's going into your body. And the proof is in the pudding. Just check out Trifecta's results.
Dieters Are Raving
Trifecta is a popular choice for some major athletes like CrossFit champions, UFC champions, and bodybuilding champions, including big names like Brooke Ence, Cody Garbrandt, Mike Rashid, and Taylor Dayne Loyd. Here's a quote from some Trifecta pros who use this diet to fuel their intense lifestyle.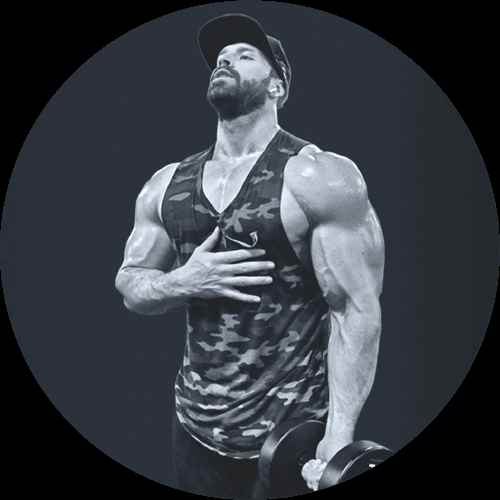 After eating Trifecta meals for months it was clear why they were the largest all-organic meal delivery company in the nation. Their food is the greatest, and I am thrilled to now be an investor and partner in the company. Nutrition is the foundation of fitness, so we are bringing you guys the highest quality food on the planet, directly to your doors, nationwide." - Bradley Martyn
"I really like how tasty it is, how fast and convenient it is. It just makes sense because your time is worth a lot, especially with what we do. I love it." - Rose Namajunas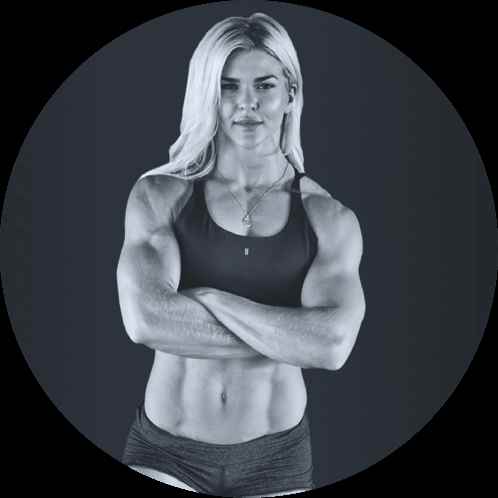 "Trifecta saves you time so you can crush your goals without wasting a single minute." - Brooke Ence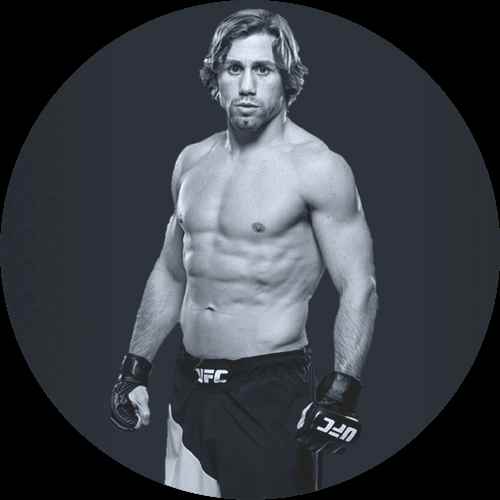 "MMA is a tough and demanding sport and Trifecta has been a massive support to the guys on my team. You are looking for every advantage as an athlete. Trifecta makes things so much easier." - Urijah Faber
While geared to help people bulk up and trim down, Trifecta isn't just for athletes. Here are a few of the many average Joes who've achieved success using Trifecta: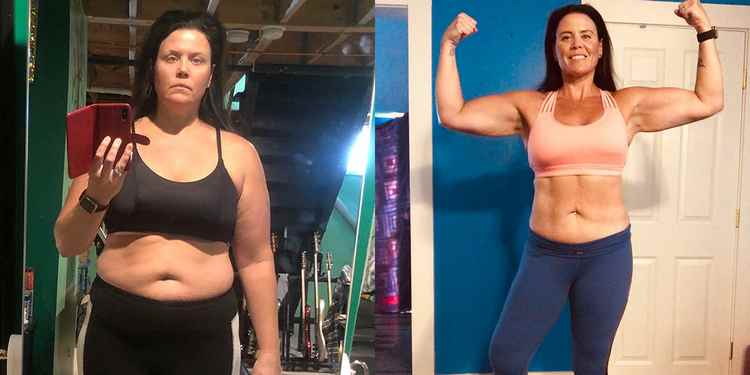 "Following the macros and staying within the amount of protein and fat and carbs I need and to stay in my calorie deficit, it makes it where it's not short-term anymore. I can see myself doing this forever." - Sara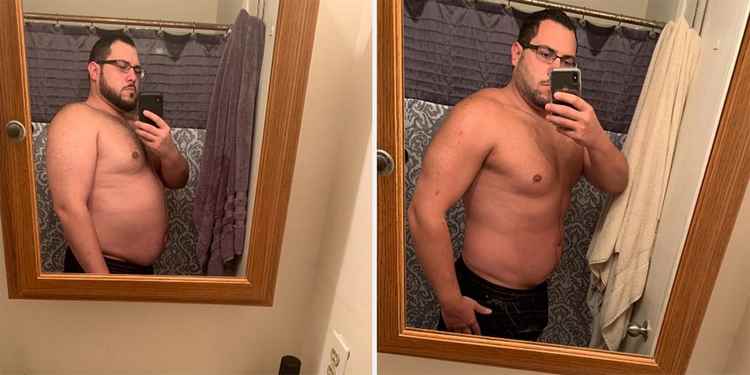 "I don't have time with my career to actually cook. I do have time on the weekends but I never get around to it. I tried Freshly first and didn't really like it too much. Then I found you guys. I saw Trifecta all over Facebook so I switched over and I really liked the food so I continued to order it. Having everything already premade for you, ready to go, everything's measured and weighed out, it's the right macros, I'm good to go with that." - Drew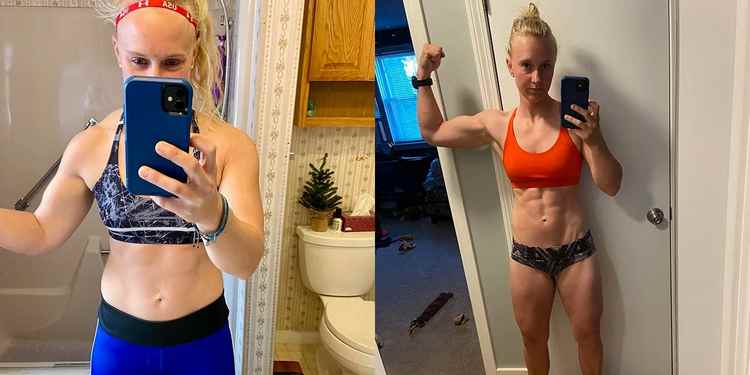 "I got my business partner onto Trifecta as well, and we put a microwave in our rig so that we can heat up Trifecta for lunch. With Trifecta and logging my food I have managed to lose weight, feel better, and sleep better, and be more lean." - Kim
How it Works
Trifecta is an online delivery service. Here's how that works:
Pick the plan you want (more on that below)
Pick the number of meals you want per day. You can order up to 4 per day
Choose if you want meals on 5 or 7 days a week
Choose if you want breakfast included
Add account details (shipping address, email, etc.)
Confirm payment details
Wait for your food to arrive!
Alternatively, you can order meals a la carte.
What You'll Eat
Trifecta has top-quality meals, but we've already discussed that. What we haven't mentioned is the variety Trifecta offers. You can get breakfasts, lunches, and dinners depending on the plan you are on, and with tons of meal options. There are 5 different choices for each of the 3 daily meals, and the menu changes up every week to steer clear of boredom. Meal plan options include:
Paleo
Keto
Clean
Vegan
Classic
Vegetarian
Gluten-free
All plans are dairy and soy-free. It's also great that you can specify allergies or dietary-restrictions such as shellfish, mushrooms, and nuts. Each meal plan comes with a different menu. So what you eat will depend on both your own choices, and the type of meal plan you choose. Again, the focus is on getting a balanced meal regardless of which plan or which menu option you choose. Here's a sample Trifecta menu based on the paleo meal plan:
Breakfast: Zucchini and Bell Pepper Frittata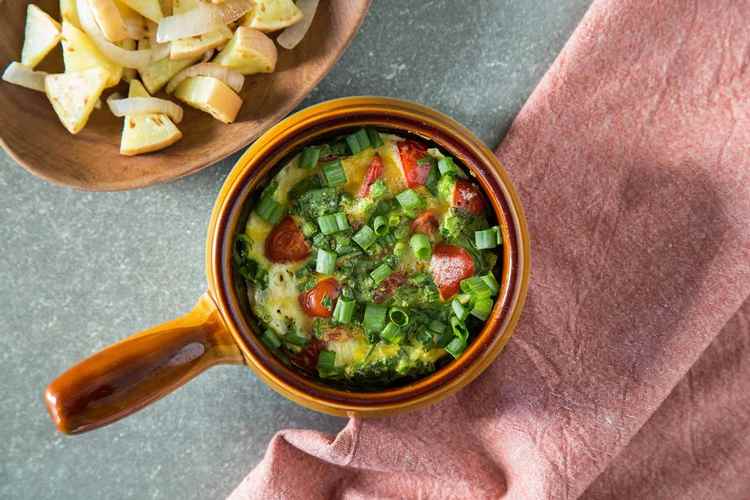 Eggs served with zucchini and bell peppers
Lunch: Sesame Meatballs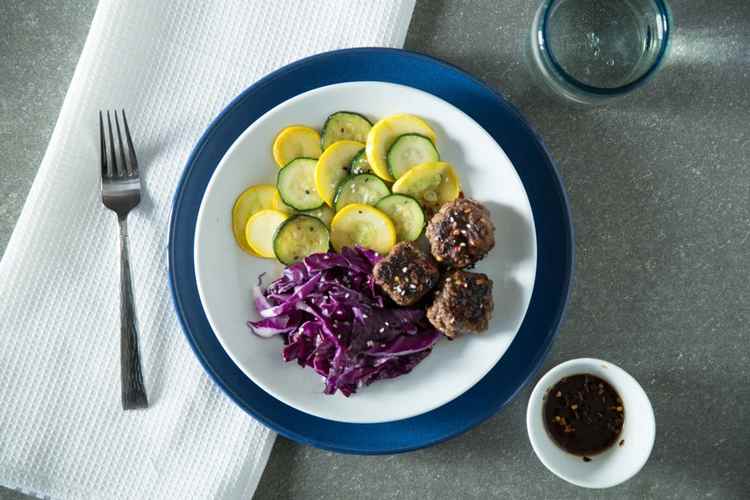 Beef meatballs served with mixed squash and red cabbage
Dinner: Tangerine Chicken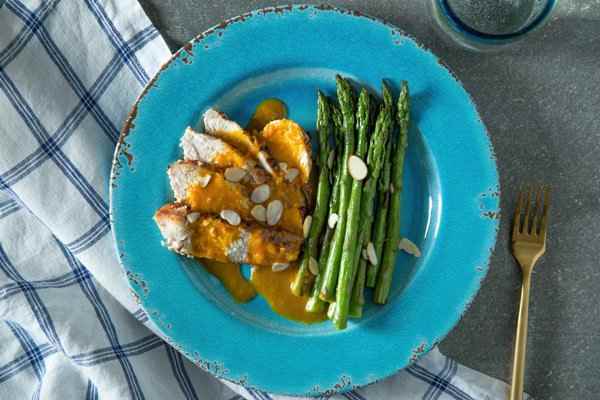 Chicken breast in a citrus glaze served with asparagus and toasted almonds
Mobile App
The Trifecta mobile app is awesome. You can easily adjust your meal plans, add a la carte items, and change delivery preferences. But that's just the tip of the iceberg. The Trifecta app also lets you track calories and macros, track workouts, use workout timers, get recipes, and access both the extensive workout library and the extremely supportive Trifecta community.
That's the free version, but you can upgrade to premium if you want more benefits. For $10 a month or $4.16/month for an annual subscription, you'll get premium features including movement library, macronutrient dashboard, workout logs, HD movement videos, exclusive content, monthly live video chat, members-only Facebook group, workout music player, analytics, and more. If you're serious about your fitness, then the upgrade is a good idea.
Pricing
Pricing will vary depending on which plan you want, which meals you choose, how many meals per day and days per week you choose, and whether or not you include breakfast. The average Trifecta meal can range from $5.50 to $15. Here's a look at some of the prices you could pay for a week's worth of meals from Trifecta:
You can also order meals a la carte if you want to augment your plan or your daily diet. Trifecta has free delivery to the entire continental US.

Trifecta Visit Site
Help & Support
Trifecta has a tremendous support system. There's the customer support that is available via email, phone, and even live chat. And you can also find nearly any answer in the help center. Trifecta also has a blog with tons of useful information. But the best part of all is the Trifecta community. You'll have access to real people who are living the life and really doing it using Trifecta's diet. You can also speak to nutrition coaches for free. It's an excellent resource that helps people stay on target even when things get rough.
Email:
info@trifectanutrition.com
Phone:
(530) 564-8388
Here's the Skinny
Trifecta is a fabulous way to lose weight, get healthy, and eat clean. Using macronutrient-based meal plans, Trifecta delivers fresh and healthy meals that are ready-made and delicious to boot. You can get paleo, keto, vegan, vegetarian, gluten-free, and other meal options delivered to your door. And Trifecta also has a great mobile app with fitness training videos, meal tracking, and lots of other great tools to help you get the results you want.