You'll need to keep a stocked kitchen, but once you're up and running you'll find that a perfect soup can be thrown together in a matter of minutes, and fast winter foods go so far beyond soup. Get yourself a good Thermos, a slow cooker (or even a pressure cooker) and get ready for the heartiest, most delicious, easiest food-prep winter you've ever had.
1. Favorite Fast Soups
There's nothing like soup to warm you up! It's friendly for any diet, from allergy restricted, to vegan, low-carb to meat lover to simply delicious.
Minestrone in minutes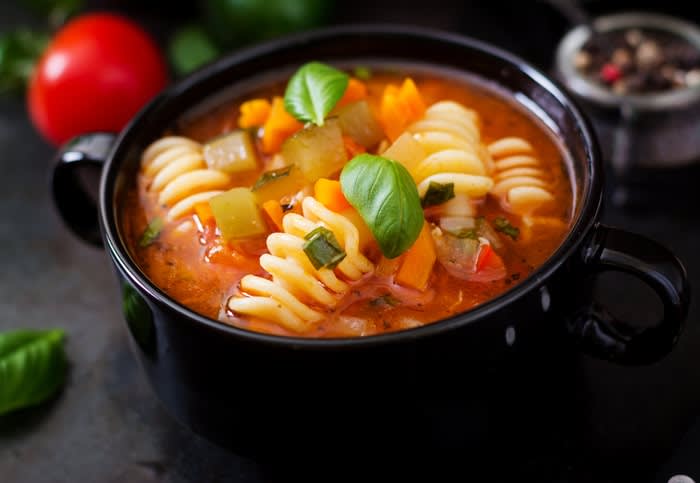 Grab yourself some vegetable stock, tomato paste, a can of cooked beans (like cantolini or kidney), a bag of frozen peas and carrots and a box of pasta. That's it. If you have all day, and a slow cooker, stick it in before work and come home to a super savory steaming meal. If you don't, this soup takes 20 minutes. For richer taste, add some frozen (or fresh) chopped spinach and some freshly ground pepper.
Dress it up: add fresh herbs, such as parsley or basil, and sauteed celery and onion.
Make it for kids: buy alphabet or star shaped noodles.
Top it with: croutons, grated cheese.
Microwave Chili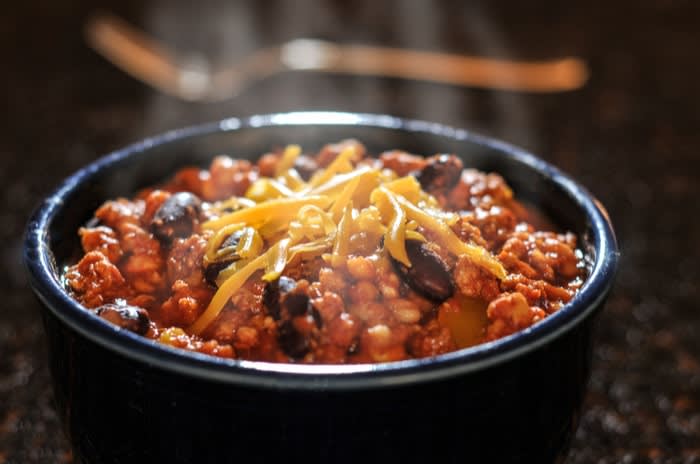 Chili? In the microwave? Yea, this super simple recipe can't be forgotten from any list of filling and hearty foods that cook in minutes. It's not technically a soup, but it's just as yummy and easy to make. Add chopped tomatoes, a can of kidney or black beans, some veggie (or beef) stock, onion, garlic, spices (paprika, cumin, garlic, pepper, salt, coriander), and the ingredient of the day--2 squares of dark chocolate. Put come kitchen paper in the microwave to prevent splashing, and cook for 3 minutes on high. You don't need much liquid--remember the chili won't reduce much if it's not on the stove. Take it out, stir, and let sit for one minute before cooking again for 2 minutes on medium. Thats. It.
Dress it up: add some tofu crumbles or chopped chorizo or salami.
Make it for kids: call it sloppy joes, and put it in a bun.
Top it with: sour cream or cheddar cheese and some sliced jalapeno pepper
Lentil Soup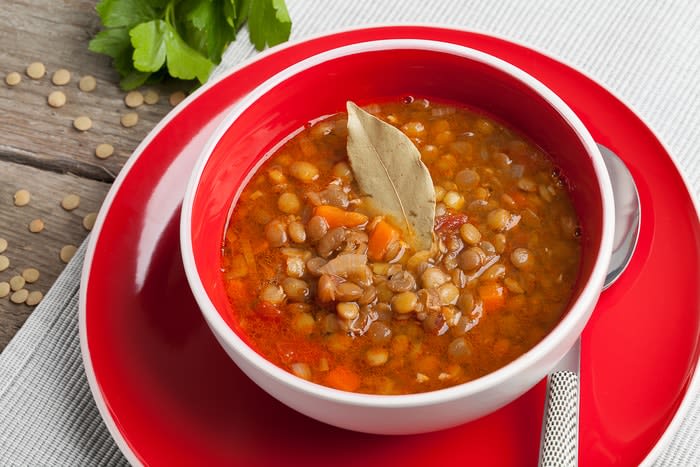 Did you know lentils are as healthy as beans and cook in a fraction of the time? They go great with basically anything, and don't get mushy when you cook them into the soup (like noodles do). You'll need onion, celery, carrot, ground cumin, ground coriander, vegetable or beef stock and of course, lentils. Saute all the veggies together for about 3 minutes, add the spices and then the lentils and the liquid you're using. Bring to a boil and then cook until the lentils are ready--about 20 minutes.
Dress it up: add anything you like, basically. Cubed potatoes make this even heartier, and nothing beats fresh herbs.
Make it for kids: it's hard to doctor soup, but let the kids contribute to making it, or throw in some Israeli couscous or star pasta for good optics.
Top it with: sour cream, once again. This stuff basically makes everything better.
2. One Pan Casseroles
Casseroles are the ultimate easy food, and top notch for comfort. All you need is a mixing bowl, a baking dish an oven, and 20 to 30 minutes.
Homestyle ground beef casserole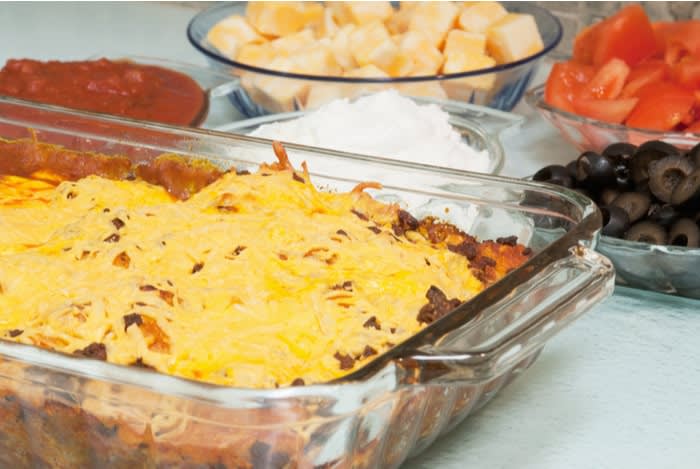 Ground beef? Yes please. This cheaper beef is the way to go if you're looking to stretch the meat a little further, it cooks quickly and is oh-so-tasty. Add a can of diced tomatoes, basil, garlic and oregano, and some green chiles with tomato paste, uncooked medium egg noodles, and some shredded cheese. Add sour cream to mix it all together, and bake, covered, for 35 minutes. Easy-peasy. Don't eat it too hot, give it a few minutes before you dig in.
Dress it up: sprinkle with scallions, italian seasoning, and fresh basil.
Make it for kids: this one's as kid-friendly as it gets. If you need to mix it up, use macaroni.
Top it with: fresh sliced tomatoes, black olives.
French toast for supper casserole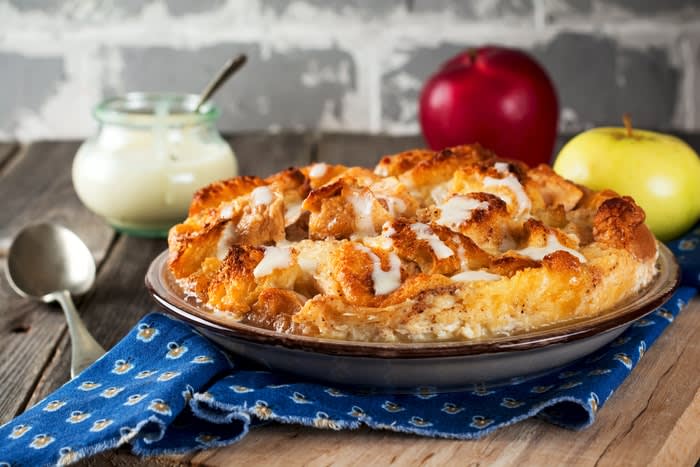 Everyone likes eating breakfast food for supper, right? Sweet, filling, and a nice change to the day-to-day grind. Better than freezer pop-tarts or waffles, making breakfast from scratch has a homey feel that's sure to hit the spot. The biggest plus of this meal is that it tastes and satisfies like French toast, without standing over a frying pan while the kids demand food NOW. You can prep it the night before and just pop it into the oven when you're ready. This is sometimes called bread pudding, and all it requires is cubes from 1 loaf of bread (French bread, cinnamon raisin, or egg challah are all good options), 8 eggs, milk, sugar, and vanilla. Cover the bread with the liquid, sprinkle with butter, sugar and cinnamon, and bake covered for about 45 minutes.
Dress it up: you can make this in muffin tins or cupcake papers for events or portion control.
Make it for kids: add sprinkles, or let the kids rip the bread into cubes, beat the eggs and pour the batter.
Top it with: maple syrup, whipped cream.
Cheesy broccoli casserole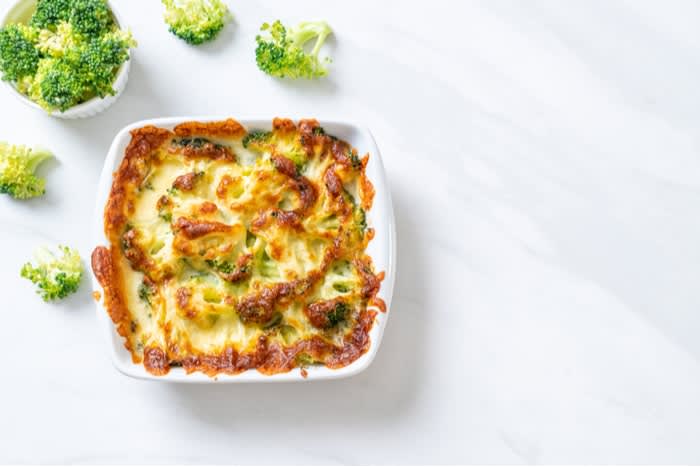 Did you know that adding aged cheddar to any recipe makes the cheese flavor we all know and love even more pronounced? This classic, broccoli and cheese, is made even better when sprinkled with aged cheddar. It's a basic, very similar to your classic green bean casserole: one can of condensed cream of mushroom soup, one cup sour cream, french-fried onions, 2 packages frozen thawed broccoli florets. Mix together, pour in a pan, bake uncovered and sprinkle with cheese.
Dress it up: this also works wonderfully in muffin tins, and looks very pretty with the fried onions sprinkled on top.
Make it for kids: add some bacon, sausage or cubed turkey for a full, wholesome meal for kids.
Top it with: any kind of shredded cheese, such as aged cheddar, monterey-jack, or a mix.
3. Drinks
There are a few kinds of drinks that will warm you up and add a spark to your day, from alcoholic beverages to warm childhood treats. They're not quite meals, but they are great after a long day out in the cold, to share with friends or to make your family's own lasting moments. Best enjoyed with popcorn.
Triple-spiked apple cider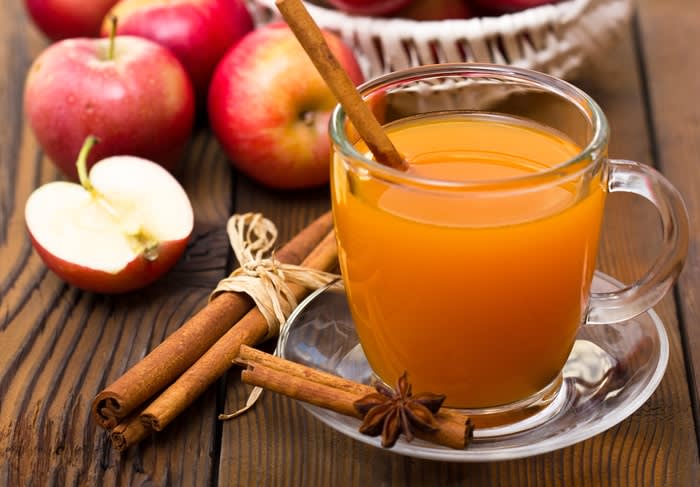 Store bought cider is pretty tasty, and you can DIY it by adding things like cinnamon, allspice, cardamom and ginger. But apple cider really requires some booze, and rum, bourbon and ginger liqueur are just the right touch.
Spiked chocolate espresso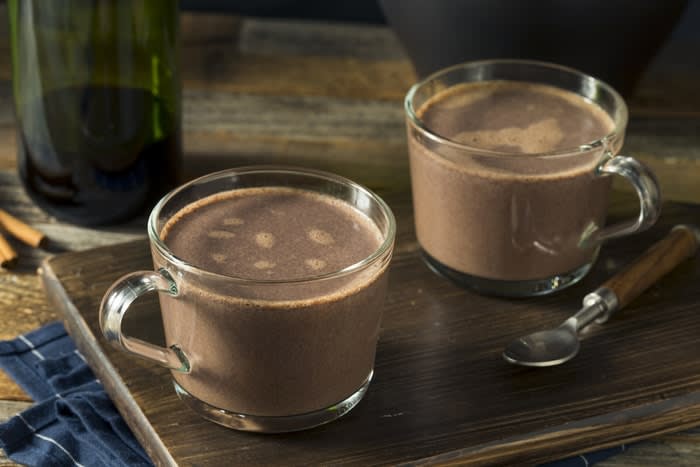 This one's got the best of everything: coffee, chocolate, and vodka. Add water, instant coffee packets, chocolate vodka or chocolate liqueur, whipped cream, whipped cream flavored vodka, and cocoa powder. This is fabulous warm, but if you're in the mood for a faster coffee treat, it's great cold too.
Sachleb (Middle Eastern milk pudding)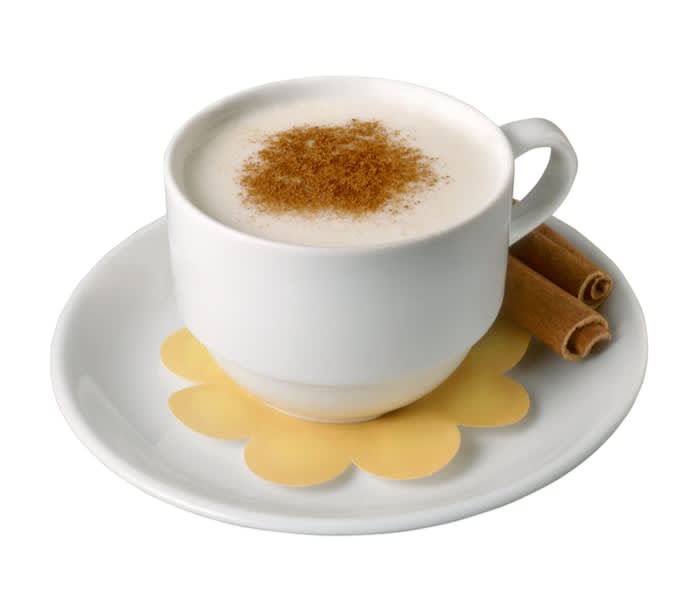 You may be able to find a mix for this one, but if you don't live near a Middle Eastern community it can be hard to find. No worries though, this alcohol-free treat is super simple, even without a mix. It's made with milk, corn or potato starch, and sugar or honey. Typically, you'd want rosewater in there too, but you could leave that out if it's hard to find. It makes a thin-pudding thick-drink mixture that will fill you up and hit the winter sweet spot. You can crush up pistachios, sprinkle cinnamon, raisins, or top with shredded coconut.
Unwrap and Enjoy: Food for the Whole Year
Now that you've got a few good recipes under your belt, you'll be looking forward to those frosty days filled with peppermint sticks and scrumptious simple meals you can make in minutes. If you're not thrilled about all the ice scraping and snow plowing headed your way, a warm drink can set the tone and defrost your fingers. There are millions more ideas out there, so enjoy, take it easy, and stay warm with food you love to eat and can prep in minutes. Don't feel like cooking? Some of the best winter favorites can be delivered to your door with a meal delivery subscription kit that will hit the spot.
You might also like:
Best meal delivery service for weight loss / Best paleo food delivery