Meal delivery kits may be the answer to healthy, easy, and budget conscious on-campus eating.
With college planning experts suggesting that parents and high school seniors carefully consider the campus meal plan costs while budgeting for college, and meals going as high as $10 to $15 a plate, earning universities commissions from food vendors generating a profit, you've got to wonder what you're paying for. Overall, the average dining hall costs have increased by 47% from 2007 to 2017, according to Business Insider, in part because of the cost of labor (the serving and cleaning staff), the facilities, and the increasingly specialized food selections themselves. Meanwhile, overall food costs across the country have increased only 26% over the same timeframe, meaning that your food money might be best spent on off-campus options.
The Bureau of Labor Statistics reports that the average single American spends about $4 per meal, while university campuses typically charge an average of $7.50. Undergrads, that means you're spending 84% more on food because you're buying it from school.
Start Buying Elsewhere
Check your room and board buying options to see if you're able to opt out of overpriced cafeteria food. Though school food may seem like the easiest plan, the best prepared meal delivery services offer students, especially those living off campus in apartments with kitchens, a budget-friendly choice delivered straight to your living accommodations with equal convenience. Unlike campus food, you can order when you want to, and skip or pause (and not pay for what you don't order) when you're hitting Chipotle or KFC for lunch with friends. Pick from 30-minute recipes with pre-measured ingredients, or chef prepared food, ready to heat and eat.
Here are our top campus meal delivery picks:
1. Home Chef
As low as $7.99 per serving
Vegetarian, gluten-free, low-calorie and low-carb meals
50% off your first meal kit order for students only
Meals in 30 minutes or less
Home Chef is committed to delivering easy to follow recipes and fresh pre-portioned ingredients to your door, but if you don't have a kitchen, that's fine too. Some of their meal options come pre-prepared and oven-ready for you. Even better? There's a student discount, with a value up to $40 once you've verified your student status. Meals are healthy and lunch or dinner worthy, with some weeks even having breakfastable choices too, like smoothies.
Home chef is dedicated to safe and eco-friendly disposal of it's packages, so you won't have to worry about generating more garbage than your campus cafeteria. Choose from 18 fresh recipes with chicken, pork, fish, steak or vegetarian options every week. Most meals need cutlery, so don't plan to munch over your laptop. They're saucy too, so once you cook it, it's probably best eaten fresh. That said, they last well up to 3 days before preparation, so you can order and save it until you're ready.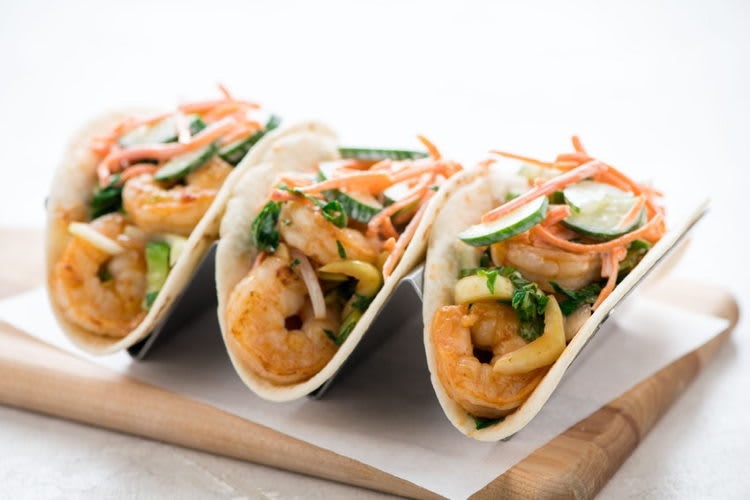 Favorite meal: Kung Pao Shrimp tacos.
What's in the box: Flour tortillas, mayo, lime, shrimp, kung pao sauce, shallot, cucumber, bok choy.
Prep time: 20-30 minutes.
Read the full Home Chef review

Home Chef View Plan
2. Freshly
As low as $8.99 per serving
Low calorie, low carb, dairy-free, Paleo-friendly, vegetarian options
No oven needed
$60 off your first order with promo code
With Freshly, you can choose 4, 6, 9 or 12 single serving meals per week, each with free shipping and fully prepared fresh food with no artificial or chemical preservatives. Just stick 'em in the microwave, keep them in the fridge for 4-5 days from receiving them, or freeze them to eat another time. Shipping is free, and you'll pick from a weekly selection of meal options, choosing which day you want your chef-cooked food delivered. Need to skip or cancel a week for winter break? No problem, just let them know before it ships.
Meals are crafted by a team of chefs, culinary scientists and nutritionists based on a variety of diets and customer feedback. These too are best eaten hot and over a table, so they mostly won't be great for midnight study munchies. The meals are single serving, but you can always order more than one plan at a time if you're having friends over for dinner.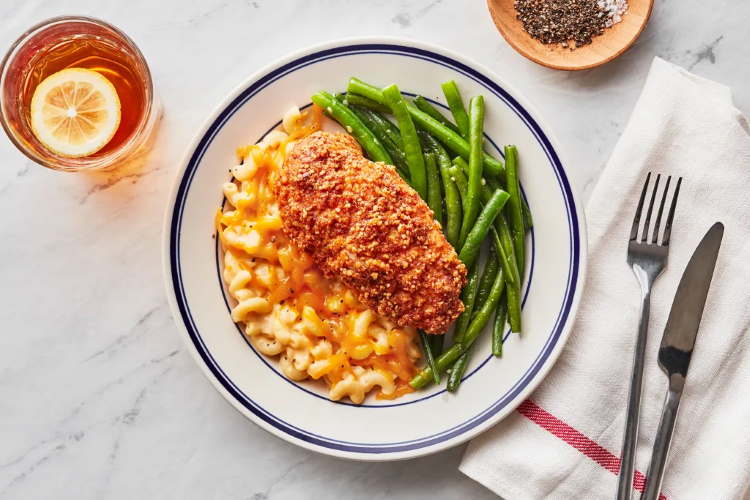 Favorite meal: Homestyle chicken with butternut mac and cheese.
What's in the box: Chicken breast, green beans, macaroni, cheddar cheese, half and half, cauliflower, almonds, pepper jack cheese, butternut squash, garlic, sea salt.
Prep time: How fast can you get it into the microwave?

Freshly View Plan
3. SunBasket
As low as $10.99
Vegan, paleo, gluten-free, and organic meal options
$35 off your first order
Prepared meat, seafood, and fish available
SunBasket ups the ante with meal options for 3 meals a day. Get organic salads, teas, nut-butters and fresh bread for your pantry, and more than 14 delicious dinner options every week. Away for a long weekend? Skip a delivery or buy one less meal that week, no problem. Looking for restaurant style food, or something that can grab and go with you to class or the lawn for a study date? SunBasket has it all.
You will need a fork for most dinners, though there are some finger-food options. You get more than one serving per meal too, so you have the option of saving some for another day or planning to eat with a friend. Only a few dinner options come pre-prepared (so you'll need a kitchen), but there's a lot of easy lunch food available, like pita bread and hummus, granola and yogurt, packaged no-crap ramen bowls, or fresh cut-up salad options.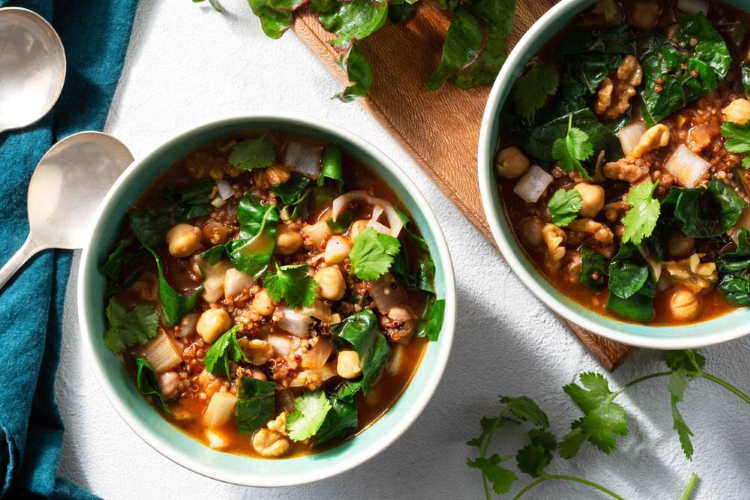 Favorite meal: Ginger-chickpea soup with quinoa, chard and walnuts.
What's in the box: Onion, rainbow quinoa, tomato paste, ground ginger, walnuts, cooked chickpeas, organic chard, organic fresh cilantro.
Prep time: 20 minutes.
Read the full SunBasket review

Sun Basket View Plan
5. Fresh and Easy
As low as $9.95 per serving
Pre-cooked and pre-portioned
Save $80 for signing up
Free shipping on over $49 orders
Fresh and Easy is a new brand created by Home Chef, of entirely prepared food, making it a great option if all you've got available is a microwave or electric toaster oven. Build a box of 2, 4, or 6 servings, so you'll have leftovers for tomorrow or can eat with friends, and get 2, 3, 4, 5, or 6 meals per week. You can select foods you'd like to avoid, such as pork, soy, red meat, milk, mushrooms, shellfish, or nuts, and choose if you want low carb or low-cal options.
There's always the option to change your meal delivery day at any time, and skip any future delivery as long as you change the date before Friday of the week before. Pre-portioned meals come fresh inside an oven-safe tray, so there's no clean up. Got a grill around? Barbecue worthy meals come in a grill-safe bag that you can just throw on the coals. Cardboard boxes, bottles and jars are fully recyclable.
Favorite meal: Sign up to find out what's on offer.
Prep time: As long as it takes to heat up, which means pretty fast!
Read the full Fresh and Easy review

Fresh and Easy View Plan
Top Meal Delivery Tips for College Students
New to ordering from a service? Here's some basic information so you can enjoy your food.
Order together. Friends can chip in for a meal kit that offers multi-serving plans, saving money and enjoying each other's company as you would in the cafeteria. No need to eat alone.
Fridge and freeze leftovers. Often meal kit services offer discounts on larger orders, so if you can always order in advance and save some for next week.
Find the recycling bin. In the dining hall, it's probably prominent, but if you're eating on the grass or in your room, find out where to stash your meal kit's plastics and cardboard boxes. Many of them are biodegradable.
Bring napkins! Not every meal kit is designed for eating on your lap. Some are more "kid friendly" but most require cutlery and a comfortable table. If not, your jeans may be eating your lunch too.
Price compare in advance. Your campus meal plan may have several options, some more cost effective than others. Meal kits are the same, and if you compare the meal kit prices to the campus food, you may find you'll come out ahead with a blended plan of both. Feel like it's too expensive? You can either find another one of the cheapest meal delivery services, or just cancel / skip a box anytime.
Don't Get Ripped Off By Paying Interest on Campus Food
New Jersey passed a bill this year requiring colleges to refund student's unused meal plan money, and more colleges are starting to do the same. Requiring you to pay thousands of dollars for food you can prep or heat yourself for less money while you're living on student loans can feel like a scam--after all, 7% student loan interest on that $8 burger can really add up. If you have an apartment or a dorm with adequate cooking facilities, ordering meal kits can be a great balance: your food on your schedule and convenience without breaking the bank. No need to order food for every day either, like in the campus dining hall; you can just buy (and pay for) what you'll eat. No kitchen? No problem. Many meal delivery services offer free shipping on pre-prepared foods of all stripes, so if you're looking for organic vegan food you can heat in the microwave, you can find that too without the mysterious "room and board fees." Know exactly what you're eating and where your hard earned college money is headed.
You might also want to read more about the best mail order food companies if you decide you want to order via email.