Home security has advanced rapidly over the last few years. Today, it's common to see regular homes equipped with security systems that include state-of-the-art surveillance equipment. Along with an assortment of monitors, sensors, alarms, and control panels, modern home security systems also come equipped with high-quality cameras for full range surveillance and protection.
Both indoor and outdoor home security cameras are important components of any home security system, and each serves a unique and vital purpose.
If you're in the market for a way to keep your home safer, check out our picks for the top 10 security cameras for indoor and outdoor use in 2023:
1. ADT - Authorized Premier Provider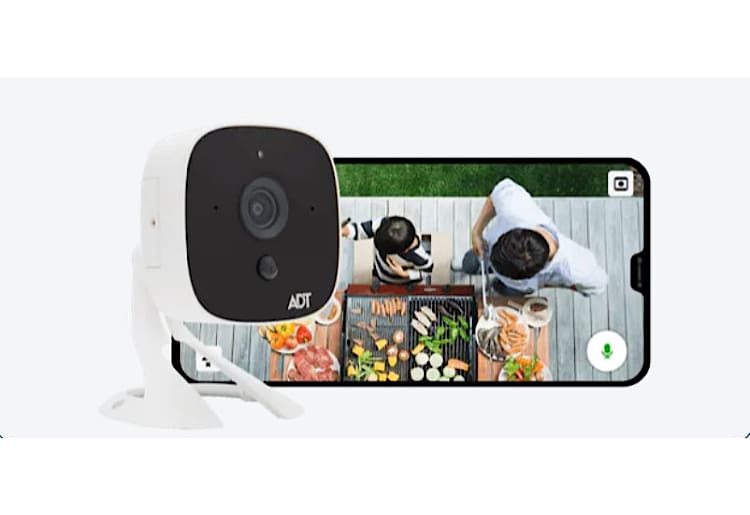 Best for: Reliable security
Pricing: From $36.99/month
Pros
720-pixel HD video quality
Auto video feed upon motion activation
Switch between live feed from indoor and outdoor cameras
Cons
Minimum three-year contract
Professional installation required
You can stay fully aware of what's going on inside your home 24/7 no matter where you go with a state-of-the-art indoor security camera from ADT. ADT indoor cameras also allow you to record, watch, and save video clips of your home remotely in 720-pixel HD.
ADT's outdoor camera is totally weather-proof for all-terrain functionality, and these cameras even have a built-in heater so the hardware doesn't stop working in cold temperatures. ADT cameras are built with some impressive specs, including infrared night vision, WiFi protected access, and a sleek, easy-to install, wireless design.
Another neat feature built into the ADT system is the ability to switch between indoor and outdoor cameras instantly. So, you can watch activity moving on every corner of your property.

ADT Visit Site
2. Brinks Home Security (Formerly ProtectAmerica)
Best for: Fully-monitored home security systems
Pricing: From $15-$65/month(or $300 to $1500 up-front)
Pros:
Infrared LED lighting for long-distance vision
2-way audio
Live event notifications
Heat and motion activated sensors
Cons:
No medical alert devices available
Warranty add-on costs extra
ProtectAmerica wasn't as well-known as some of the other brands on this list until it was acquired by Brinks, but it didn't make this company any less competent. For one thing, they provided you with a crystal-clear live feed and a 60-degree field of vision with their indoor cameras. Brinks Home Security cameras came with 4 infrared LED lights that illuminated up to 16 feet away.
The outdoor cameras were even more decked out with 24 LED lights that projected up to 65 feet away, 720p HD video at 30 frames per second, and 128-bit AES encryption to protect your stored files.
What's more, Brinks security cameras could be unboxed and set up in a matter of minutes. No complex setup or installation required.

Brinks Home Security Visit Site
3. SimpliSafe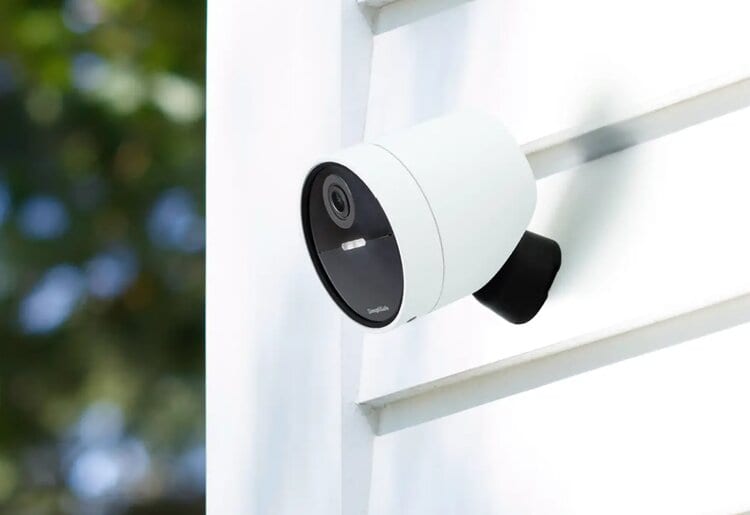 Best for: Customizable security packages
Pricing: $27.90/month
Pros:
Watch live 24/7 HD video from anywhere
120-degree field of vision
Night vision
Cons:
All devices require base station
Limited smart home integrations
SimpliSafe was voted the best home security system by CNET, PCMag, and Wirecutter. SimpliSafe's dual indoor-outdoor cameras will even surpass, with 24/7 HD video and audio streaming directly to your smartphone, tablet, or computer.
SimpliSafe's SimpliCam sends out automatic alerts whenever the motion detector is set off, so you can act quickly in an emergency situation. Have pets? No problem. SimpliSafe's motion detection cameras are uniquely-designed to sense human heat patterns and not animals, so you won't get false alarms constantly because of a stray raccoon or when your dog goes out for a midnight run.
SimpliSafe allows you to take snapshots even when you're not home, record footage, and store it for 30 days. SimpliCam comes with end-to-end encryption and 30 Frames/sec, H.264 encoding. What's more, SimpliSafe offers a 60-day money-back guarantee.

SimpliSafe Visit Site
4. Vivint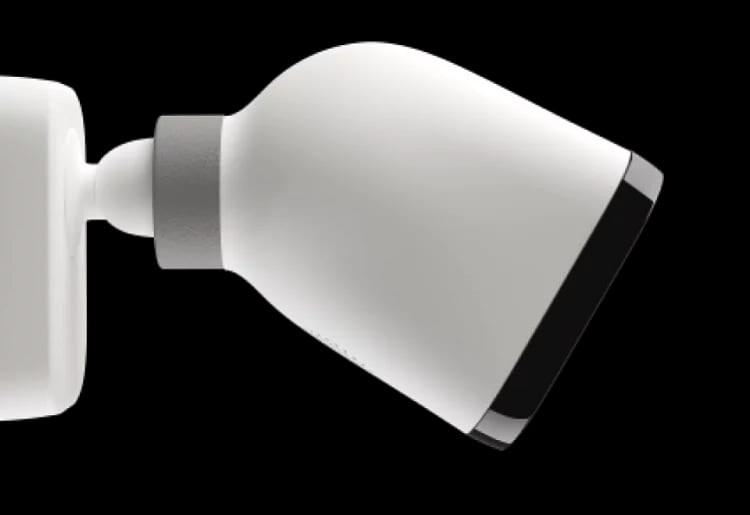 Best for: Integrated smart home devices
Pricing: $3.34/month (Or $200 up-front)
Pros:
Two-way audio
One-touch callout
Pan and zoom functionality
24/7 continuous playback up to 30 days
Cons:
3-day money-back guarantee
No DIY installation options
Vivint is a serious home security store with some seriously high-tech solutions on offer. All indoor security cameras provide wireless, high-definition imaging with infrared night vision for round the clock surveillance capabilities.
You'll get a live feed streamed to any device you want, so you can check up on your home whether you've gone out for the night and want to see that the kids are in bed or you're halfway across the world and need to know that your home is secure.
With outdoor cameras, Vivint pulls out the really big guns. Security surveillance camera features include Smart Sentry, Vivint's way of detecting and deterring real threats, 1080-pixel video with HD zoom, and a 140-degree view, so you can see everything.
These cameras let you set specific surveillance areas for customizable security, and they all run on hybrid wired/WiFi connection tech. Plus, a Vivint professional technician will come and install your security cameras for you, so you don't have to worry about any of the technical details. And both activation and installation are free.

Vivint Visit Site
5. Frontpoint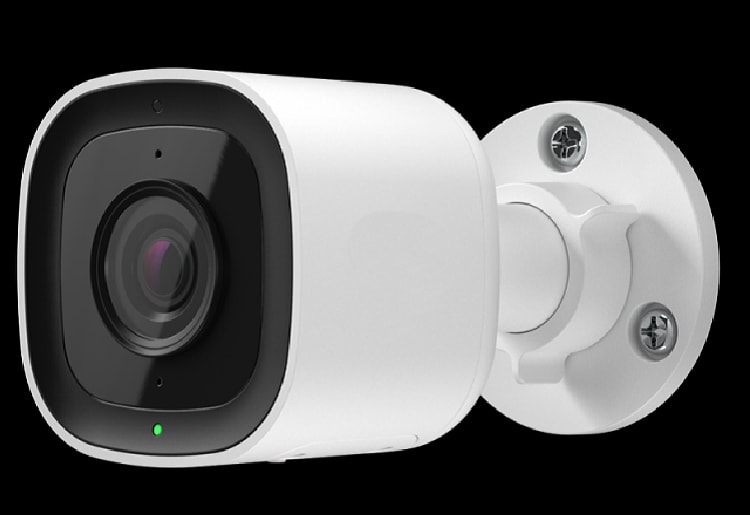 Best for: Custom home security
Pricing: $49/month
Pros:
Pre-configured WiFi enabled
Adjustable sensitivity and threshold settings
One-tap activation
Cons:
Equipment can be expensive
Three-year lock-in contract
Frontpoint has a selection of indoor security cameras you can choose from. The indoor camera offers high res video in flexible hardware and 2-way communication. Loaded up with adjustable settings and motion detection sensors, these indoor cameras also easily integrate with your smart home security systems.
If you want something even more advanced, Frontpoint offers a premium indoor camera which is equipped with Bluetooth speakers, an echo-canceling microphone, and the convenient pan and tilt feature.
Frontpoint has a resilient wireless outdoor home security camera that provides infrared vision, personalized recording settings, and high-level encryption to keep your footage secure. The doorbell cam is another marvelous security device that delivers a live feed, 2-way audio, and sensitive motion sensors with auto alerts sent straight to your device. Bottom line, Frontpoint has all your bases covered.

Frontpoint Security Visit Site
6. Cove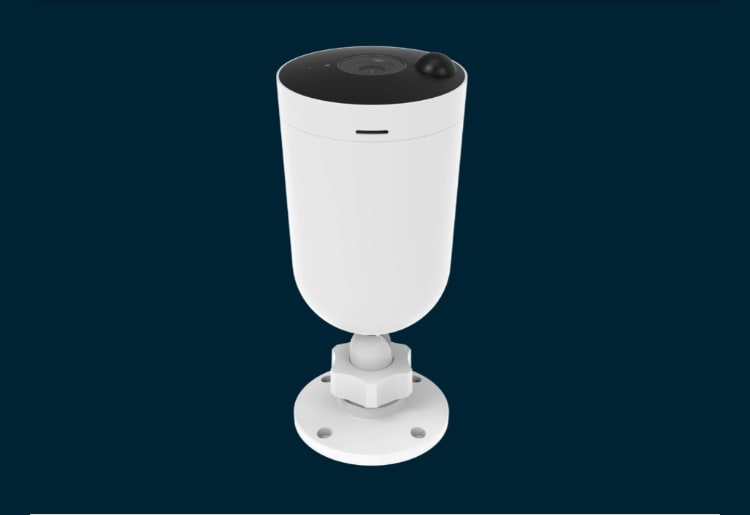 Best for: Easy to use security
Pricing: From $100 to $200
Pros:
First purchase comes with free camera
No locked-in contracts
Extended battery life on outdoor cams
Cons:
Devices do not work without subscription
Users report a buggy mobile app
Cove offers four security cameras: the Indoor Camera, Outdoor Camera, Kami Doorbell Camera, and Skybell Doorbell Camera. The indoor camera models come in at about $100, while the weatherproof cameras cost $200. All cameras come with advanced AI detection that distinguishes between animals and humans, enhanced night vision, and two-way communication capabilities.

Cove Visit Site
7. Scout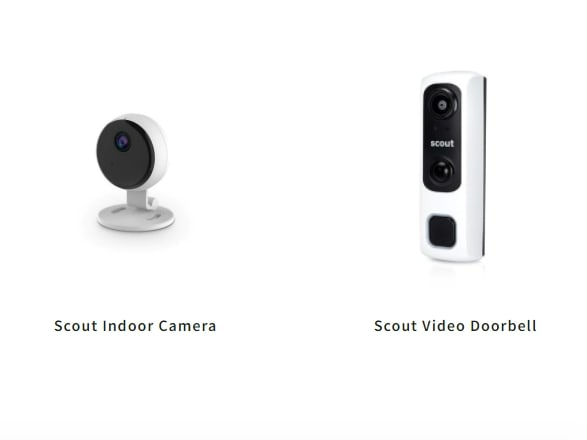 Best for: DIY security and smart-home app integration
Pricing: $99
Pros:
DIY installation
24/7 professional monitoring on advanced plan
1080p HD quality
Cons:
Not yet upgraded to using 5G technology
Basic plan lacks police or fire dispatch
The Scout indoor camera comes in at a low cost and shows your home's live stream (day and night). Its motion and sound alert features are top-notch, and the camera starts recording clips once it detects movement or sounds. The video doorbell's people-detection feature notifies you when someone approaches your front door.

Scout Alarm Visit Site
8. Deep Sentinel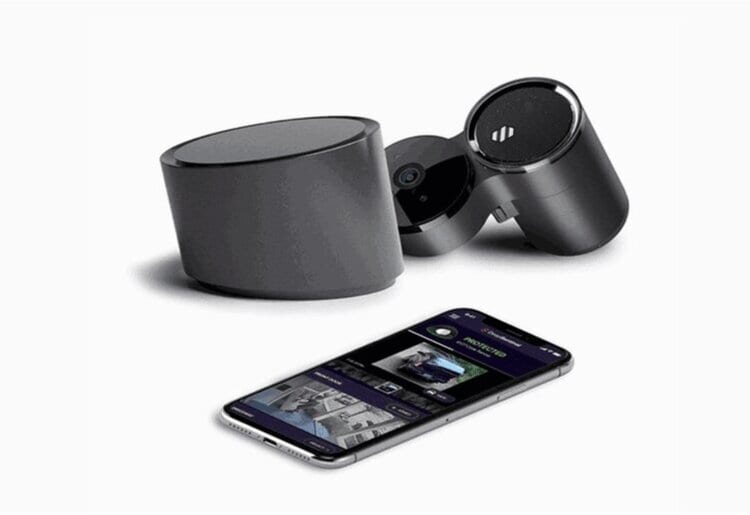 Best for: Professional monitoring
Pricing: Starts at $150
Pros:
AI-based threat-detection system
1080p wireless cam video quality
Up to 360-degree field of view
Cons:
Expensive camera systems
No security devices besides cameras
Deep Sentinel offers wireless and wired security cameras. The wireless camera costs $150, and the battery lasts up to three months.
Power-over-Ethernet (PoE) security cameras are hard-wired and, because of this, offer higher resolutions up to 4K. Deep Sentinel's fixed-position camera provides a 114-degree viewing angle, and its two dome cameras can rotate 360 degrees. These cameras offer a viewing range up to 160 feet at night, too.

Deep Sentinel Visit Site
9. ADT Self Setup
Best for: DIY customization
Pricing: $199.99
Pros:
DIY wireless cams
Rechargeable battery packs
Free month of 24/7 monitoring
Cons:
Fee for not returning faulty items
No long-term contracts
To protect the outside of your house and interior, Blue by ADT provides outdoor and indoor cameras, which record audio and video, take snapshots when motion is detected, and stream live video in 1080p HD.
The Blue by ADT doorbell camera enables you to know when someone is at your front door, and you can talk to them in real-time using the two-way audio feature. It also works as a doorbell and sends you notifications.
Read our ADT Self Setup review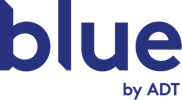 ADT Self Setup Visit Site
10. Link Interactive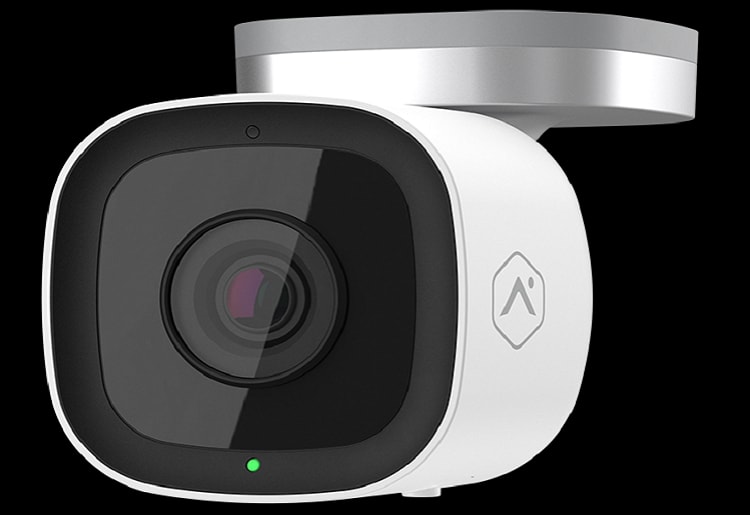 Best for: Professionally monitored DIY systems
Pricing: From $30.99/month
Pros:
Simple DIY installation
24/7 monitoring services
Three-year manufacturers warranty
Cons:
Poor-quality self-help resources
36-month minimum contract term in most cases
There's a number of different outdoor, indoor, and doorbell cameras that you can integrate with your Link Interactive home security system. For example, the doorbell camera enables you to see exactly who's at your door, and it even comes with a 2-way voice feature to speak with visitors.
Past recordings can be viewed as required, and you can also keep tabs on what's going on by viewing your live camera streams via the mobile app.
Read our Link Interactive review

Link Home Security Visit Site
Indoor Vs. Outdoor Security Cameras
Before you dive into the nitty-gritty details of security, it's a good idea to get to know the products themselves a little better. Both indoor and outdoor cameras play an important role in keeping your home safe, each one functions slightly differently, and the features you want to be on the lookout for vary as well. So, take a quick look at indoor and outdoor security cameras and what they're all about.
Indoor Cameras
Indoor cameras secure the inside of your home and let you see what's going on even when you're not home.
Benefits:
Remote surveillance of all the rooms in your home
Can show you what's going on in your home when an alarm goes off
Can be connected to emergency services for faster response time
Important features:
HD quality picture
Remote access
Connection to emergency services or monitoring service
Outdoor Camera
Outdoor cameras protect the outside of your home and often act as a deterrent. Statistics have shown that criminals will frequently avoid houses with security systems, opting for an easier target.
Benefits:
Check on the kids while they're playing in the yard
See who and when someone is coming onto your property
Generate important evidence against criminals in a court case
Deters criminals
Important features:
Waterproof
Recording capabilities
Cloud storage
How Do I See What My Camera Records?
There are different ways to connect to your camera, but the most common options are WiFi, Bluetooth, home network, and wired. If you have a smart home system, it's simple to connect your streaming to the system to get automatic access to your video feed. You'll just use the app to connect to the camera and view the live or recorded streaming directly on the device of your choice. WiFi and Bluetooth cameras are easy and convenient, letting you connect and view your stream instantly with any smart device.
While a bit more work is required for wired cameras, this option delivers a wonderful service on all levels. These cameras are wired into your home's electricity (either through direct wiring or a plug). The benefit of wiring is that the resolution is generally the best.
What To Look for in a Home Security Camera System
Showing you a fuzzy video of a vague person won't help you much when trying to ID someone. Make sure the home security cameras you look at have high definition videos.
Recording your streaming is an invaluable tool in the event that your home is broken into. Good video cameras have helped the police identify the culprits in many home intrusion cases. It's also convenient if you want to know what's been happening around your home but don't have time to view it on the spot. Only look at cameras that record the footage being streamed.
How the camera is triggered is also important. Good quality motion detection cameras will start streaming and send you a message when any movement is noted. This is crucial if you want to capture the important movements of an intruder, a stranger, or a visitor. You don't want to be notified of every leaf that falls by your door, though. That's why the best brands have some form of smart motion detection via spotlight camera or AI, enabling the camera to differentiate between human movement and things like cars and branches in the wind.
This actually covers two important features: field of view and night vision. Along with HD resolution, it's really important to have a wide field of view; otherwise, you can miss out on the most important activity going on just outside your camera's lens. Night vision also improves your visibility, enabling you to see images as clearly at night as you would during the day.
While it's not essential, WiFi connectivity ensures that your camera will be online and available at all times, regardless of the weather. It's also more secure, since there aren't any wires to cut.
Bottom Line
They say seeing is believing, and in security, nothing could be truer. There is a wonderful comfort that comes with being able to see your home from wherever you are, knowing you are in control and on top of things 24/7.
A quality home security camera with an abundance of features like doorbell cameras, floodlights, cloud storage and more, will give you peace of mind when it comes to your humble abode.
You may also like:
10 Weird Things People Caught on Their Home Security Cameras
The 10 Highest Burglary Rates By State in the US