The lack of upfront pricing information and the vast range of security system features can make budgeting feel overwhelming. It doesn't help that the prices most companies advertise upfront are for their most basic home security package, which may not be adequate to protect your home.
This guide offers all the steps to take so you can accurately budget and get the best home security system for your specific needs —plus realistic price ranges for basic, advanced, and optional home security equipment.
1. Home Security: Getting Started
A modern home security system consists of several devices controlled from a central app, usually on your desktop or smartphone, or from a console located in your house. Before you can figure out the cost of home security systems for you, you'll need to assess your home to understand what risks are worth addressing.
The risk that probably comes to mind first when considering a home security system is burglary, but not every threat involves a hostile assailant. Your likelihood of experiencing a home burglary is relatively low. According to recent data from Statista, the rate of home burglaries in the United States has been declining since 1991. The rate in 2020 sits at 314 burglaries per 100,000 people.
However, home security systems protect against more than just burglaries. They also protect against environmental risks, such as fire or carbon monoxide poisoning, and medical risks, like a person with limited mobility falling and being unable to contact emergency services.
Additionally, whether you rent or own your home plays a more significant role in home security than you might think. To learn more, read our articles on the top home security systems for homeowners or for renters.
As you move through this guide, consider the risks above and how they apply to your home, and only budget for the equipment you need.
2. Budget for Cameras
Cameras are a common type of home security equipment. While they range tremendously in terms of features and capabilities, cameras all fall into 3 categories: indoor cameras, outdoor cameras, and doorbell cameras. Pricing for an indoor security camera starts at around $100. Cove, for example, offers an indoor camera with baby crying and human motion detection for $99. Plus, it does not trigger for pets, has an ultrawide lens, and offers HD video resolution.
Outdoor cameras start at around $200 for a similar set of features to an indoor camera. This is because outdoor devices need to be completely weatherproof, making them notably more expensive. Doorbell cameras will range between $100 and $200 depending on whether or not you need a weatherproof one.
To tally your total camera budget, add up the number of outdoor cameras and indoor cameras you will need to secure your home, and budget between $100 and $200 for each one.
3. Budget for Sensors
Sensors are a cheap way to detect a single event. For example, a door sensor triggers each time a particular door opens, alerting you on the security system's app. Sensors that alert you to the presence of another human being or animal are called intrusion sensors. Common intrusion sensors include glass break sensors, door and window opening sensors, and motion detectors.
You can expect an individual sensor to cost under $30, so consider which entry points and rooms you would like to monitor.
Another popular type of sensor triggers with the presence of environmental risks. The most common example of this is a smoke and carbon monoxide detector. These sensors can run a bit pricier, but should be under $100.
Add up the number of sensors you need to protect your home fully, budgeting $15-30 for intrusion sensors and $70-$100 for environmental sensors.
4. Budget for Alert Devices
Medical panic buttons are an inexpensive and effective way to protect members of your household whose mobility is limited.
While most commonly considered a way to assist the elderly, alert devices can be equally valuable for anyone who may not be able to extract themselves from the situation unassisted. This could potentially include a differently-abled person or an individual with an injury that temporarily limits their mobility.
This kind of button costs less than $20, and it should definitely be on your list if you have an individual that fits the above criteria.
5. Budget for a Home Security Hub
A home alarm is the core of any anti-burglary system. Once armed, it will alert the authorities and generate an alert on your home security app if a door to the house is opened. You can also configure your alarm to contact the authorities automatically using home monitoring. For more information on home monitoring costs, scroll to step 8.
In some systems, the alarm's screen also acts as a central console to configure your security system, including all the sensors described above, while inside the house. In others, the system is controlled entirely from a mobile app on an existing device but still has a central hub unit that interacts with your phone. In either case, the central hub component of a home security system usually has an average cost of about $200.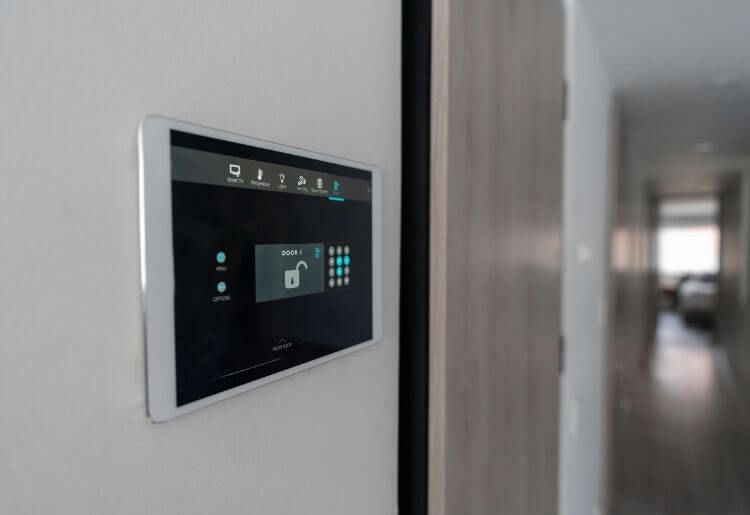 6. Add Home Automation Features
Automated door locks, garage door openers, and even non-security applications such as smart lights and smart thermostats are available from some home security systems. If you are already looking to turn your home into a smart home, choose a home security provider that can offer both smart home and home security functions. This enables you to have 1 secure hub for your smart home and security needs.
Smart home features vary widely in price. Check out our list of the top 10 smart home devices to learn more about home automation and pricing.
7. Consider Professional Installation
Ordinary citizens are unlikely to have the specialized knowledge of camera angles and sensor placement required to take full advantage of a home security system, so most home security companies offer professional installation services.
Unless you have a background in security, professional installation comes highly recommended. While it is a paid service, it is ordinarily inexpensive relative to the rest of the security system, at about $100.
8. Consider Home Monitoring Costs
You can purchase professional home monitoring services for your security system to ensure that a call to the authorities goes through when it needs to. With this kind of service, a monitoring team will keep an eye out for alerts from the alarms and sensors in your home, notifying you immediately if an irregular event occurs and contacting authorities on your behalf if you want them to. Professional monitoring typically costs a monthly fee, with most security companies offering it for about $30/month.
If you have professional monitoring enabled and the monitoring center cannot reach you, they will assume an emergency and contact authorities on your behalf. This is great in a real emergency, but note that home monitoring centers do not assume liability for any fines incurred due to a false alarm.
9. Look for Bundle Discounts
At this point, take a moment to add up the costs from previous steps to get a preliminary budget for your home security system. Don't forget about any optional smart home devices, and remember to factor in professional installation and monitoring costs if you chose those options.
This number will now act as an approximate ceiling. If you build your security system up piece by piece, buying each device and service individually, getting your whole home secured should cost you about this much.
However, most home security firms will offer bundle discounts for purchasing an entire security package in one go. These discounts are substantial, with many companies offering $100-$200 in savings on multi-device plans that range from $100-$1000. Unless your security needs are particularly unique, try to find a bundle plan that fits your needs: it will likely be significantly cheaper than purchasing each device individually.
10. Home Security Systems: Are they worth it?
According to the FBI's Uniform Crime Reporting Program the average cost for a burglary offense was $2,799. Compare this to the price you calculated for your home security system. You will likely find that the system pays for itself, maybe several times over, by preventing even a single burglary.
If you are unsure about the odds of a burglary in your area, ADT Home Security offers a great interactive map showing the likelihood of a home burglary by state and county. After looking up your state, you may want to read our full ADT review.
If your system also offers environmental sensors or medical alerts, the value it brings increases significantly. Even in a low-burglary environment, such a system might save your life or your property with a timely environmental or medical alert. Overall, given the lifesaving potential and money-saving advantages, we consider home security systems well worth the price.
Conclusion
Given that home security systems tend to pay for themselves even on top of the priceless benefits of safety and peace of mind, using a home security package is highly recommended.
Navigating the complex world of products and services that make up a home security system, not to mention home security system prices, can be daunting at first.
However, if you take the time to identify the risks threatening your home, compile a list of products and services you need, and consult the bundles available, you should be well on your way to finding the best home security system to protect your home without breaking the bank.