In a Nutshell
SimpliSafe is a customer-centric company that currently protects over 3 million people in the US. With no contracts or hidden fees, it's no wonder that the company is a two-time winner of CNET's Editor's Choice Award for home security.
pros
No annual contracts
60-day money-back guarantee
Equipment has a 3-year warranty
cons
Upfront equipment costs
Dated hardware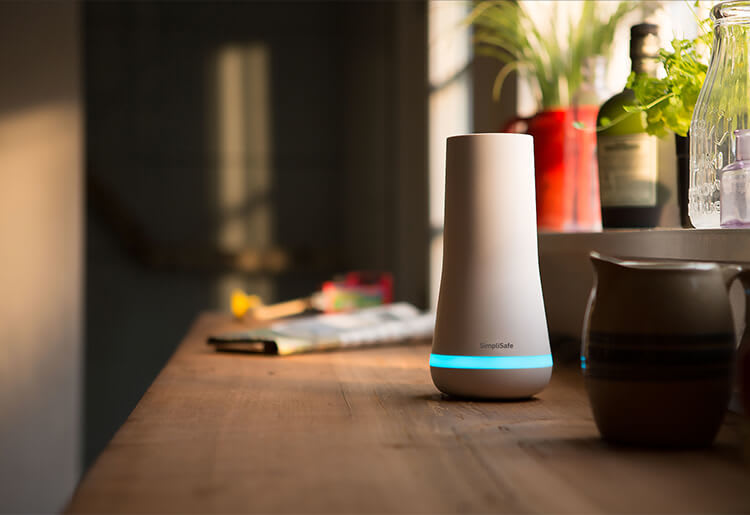 Ideal For
Customers seeking pre-programmed and easy-to-use security equipment
Those that want contract-free packages
Why Go With SimpliSafe
SimpliSafe removed barriers that were preventing customers from signing up for home security systems by doing away with annual contracts, middlemen and landlines. The company strives to provide superior protection for less than half of what traditional home security firms typically charge.
SimpliSafe helps customers take command of their alarm system through an easy-to-use smartphone app:
Arm & Disarm instantly with the push of a button
Use the Event Log to check when children arrive home from school - see when the alarm was armed & disarmed by your child's personal PIN
Monitor your home temperatures while on vacation to prevent frozen pipes and expensive damage
See the status of Burglar, Fire, Carbon Monoxide, and Flood alarms whenever you want
Free App available for iPhone and Android
With a 100% wireless system customers can add more sensors anytime. SimpliSafe alarms are easy to expand, with the system supporting up to 41 sensors And with this company there is no phone line to cut. Your wireless security system will arrive with built-in cellular technology to send your alarm signals to SimpliSafe's 24/7 Live Monitoring center.
Pricing
The Hearth (+free camera)
The Essentials (+free camera)
The Foundation (+free camera)
More Reasons to Choose SimpliSafe
With SimpliSafe there are no annual contracts, customers stay with the company because quality security technology and renowned customer support, not because of contracts. They offer a 60-day money back guarantee if you are not 100% satisfied.
SimpliSafe uses both Verizon and T-Mobile to find a strong cellular signal. With this, you don't need a phone line, internet connection, or anything else for your system to work. It includes built-in cellular technology and works out of the box. The company's wireless sensors have a 400ft range and protect homes of any size. Systems are customizable to fit customer's specific needs.
What's Unique About SimpliSafe?
SimpliSafe is wireless and installs in under an hour. Their system arrives pre–programmed to work instantly. Customers can take advantage of the do-it-yourself setup to save hundreds on installation and thousands with no-annual-contract alarm monitoring plans.
For less than 50 cents per day, customers can have a team of professional operators ensuring the safety of your home round-the-clock. Subscribe and your system will transmit your alarm signals to Simplisafe . They will call you to ensure you are safe, and then send the police this company is one of the only monitoring companies that provides professional monitoring on a month-to-month basis
Security Services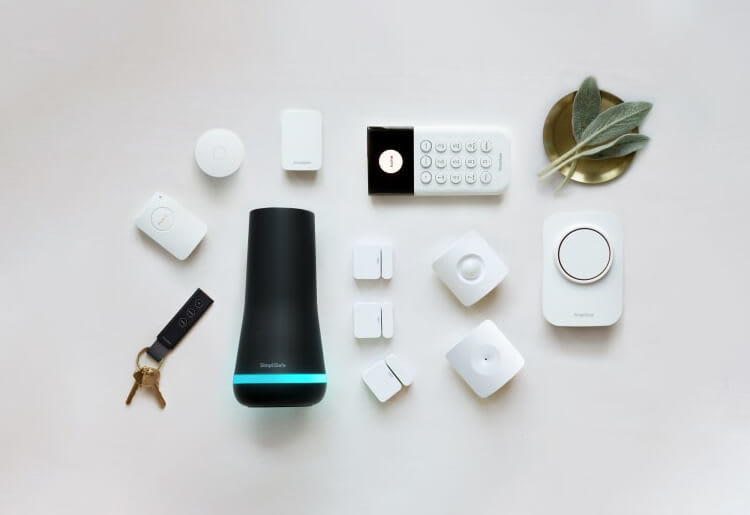 You could be forgiven for thinking that SimpliSafe might not offer as extensive a security range as some of the other larger competitors, particularly because it caters almost primarily to apartments. However, we were hard pressed to find anything missing from their model, which includes wireless keypads, motion detectors, entry sensors, panic buttons, 105dB sirens and more.
Above and beyond the criminal and burglary prevention units, SimpliSafe also extend their knowledge of home protection to environmental threats – with smoke and water sensors available, along with carbon monoxide monitors and freeze sensors.
Monitoring Services
SimpliSafe also offers around the clock monitoring services in tandem with their robust security model. Trained security professionals monitor the status of your home from a central base in Massachusetts, responding to threats and alerts by checking on your safety and dispatching the relevant authorities where necessary.
This monitoring covers more than just unauthorized entry into your apartment; it also keeps checks on the other units (smoke, carbon monoxide, freeze, and flood.) An innovative "Secret Alert" system can be configured to alert you when certain drawers or cabinets are opened, so you can catch whoever is sneaking a drop of your prized liquor without permission.
Mobile Readiness
Given the wireless nature of SimpliSafe's technology and service, it's not surprising to discover that there is a fully developed security app which allows customers to control and monitor their systems remotely. The app is free and compatible with Apple, Android and Windows smartphones – giving users the ability to remotely arm and disarm their systems, keep event logs on activity, monitor temperatures and statuses of every piece of installed equipment. Many of their monitoring plans come with SMS/Email alert functionality, along with complete cellular connection for added security
Help & Support
SimpliSafe is one of the most customer facing security companies in the industry, so we weren't shocked to see that it has excellent customer satisfaction ratings and a wealth of support options. As with any self-install service, online and offline customer assistance is an essential feature – something this company dedicates an entire area of its website to. The 'Community' tab includes a blog, user forums, newsletter, checklists, quizzes and a resource section for instant troubleshooting. Direct contact with SimpliSafe can be made through a business hours telephone line or e-mail support, which almost always replies within a working day.
Bottom Line
This company is great for those looking for a home security solution that is easy to setup without long-term contract obligations. The only downside of the no contract approach is the high upfront cost for equipment. SimpliSafe also provides extremely helpful customer support that is known for being service oriented and not sales focused.
About SimpliSafe
SimplieSafe's mission is to help people live safely without introducing any complexity, hassle or annoyance into their lives. SimpliSafe was designed by founder, Chad Laurans, with this principle in mind: Being Safe Should Be Simple. So he designed a system that is easy to self-install, easy to purchase direct online, and doesn't require a contract or a telephone line. It's also wireless, cellular, and customizable which means it works anywhere and will fit any house, apartment or business