SimpliSafe Visit Site
SimpliSafe Features and Highlights
SimpliSafe's home security system is designed to offer you simplicity and the confidence that you can rely on its performance at all times. It works on the principle of redundancy, whereby a duplicate device will step in if another fails.
Base Station
All SimpliSafe home security systems rely on a base station device. This device coordinates all of your sensors and transmits data to SimpliSafe's monitoring center. It also has a built-in siren to warn you of a break-in.
Importantly, if your power or WiFi system goes down, the base station can still communicate over cellular networks. And if you live in a rural area and have patchy cell signal, you can choose to operate your SimpliSafe security system over your WiFi network.
Customizable Security Systems
One of the best things about SimpliSafe is that you have the freedom to build a completely custom security system for your home. All systems include a base station and wireless keypad, but you can purchase motion detectors, cameras, and other sensors on an a la carte basis.
Of course, SimpliSafe also has packages available to suit homes of different sizes. This makes it easy to protect your home if you're not exactly sure what you want at first. You can always add more devices to your system later.
SimpliSafe Equipment & Products
Home Security Systems
The base station and the wireless keypad together allow you to coordinate all of your sensors and arm and disarm your system. You can purchase a wide range of sensors to go with those two core devices, including motion detectors, hazard sensors, glass-break sensors, entry sensors, and more.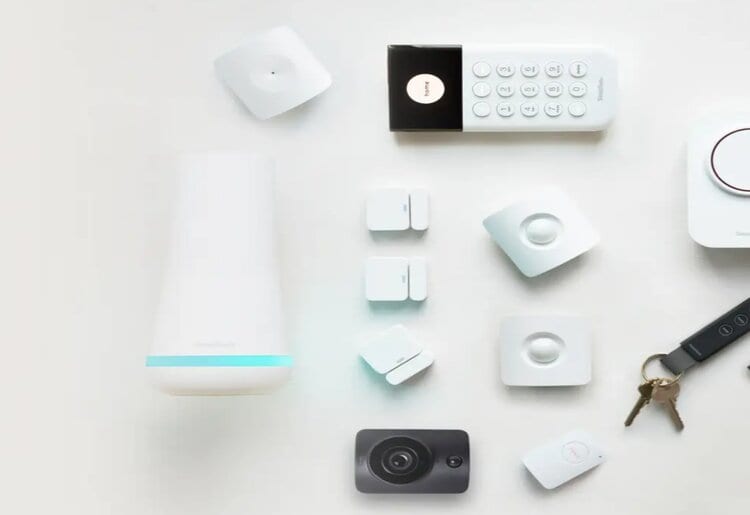 SimpliSafe has done an excellent job designing these sensors, and some of them are really innovative. For example, the entry sensors use magnets to detect when a door or window is opened. The two pieces of the sensor can be up to 2 inches apart, allowing it to be used on almost any door or window.
Home Security Cameras
SimpliSafe offers indoor and outdoor cameras as well as a video doorbell. The indoor camera offers a 120° field of vision and sends an alert whenever motion is detected. You can start recording on-demand with a tap on your phone, but the camera won't automatically record whenever motion is detected.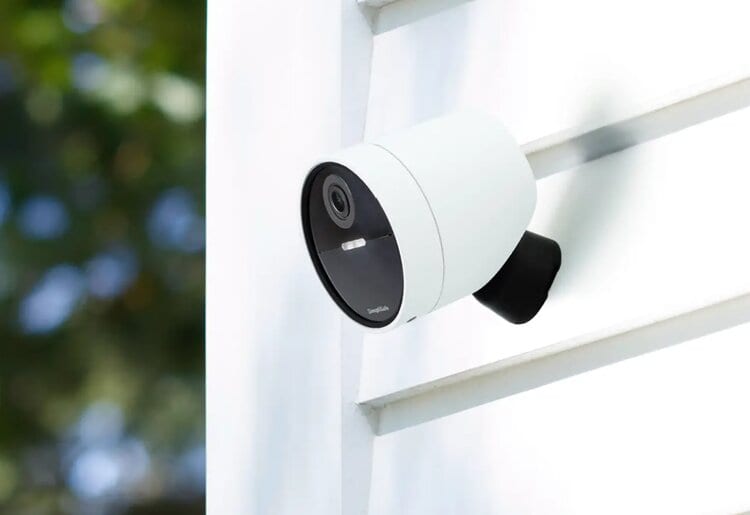 The outdoor camera is packed with features, including two-way audio, a spotlight, and a siren so you can warn away would-be intruders. The rechargeable battery lasts up to six months and charges in just five hours. Note that it's only rated to work in temperatures down to -4°F.
All SimpliSafe cameras require WiFi. The indoor camera costs $99, the outdoor camera costs $169.99, and the video doorbell costs $169.
Life Safety Alarms
SimpliSafe offers a small panic button that you can keep in your pocket or leave in a busy area of your home. The button can send audible or silent alerts to SimpliSafe's monitoring center so they can dispatch the police. In addition, you can customize the button for medical alerts so that SimpliSafe knows to dispatch an ambulance. Each panic button costs $19.99.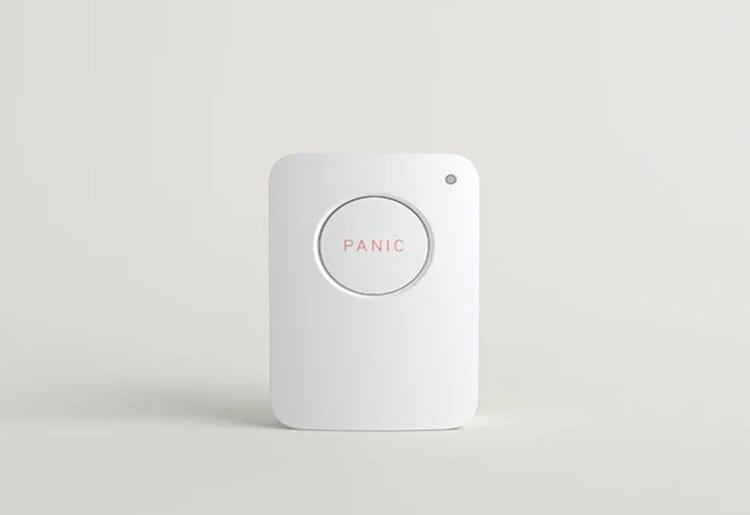 You can also purchase a 105dB siren, which will activate anytime a break-in is detected. It's almost too loud, but that's a good thing if you're trying to scare off a burglar or alert the neighborhood. The siren costs $59.99.
Smart Home Automation
SimpliSafe integrates with smart home devices such as Amazon Alexa and Google Home. You can use these voice assistants to arm your security system, lock your doors, or switch between home and away modes. You must pay for 24/7 monitoring to enable these integrations.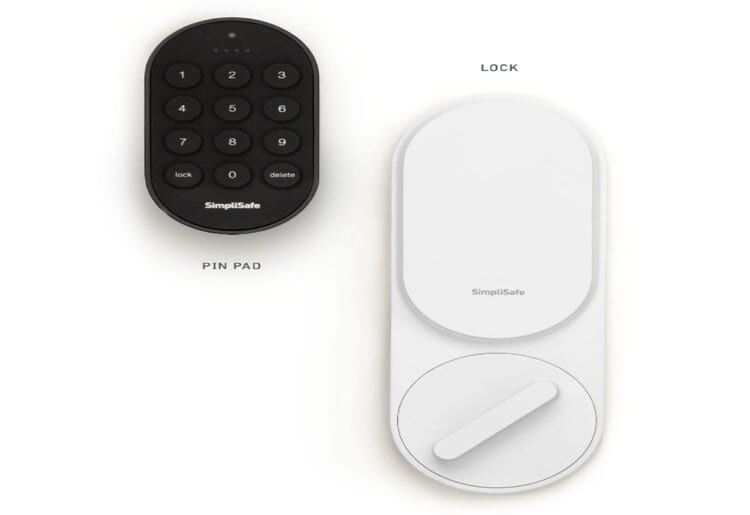 While this is useful, SimpliSafe isn't as well-integrated with smart home systems as we'd like to see. It can only communicate with devices over WiFi, not Bluetooth, and it doesn't accommodate 5G signals or work with Apple Home Kit. In addition, you can't configure your SimpliSafe system to turn on the lights when you unlock the door, for example.
SimpliSafe Services
SimpliSafe offers several different packages of sensors to suit any size home. All home security systems include a base station and wireless keypad, and you can add sensors and cameras as needed. SimpliSafe also includes a free yard sign to warn away potential intruders.
Monitoring
SimpliSafe has multiple monitoring centers across the US, so you're protected even if one center goes down. It uses a system of confirmed alerts, where the alarm signal will continue to transmit until the monitoring center confirms they've received it.
When the alarm activates, the monitoring center examines live video footage to verify the alert.
SimpliSafe will then dispatch police, fire, or emergency medical services depending on the alarm, and will call you, and call or text any other people named on your plan.
SimpliSafe Installation
You can install the SimpliSafe system yourself, and it's extremely easy to do so. The base station must be plugged in, but all other devices are wireless. Each device comes with clear instructions about how to position it and how to connect it to your base station. Installing a base station, keypad, and several motion sensors takes less than 30 minutes, and no DIY skills are necessary.
If you need help installing your system, professional installation by a SimpliSafe technician costs $99.
SimpliSafe Contracts and Warranties
SimpliSafe does not require a contract. In fact, there are no ongoing costs if you choose not to sign up for 24/7 monitoring, although this service is required to use the app and smart home integrations.
If you do sign up for 24/7 monitoring, you can cancel at any time by calling SimpliSafe. The call only takes a few minutes.
If you try out SimpliSafe and aren't satisfied, you can return your devices within 60 days for a full refund. All SimpliSafe equipment comes with a one-year warranty.
SimpliSafe App
SimpliSafe offers a mobile app for iOS and Android, but you must be signed up for 24/7 monitoring to use it. The app allows you to arm or disarm your security system, or lock or unlock your door if you have a SimpliSafe smart lock. If you have cameras installed around your home, the app enables you to watch and record live video.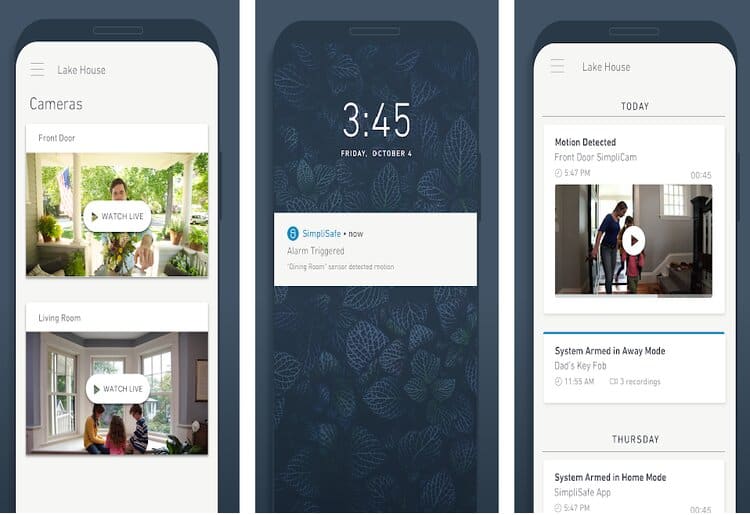 Mobile Alerts
Any time an alert is triggered from one of your sensors, you receive a push notification on your phone. You can also view a timeline of all triggered alerts through the SimpliSafe mobile app.
SimpliSafe Customer Support
SimpliSafe offers customer support by phone, email, and live chat. Phone support is available from 8am-12am (ET), seven days a week, and live chat support is available from 9am-9pm, seven days a week. We got in touch by live chat and it took less than a minute to be connected to a representative.
SimpliSafe also has a detailed online knowledge base. You can find details about each individual device, as well as installation instructions and tips for troubleshooting your security system. SimpliSafe does not have a security blog.
Pricing & Special Offers
SimpliSafe offers packages ranging in price from $196 to $404, or you can build your own system starting from $150. There are no installation fees, but 24/7 monitoring requires a subscription that costs $28 per month.
Professional 24/7 monitoring
Entry, smoke, and CO detection
How SimpliSafe Compares to Other Home Security Services
Customizable security packages
High-tech security devices
DIY home security systems

SimpliSafe Visit Site
SimpliSafe vs Vivint
Vivint offers a range of high-tech devices that rivals SimpliSafe's offerings. In particular, Vivint has a wider range of camera options and offers a secure hard drive so you can store your own video recordings. Vivint only has a 3-day money-back guarantee, but your contract is prorated if you cancel early.
SimpliSafe vs Ring
Ring can be a good option if you only want security cameras rather than a full-fledged home security system. The company offers a wide range of indoor and outdoor cameras, and plans start at just $3 per month for one camera. Ring's plans for 24/7 alarm monitoring start at $20 per month.
SimpliSafe vs ADT
Similarly to SimpliSafe, ADT offers a comprehensive selection of home security devices. One major difference is that all ADT systems are professionally installed. Another is that ADT offers a range of smart home features that enable you to set up automations and integrate your home's other smart devices.
SimpliSafe vs Cove
Cove takes the customization options available from SimpliSafe to the next level. At Cove, you choose a selection of sensors and monitoring devices on an a la carte basis, then choose the level of monitoring you want. Cove is a great option if you want to design your own security system, but if you prefer a pre-designed package, it will feel less user-friendly than SimpliSafe.
Bottom Line
SimpliSafe offers comprehensive home security systems and the flexibility you need to build a system that's tailored to your home. The company alarm devices are impressively innovative and you get the security of 24/7 monitoring. On top of that, SimpliSafe's system utilizes both WiFi and cellular networks, so it will still work in the event of a WiFi outage.
Overall, SimpliSafe isn't the cheapest home security option, but its prices are competitive and the company delivers good value for money.