In a Nutshell
Frontpoint Security is one of the most advanced home security companies on the market right now, revolutionizing the industry with pioneering technology and network. With a Frontpoint system, all sensors are wireless, meaning that even if your phone lines are down, you can still be alerted instantly if one of the sensors is activated. The system is professionally monitored 24/7 and you're alerted if a break-in occurs.
pros
Simple installation
Excellent customer service
cons
Upfront equipment costs
3-year warranty on equipment
Frontpoint Security Visit Site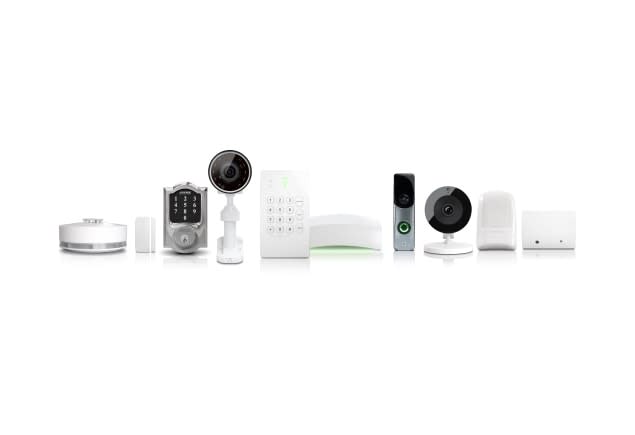 Why Go With Frontpoint Security
With a Frontpoint system, all sensors are completely wireless, so even if your phone lines are down, you'll still get an instant alert if one of the sensors is activated. Your system is professionally monitored 24 hours a day, 7 days a week, so you will be alerted of any break-ins from the point of entry where the sensor is displayed.
Frontpoint systems are designed to be simple and convenient to set up without the need for a technician to visit your home. In about 30 minutes, you can set up your system on your own schedule. Setup requires just 3 simple steps:
Plug in the Control Panel
Apply sensors
Call to activate or use the Activation Wizard (exclusive to Frontpoint).
Your Frontpoint system arrives pre-configured for your home. After the activation team confirms your equipment is working perfectly, they'll walk you through the simple operation instructions. No appointments, no complicated installation, no wires or holes to drill around your home. Plus, you can expand your system as needed and even take it with you when you move.
Frontpoint systems make it easy for you to be on the go while your home stays secure. You can access and control your Frontpoint system from any connected device, like a laptop or smartphone. Email and text alerts provide instant updates on any security-related activity. Even better, Frontpoint also offers live video, so you can check your house anytime, and from anywhere.
A lot of other companies charge for every little procedure– from installation, to activation and cellular monitoring. Frontpoint has no hidden fees and believes pricing should be simple and upfront.
Pricing
Frontpoint Security is modeled around 2 monthly service plans – Interactive and Ultimate. Named for the level of monitoring they provide, prices range from $44.99 per month to $49.99 per month. Also, equipment runs as low as $99.95.
Besides a one-time minimum $99 upfront fee, there are no hidden activation costs and all equipment can be self-installed. All plans and products come with a 30-day money back guarantee trial, along with a minimum of a 2-year warranty.
More Reasons to Choose Frontpoint Security
Remote access and control: Use Frontpoint's free mobile app to customize alerts, arm or disarm, view sensor and alarm history, and check visitor activity, from anywhere.
Doorbell Camera: Monitor your home from anywhere. This elegant and capable device serves to always let you know what is going on outside your door – even when you're not home.
Peace of Mind: No matter what monitoring plan you choose, you'll get all the safety features you'd expect:
Wireless & cellular
Intrusion protection
Environmental protection
Fire protection
24/7 professional monitoring
Security Services
The range of security services supplied by Frontpoint is extensive, facilitated by the revolutionary control panel which manages all of the smart technologies. Traditional burglar alarms are informed by motion and glass break sensors, with recessed sensors detecting when entryways are opened. Static CCTV cameras for indoor and outdoor use are available for purchase, along with pan and tilt cameras for remote manipulation. This equipment is all tied to a monthly service plan which, depending on your budget, can entirely automate your home, send text alerts, grant remote access, and be monitored around the clock.
Monitoring Services
Every Frontpoint plan comes with standard 24/7 professional monitoring, courtesy of highly trained security operatives. When alerted to a threat, Frontpoint's staff will alert both the authorities and the customer themselves. Self-monitoring can be undertaken through the use of remote access and control, particularly with CCTV networks. Cellular monitoring is now included free of charge with every Frontpoint plan – with email alerts, text alerts and advanced home automation all available across premium plans.
Mobile Readiness
Frontpoint Security has been built around wireless technology, meaning that all devices are connected to the internet for both company and customer to monitor. Frontpoint has also developed apps for remote monitoring from anywhere in the world with an internet connection – available across most smartphones and modern tablet computers. These apps can be used simply to monitor the security status of a property, or alternatively to directly control it; including locking and unlocking doors, altering temperatures and much more.
Help & Support
Considering all Frontpoint equipment is self-install, customer support takes on an even more important role for this home security company. Fortunately, the customer support model is outstanding in efficiency, professionalism and helpfulness.
A myriad of options are available to the troubleshooting customer, ranging from volumes of useful content on the company website (including video tutorials) to toll free phone lines and online chat. Our interactions with Frontpoint staff were positive and quickly resolved, a testament to the company's fantastic growth in the market in less than a decade.
Bottom Line
Frontpoint outperforms in almost every area. Its extensive range of wireless technology, comprehensive customer support options and excellent value for money – makes it a stand out contender for any American looking for a home security provider.
Frontpoint Security Visit Site
About Frontpoint Security
Frontpoint Security is a relatively new kid on the block when it comes to home security, but is kicking up quite a storm. Established in 2007 by a group of like-minded individuals with vast experience in the industry, Frontpoint grew out of the founders' collected frustration at how modern home security was neglecting certain technologies and falling behind the times.
In the short space of time between Frontpoint's establishment and the present day, it has become one of the fastest-growing security agencies in the world. Establishing itself as Alarm.com's preferred dealer – the Virginia based company has quickly shot to the top of the pile. Round the clock monitoring of its completely wireless security systems across the United States is standard fare with Frontpoint – and an A+ rated and fully accredited company with the Better Business Bureau. Frontpoint shows no signs of giving up its consistent challenge to the market leaders.
Contact Details
Phone: 855-808-1480