Frontpoint Security Visit Site
Frontpoint Features and Highlights
Frontpoint offers a number of unique and innovative features to ensure your home is as secure as possible.
Hourly Sensor Checks
As part of its 24/7 monitoring service, Frontpoint offers hourly sensor checks. Basically, this means that the system automatically checks the status of every sensor and device each hour. If it finds any issues, you will be notified immediately.
Frontpoint ID Protect
All Frontpoint contracts come with free access to the Frontpoint ID Protect, an online tool. This comes with advanced monitoring tools that are designed to protect your online identity from scammers and other fraudsters. Specialists are even available to help you recover information if an issue is found.
Live Video Streaming
With Frontpoint, you can access live streams from your security cameras and doorbell camera at any time. The mobile app enables you to view both live streams and recorded footage from all of your cameras.
100% Cellular
Frontpoint security systems are 100% cellular based, which means that you won't have to rely on a potentially patchy WiFi or internet connection. It's also fully wireless and will continue to operate if the power is cut.
Frontpoint Equipment & Products
Home Security Systems
Frontpoint enables you to build your own home security systems from the ground up, ensuring you get exactly what you need. All systems require a Frontpoint Hub & Keypad, which costs $182.99. Door/window sensors cost $19.79 each, motion sensors come in at $38.99, and glass break sensors cost $44.99 each.
You can also purchase garage door tilt sensors for $26.99 each, enabling you to secure every entrance to your home. All systems come with 24/7 professional monitoring, but it would have been nice to see a self-monitored option.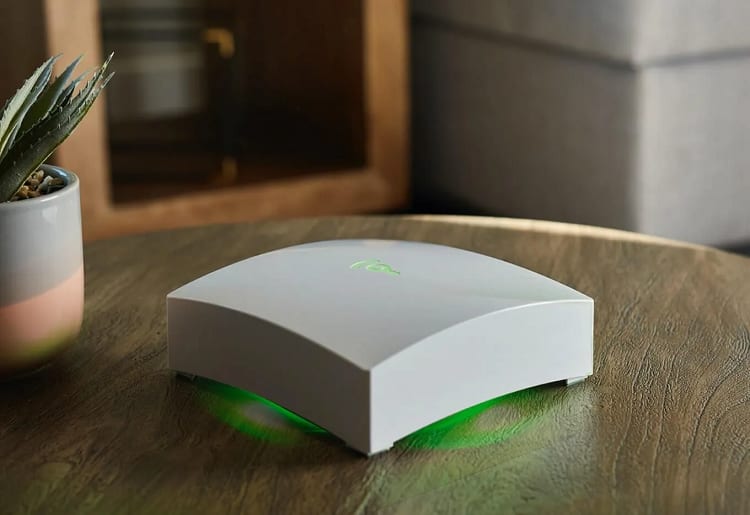 Home Security Cameras
There are also four different security cameras that you can add to your Frontpoint home security system. Simple indoor cameras with night-vision and recording cost $59.99 each, while premium indoor cameras with two-way audio and live-feed support cost $119.99 each.
A free doorbell camera is included with every purchase ($113.99 value). This enables you to speak with visitors, view a live feed from anywhere via the mobile app, and record sporadically using motion-sensing technology. Last, but not least, outdoor cameras with two-way audio, motion sensing, live-feed support, and smart intruder deterrence cost $119.99 each.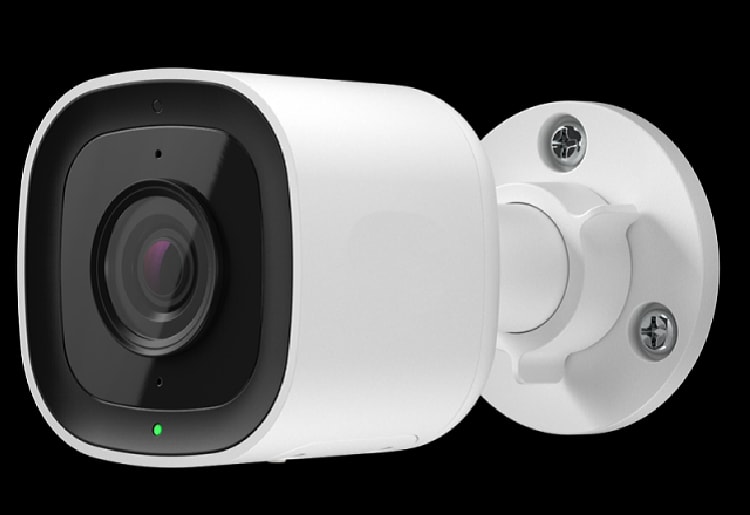 Life Safety Alarms
Frontpoint also enables you to add various life safety alarms to your home security system. Smoke and heat sensors cost $38.99 each, carbon monoxide sensors come in at $53.99, and flood sensors are just $26.99. All life safety alarms are monitored as part of Frontpoint's 24/7 monitoring service, and the appropriate action will be taken if an alarm is triggered.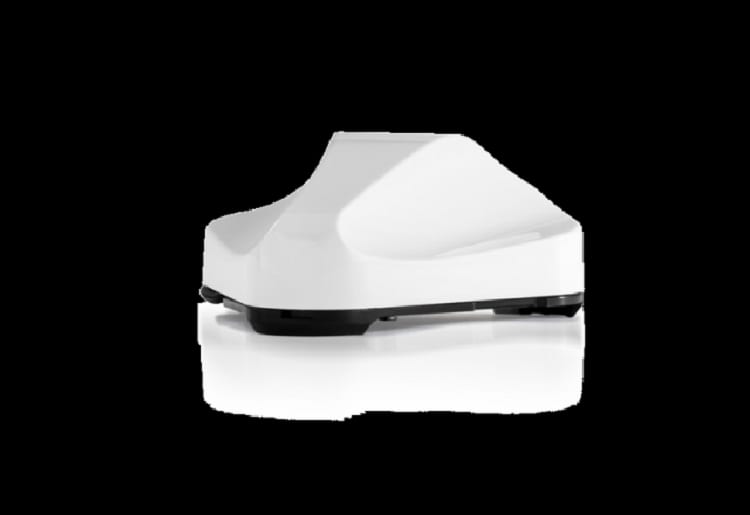 Smart Home Automation
Last, but not least, there are a small number of smart home automation devices that you can link to your Frontpoint system. These can all be integrated with your central management hub and controlled through the mobile app.
A smart door lock will set you back $107.99, outdoor smart plugs are $22.79 each, and wireless light controls cost $22.99 each. There's even a smart thermostat on offer if you're willing to part with $119.99.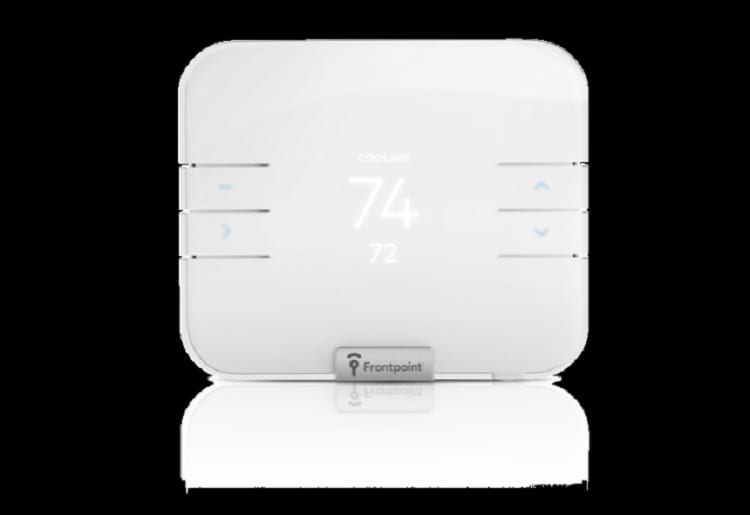 Frontpoint Services
Frontpoint offers 24/7 professional monitoring services for every client. You will have to pay a monthly fee to access this, but it's worth it. Along with intrusion alarm monitoring, you will also benefit from monitoring of fire and smoke alarms and other life safety devices.
If an issue does occur, first responders will be dispatched within seconds. You will receive mobile alerts immediately if your system is triggered, and you can cancel false alarms by contacting the monitoring team.
Monitoring
Frontpoint's 24/7 monitoring team is based in the US and claims industry-leading response times. Some features of its monitoring services include the following.
24/7/365 service across the US
Life alert system monitoring
Emergency services notification
Two-way communication
SMS and email alerts
Frontpoint Installation
DIY installation is available with all Frontpoint systems, and there's a comprehensive user guide outlining everything you need to know to get started. It begins by explaining how to set up your central control panel before moving on to things like door/window sensors and security cameras.
All sensors are fixed in place with a simple adhesive tape. The entire process is extremely straightforward, and you shouldn't have any issues if you follow the instructions carefully.
Frontpoint Contracts and Warranties
Frontpoint offers a three-year manufacturer's warranty on all hardware. In the case of a defect or other issue not caused by misuse or normal wear-and-tear, you can request a repair or replacement for free. Note, though, that the warranty is only available for existing Frontpoint customers.
Note that all Frontpoint purchases come with an automatic 3-year monitoring contract. This isn't made very clear, and it's automatically added to your cart during checkout. The only information that indicates that you're entering a contract by completing your purchase is hidden away in the fine print.
Fortunately, there is a 30-day money-back guarantee that enables you to get your money back if you're not happy with the service provided. Canceling your contract is as easy as speaking with the support team, but you will be liable for 80% of the outstanding fees if you do so.
Frontpoint Security App
The Frontpoint mobile app is available for free for iOS and Android users. It comes with a wide range of features that enable you to manage every aspect of your system, although the availability of some features can depend on your contract.
For example, you can use the mobile app to arm and disarm your alarm system remotely. You can also view live security camera streams and recorded footage, control smart home devices, receive alerts about device status, and more.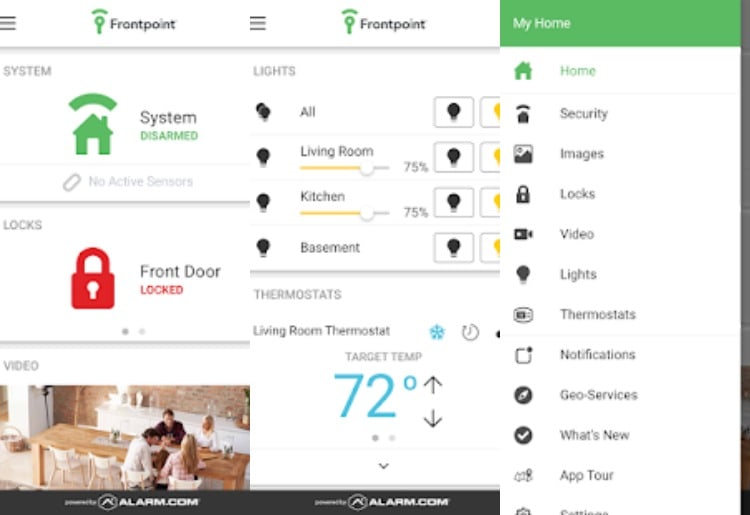 Mobile Alerts
Frontpoint enables you to configure custom mobile alerts according to your preferences. You can receive real-time email, text, and/or push notifications for everything from alarm triggers to simple events such as a parcel arriving.
Frontpoint Security Customer Support
Frontpoint offers live chat, phone, and email support. You can send an email 24/7, and phone service is available from Monday to Friday, 8am to 11pm, and from Saturday to Sunday, 10am to 7pm (EST). We tested the live chat and found the support agent to be friendly and responsive.
There are also numerous self-help resources available in the Support Center. These include everything from simple beginner guides to advanced tutorials and troubleshooting articles. You will also find a selection of FAQs and an educational blog with a wide range of informational articles.
Pricing & Special Offers
Frontpoint offers a selection of base packages that you can build your system on. The most basic Safehouse package includes two intrusion sensors, one motion sensor, the Frontpoint management hub, and a doorbell camera for $129. Extra hardware can be added as required, and prices are clearly displayed on the Frontpoint website.
Financing is available for eligible customers, and some people will even get 0% APR interest. Along with your initial equipment costs, all Frontpoint customers have to pay $1.64 per day (~$49 per month) for 24/7 monitoring. Overnight and two-day shipping are available for an extra fee.
Professional 24/7 monitoring
How Does Frontpoint Compare to Other Home Security Services?
Custom DIY home security systems
From $3 ($20 for professional monitoring)

Frontpoint Security Visit Site
Frontpoint vs SimpliSafe
Both Frontpoint and SimpliSafe offer powerful beginner-friendly home security solutions backed by 24/7 monitoring. However, SimpliSafe is more affordable, has no lock-in contracts, and has a longer 60-day money-back guarantee. We'd recommend it over Frontpoint in nearly every situation.
Frontpoint vs Ring
Ring offers basic home security systems built around security and doorbell cameras. It's a very affordable option for self-monitored solutions, but it doesn't offer the same configuration options and power as Frontpoint. At the end of the day, we'd recommend Frontpoint over Ring if you want a complete home security system you can rely on.
Frontpoint vs ADT
ADT is a big name in the home security industry, and it offers custom, professionally-installed security solutions. Frontpoint does have an included three-year warranty, but we'd recommend going with ADT for its six-month money-back guarantee and excellent monitoring services.
Bottom Line
Frontpoint home security offers custom security solutions backed by 24/7 monitoring, excellent customer service, and a 3-year warranty on all hardware. You will have to commit for three years, and you cannot buy equipment without subscribing to a monitoring plan, but its prices are competitive, and there are financing options available.
All things considered, Frontpoint security presents as an attractive option for those who want a simple, no-frills home security solution that comes with exactly what they need.