In a Nutshell
Vivint security has expanded from traditional burglar alarms to 21st century systems, and its feature list now rivals many of the larger companies in the industry. With Vivint Smart Home you get a modern, complete home security system that is monitored 24/7. You can control the smart system from anywhere with your mobile device. Vivant takes care of the installation and monitoring and you won't have to commit to a lengthy service contract.
pros
Lifetime warranty
Free installation
cons
Must contact for pricing
Upfront equipment costs
Vivint Visit Site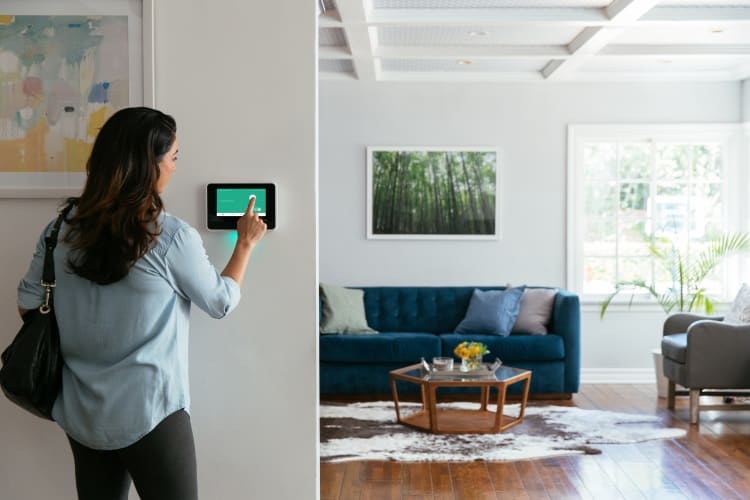 Ideal For
Anyone looking to move away from outdated home security systems
Tech-savvy customers
What Vivint Offers
The following is just some of the standard and add-on features that come with Vivint Smart Home Security:
Cameras - Vivint Doorbell Camera detects, auto-records, and notifies you when someone approaches your door. A wide-angle lens and night vision record clear video 24/7, so porch pirates don't escape undetected. Built-in two-way talk gives you the option to warn people off or speak to delivery-service people.
Smart Locks - Kwikset Smart Locks let you control your front door on Vivint Smart Home mobile from anywhere, even while working out at the gym. Plus, you can set mobile alerts for when you forget to lock up. That way hectic mornings don't become entire days fretting you left the door unlocked.
Smart Home App - The Smart Home app connects you to your home security system from anywhere. The 4.5-star rated user experience sends alerts whenever smart door locks, security cameras, or security sensors sound an alarm. So if a security alarm goes off when nobody's home, you still hear the sound via the app.
Control panel - Vivint SkyControl Panel brings all your home security controls together onto one touch-screen dashboard. The intuitive layout makes navigating between your various devices effortless. And the two-way talk with one-touch callout gives you a direct communication link to the Smart Home security monitoring teams.
Space Monkey Cloud Storage – Vivint's 1TB cloud storage device allows customers to store their security photo as well as photos taken with their smartphones and other devices. The images are automatically uploaded to the cloud, so you have instant access whether at home or on the road, through any connected device.
CO Detectors - Vivint Carbon Monoxide Detectors use electrochemical sensors to alert you when toxic gases reach hazardous levels. That way a malfunctioning furnace won't turn into a life-threatening situation. Unlike stand-alone security devices, all our sensors connect to Vivint Smart Home Cloud to give you easy monitoring and support.
Flood Sensors - Flood/freeze sensors guard against flooding that originates inside your house. From clogged drains to pipes that may freeze then split, you can set alerts based on probability to notify you when sensors detect flood conditions like cold temperatures or high humidity.
What's Unique About Vivint
Unlike other security companies, this company designs and manufactures the majority of its own industry leading equipment. That being said, the company is fine with asking for help from some of the premier home automation companies, including the Nest Learning Thermostat and Amazon Echo.
With Vivint you get around-the-clock home monitoring with an incredibly swift response when an alarm goes off, as well as a variety of optional home automation services, all of which can be controlled from a smartphone, a PC, and a 7-inch touch-screen control panel. Vivint Smart Home systems aren't cheap, but once you decide on a plan you don't have to lift a finger; dedicated technicians come to your house, install everything, and give you a comprehensive tour of how it all works.
Security Services
Vivint home security is modeled around the 'Go Control Panel' – a wireless base unit with LCD touch screen and two-way voice intercom, which communicates with all of the security units around a home. These units include window and door sensors, glass break detectors, motion detectors and more. Above and beyond the prevention of burglary and crime, the security services cover environmental threats to the home through smoke, fire and carbon monoxide alarms.
Monitoring Services
Vivint Smart Home provides 24/7/365 home security monitoring services. When the system detects smoke, fire, or carbon monoxide in the home, the one-touch emergency callout button on your control panel puts you in direct contact with monitoring teams, shaving precious seconds off response times. Customers have a variety of monitoring options open to them, the primary one being facilitated by the company's central security station in St. Paul, Minnesota.
Vivint's security staff are on call 24 hours a day to respond to any threats to your home and family – reacting instantly by contacting both you and the authorities immediately. Customers can also monitor their own home by using their smartphones or tablets to tap into the home automation and monitoring controls.

Mobile Readiness
You can control the system with an intuitive 4.5-star app and put your entire smart home in the palm of your hand. The nature of Vivint's re-invented cellular infrastructure means that the system is 100% mobile ready. Designed to be controlled, accessed and managed remotely – all of the hardware is connected to a central mainframe without any wires.
This comes under the monitoring of Vivint's security staff but can also be controlled by the customer, with home automation carried out through mobile apps. This also gives you the ability to control thermostats, lighting, appliances, door locks and more. Customers can even watch live video feed from their CCTV network.
Pricing
Vivint, like many home security companies, requires those interested to contact them via phone or online for pricing. This can actually work to the customer's advantage at times, as you can try to negotiate better pricing and terms.
There are no costs published on the company website, despite full details of the packages available. Through contacting Vivint, we were able to determine that the monthly monitoring fees range from $49.99 to $68.99. Free installation and equipment come with every package purchased but you have to pay an activation fee for all plans, which ranges from $99.00 to $199.00 depending upon the level of package. The shortest contract that Vivint offers is 42 months (3.5 years.) Costs for hardware range from $39 for lighting and appliance control units to almost $700 for the control panel – an essential unit for any Vivint system.
Help & Support
Upon rebranding from APX Alarm Security Solutions, the company has done a major turn and revolutionized its support model. Answering and resolving all outstanding complaints, the company has revved up its customer satisfaction.
The company now operates a help section on their website entitled 'The Neighborhood' which gives great advice to customers about how to best use their Vivint systems. Active troubleshooting is also available by contacting the support team via phone, social media and email.
Bottom Line
Vivint is great for customers who want top-of-the-line technology that includes a quick, professional installation. Set at 5 years, the company's contract is quite lengthy and its rates are higher than most of its competitors, but you get what you pay for.
Vivint systems are for homeowners that do not have the time or knowledge to install or maintain a system themselves. The systems provide the latest in home security and home smart system interface technology and require nothing from the homeowner other than paying the monthly monitoring fee.
Vivint Visit Site
About Vivint
Vivint began as APX Alarm Security Solutions in 1999 in Provo, Utah. The company began offering monitoring of alarms in 2006. By 2011, the company had rebranded itself as Vivint. As a leading smart home technology provider, they offer home security, energy management, home automation, local cloud storage, and high-speed Internet solutions to more than one million customers throughout the United States and Canada. The end result is a smart home solution that saves you time and money and ultimately simplifies your life.
Contact Details
Phone Sales: 866-525-8513
Billing & Technical Support: 800-216-5232