ADT Visit Site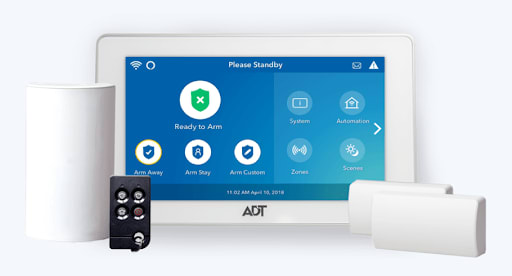 ADT Features
Home Security System
ADT offers a complete home security system that comes with top-of-the-line equipment, 24/7 monitoring, professional installation, and security professionals to guide you along the way.
Additional benefits
ADT's system can also help protect against smoke, fire, carbon monoxide, and floods.
Mobile access
Customers can access their security systems through any smart device, which means you can remotely arm, disarm, and see real-time video surveillance from the palm of your hand.
Initial consultation
ADT is well-known for quickly setting up initial consultations, sometimes even on the same day. This is a helpful service for homeowners who don't want a long, drawn-out installation process. With ADT, consumers can request a free quote and have a sales representative call them back within 24 hours.
Quality
ADT is accredited by the Better Business Bureau and uses rigorously tested equipment. Installation is done by trained professionals.
What ADT Offers
Home security system that starts at $28.99 per month
Digital panel
Entryway contacts
Wireless keychain remote
Motion detector
24-hour monitoring
Trained and background-checked security professionals on staff
ADT lawn sign and window sticker
Professional installation
Free quote
Free customer support
Security Services
ADT offers a number of security packages so that property owners can choose the one that suits them best. Moreover, once you request a free quote, you will be contacted quickly by one of ADT's security professionals to personally discuss the best options for your property.
In terms of the system itself, ADT provides a digital panel, entryway contacts, a motion detector, a wireless keychain remote, and yard signs and window decals. Every plan includes professional 24/7 monitoring, plus professional installation and service and repair on the equipment. Upper-tier packages also include remote-access mobile apps and video surveillance.
One of the main security offerings to note is ADT Command, the mobile app, which is not offered in every package. In addition to the actual security services offered, ADT will send a certified, professional installer to potential new customers to guide them through the initial discussion of security options, conduct a risk assessment, and to customize a security system for their needs. The professional installer will also offer an in-home tutorial once installation is complete.
Monitoring Services
All ADT customers are connected to the ADT Security Network, which is made up of 9 company owned monitoring centers located throughout the United States. The staff at the monitoring centers are professionals who have undergone background checks and who have been trained to handle alarm event notifications. ADT uses top-of-the-line technology that allows its home security systems to offer comprehensive protection, and all systems are monitored 24/7.
How it works: Any time an alarm is triggered, a signal is sent from your home/business to one of the home security professionals at an ADT monitoring center. The ADT professionals then alert you of the possible alarm event; they also alert emergency personnel if relevant.
The ADT Command mobile app allows users ultimate control in monitoring their home/business even when they are out and about.
Monitoring equipment: ADT customers may receive the following monitoring equipment:
Full-service digital touchpad with LCD display
Wireless keychain remote control for instant access
Wireless sensors for windows/doors
Built-in PIR motion sensor
Indoor siren sounder
Mobile Readiness
ADT offers ADT Command, a mobile app that works in conjunction with an ADT home security system and allows customers to arm and disarm their systems, and receive system notifications from virtually anywhere through their smartphones, tablets, and computers.
ADT Command is available in many ADT security packages, but not all. Customers who purchase packages that include Command access can use it on iPhone, iPad, Android, Blackberry and other web-enabled devices.
ADT Command allows you to:
Manage and monitor your system remotely
Arm or disarm your home security system from virtually anywhere
Get custom security alerts via text or email when someone enters your home
Monitor your home for smoke, fire, and flooding
Track who is in your home and when
ADT Customer Support
ADT Customer Support can be reached Monday through Friday, between 8am and 12am, Saturday between 8am and 8pm, and Sunday between 11am and 7pm ET. (Not to be confused with the ADT monitoring centers, which operate 24/7.)
The customer support staff can help customers with:
Rescheduling and cancellations
Equipment questions
Troubleshooting
Billing and payment
Monitoring Service
If you prefer the written word to speaking over the phone, you can contact customer support via email. Responses are generally received within 48 hours.
ADT also has a helpful FAQ page and a "How to" series of YouTube videos that includes topics such as Make Sure Your Security System is Ready to Arm and Disarm Your Security System.
Potential customers can request a free quote, and within 48 hours will be contacted to set up an initial consultation. (Sometimes, consultations can even be scheduled for the same day the request was made.)
Another incentive to choose ADT is that the company offers a money-back guarantee* for the installation price and all monitoring fees if ADT cannot resolve a system related issue within the first 6 months of installation. (Certain restrictions apply, so make sure to inquire what these are during your initial meeting with a security professional.)
ADT Home Security Services Pricing
All of ADT's packages include professional installation, 24/7 monitoring, theft guarantee protection* (certain restrictions apply), service and repairs, and a 6-month money-back guarantee* (certain restrictions apply). Packages start at $28.99 which requires a 36-month monitoring contract. Early term and installation fees apply. Taxes addt'l. In order to get full pricing details, you can visit www.adt.com.
Secure Package
ADT's Secure package includes all of the features listed above as well as intrusion detection, fire, CO, and flood monitoring, touchscreen panel control, and voice control integration.
Smart Package
The smart package includes everything in the secure package as well as smart home automation and a remote access mobile app.
Complete Package
The most comprehensive plan on offer, ADT's complete package includes everything that comes with the smart package as well as video surveillance and access to stored video content.
Package Specifics
While ADT's home security packages can suit a variety of needs, it's worth mentioning that you should only contact ADT if you are serious about installing a home security system. Once you request a free quote, you will be contacted by a representative, quite possibly on the same day, as the fine print states:
By clicking the 'Get a Free Quote' button below, I agree that an ADT specialist may contact me via text messages or phone calls to the phone number provided by me using automated technology about ADT offers and consent is not required to make a purchase. Your information is collected and used in accordance with our privacy policy.
How ADT Compares to Other Home Security Services
Here's a quick comparison chart that sets ADT's services against other home security providers.
6 months and $500 theft protection guarantee
ADT vs Vivint
ADT and Vivint are both at the forefront of the home security industry today, providing protection that is one step ahead of any intruder or mess. Vivint and ADT both offer sophisticated home security systems, but the difference between them is in the plans and pricing. ADT provides monitoring starting at $28.99 and requires a 36-month contract, with early term and installation fees. Through contacting Vivint, we were able to determine that the monthly monitoring fees range from $49.99 to $68.99. Free installation and equipment come with every package purchased but you have to pay an activation fee for all plans, which ranges from $99.00 to $199.00 depending upon the level of package. The shortest contract that Vivint offers is 42 months (3.5 years) - making for long and pricey agreements.
ADT vs SimpliSafe
SimpliSafe's protection services come at a competitive price, from $14.99 per month in comparison to ADT's monthly $28.99, offer professional 24/7 monitoring, and require no long-term contracts. With ADT, no matter the level of security you choose, you will have to sign a 36-month commitment. Simplisafe provides protections for your home that doesn't require professional installation for any of the hardware, since it all comes pre-programmed, ready to use, and backed by a 60-day warranty.

ADT Visit Site
Bottom Line
ADT offers a number of security packages, and all come with 24-hour monitoring through the ADT Security Network, which is made up of 9 company-owned monitoring centers located throughout the United States.
ADT is accredited by the Better Business Bureau and performs background checks on all of its installers. Its staff is professional and knowledgeable, and its security professionals can guide customers from the initial consultation all the way to post-installation.
*Certain restrictions apply: ADT Money-Back Guarantee: Money back guarantee only applies after ADT has made attempts to resolve a system related issue and has not been able to resolve that issue within the first 6 months of your contract. Equipment must be fully removed before a refund will be processed. Conditions preventing normal system operation cannot be caused by the customer.