In a Nutshell
ADT has over 100 years of experience making security and fire alarms. They have put this expertise to good use with a full range of home security packages, including cameras, burglar alarms, life safety alarms, and smart home devices. Our ADT home security review shows that this is a reliable provider good for full-home coverage, even when WiFi is down.
pros
100+ years of industry experience
Reliable security devices
Broad range of packages and options
cons
Three-year locked-in contract
Professional installation is mandatory

ADT Visit Site
ADT Features and Highlights
ADT offers plenty of solid features with its security systems. Here are the most impressive.
Two-Way Audio
ADT's primary method of communication with you is through a two-way speaker located in your burglar alarm. This speaker lets you contact the emergency center immediately should a problem arise. ADT will also use the speaker to contact you if any of your home security devices detect a threat.
Wireless Devices
All ADT devices have wired and wireless options. Wired systems are cheaper but take longer to install. It is also harder to position wired cameras in specific locations. To simplify installation, you can go fully wireless. All ADT devices have months of battery power and will notify you through the ADT app if their batteries run low.
Mobile or Landline Connection
The ADT alarm system does not require an internet connection to function. Instead, you can connect it to a telephone landline, if you have one, or to the AT&T mobile network. You do not need an AT&T plan to use ADT.
If your power or internet service goes down, your alarm system will still function, as the alarm will run on backup batteries for some time and will maintain its connection to the monitoring center via these alternate connections.
ADT Equipment & Products
Home Security Systems
ADT's home safety alarm, the ADT Command Panel, is a touchscreen-equipped hub that connects to your entire home security system, including cameras, life safety alarms, and sensors.
You can control devices such as smart locks remotely and see the view from all of your security cameras on the Command Panel's screen. It also acts as a burglar alarm and can be armed or disarmed, either directly using the touchscreen or remotely using ADT's mobile app.
The ADT Command Panel also has a two-way speaker with a 24/7 live connection to ADT's emergency monitoring center, which ADT will use to contact you in an emergency.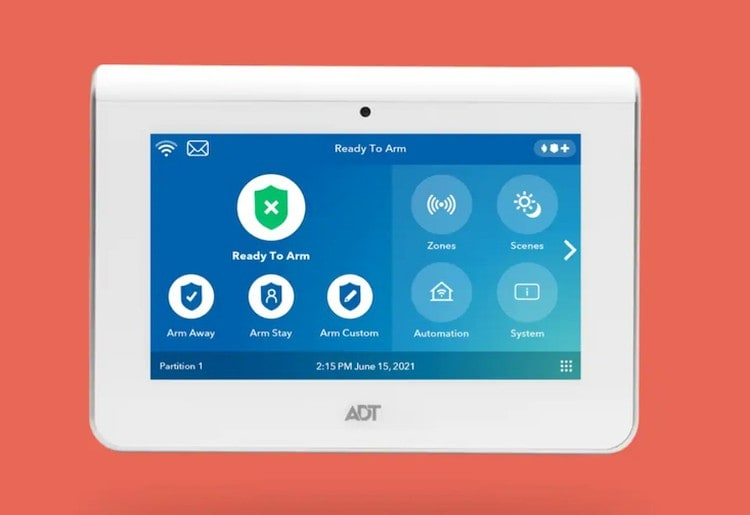 ADT Equipment & Products
Home Security Cameras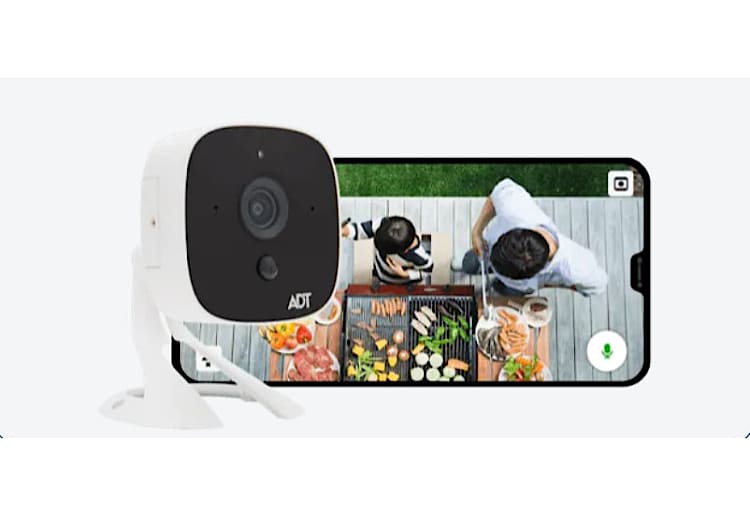 ADT sells indoor and weatherproof outdoor cameras under its own brand, plus doorbell-mounted cameras in partnership with Google Nest. It also offers a range of DIY cameras through its Blue by ADT brand.
The Nest doorbell features HD video and intelligent technology that can differentiate between friendly faces and strangers and recognize the difference between a package delivery or passing vehicle, animal, or person. Despite being a Google product, it is fully compatible with your ADT security system and will send relevant alerts through the ADT app.
ADT's indoor and outdoor cameras feature similar intelligent technology and come with two-way speakers and 1080p video quality.
Life Safety Alarms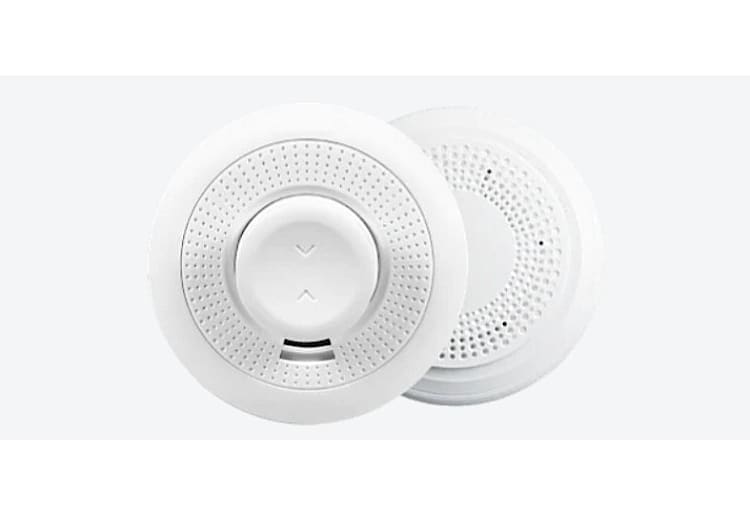 ADT offers four life safety alarms: a smoke detector, a carbon monoxide (CO) detector, a flood sensor, and an emergency panic button.
The smart smoke detector is highly advanced. It can differentiate between harmless smoke from cooking and smoke patterns resembling a fire. It also notifies you through the ADT command panel if it requires cleaning or if the batteries require replacement.
ADT's CO detector works similarly to the smoke detector but detects harmful levels of carbon monoxide. The flood sensor is a simple device that triggers an alert when submerged in water.
The wearable emergency panic button allows you to contact ADT or emergency services immediately from anywhere in your home.
Smart Home Automation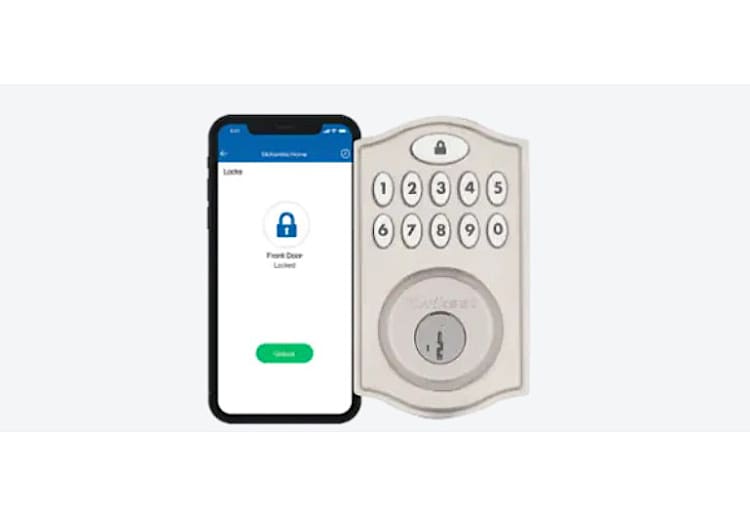 The ADT Command Panel can interface with popular smart home platforms, such as Amazon Alexa and Google Home. The Command Panel has built-in voice recognition technology and can act as an extension of your smart home speaker system.
ADT also has a dedicated line of smart home products that you can control remotely from the Command Panel or your mobile phone. These include smart locks, garage door controllers, and smart plugs.
You can configure smart devices to work on automated timers, e.g., setting lights plugged into a smart plug to turn on or off by themselves at a predetermined time.
ADT Plans - Packages & Pricing
ADT's professional monitoring plans, which can be added on to any hardware you purchase, range from $36.99 to $62.99/month and enable different levels of security and smart home automation. All ADT security systems have a $99 installation fee.
Note that some devices require a more expensive monitoring plan. Cameras will only function if you purchase the most costly Video & Home Monitoring plan, and smart Home devices will only interact with your system if you have Smart Home Monitoring or above.
Fire, CO, and Flood Monitoring
ADT Services
Most ADT devices notify ADT's monitoring center immediately when an alert triggers. An alert could come from suspicious activity caught on camera, a smoke or CO detector going off, the burglar alarm activating, etc.
When your ADT system issues an alert, ADT will attempt to contact you via phone notification and the two-way speaker on your Command Panel. If the monitoring team cannot reach you, they will assume an emergency and contact local authorities.
Monitoring
ADT's professional monitoring team primarily uses push notifications through your ADT app or direct contact via the two-way speaker on your alarm (if your security plan is not mobile-enabled) to communicate with you. To avoid false alarms, we highly recommend subscribing to the Smart Home Monitoring plan or above, since the Secure Monitoring plan does not include the app.
ADT's Monitoring Services:
Push notifications through the ADT app.

Alerts on your alarm's two-way speaker

Automatic notification to emergency services
ADT Home Security Mobile
ADT App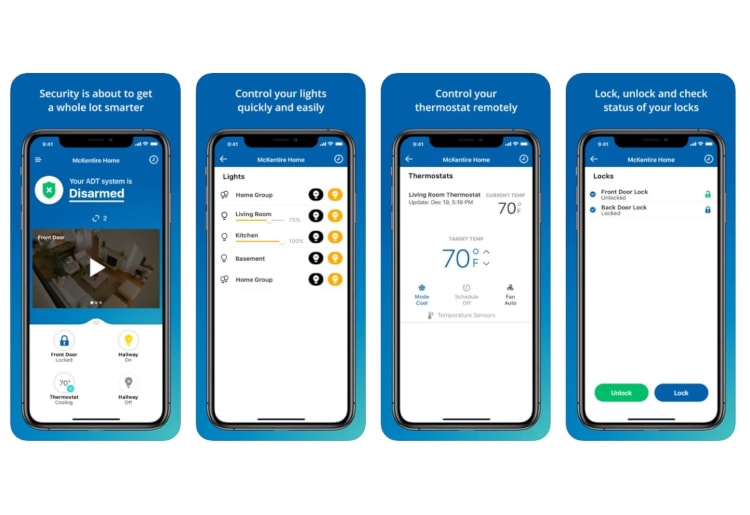 ADT's App, ADT Control, is available to Smart Home Monitoring Plan users and above. The app can do everything that the ADT Command Panel can do. You can access camera feeds remotely, receive alerts to your phone if a life safety alarm goes off, arm and disarm your burglar alarm, and interface with smart home features. You can also use the app to communicate with the ADT emergency monitoring center.
The ADT app has stellar reviews on the App and Google Play stores, with five-star ratings from over 300,000 customers.
Mobile alerts
If you have a compatible monitoring plan, you can configure any or all of your ADT devices to provide push notifications when they detect a potential threat. Some alerts, such as smoke detectors triggering, require an immediate response. If you fail to acknowledge an emergency alert, the monitoring center will contact local authorities on your behalf.
ADT Installation
ADT home security must be installed by a professional. Installation typically lasts 1.5 hours for a wireless system or three hours for a wired system. When you purchase your system, you will need to book a two-hour window for your professional installation on the calendar provided.
Installation fees start at $99 and vary based on the location and complexity of your security system. When the technician arrives, the first step is a complete walkthrough of your property to determine if your protection needs are adequate. The technician will confirm the placement of existing security features and recommend additional ones if needed.
In the last 30 minutes of your installation, ADT's specialist will test all systems to ensure they function correctly and teach you to operate the keypad and use your system's security features. They can also assist you with installing the ADT app and accessing the web portal.
ADT Contracts and Warranties
ADT home security requires a three-year locked-in contract in all states except California, where the contract is for two years. You can make monthly payments from a credit card or bank account. If you cancel before the termination of your contract, ADT can charge you up to 75% of the remaining balance until the end of your locked-in term.
After your initial contract is over, your plan will automatically renew to a monthly agreement that you can cancel without penalty after giving ADT at least 30 days' notice. To cancel, contact ADT customer service.
If there is an issue with your ADT security system that ADT is unable to rectify within the first six months, you can return your equipment for a full refund. This is more restrictive than a regular money-back guarantee, as simply being dissatisfied with the product does not qualify you for a refund.
ADT offers a warranty called the Quality Service Plan (QSP) that can cover the repair or replacement of equipment for a few dollars each month. Specific pricing is not publicly disclosed. Without the QSP, your products are not covered by a warranty.
ADT Support & Customer Service
ADT's customer service is available 24/7 by phone—(800) 716-3640—or online chat. We tested the responsiveness of ADT's online chat and received a reply within seconds. ADT has a thorough help center where you can find answers to most frequently asked questions, plus a blog, the ADT Newsroom, with articles about home security and press stories about ADT.
How Does ADT Compare to Other Home Security Services?
High-tech security solutions
Affordable, flexible plan options
ADT VS Vivint
Compared to ADT and many other home security systems on the market, Vivint is advanced, Where ADT offers a CO sensor and a smoke detector, Vivint provides a combined smoke, fire, and CO detector that interfaces with your HVAC system to control fires and CO leaks, and its cameras record in 4k to ADT's 1080p. On the other hand, a Vivint system will easily cost several thousand up front, whereas ADT can usually secure your home for less than $1000.
ADT VS SimpliSafe
SimpliSafe is easy to use, with premade packages, a lifetime warranty, and no contracts. Its product line does not have the same variety as ADT's, but the system is significantly cheaper overall. Also, SimpliSafe offers both DIY and professional installation options, while ADT can only be installed by a professional. If you are looking for a flexible, affordable system, consider SimpliSafe. ADT might be a better option if you want more advanced security features and smart home options.
ADT VS Ring
You can use Ring to secure your entire home if you like, but it truly shines for its small flexible plans. For instance, you can purchase a single doorbell camera and get a professional monitoring plan for it for just $3/month.
ADT focuses on total home security packages and may not be suitable for single purchases like this. On the other hand, ADT's established nature, professional installation, and wide variety of packages make it an excellent choice for a total home security package.
The Bottom Line
ADT home security is an established home security brand with over 100 years in the industry. Its product range includes burglar alarms, cameras, life safety alarms, and smart home devices. While it is a little more pricey than some competitors, its devices are reliable and unlikely to fail you in an emergency.
ADT requires a minimum three-year contract, and its products do not come with a warranty unless you purchase one separately. However, if you are looking for an advanced, reliable system that will protect your home for the long term, look no further than ADT.