In a Nutshell
Amazon Ring offers a wide range of wired and wireless video doorbells as well as complete home security systems with 24/7 monitoring. Security systems integrate with Amazon's Alexa-enabled devices and can be controlled with the Ring mobile app. Ring's plans are affordably priced and you can mix and match devices to build a custom security system.
pros
Wide selection of video doorbells
Compatible with Amazon Alexa devices
Affordable pricing with no contracts
cons
Must have a subscription to save video
Not compatible with Apple HomeKit

Amazon Ring Visit Site
Ring Features and Highlights
Ring offers a wide variety of home security devices so you can build your own custom home security system.
Video Doorbells
Ring offers a wide selection of video doorbells, including battery-powered, wired, and solar-powered models. The company's video doorbells also come in multiple mounting configurations to fit any entryway. Video doorbells connect to the Ring mobile app for two-way communication and can also connect to a two-way speaker inside your home.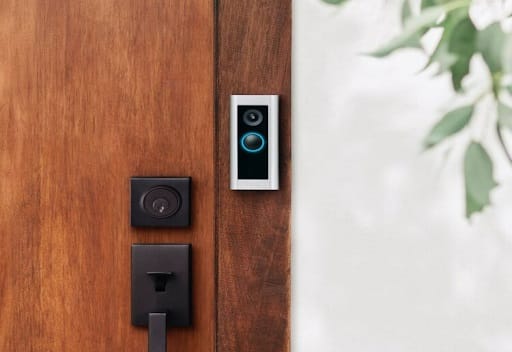 eero Mesh Network
Ring offers two home security system hubs: Alarm and Alarm Pro. Both come with a built-in eero WiFi 6 router that provides WiFi coverage over a 1,500 square-foot area. Ring also offers eero 6 WiFi extenders to ensure your WiFi network covers all of your home's connected security devices and smart devices.
Ring Equipment & Products
Home Security Systems
Ring offers the Alarm and Alarm Pro home security systems for $199.99 and $249.99, respectively. You can connect an unlimited number of security devices to your system hub, including motion detectors, window and door contact sensors, glass break detectors, and sirens. You can build your own custom system or select from Ring's security bundles to get started.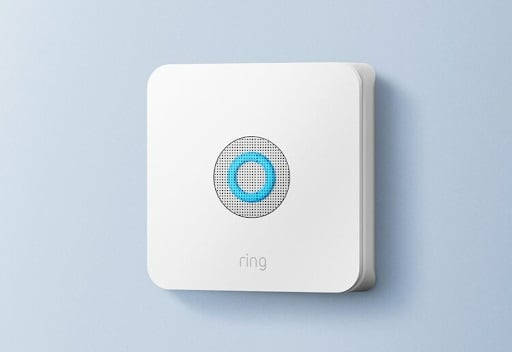 You can control your home security system through the Ring mobile app or using Alexa-enabled devices. You must purchase a Ring Protect Pro plan for $20 per month to activate 24/7 monitoring.
Home Security Cameras
Ring offers video doorbells as well as a variety of indoor and outdoor cameras. For indoor use, Ring has a basic plug-in camera with high-definition video, a two-way speaker, and motion detection for $59.99.
For outdoor use, Ring has several cameras that can be battery-powered, plugged in, or connected to a solar panel. Camera options include a spotlight camera starting at $199.99 and a flood light camera starting at $219.98.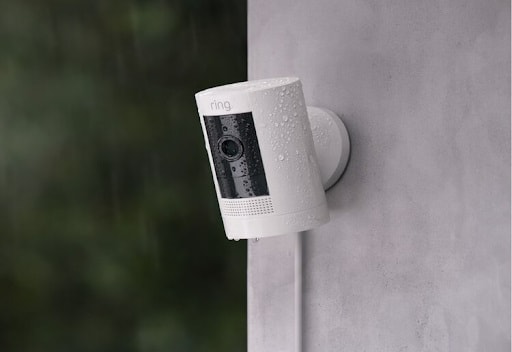 Ring's video doorbells start at $51.99. More advanced models include a two-way speaker, high-definition video, infrared night vision, and motion detection.
Life Safety Alarms
Ring offers a flood and freeze sensor and a smoke and carbon monoxide sensor that you can add to any home security system. Alarms from these sensors can trigger an emergency response if you have a 24/7 monitoring plan. Life safety sensors cost $34.99 each.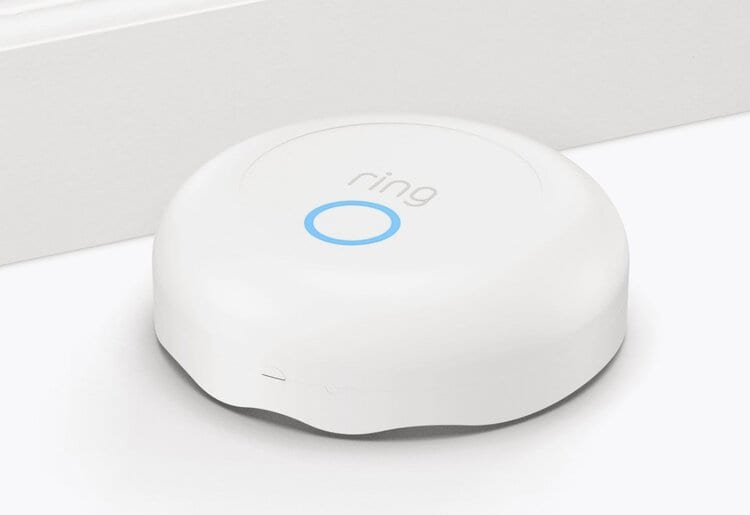 Smart Home Automation
Ring offers smart lighting for indoor and outdoor use. You can choose from pathway lights, mounted spotlights, outdoor smart plugs, and smart light bulbs, which range in price from $4.99 to $279.98. Ring's home security system is also compatible with third-party devices like Chamberlain smart garage door openers and Honeywell smart thermostats.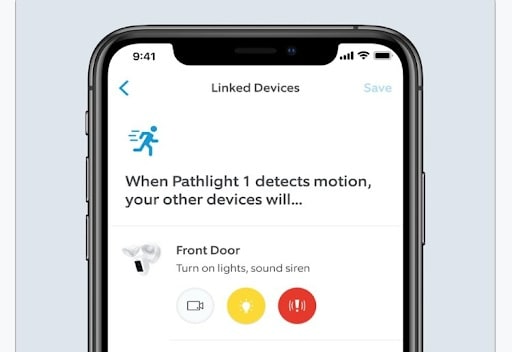 You can control smart devices directly from the Ring mobile app or through any Amazon Alexa-enabled device. You also have the option to create automations. For example, you can set particular groups of lights to turn on if your video doorbell detects motion.
Ring Plans - Packages & Pricing
In addition to the home security equipment listed above, Ring offers three subscription plans that range from $3-$20 per month. There are no installation or activation fees for Ring products.
Professional 24/7 monitoring
Entry, smoke, and CO detection
Ring Services
Ring offers cloud storage for up to 60 days of video with the Ring Protect Basic plan. This plan also enables you to download videos from your video doorbell or security cameras and to share video over Ring's cloud.
With the Ring Protect Pro plan, you get 24/7 monitoring for your Alarm or Alarm Pro security system. When an alarm is triggered, Ring's monitoring center will either attempt to contact you or dispatch emergency responders immediately, depending on the type of alarm.
You can cancel an emergency response for a false alarm by giving your verification phrase to the Ring dispatcher when they contact you.
Ring Home Security Mobile
Ring App
The Ring mobile app is available for free on iOS and Android and is the primary control point for your video doorbell or home security system.
With the Ring app, you can communicate with someone through your video doorbell or audio-enabled security camera. You can also monitor real-time video from your video doorbell or security camera or review footage if you have a Ring Protect plan.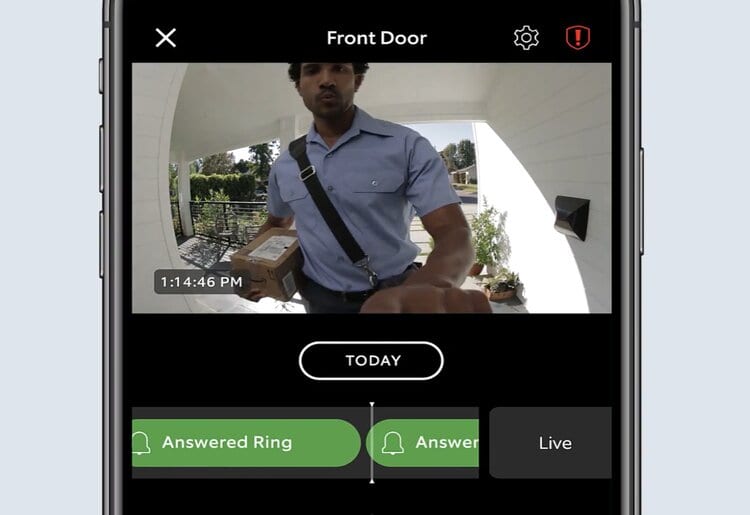 The Ring mobile app also supports home automation features. You can set up automations for your smart devices and use your home security devices, such as motion detectors, as triggers for these automations.
Mobile Alerts
The Ring app alerts you anytime someone pushes your video doorbell or anytime an alarm is triggered by your home security system. If you have a Ring Protect plan, the app can also send a push notification anytime your video doorbell detects a person at your door. Ring Protect plans also enable you to see a photo preview in motion detection notifications.
Ring Installation
Ring products are designed to be installed by you. The devices are simple to install and you can find instructions on Ring's website, although there are no tutorial videos. Installation can take a few minutes to a few hours depending on how many devices you include in your security system.
If you prefer to have your Ring home security system professionally installed, you can contact Ring's partner company, OnTech Smart Services.
OnTech Smart Services installation is available in all 50 states and charges $99.99-$249.99 for installation services. You can schedule an installation appointment online. An OnTech Smart Services professional can install it for you within one day depending on their availability.
Ring Contracts and Warranties
Ring's plans don't require you to sign a long-term contract. You can cancel your subscription at any time with no cancellation fees through the Ring website. The company also offers prorated refunds when you cancel a monthly subscription partway through the month or an annual subscription partway through the year.
Ring offers a 30-day return policy for all devices. All devices come with a one-year warranty, and you receive a one-year warranty extension when you sign up for a Ring Protect Plus or Protect Pro plan.
Ring Support & Customer Service
Ring's customer support team is available by phone 24/7. You can also get in touch by live chat from 5am-9pm MT seven days a week. We contacted the company by live chat and were connected with a representative in less than a minute.
Ring also has a community forum, FAQs page, and detailed online knowledge base. The support pages can be somewhat overwhelming, but they are searchable. Ring's support articles are very detailed but do not include images or video tutorials.
How Does Ring Compare to Other Home Security Services?
Professional installation
Comprehensive security systems
Ring Vs SimpliSafe
SimpliSafe offers affordable home security systems starting from $146.98 for a hub, motion sensor, keypad, and door opening sensor. This is significantly cheaper than building a home security system with Ring, although 24/7 monitoring starts at $27.90 per month with SimpliSafe compared to $20 per month with Ring.
SimpliSafe does not require a contract and enables you to try out your security system in your home for 60 days. SimpliSafe offers only a single video doorbell model that costs $169.
Ring Vs Vivint
Vivint offers custom home security systems with 24/7 monitoring. A major advantage to Vivint is that a security expert will help you configure your security system and professionally install it in your home.
However, this service is more expensive than Ring in most cases. Vivint also doesn't offer as much flexibility to add security sensors later on. You must contact Vivint for pricing.
Ring Vs ADT
ADT offers security systems that are tailored for your home and professionally installed. The company offers a wider range of home security sensors than Ring, although it only has a single video doorbell model.
ADT typically requires a long-term monitoring contract. You must contact the company to get a custom quote for your home. Ring offers more flexibility to build your own system, add devices later on, and cancel or downgrade your service at any time.
The Bottom Line
Ring offers a wide range of video doorbell options as well as customizable home security systems. You can choose what devices and sensors you want to build a security system that's tailored to your home, as well as add to your system over time. Ring also supports smart home automations and integrates with Amazon Alexa-enabled devices
The company provides 24/7 monitoring for only $20 per month, making it one of the most affordable home security services on the market. If you don't need monitoring, you can use Ring devices, including video doorbells and security cameras, without a subscription.