In a Nutshell
Ring is a home security system that is comprised of smart doorbells and security cameras. Acquired recently by Amazon (that should tell you how good these guys are), Ring devices come with top of the line technology including (at least) 720p video clarity, 2-way audio, and motion detection. Additionally, Ring security systems are completely automated and sync beautifully with Alexa and other smart devices for total home control, even remotely.
pros
720p or full HD and 2-way audio doorbells
Built-in smart home integrations
cons
Poor WiFi will affect the quality and speed of notifications
Integration with smart devices can have glitches
Amazon Ring Visit Site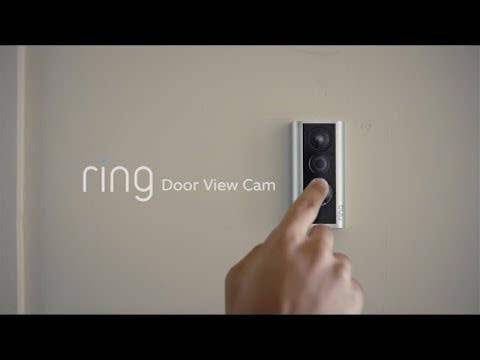 Ideal For
Homeowners wanting to stay on top of their home security from afar
Landlords who need to constantly change security permissions
Anyone who enjoys smart technology-based home security
Why Choose Amazon Ring
Ring is a fabulous home security device that packs a lot of punch into a single device. There are a lot of reasons why you'd want to choose this option over its competitors. For one thing, it's Amazon! From online retail and delivery to fresh groceries on your doorstep, it seems that everything Jeff Bezos touches is an instant success, and Ring is no different. If Amazon is putting its name behind this home security product, it's likely a sure bet.
Additionally, Ring puts a ton of fuel into its doorbells, making this small device pack a huge punch. We'll cover it in more detail below, but the 2-way communication, crisp video quality, and easy notifications make Ring an obvious choice for security-conscious homeowners.
Features
Amazon Ring definitely lives up to its expectations as an Amazon product. As you would expect from this company, Ring combines cutting edge technology with everyday security needs to create a solid layer of protection for you and your home. Some of the best features include:
Live alerts
Customization
2-way video doorbell
Amazon technicians
Alexa-enabled
Available for homeowners and renters
Short term contracts available
Motion detections and alerts
It's an impressive lineup of features for such a tiny package.
What's Unique About Amazon Ring?
Let's talk about the nuts and bolts of the device. The Ring system operates through your WiFi network, delivering messages instantly and live video feeds all the time.
Ring has one of the best doorbell cams we've seen so far. For one thing, it has a wide field of vision, 720p video clarity, and HD video quality on the new generation cameras. What's even more impressive is the 2-way speaker that allows you to both hear what's going on at your front door and speak to visitors even when you're not home.
This is a fabulous security measure because it makes people think you're at home even when you aren't. All these features combine to deliver a solid security system that keeps burglars at bay.
The motion detection on the Ring 1 and 2 gen cameras is designed with just the right balance of sensitivity and customization. For example, you can set times when you want to receive motion notifications and when you don't. So, if you're home and don't want to be bothered with motion alerts, you can have the notifications shut off. Plus, you can set certain areas to be off-limits from the motion detector. This way you aren't getting alerts every time the wind makes your weeping willow billow.
Ring doorbells are fully compatible with smart devices and personal assistants like Alexa, Echo Dot, and Amazon Fire TVs. And the Ring Skill is even more impressive. Here's what that's about: Not near your smartphone when a notification comes in? No problem. With Ring, you can simply ask Alexa who's at the front door for a hands-free security option.
The Ring supports keyless entry, which means you can let people in remotely without having to give them a key to your home. This is especially useful if you're a landlord who frequently switches over tenants, if you have packages or deliveries coming in regularly, or if you have other visitors who need access to your home on a regular basis. This could include a nurse, dog walker, or cleaning agent. Keyless entry is also the perfect solution for children who aren't responsible enough to keep track of a key but need to get into the house before you get home.
Keyless entry has 2 convenient modes: permanent access codes or remote unlock. For people who you trust or individuals coming on a frequent basis, an access code will be easier for everyone. This way you don't have to be bothered to unlock the door every time they want to gain entry. Alternatively, for one-off entries, you can unlock the door remotely from your smartphone. In cases like this, you can take advantage of the activity recorder with an Amazon Cloud Cam, so you can know exactly what visitors are doing while in your home.
Security Services
Ring security systems are made up of WiFi-enabled doorbells and security cameras. They can be interacted with remotely, including controls, entry, and 2-way communication. When the doorbell rings, the system will send a message to your phone or device. The video feed is sent to your phone live, so you can see who is at the door, and thanks to the 2-way communication system, you can directly answer the person who rang the doorbell.
Monitoring Services
While Rings can be used as a standalone security system that you track on your own with good reliability, users can also purchase monitoring service for an additional fee. The monitoring service entitles you to round-the-clock monitoring by a professional security team.
What's more, Ring has the most competitive rates in the industry. The full monitoring service plan is just $10 a month or $100 annually, and that gives you a list of benefits, including a 10% discount on all Ring products. That, in and of itself, makes it worthwhile for most people.
There is also a Basic Plan that entitles you to some benefits but no monitoring and a Free Plan that gives you the bare minimum. Here's a look at the plans on offer:
All Ring devices at the address
One Ring doorbell or security camera
Customer motion detection
Interact w/ visitors from anywhere
Access videos up to 60 days
Access videos up to 60 days
Review, share, save videos
Ring alarm professional monitoring
If you want to do it all yourself and just need good equipment, the free plan is great. But if you want somebody else watching your back, spring for the Plus Plan. It's less than $10 a month for a yearly plan, and you can't put a price tag on that kind of reassurance. You can also get a 30-day free trial of Plus when you purchase your equipment.
Mobile Readiness
Ring has an amazing mobile app. It's fast, easy to use, and compatible with both Android and Apple devices. What's amazing about the Amazon Ring products and plans is that you can control them from any mobile phone, tablet, or device. And you can use unlimited numbers or devices simultaneously to manage and monitor your security service.
The mobile app lets you receive notifications any time an event is triggered (doorbell rings, motion detector goes off, etc.). Then you can access the video camera to see what's going on at your front door. Users can also set rules, unlock the door remotely, and change motion detection settings from the mobile app, even if you aren't at home.
Help & Support
Ring has several support options you can choose from. For one thing, you can get a live chat agent by typing a question into the chat window displayed at the bottom of every page. Most people will find what they're looking for though in the massive support center. It's loaded with just about every question you could possibly ask, and has excellent in-depth troubleshooting guides as well. We were quite impressed with how well organized the help center was; everything categorized neatly and obvious links that directed us to exactly where we wanted to go.
According to the website, phone service is available from 5am to 5pm PT, but you can get online help 24/7 if you prefer that style or if it's after PT business hours.
Bottom Line
Ring delivers advanced technology with basic installation, rock-bottom monitoring service pricing, and a name that you can depend on. With all of these features combined, it's no wonder Amazon bought it out, and why it comes so highly recommended by us.
Amazon Ring Visit Site
About Amazon Ring
Ring was acquired by Amazon in April of 2018, being recognized as a valuable stepping stone in the pursuit to increase Amazon's reach into the home automation sector. Ring's self-proclaimed mission is to reduce crime through solid and reliable home security products. These products have shown a 55% decrease in home break-ins since being installed.
Contact Details
US +1 (800) 656-1918
INTL +1 (310) 929-7085