Scout Alarm Visit Site
Scout Alarm Features and Highlights
Scout Alarm offers several features and highlights to meet its customers' home security needs.
Easy Installation
One of Scout Alarm's key selling points is the ease of setting up the security system in your home. You don't need screws or wires because the products can be placed or attached to various surfaces, such as tables, cabinet tops, or walls. Moreover, it's simple to connect your device to your smart appliances, such as Amazon's Alexa.
4G LTE Cellular Backup
A home security system needs to be active 24/7 to protect you. Scout Alarm uses a 4G LTE cellular backup when you have an internet disruption or an electrical blackout that switches off your router.
Wireless Sensors
Scout Alarm's wireless sensors help you manage a secure environment in your home. Door panel sensors detect when someone opens or closes doors, whereas access sensors detect when windows, cabinets, or safes are opened or closed.
Motion Detectors
With just one motion detector, you can monitor an entire room, staircase, hallway, or path to be a step ahead of potential danger. Scout's motion detectors work day and night, they're easy to set up, and they're battery-powered, meaning your security won't be affected by outages.
Scout Alarm Equipment & Products
Home Security Systems
Scout Alarm uses the Scout Hub—the "brain" of its security system—to connect with sensors and smart devices to protect your home. The Scout Hub costs $120, and it uses a backup battery in case of a blackout, thereby keeping your home security connected throughout emergencies.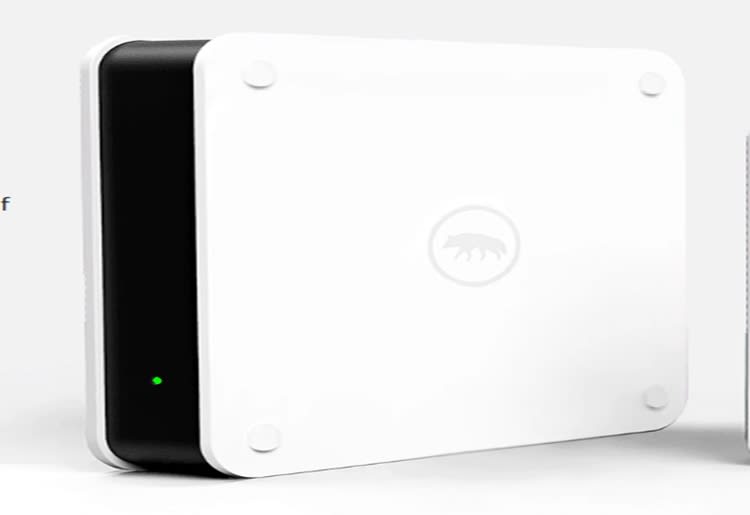 The Scout Hub connects with sensors around the house: door panel sensors, motion sensors, access sensors, water sensors, and glass break sensors. Its loud 105 dB siren is designed to scare away intruders. In addition, you'll get a door lock and keypad to further enhance your security.
Home Security Cameras
The Scout indoor camera costs $99 and shows your home's live stream (day and night) in 1080p High Definition (HD) quality. Its motion and sound alert features are top-notch, and the camera starts recording clips once it detects movement or sounds.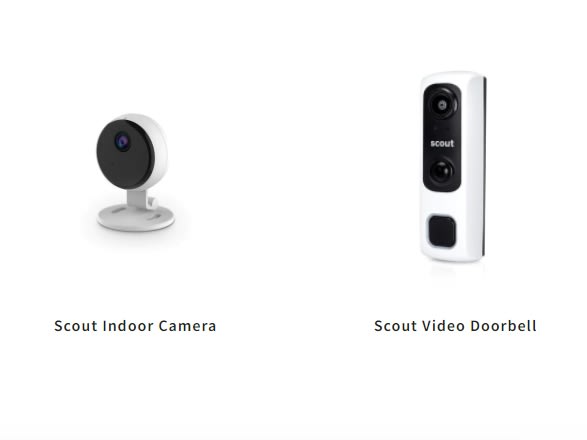 The video doorbell is $99, and its people-detection feature notifies you when someone approaches your front door. Like the indoor camera, it's easy to install, and it records videos in 1080p HD. You can use the two-way audio feature on the Scout app to talk to visitors in real-time via the video doorbell.
Life Safety Alarms
Scout Home Security offers life safety alarms, such as the smart smoke and carbon monoxide (CO) detector ($47). As soon as smoke and CO are detected, you'll receive an alert in the form of sirens, enabling you and your family to head to safety.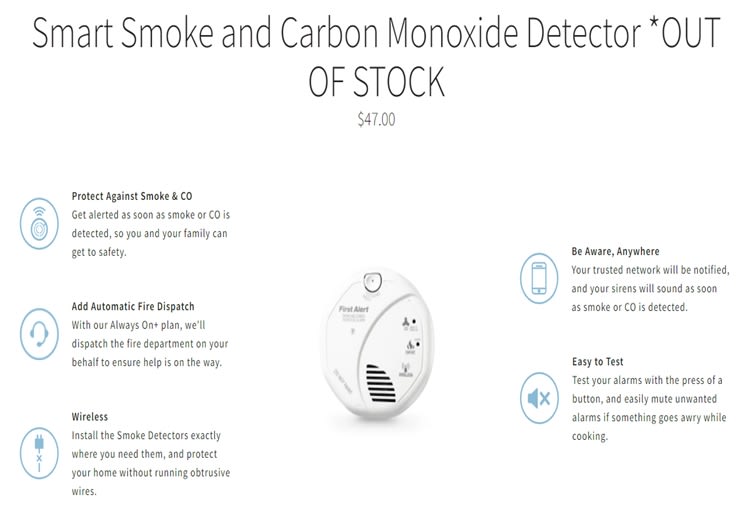 If you pay for the Always On+ plan, you'll get additional features like police and fire dispatch. For now, Scout Alarm doesn't offer medical pendant support.
Smart Home Automation
Scout Alarm is currently compatible with Amazon's Alexa, Google Assistant, the free automation tool IFTTT (If This Then That), and other smart home devices. You can also use IFTTT to customize several other smart-home services.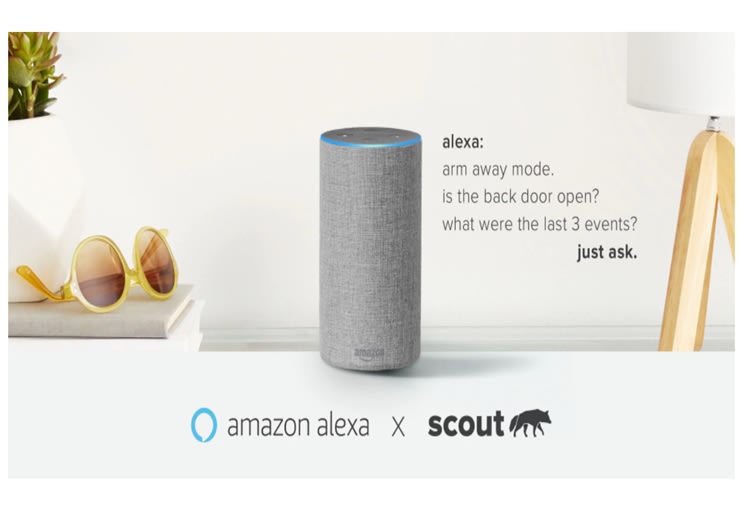 Alexa integrates well with Scout. You can issue commands through Alexa to arm or disarm the system, for example, and Scout will execute the order.
Scout Alarm Services
Once Scout Alarm's sensors detect any unexpected activity, they'll send a message to the Scout Hub. It will respond according to your selected settings—either sending a custom notification to your device or alerting you through a siren sound. You can check the activity on your video or activity log and decide if you need to escalate the issue to the police or if the sensor was tripped by a non-threat.
When an active alarm is triggered and you have professional monitoring enabled, you'll receive a call from Scout Alarm's central station asking if you need emergency assistance. If your answer is "No", they'll ask you for a predetermined passcode. The Scout Security team will have the police/fire department dispatched if a wrong code or no passcode is given. If you're not available for the call, Scout Alarm will call your dedicated contact before police are dispatched.
Monitoring
Scout Alarm 24/7 offers professional monitoring with its advanced plan, Always On+. With either plan, you'll receive real-time alerts through email, SMS, and iOS push alerts if a sensor is tripped. With professional monitoring, the Scout Hub will notify Scout Alarm's Central Monitoring Station of any issues, and the team's experts will assess the situation and inform you or dispatch the police.
Scout Alarm Installation
The Scout Alarm installation process is easy, and you'll receive a guide to help you install the products on your own. You'll start by unboxing the products and registering your account on the Scout Alarm website.
Power up your Scout Hub and connect it to the router using an Ethernet Cable. After establishing an internet connection, input the installation code from the QuickStart card. If the code is successful, the Scout Hub will start pairing, and you can begin installing the sensors closest to the Hub and proceed outwards. That's all that's needed to set up your security system.
It will take you an average of 30-45 minutes to install the smallest of Scout's hardware packages. Pairing devices takes about a minute. Scout Alarm's customer service is available via phone if you need guidance to complete the installation.
Scout Alarm Contracts and Warranties
Scout Alarm doesn't have an annual contract; you'll use the services as the subscription renews month-by-month. There are no cancellation fees, and you can cancel or change plans at any time hassle-free.
Once an item return request is received, it can take up to 72 hours to be processed. You'll get 60-day free returns, a full refund if you're eligible, and a three-year limited warranty. The warranty does not apply to misused items, and can't be transferred to anyone else.
Scout Alarm App
The Scout Alarm mobile app provides 24/7 remote access to your home security system. It's easy to set up, and you can customize the system response settings for tripped sensors. Furthermore, you can set custom alert notifications. You can view visitors through the doorbell camera and grant access to the house from your phone. However, the app doesn't have a good rating in the Google Play Store, with users reporting crashes.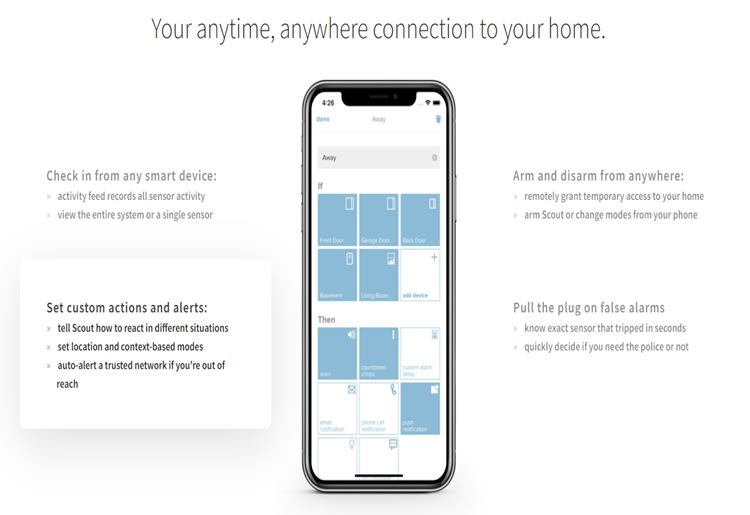 Mobile Alerts
Once you download and install the Scout Alarm app, you can set up push notifications in the settings. Select the gear icon, go to the settings, and select notification settings. From there, you can toggle notifications on or off. You'll have to be an admin to receive all the available notifications.
Scout Alarm Customer Support
Scout Alarm's support and customer service include a detailed knowledge base with clearly labeled topics to address common questions. The FAQs section is thorough and lists various topics customers would be curious about. An informative blog and additional guides and links to other relevant resources help the customer get solutions.
Phone and email support are both available from 9am - 6pm CST, seven days a week. Email responses can range from 30 minutes to a few hours. Scout Alarm's online contact form enables you to send in your questions quickly, and its response time is about 30 minutes.
Pricing & Special Offers
Scout Alarm Home Security offers two monitoring plans: Always On and Always On+. You can save 10% on a yearly subscription. There's free shipping on orders of $200 or more, and there are no installation fees. In addition, you can get 10% off your first order if you sign up for Scout's email list.
Scout Packs, which bundle the devices that form your security system, are available to make it easier to outfit your home, and range in price from $229 to $549.
$19.99 per month
$215 per year (paid yearly)
$9.99 per month
$107 per year (paid yearly)
Professional 24/7 Monitoring
Smart Home Integration (with third-party add-ons)
Entry, Smoke, and CO Detection
How Scout Alarm Compares to Other Home Security Services
DIY security and smart home app integrations
DIY home security solutions
State-of-the-art technology
Easy installation and customer service

Scout Alarm Visit Site
Scout Alarm VS SimpliSafe
SimpliSafe and Scout Alarm both have a DIY approach to setting up a home security system. SimpliSafe has more customer-centric and easy-to-use features, such as video verification to dispatch police faster to your location and lifetime warranties for equipment. Unlike SimpliSafe, Scout Alarm doesn't have a live chat or community option and you have to rely on its email support.
Scout Alarm VS Vivint
Vivint is a higher-priced option than Scout Alarm because it focuses on professional services instead of DIY. Vivint technicians will visit your home and handle all the equipment installation needed. Unlike Scout Alarm, Vivint has a live chat customer service, which has quick response times of less than three minutes according to our tests.
Scout Alarm VS Cove
Cove offers a lifetime warranty on its equipment, whereas Scout Home Security only provides a three-year warranty for defective products. While Cove costs slightly more than Scout, features like smash-and-grab protection—which notifies the police when someone damages your security system—give it better value for money. In addition, Cove has a chat feature, and upon testing, we found the response was within a minute.
Bottom Line
Overall, if you're looking for an affordable, easy-to-install, and feature-packed home security system, Scout Alarm could provide value for money. It's reasonably priced compared to its competitors, and it offers equipment bundles and professional monitoring. While its mobile app could use some improvement to prevent crashes, the Scout app provides control over sensors, cameras, and alerts to help you monitor your home even when you're away.