In a Nutshell
Deep Sentinel provides security cameras and an artificial-intelligence-driven hub that automatically recognizes intruders. Remote security guards review your footage in real-time and communicate with intruders, activating a response if necessary. In which case, I recommend Deep Sentinel if you prefer expert monitors to managing your own home security system.
pros
AI-based threat-detection system
Cameras equipped with two-way audio
30-day money-back guarantee
cons
Expensive camera systems
No security devices besides cameras

Deep Sentinel Visit Site
Deep Sentinel Features and Highlights
Deep Sentinel uses a combination of artificial intelligence (AI) and remote security guards to protect your home from afar.
AI Hub
At the core of Deep Sentinel's security system is its AI-enabled hub, which lives inside your home. The hub collates all the security footage from your cameras and processes it to identify threats. If potential threats are identified, the hub sends an alert, plus streaming video, to Deep Sentinel's remote security guards.
Remote Security Guards
Remote security guards monitor Deep Sentinel's systems 24/7, and can watch security footage in real-time when your hub issues an alert. Professionally trained guards can communicate with would-be intruders via two-way audio in Deep Sentinel's security cameras, before initiating an emergency response (if necessary). Deep Sentinel promises to respond to attempted burglaries within 30 seconds.
Deep Sentinel Equipment & Products
Home Security Systems
The foundation of Deep Sentinel's security system is based on its security cameras and AI hub. The company doesn't offer additional home security monitoring devices such as door and window sensors, glass-break sensors, or motion detectors, but my fingers are crossed for future add-ons.
The hub uses AI to process security camera footage to determine what constitutes a potential security threat. According to Deep Sentinel, it can differentiate between package deliveries and package theft, and the system "learns" over time to improve accuracy. When the hub detects a potential threat, it notifies Deep Sentinel and shares your security camera footage with the company's monitoring center.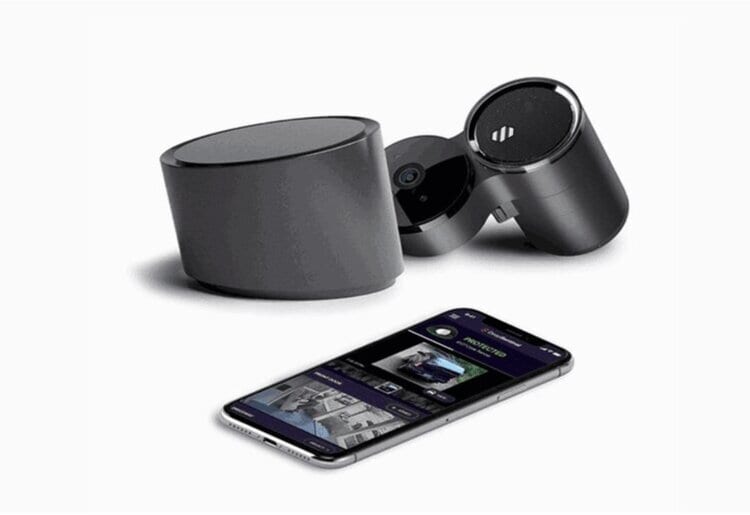 A kit including an AI hub and one wireless security camera costs $399.
Home Security Cameras
Deep Sentinel offers wireless and wired security cameras. I recommend the wireless camera for most homes, which offers 1080p video with a 130-degree viewing angle, and a viewing range of up to 40 feet at night. The wireless camera costs $150, and the battery lasts up to three months.
Power-over-Ethernet (PoE) security cameras are hard-wired and, because of this, offer higher resolutions up to 4K. Deep Sentinel's fixed-position camera provides a 114-degree viewing angle, and its two dome cameras can rotate 360 degrees. These cameras offer a viewing range up to 160 feet at night, too. Pricing for PoE security cameras is by quote only.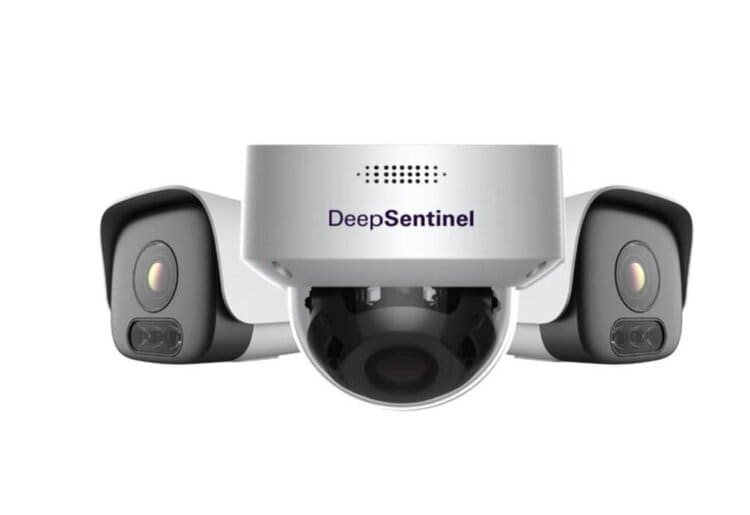 All Deep Sentinel cameras include a speaker and microphone for two-way audio.
Life Safety Alarms
Deep Sentinel doesn't offer life safety alarms.
Smart Home Automation
I'd love to see Deep Sentinel's AI-driven security cameras integrate with smart home systems, but the company doesn't currently offer smart lights or other home automation devices.
Deep Sentinel Plans - Packages & Pricing
Deep Sentinel offers home security kits starting at $399 for an AI hub and one wireless camera. You'll need a LiveSentinel monitoring subscription, which starts at $60 a month for a single wireless camera. Deep Sentinel can provide professional installation at an additional cost, but you can still install wireless cameras on your own in about 30 minutes.
None for DIY installation
None for DIY installation
None for DIY installation
Professional 24/7 monitoring
Entry, smoke, and CO detection
Deep Sentinel Services
Deep Sentinel requires a 24/7 monitoring plan to use its security system. This gives you access to professionally trained security guards who view live footage from your cameras when your AI hub detects a threat. The company's monitoring centers are in Virginia and the Philippines.
Deep Sentinel security guards use your live footage to determine if there is indeed a threat, and if necessary can activate a local emergency response. They can also use the two-way speaker in your security cameras to talk to an intruder, or to get more information about the situation.
The company says it responds to burglaries, violent behavior, vandalism, and package theft within 30 seconds of your AI hub issuing an alert, which is impressive! Deep Sentinel monitors can also communicate with a delivery person at your door to confirm a package delivery, and talk to police when they arrive at your home in response to an alarm.
Monitoring
Deep Sentinel's remote security guards monitor for alerts 24/7. They have access to your real-time security footage at all times, except when you set your cameras to privacy mode. Deep Sentinel guards can communicate with an intruder through the camera's speaker and can activate a local police response.
24/7 monitoring

Access to real-time security camera footage

Two-way communication with intruders

Initiate emergency response.
Deep Sentinel Home Security Mobile
Deep Sentinel App
The Deep Sentinel free mobile app for iOS and Android enables you to view footage from your security cameras in real-time. You can also communicate through your security camera's speaker using your phone.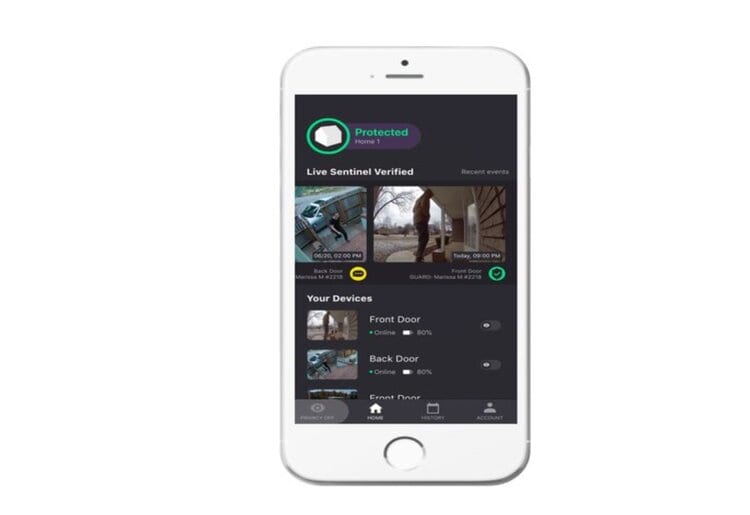 I like that you can quickly activate privacy mode through the Deep Sentinel mobile app, which restricts the monitoring center from having access to your security camera footage. Privacy mode can also be scheduled for one or more cameras ahead of time.
Mobile Alerts
When your AI hub detects a potential threat, it issues an alert to the Deep Sentinel monitoring center, but also to your mobile device as a push notification. Since Deep Sentinel is monitoring these alerts, you don't need to respond. You'll also get alerts when the battery on one of your wireless cameras is running low or when Deep Sentinel monitors confirm a package delivery at your home.
Deep Sentinel Installation
Deep Sentinel designs its wireless cameras for DIY installation. Each camera comes with a wall mounting kit, and they can be placed inside or outside. Expect each camera installation to take around 30 minutes.
If you prefer to have your cameras professionally installed, Deep Sentinel can connect you with a licensed installer in your area. Fees vary by installer, but according to Deep Sentinel are typically $100-$150 per hour.
For wired PoE cameras, Deep Sentinel requires professional installation. The cost of installation is included in the custom quote for your security system.
Deep Sentinel Contracts and Warranties
You must have a LiveSentinel monitoring subscription to use your Deep Sentinel security system. Self-monitoring isn't an option, and your cameras will not function without the subscription.
Monitoring subscriptions require a one-year contract, which you can pay month-to-month or upfront. The company offers two months of service for free if you pay upfront.
If you're not satisfied with Deep Sentinel, you can cancel your contract within the first 30 days and get a refund. You should return any cameras and the AI hub in their original packaging to get a refund for your security kit. You can initiate a return by contacting the customer support team, and refunds take up to 30 days to process after your return is received.
All Deep Sentinel cameras come with a one-year warranty against manufacturing defects.
Deep Sentinel Support & Customer Service
Deep Sentinel offers customer support by phone, email, and live chat from 6am-6pm (PT) Monday-Friday, and 8:30am-5pm Saturday-Sunday. Live chat support is available online and through the Deep Sentinel mobile app. I got in touch using live chat and was connected to a representative in less than two minutes.
The Deep Sentinel website has a detailed online support center and FAQ pages. The support center includes instructional videos that demonstrate how to install wireless cameras, and how to connect your cameras to the AI hub.
How Does Deep Sentinel Compare to Other Home Security Services?
Customizable security packages
Deep Sentinel vs SimpliSafe
SimpliSafe has a wider variety of home security devices than Deep Sentinel. As well as security cameras, SimpliSafe has door and window contact sensors, glass-break sensors, and life safety monitoring devices. There's also a less expensive monitoring plan and a 60-day money-back guarantee.
Like Deep Sentinel, SimpliSafe's monitoring center receives alerts and can view live footage following an alert. However, SimpliSafe monitors will not communicate directly with intruders.
Deep Sentinel vs Ring
Ring offers a self-monitoring option in addition to a 24/7 monitoring plan, making it more suitable than Deep Sentinel if you want to monitor your security system. Foregoing professional monitoring also makes Ring less expensive than Deep Sentinel.
However, you still need a paid Ring subscription to store security camera footage. Ring also doesn't offer AI-based features that can differentiate between visitors and intruders in your footage.
Deep Sentinel vs ADT
ADT provides several smart home devices, and integrates with popular smart home systems like Amazon Alexa and Google Nest. It gives you the option to set up automated workflows that control your security system, lights, and more.
ADT pricing is by quote only, but professional monitoring for most home security systems is less expensive than for monitoring by Deep Sentinel. However, ADT monitors will not communicate directly with intruders, and not all security systems include cameras.
The Bottom Line
Deep Sentinel doesn't offer the same range of home security devices as competitors, and there are no smart home integrations. Yet, I think the company stands out for its 24/7 monitoring system. An AI hub distinguishes visitors from threats, and professionally trained guards can make decisions about whether to initiate an emergency response based on real-time footage, and within 30 seconds!
Deep Sentinel is more expensive than its peers, yet you're not required to self-monitor at all, which isn't the case for many home security systems. Overall, Deep Sentinel is a good choice if you want to place security in the hands of professionals rather than be involved in day-to-day security monitoring.