In a Nutshell
Deep Sentinel's AI-powered solution provides proactive, rather than reactive home security. Through a combination of wireless cameras, local artificial intelligence, and video surveillance, it distinguishes between potential intruders and people, animals, vehicles, or other objects that don't pose a threat. The system works in real-time, deploying remote guards to shout off intruders and engage law enforcement if needed.
pros
Deters intruders before they reach the front door
Guaranteed no false alarms
cons
Minimum equipment purchase of $399
Minimum 1-year subscription to LiveSentinel monitoring
Deep Sentinel Visit Site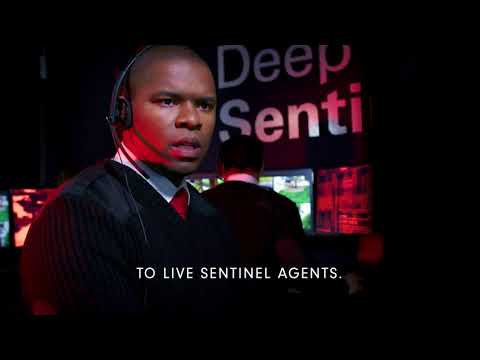 Ideal For
Home owners wanting proactive—rather than reactive—home security
Families that can afford a relatively expensive home security system
Anyone looking for a wireless security solution that stays out of view
Why Choose Deep Sentinel
The main advantage Deep Sentinel has over competitors is that it acts before a break-in. A traditional camera system monitors intruders when they reach the front door. An alarm system only goes off after the intruders have broken in. Deep Sentinel monitors for potential threats, takes proactive steps to deter intruders, and engages law enforcement before the intruder has time to cause damage.
Features
Deep Sentinel claims to be the first and only home security system that deploys live remote security guards to protect your home. Through a combination of technologies, it deploys a virtual perimeter around your home to monitor activity and detect threats. If it senses a possible break-in, remote security guards step in, using 2-way speakers to warn away the intruder. If things escalate, the guards instantly alert law enforcement.
The system is built around equipment starting from $399 up front and software with a minimum 1-year subscription at $49.99 per month. The technology includes:
Next-generation wireless cameras
Motion sensors
Predictive local artificial intelligence (AI)
LiveSentinel, with 24/7 protection from remote guards based at Deep Sentinel's surveillance center.
What's Unique About Deep Sentinel?
Deep Sentinel's main selling point is its proactive, rather than reactive, approach to home security. While most other home security systems are based around cameras and alarms, Deep Sentinel builds a virtual perimeter around a customer's home to monitor activity in real time and ward off intruders. Deep Sentinel claims to be the only home security platform that includes live remote security guards who protect the home 24/7.
Security Services
Deep Sentinel combines artificial intelligence with real, remotely-based human intervention to deter and prevent home break-ins.
Using AI processing, smart cameras, and motion sensors, Deep Sentinel creates an intelligent perimeter around your property.
The sensors detect and capture movement of people, animals, vehicles, and other objects on your property. The AI software distinguishes between suspicious and non-suspicious behavior.
If suspicious activity is identified, the cameras turn on with a strobing red ring, indicating that it is recording. The video feed goes on at Deep Sentinel's 24/7 Surveillance Center, where remote guards decide whether to intervene or not.
If the remote surveillance team decides to intervene, they can speak with the intruders or let off an alarm through 104-decibel speakers installed in the cameras. The speakers allow for 2-way communication between the guards and intruders.
If the situation escalates to an actual crime in progress, the guards notify local law enforcement. According to Deep Sentinel, its guards identify a threat within 10 seconds and notify the police within 20 seconds.
Monitoring Services
As described in the section above, Deep Sentinel offers a combination of monitoring and security. Cameras, sensors, and AI software monitor for suspicious activity within a virtual perimeter around your property. Deep Sentinel's remote security guards take action if needed, communicating with intruders through 2-way speakers and engaging law enforcement if the situation escalates to a crime in progress.
Mobile Readiness
We visited Deep Sentinel's website on desktop and smartphone, and we're pleased to say it's mobile-friendly. It includes a handy feature that lets you call customer service with just one click, straight from the website. Deep Sentinel doesn't offer an app or any special mobile features. Then again, it doesn't need to, because its remote guards take care of any threats for you.
Help & Support
Deep Sentinel is still a very new company, having only launched in January 2019, so feedback from long-standing customers is non-existent. With that said, its website offers detailed descriptions of how the system works. It also contains a useful learning center with useful information for homeowners, such as the best positions to install a wireless camera.
Because Deep Sentinel deploys remote security guards to protect your home, it doesn't offer the same type of customer support as other home security companies. While some home security companies offer 24/7 customer support to help deal with threats, in Deep Sentinel's case the remote guards are the support. The Deep Sentinel surveillance center operates 24/7, and the remote guards are supposed to take action within 10 seconds of a threat being detected on your property.
Bottom line
Deep Sentinel has the potential to disrupt the home security market, making traditional alarm and camera systems look outdated. Time will tell how well Deep Sentinel's system performs in different situations, but the combination of AI and human intervention, and the philosophy of proactive security all make for an interesting product. Deep Sentinel is relatively expensive for home security, but you get what you pay for. For $400 upfront, and $600 per year, homeowners get a system that promises to act against intruders before they reach the front door. That's more than most home security providers can promise.
Deep Sentinel Visit Site
About Deep Sentinel
Deep Sentinel is a privately held company based in Pleasanton, California and backed by big investors including Amazon's Jeff Bezos. It was founded in 2016 and launched at the Consumer Electronics Show in Las Vegas in January 2019. It began offering its services to homeowners around the United States around the time of its appearance at CES 2019.
Contact Details
Phone: (833)-983-6006
Other: Leave a message or ask for a call back using the "Request a callback" button at the bottom right of Deep Sentinel's website.