In a Nutshell
For just $30.99 a month, Link Interactive will protect and connect your home with the best security and home automation equipment from a variety of top-end brands. They will keep you protected with an extensive list of features, including: 100% cellular monitoring, mobile access, video, and more.
pros
Completely wireless security system
Access to 24/7 monitoring
cons
DIY Installation only—no professional option
Costly cancellation policy
Link Home Security Visit Site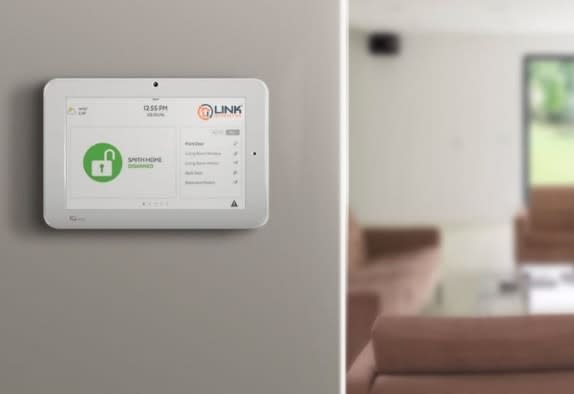 Why Go With Link Interactive
Central Station Monitoring:
In case of an emergency, other security systems claim to have your back by sending you text message alerts, but what happens when you need real help and you don't have access to your phone? With Link Interactive, your system is backed up by 24/7 central station monitoring, giving them the ability to contact you through a 2-way voice panel, call in EMS when you don't respond, and even call the police for you if your home is invaded.
Reliable Cellular System:
How smart is it to let your family's safety depend on your internet connection? Every time your internet breaks down, your security may be exposed to a fatal flaw. With Link Interactive's cellular based security, you won't have to worry about the risks associated with an internet dependent system.
What They Offer
Whether you are looking for a basic package with home automation capabilities, or a more advanced offering that offers video monitoring, we believe that you can't go wrong with a security system from Link Interactive.
Security cameras - Link Interactive provides the highest quality indoor/outdoor HD cameras that respond to motion. Every camera is monitored 24/7 by Link Interactive's professional monitoring center. You can even check in on your home yourself by logging into the app to watch live streaming video.
Home automation - Stay connected to your home with real-time alerts and remote control across your entire system—all in one powerful mobile app. Why juggle multiple apps to control your thermostat, lights, security or cameras? With Link Interactive, you have instant visibility into activity across your entire system, and one-touch control.
Intrusion sensors - With door and window sensors, recessed door and window sensors, tilt door sensor, glass break sensor, motion sensors, and image sensors, Link Interactive has an extensive list of sensors to choose from that will be alerted if anyone is entering your home.
Environmental sensors - Link Interactive's 3-in-one smoke/heat/freeze sensor, heat detector, disaster detector, and carbon monoxide detector will notify you the instant something is off in your home's interior.
Control panel - Link Interactive's star component is the innovative Go!Control alarm panel. Monitoring your entire home, the panel is fully responsive through voice and can clearly communicate status, zone descriptions, alarms and emergencies.
More Reasons to Choose Link Interactive
Link Interactive was founded on the mantra of delivering expert advice and consultation to homeowners looking to secure their properties. With the knowledge that many people purchase poor systems and don't properly install them, Link Interactive set out to offer a top quality service at an affordable price. With some of the biggest names on board to help design the Link Interactive systems and networks, including the famous GE Simon range, customers can feel safe in the knowledge that Link Interactive is protecting them.
What's Unique About Link Interactive?
Link Interactive's equipment is 100% wireless and uses a secure cellular signal. The system is dependent on power, but includes a battery backup to keep the equipment running in the event of a power outage. This means that unlike alarm systems that depend on your telephone landline, there are no wires. 100% wireless technology also makes moving easy. As the equipment is wireless and Link Interactive is a nationwide provider, you can move anywhere in the mainland United States and take your service and equipment with you, without penalty.
There are many benefits that go along with a Do-It-Yourself Security system:
You can get the same quality protection without having an installer and do not have to worry about the risks associated with letting a stranger into your home.
DIY systems allow you to customize your security, so you know that the products you are getting are right for your home and your family.
DIY customization allows you to work within your budget, giving you the ability to access quality protection at an affordable price.
You do not need to be an electrician to get the job done. 92% of Link Interactive customers said it was easy to install their system.
If you already have a security system in place, Link Interactive offers a take-over program that will allow you to upgrade your current security equipment to the most advanced system available. Link Interactive will take your security matters into their own hands and quickly bring your security up to date.
For almost 60 years, Link Interactive has carried on its strong reputation for customer service and affordable costs compared to other security competitors:
A+ Rating with the BBB
5-star rating from Alarm.com
Online live chat and support videos
30-day risk-free trial
Angie's List Super Service Award winner
Consumer Affairs accredited
Another reason Link Interactive has been a consumer favorite for so many years is its lengthy return period. Link Interactive is so confident that you will enjoy its service that it allows you a full 30 days to try out the equipment.
Security Services
Link Interactive offers you the flexibility to customize your own DIY home security system to match your specific needs and budget. You will find affordable security products that have attained the highest level of reliability. Start building up your home security with equipment from Link Interactive today with the following security service offering:
Install motion sensors, as well as window and door sensors to be alerted if anyone is entering your home
Access and manage all your security equipment from one central alarm control panel
Instantly get alerts for shattering glass with our wireless glass break sensor
Link Interactive works with its customers to help you choose the right equipment for your home or small business. Once you get your system, installation is a breeze. Just follow their quick-step instructions for an easy DIY install.
Monitoring Services
Monitoring agents are ready to respond to emergencies around the clock. Regardless of your DIY package, you will be able to count on a cellular based system accompanied by 24/7 central station monitoring. Link Interactive's monitoring plans offer redundant service, so in the case of an emergency, you can be certain that their efforts will not stop until they know you have received the help you need.
Their central station monitoring is UL listed, which means that they have gone through the extensive inspection process required to meet the highest safety standards in the industry. Every aspect of their monitoring is analyzed and tested.
While other security companies worry about the things that make them different, Link Interactive focuses on the aspects that make them better. It's for all of these reasons they are A+ rated with the BBB, and awarded with a 5-star rating from Alarm.com.
Mobile Readiness
Link Interactive's partnership with Alarm.com allows users to download its highly rated app to monitor and control their home security and home automation devices. All security systems can be controlled from any device with an internet connection, though the service is clearly optimized for cell phone use.
Customers can arm and disarm alarm systems, view system statuses, set permissions and browse the history of their devices. Customers can also set up text or email alerts for pre-defined scenarios, like alarm systems being armed, power failures and more.
Help & Support
Link Interactive is staffed by experts in the security field, a precedent that stretches from the trained monitoring professionals, to the customer support agents and the sales executives. They offer the highest quality in customer support before, during and after the self-installation process via live chat, phone, email and skype. Interactive demos and installation tutorials on the website help to bring the knowledge base of the experts to the customers easier.
Link Interactive Review In Short
There is no need to sift through prices and packages. Link Interactive keeps it simple with only one monitoring price of $34.99 + $5 for video monitoring, and no installation or activation fees so you can save up to 40% compared to top-end competitors.
Link Interactive is a strong contender in the home security space and has recently made great strides by moving to an a la carte model—allowing you to customize your system to fit your home security needs. With a reputation and resources you can rely on, it is dedicated to providing you the highest quality customer experience before, during and after your purchase.
Link Home Security Visit Site
About Link Interactive
Link Interactive is a relative newcomer to the home security business, but has developed a sterling reputation in its short lifespan. he Utah-based outfit has been accredited with an A+ rating by the BBB. Offering a 'Build Your Own System' approach coupled with a money-back guarantee, Link Interactive has made a name for itself as an honest and transparent company. With integrity to match its superior service, Link Interactive has amassed thousands of customers across the mainland United States and the company continues to grow rapidly by the day.
Contact Details
Phone: 866-876-6586
Email: customerservice@linkinteractive.com