In a Nutshell
Link Interactive offers powerful DIY home security packages backed by 24/7 professional monitoring. You can add smart home automation devices and life safety alarms to your system, and the mobile app enables you to view live security camera feeds at all times. Overall, we'd recommend it for anyone looking for a transparent, affordable custom home security solution.
pros
Simple DIY installation
24/7 monitoring services
Three-year manufacturers warranty
cons
36-month minimum contract in most cases
Poor-quality self-help resources

Link Home Security Visit Site


Link Interactive Features and Highlights
Every home security system purchased through Link Interactive is backed by a suite of excellent features.
100% Cellular Service
One thing that stands out about Link Interactive security is its cellular compatibility. This means that your home security won't be reliant on your WiFi or internet connection, adding an extra layer of protection if these services go down.
Two-Way Voice
The central management panel comes with two-way voice, which enables you to speak directly with the monitoring station. This is particularly useful if you accidentally trigger a false alarm, as it enables you to alert first responders immediately. It also enables you to provide information in a clear, streamlined manner if an emergency does occur.
Existing System Integration
Another thing that we love about Link is that it enables you to bring your own devices. If you already have a home security system, you can simply switch to Link to benefit from its advanced monitoring and state-of-the-art technology. If you already have your own equipment, you may also be offered a shorter 12-month contract rather than the standard 36-month option.
Motion Detection
You can add powerful motion sensors to your Link Interactive home security system. These can be placed indoors to alert you of unwanted movement within your home.
Wireless Sensors
Apart from a small number of cords attached to some larger devices (including the central management panel), Link Interactive boasts a fully wireless system. All door and window sensors are small and inconspicuous, and they can be installed in a matter of seconds.
Link Interactive Equipment & Products
The Link Interactive security team will help you put together a custom home security solution with integrated security cameras, home automation devices, and life safety monitoring. There are numerous hardware options available, and prices can vary significantly because of this, from $24 for door and window sensors to doorbell cameras starting at $167. But overall, Link offers quite competitive prices.
Home Security Systems
Link Interactive offers a range of home security hardware that you can use to put together a custom security solution for your property. All systems are built around some sort of central management panel, and there are three different options to choose from. For example, the Premium Smart Panel ($404) comes with a seven-inch touchscreen and enables you to take care of every aspect of your system.
At the most basic, you can add motion sensors and intrusion alarms. Tilt and glass-break sensors are also available, and you can purchase outdoor sensors for things like external gates or doors. There's even a panic button that enables you to notify emergency services such as ambulance or police.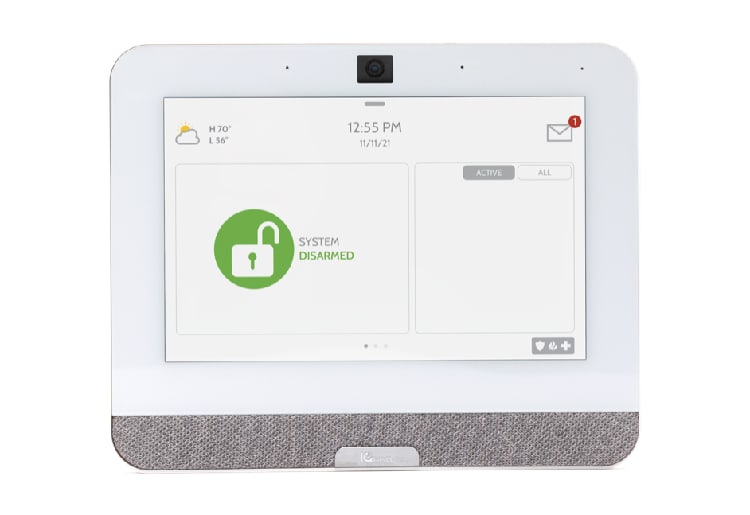 Home Security Cameras
There's a number of different outdoor, indoor, and doorbell cameras that you can integrate with your Link Interactive home security system. For example, the doorbell camera enables you to see exactly who's at your door, and it even comes with a 2-way voice feature to speak with visitors.
On top of this, you will benefit from 24/7 video recording. Past recordings can be viewed as required, and you can also keep tabs on what's going on by viewing your live camera streams via the mobile app.
Life Safety Alarms
With Link Interactive, you will have the option to add carbon monoxide detectors, flood sensors, and smoke/heat/freeze sensors to your home security system for an extra layer of protection. These can be linked to the central management panel and will be monitored at all times by the external response team.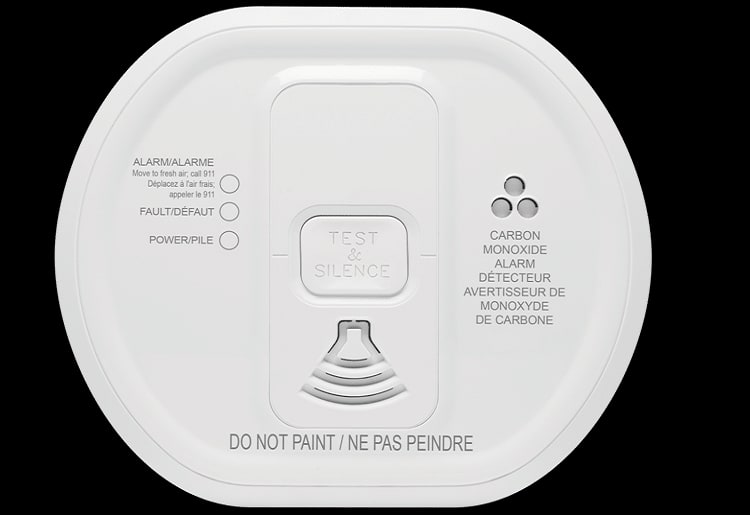 Smart Home Automation
Last, but not least, Link Interactive offers a suite of automation devices that you can integrate with your security to create a home automation system. Just some of the devices on offer include smart plugs, thermostats, deadbolts, and garage door controllers. These can be controlled via the mobile app and the central management device, and they can be configured according to custom rules.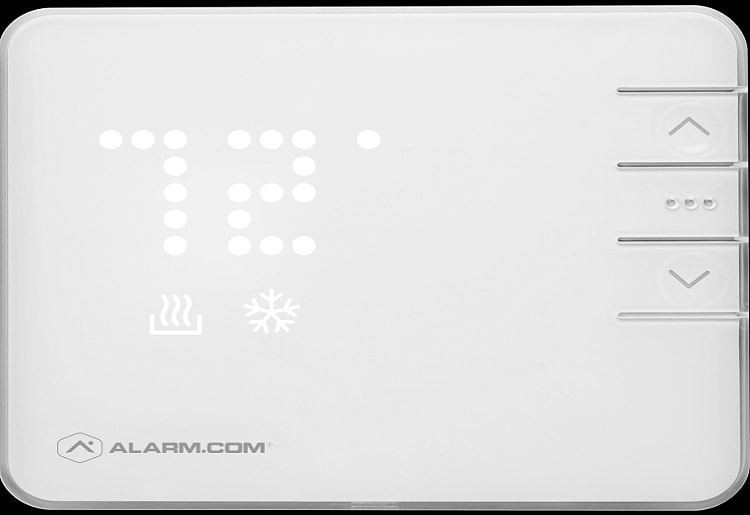 Link Interactive Plans - Packages & Pricing
Link Interactive's 24/7 monitoring is available with three different subscription options. The Standard package includes basic home security, 24/7 monitoring, and life safety devices. The Gold package adds home automation tools, while an Elite plan adds HD video monitoring and recording.
On top of this, you will have to pay an upfront fee for any equipment you buy. This can range from a few hundred dollars for a simple system to thousands for something more complex, though there is no installation fee. You will also have to sign a contract, and most new customers are offered a three-year term.
Professional 24/7 monitoring
Entry, smoke, and CO detection
Link Interactive Services
Link Interactive offers professional consulting services to help you put together the perfect security system for your needs. It also includes 24/7 monitoring solutions, with a US-based monitoring team.
If an alarm is triggered, monitoring agents will be on hand to respond immediately. For example, if a burglar alarm is set off, the team will attempt to contact you. If they can't reach you, or if you confirm that there is indeed an intruder, first responders will be dispatched.
Monitoring
Link Interactive comes with 24/7 monitoring of all home security and life safety alert systems. Some of the features of its monitoring services include the following.
24/7/365 service for all customers

Two-way voice verification through your central base station

Emergency services notification

100% cellular monitoring
Link Interactive Home Security Mobile
Link Interactive App
Link Interactive partners with Alarm.com, and its customers can access and manage their system through the Alarm.com mobile app. It's a top-rated option that's available for free for both Android and iOS devices.
With the Alarm.com mobile app, you can manage every aspect of your Link Interactive home security system. For example, it enables you to arm and disarm your system, control smart home devices, and view 24/7 live video streams from your integrated security cameras.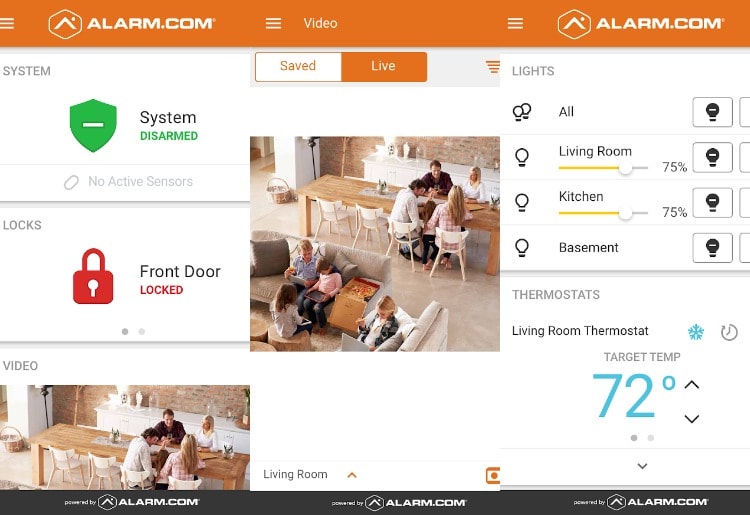 Mobile Alerts
The Alarm.com app enables you to configure intelligent alerts for your Link Interactive home security system. SMS, push, and email alerts are available, and you can set these up for a variety of actions. For example, you might only want alerts if your system is compromised or an alarm is triggered. Or, you can set up notifications for things as simple as when the kids get home from school.
Link Interactive Installation
Installing a new Link Interactive home security system is as easy as it gets. You can do everything yourself, no drilling is required, and installing your whole system shouldn't take you more than an hour or two.
All sensors come with adhesive, which means that you simply have to peel the protective layer off and place them where you want them. The entire system is wireless, you will receive step-by-step instructions, and there's even a neat video guide outlining exactly how to set up your control panel, sensors, and other equipment.
Link Interactive Contracts and Warranties
All new Link Interactive customers will have to sign a minimum 36-month contract. The only exception to this is when you have your own equipment. In this case, you may be offered a 12-month option. Either way, if you cancel early, you will have to pay the remaining balance on your contract.
However, it is possible to transfer your contract to a new address or to have new owners take over your existing account. Once your contract term expires, you can either sign a new contract or move to month-by-month service.
On the plus side, all Link Interactive equipment comes with a three-year manufacturer's warranty covering defects and other issues. There's also a 30-day money-back guarantee, enabling you to return your system and get your money back if you're not satisfied.
Link Interactive Support & Customer Service
Link Interactive offers phone, email, and text message support services. Support hours are from Monday to Friday, 7am to 8pm (MST), and Saturday from 8am to 4pm (MST).
Along with live support, there is a small number of installation guides and other basic resources. There's also a large FAQ library, but the answers to the questions tend to be on the simple side. The blog contains a number of informational articles, but most of these seem to promote Link Interactive rather than providing a lot of answers.
Overall, we weren't super impressed with the customer service on offer, but you should be able to get assistance if you need it.
How Does Link Interactive Compare to Other Home Security Services?
Professionally monitored DIY systems
From $3 ($20 for professional monitoring)
Link Interactive vs Frontpoint
Like Link Interactive, Frontpoint offers a selection of home security products built around ease of use and cutting-edge technology. It makes it very easy to develop a custom solution for your property, and its professional monitoring services are excellent. Both are great choices for anyone looking for a modern, personalized home security system.
Link Interactive vs Ring
Ring offers simple home security solutions built around video surveillance and an interactive doorbell camera. It's a very affordable option with neat self-managed solutions, but Link Interactive stands out as a better choice for anyone who wants more than a simple camera-based system.
Link Interactive vs SimpliSafe
SimpliSafe markets itself as one of the easiest-to-use home security solutions available. It has no lock-in contracts, no hidden fees, and very affordable prices. However, initial equipment prices can be a little higher than Link Interactive's, and its systems aren't as customizable. We'd recommend Link for its customizability, but SimpliSafe for those on a tight budget or those who don't want to commit to a long-term contract.
The Bottom Line
All things considered, Link Interactive offers attractive home security solutions. Its prices are competitive and it has quite a wide selection of security cameras, home automation devices, and life safety alarms. Plus, it integrates seamlessly with the Alarm.com mobile app.
But if you're looking for a solid home security provider with lots of customization options, Link Interactive could be a good choice.