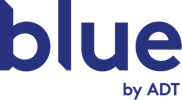 ADT Self Setup Visit Site
Overview
How Blue by ADT Home Security Services Work
Blue by ADT Features
Blue by ADT offers several features and highlights to meet its customers' home security needs.
DIY Installation
Blue by ADT offers a simple DIY installation solution to its customers, with all the products being easy to set up to begin monitoring your home. You'll build your own system and get the equipment that can help you maintain a secure environment.
Wireless Sensors
Blue by ADT's wireless sensors are easy to position inside your home, and they can provide the first line of defense by keeping watch over sensitive or vulnerable areas of your house. Door panel and window sensors detect movement at the doors and windows. Flood and temperature sensors detect water damage in your home due to frozen pipes or leaks.
Remote Monitoring and Control
With Blue by ADT's free mobile app, you can monitor your home and control it from a distance. For example, if a pet trips the sensors, you can check your phone and dismiss the alarm once you're satisfied there's no threat.
Extender + Chime
Blue by ADT's Extender + Chime device expands the WiFi range of the company's outdoor wireless cameras. Plus, it can act as an indoor ringer for the Blue doorbell camera.
Blue by ADT Equipment & Products
Home Security Systems
Blue by ADT features a Smart Home Hub and Security system that manages all the sensors and cameras connected to your system. It costs $179.99 and comes with an integrated keypad to arm or disarm the alarm. The hub has a battery and cellular backup to keep your system running during power outages and internet disruptions.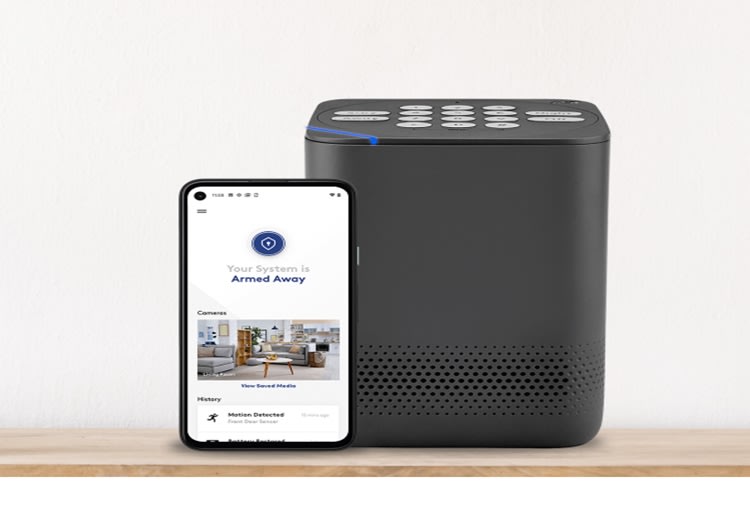 The smart hub has a built-in alarm siren and speaker to ward off intruders, and you can control it with your smartphone.
Home Security Cameras
To protect the outside of your house and interior, Blue by ADT provides outdoor and indoor cameras, which record audio and video, take snapshots when motion is detected, and stream live video in 1080p HD. Since the products are wireless, you'll need to recharge the battery packs by plugging them into an indoor outlet.
The Blue by ADT doorbell camera enables you to know when someone is at your front door, and you can talk to them in real-time using the two-way audio feature. It also works as a doorbell and sends you notifications. All the cameras are for sale at $199.99.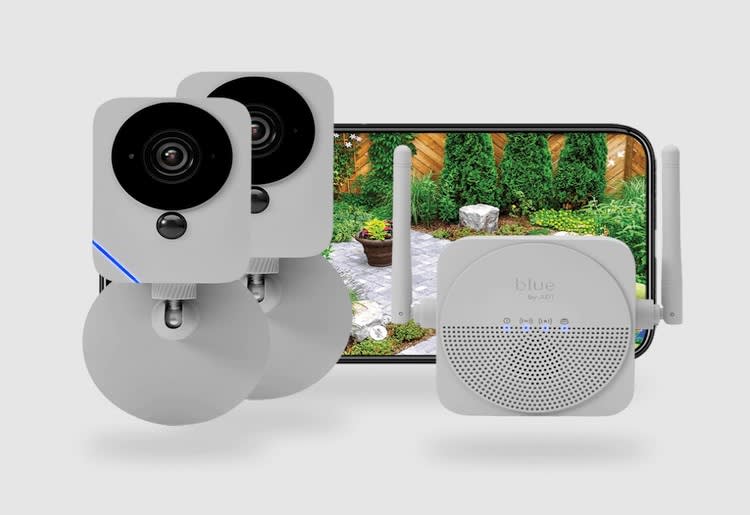 Life Safety Alarms
A home security system needs life safety alarms, and Blue by ADT offers a smoke detector at $39.99. As soon as fire or smoke is detected, you'll receive an alert on your mobile app or the alarm will sound. The smoke detector doesn't have a carbon monoxide (CO) detector, though.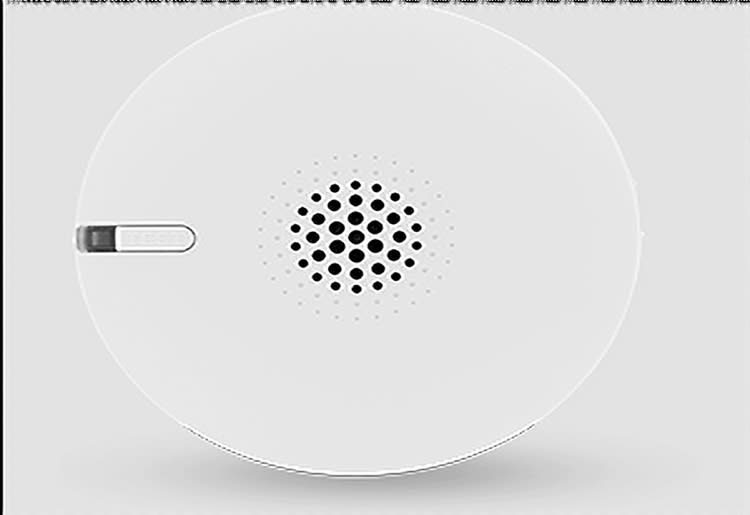 The smart hub has a panic button, which you can hold for a few seconds to alert authorities during an emergency, but there's no medical pendant support available.
Smart Home Automation
Blue by ADT provides many smart home security features by pairing its smart home hub with third-party devices, such as Google Nest Mini ($49.99), Google Nest Hub ($99.99), and Amazon's Alexa. The smart home hub uses the Z-Wave wireless protocol, which enables control of lighting, locks, thermostats, and other devices.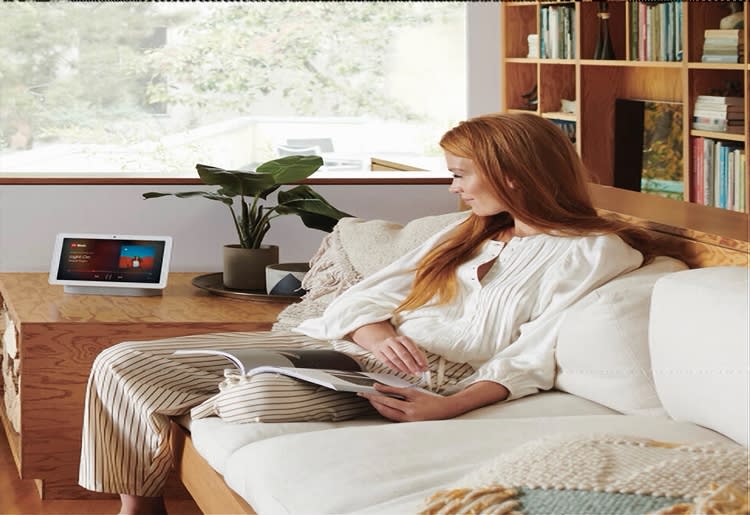 You can issue instructions through Nest or Alexa and tell the smart home hub to arm or disarm the system or check the status of your DIY smart home security.
Blue by ADT Services
Blue by ADT provides alerts through SMS, email, and push notifications. If an active alarm is triggered, you'll receive a call from its monitoring station, and you'll be prompted to provide the passcode you were given during activation. If they can't reach you, they'll try calling two of your contacts, and if there's no response, they'll dispatch the police.
The Panic button on the smart home hub or the silent alarm will bypass the monitoring station and contact the authorities directly. If the alarm went off accidentally, however, you can cancel it by typing the passcode on the keypad.
Monitoring
Blue by ADT customers can choose to monitor their home security system on their own or select experts to handle it. The professional monitoring option offers the following.
24/7 monitoring and protection
Panic and duress modes of getting help
Silent alarm to notify authorities of danger
Police, fire and medical dispatch
Fire, CO, and flood monitoring
Custom alerts
Mobile App
The Blue by ADT mobile app provides 24/7 remote access to your home security system. You can arm and disarm the system and add or change security codes through your smartphone. Moreover, you can check the sensors and cameras and speak to people through the two-way talk feature.
The app enables you to control other smart devices, such as lights and smart doors. Plus, you can get notifications from your smart home hub to stay informed about everything happening inside and around your home.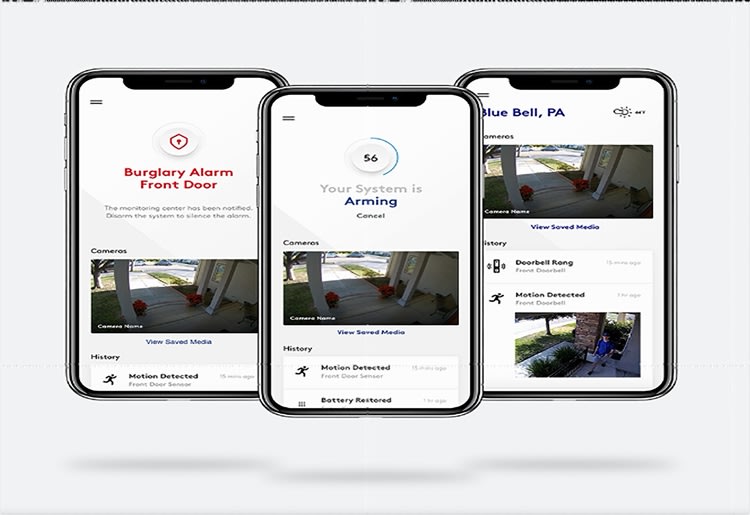 Mobile Alerts
Once you install the Blue by ADT mobile app, you can set push notifications in the settings. For both Android and iOS, check the settings in the notifications page and select the Blue by ADT app. Check that the notifications are enabled. You'll receive alerts if there's an alarm event, when the system is armed/disarmed, or if a device or sensor has an issue.
Blue by ADT Installation
Installing Blue by ADT products is easy, taking a minimum of 20 minutes to complete. There are no installation fees and no technicians or heavy-duty tools needed. It's a simple, easy-to-install DIY solution.
Contracts & Warranties
Blue by ADT does not set any long-term contracts. Your relationship will be based on the month-by-month subscription to its packages and services. It has a one-year warranty on its items and a 30-day money-back guarantee.
When returning products, you'll receive a label via email to return defective products, but you'll have to pay the shipping fees. If you don't return the faulty item, you'll have to pay the company the manufacturer's suggested retail price (MSRP).
Blue by ADT Support & Customer Service
Blue by ADT offers live chat with a digital assistant as the first point of contact. We tested the response time and found that a human agent logged on immediately when the digital assistant couldn't provide a solution. We tested the email response as well, and it took several hours to get an answer.
ADT also has support and customer service via phone, where agents are available 8am-12am ET Monday to Friday and 8am-9pm ET Saturday to Sunday. There's a detailed knowledge base with clearly labeled topics and easy setup videos and guides. Furthermore, there are informative FAQs spread throughout the Blue by ADT website.
Blue by ADT Home Security Services Pricing
Pricing & Special Offers
Blue by ADT Home Security offers two monitoring plans: Self-monitoring and 24/7 professional monitoring. There are no installation fees since it is a DIY home security package. In addition, there are discounts available, for example, 35% off if you pay for the system and pro monitoring together.
Professional 24/7 Monitoring
Professional 24/7 Monitoring
Entry, Smoke, and CO Detection
Blue by ADT also bundles its DIY products and tools into four packages: Build Your Own System at $179.99, Starter System at $219.99, Starter Plus System at $299.99, and Premium at $419.99. Each package includes a base station—the smart home hub—plus a set of products designed to create a complete home security system.
Blue by ADT Home Security Services Alternatives
How Blue by ADT Compares to Other Home Security Services
Here's a quick comparison chart that sets Blue by ADT's services against other home security providers.
DIY home security solutions
Professional installation and monitoring
Easy installation and customer service
From $3 ($20 for professional monitoring)
Blue by ADT VS SimpliSafe
Blue by ADT and SimpliSafe both have a DIY approach to setting up a home security system. SimpliSafe offers 30 more days with their money-back guarantee and a three-year warranty versus one year for Blue by ADT. Simplisafe has a slightly more expensive monitoring fee than Blue by ADT, and its home automation is not at the same high level.
Blue by ADT VS Ring
Ring has a better monitoring plan than Blue and more camera options, but it has a higher base price for setting up its system. Blue by ADT also doesn't have Ring's neighborhood watch approach, even though the feature is becoming popular.
Blue by ADT VS ADT
ADT is the parent company of Blue. However, ADT security offers a three-year contract and a professionally-installed system, whereas Blue by ADT is DIY. ADT also has an extensive monitoring network, but its monitoring fee is high.
Blue by ADT VS Cove
Cove offers a lifetime warranty on its equipment, whereas Blue by ADT Security only provides a one-year warranty. Furthermore, Cove's professional monitoring costs less than Blue's offerings. They both share some similarities: neither have contracts, and they are both DIY.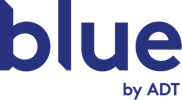 ADT Self Setup Visit Site
Bottom Line
Blue by ADT offers excellent features and solutions with its easy-to-install products and customizable options for building your own system. Its cameras can either be installed as part of a larger system or as standalone items. You'll gain access to an extensive knowledge base and customer support to guide you as you set up your device.
Overall, if you're looking for an affordable, DIY, and flexible home security system, Blue by ADT is worth considering.