Every year, the FBI releases its Uniform Crime Report, a detailed breakdown of property crimes, violent crimes, and other offenses across the US. It gives us a yearly measuring stick to compare crime rates across the country and allows each region to home in on its local crime rates.
Here are the 10 US states with the highest burglary rates per 100,000 residents: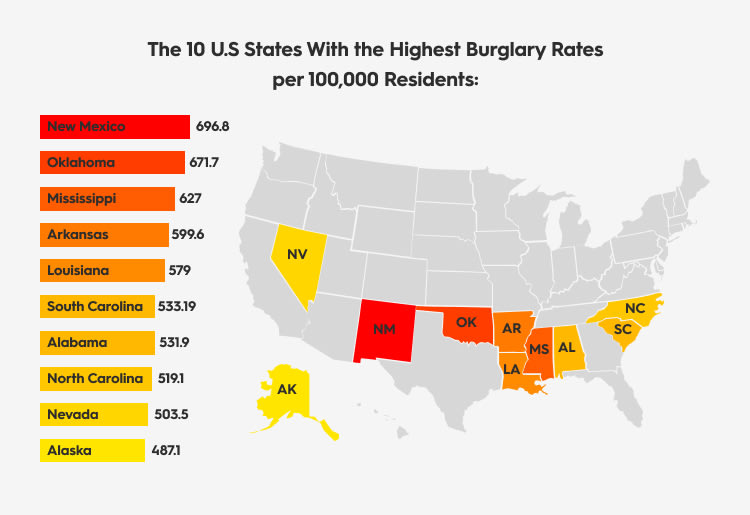 New Mexico - 696.8
Oklahoma - 671.7
Mississippi - 627
Arkansas - 599.6
Louisiana - 579
South Carolina - 533.4
Alabama - 531.9
North Carolina - 519.1
Nevada - 503.5
Alaska - 487.1
Source: FBI 2019 Uniform Crime Report
The FBI's definition of Burglary
The FBI defines burglary as "the unlawful entry of a structure to commit a felony or theft," which includes both forced entry as well as non-forced entry cases. Structures that meet the definition included apartments, house trailers, barns, offices, permanent residential houseboats, railroad cars, stables, and vessels such as ships.
The Big Picture
In 2019, the US saw around 1,117,696 cases of home burglary nationwide, according to the FBI's 2019 Uniform Crime Report.
The good news is that the total number of home burglaries has decreased 9.5% from the previous year.
Nonetheless, home burglaries still rank as the 3rd most commonly committed crime in the country.
Other Interesting Stats from the 2019 Report
Only a little more than half (55.7%) of burglaries were from forced entry
More than 100,000 of total residential burglaries occurred during the day than at night
Burglary victims nationwide lost an estimated $3 billion in property losses in the last year.
Each burglary on average resulted in a $2,661 loss
The Best Home Security Systems for Protecting What Matters Most
Top 10 Ways to Protect Your Home When Traveling for the Holidays