In a Nutshell
Protect America offers extensive home security services, with equipment and monitoring plans extending beyond simply protecting the perimeter of the home. The range of services include life safety, home automation, smart mobile connections and even automotive safeguards. It has one of the most affordable home security offerings available, charging $0 in upfront fees, and offers a free lifetime warranty.
pros
DIY installation
No start-up costs or hidden fees
cons
Minimum 36-month contract
Cancellation policy

Protect America Visit Site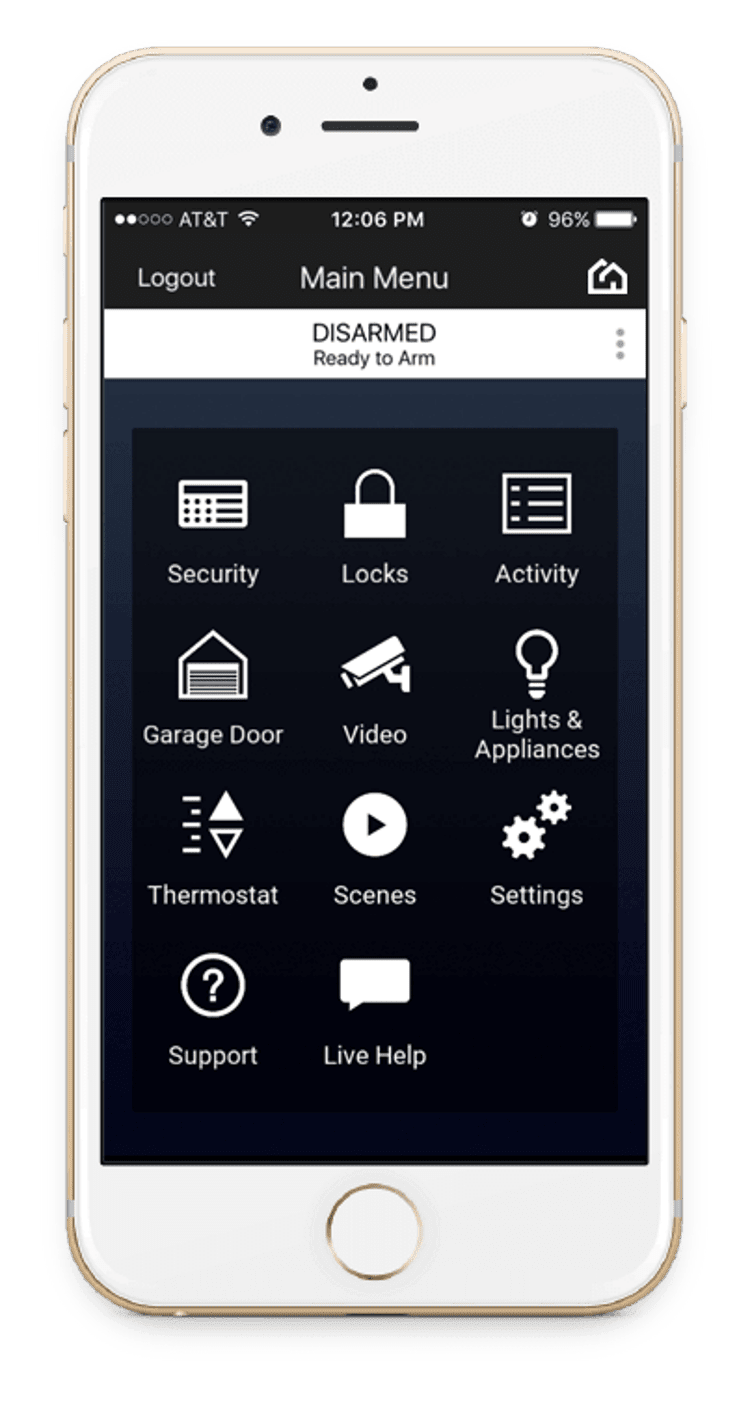 Unique Features
The company offers do-it-yourself installation with no equipment fees offering a lifetime guarantee on all of their equipment. Protect America prices start at just $19.99 per month and that does in fact include the equipment, but one should note that all of the hardware that comes with the Copper package is tied to a 3-year contract.
Protect America offers an ideal app for smartphones and tablets. With Smart Connect you will watch your live camera video feed, see history of the alarm, arm/disarm from anywhere.
Customers can also get a small device that tracks your car - if stolen - for $9.99 extra per month. Customers simply leave the device in their car and at any time the car is lost or stolen it can be tracked immediately via GPS coordinates.
Most security companies require a customer to be the homeowner to be eligible for their offering. With this company you can be a renter and still acquire the alarm system. Protect America is still one of the few security companies offering a landline option.
Pricing
Protect America offers 3 tiered packages of home security and monitoring; ranging from the entry-level 'Copper' plan at $19.99 to 'Platinum' at $42.99. With no equipment or activation fees, along with free self-installation, Protect America is one of the most consistently affordable security systems in the world. Protect America offers a Low Price Guarantee which provides you with a similar price if you find a comparable service elsewhere. No-surprise billing is an incredibly attractive feature from the Texan company and when you factor in the free lifetime warranty too – it's hard to pick out a downside to the pricing model of this company.
More Reasons to Choose Protect America
This company offers a number of home security packages all fully customizable to fit each customer's needs. If you're thinking about getting a home security system, you're thinking about protecting your whole house - not just your front door or front window. Some home security companies will include 2 – 3 door or window sensors in their base packages and charge for additional sensors/ Protect America recommends having a sensor at every potential entry point.
This includes doors to garages and basements, some often overlooked entryways for burglars. Many home security companies charge $80-$100 per door/window sensor. With Protect America, packages are built around your protection and you can get up to 14 sensors for no upfront cost.
24/7 monitoring through the company completes your home's protection. The security system is monitored by Criticom Monitoring Services (CMS), a highly respected monitoring station. Any time the alarm is triggered, the appropriate officials will be quickly dispatched. You can deactivate or activate house alarms with an alarm code using your in-home control panel or the high-tech, interactive monitoring center that is provided through Protect America's proprietary custom platform and accessible via an app on your smartphone.
Security Services
One of the reasons that Protect America can supply its products free of charge is that it only offers one model for each type of hardware – but with the Simon XT security panel range providing the core of the service; it's hardly a skimp on quality. This wireless security panel communicates with video cameras, entryway sensors, panic buttons, motion detectors and glass break sensors. Life safety features are also available – covering carbon monoxide and smoke detection, floor and freeze sensors, and medical pendants.
Monitoring Services
Protect America is primarily a home monitoring service; its equipment and hardware are just ways of facilitating the service. Monitoring is conducted through landline telephone connections, broadband, cellular and/or two-way voice intercoms.
The Protect America central monitoring center is staffed by security experts 24 hours a day, always on hand to respond to any threats to your home. On receiving an alert, an operative will attempt to contact you – if there is no answer or they suspect something is wrong, they will instantly send the authorities. Monitoring can also be conducted by the customer themselves, through the SMART Connect system, which allows you to control your home from a mobile device.
Help & Support
A lot of customers are worried about self-installation security systems but they have no cause for concern with Protect America, which has one of the most comprehensive customer support models in the industry. The devices are simple and straightforward, with all instructions and documentation easy to read.
One-on-one support is available through multiple channels such as e-mail, toll-free phone and online chat. While the service is only present during business hours, the monitoring and emergency lines are active around the clock. When you're still seeking assistance outside of business hours, customers can refer to the Protect America website for FAQs, troubleshooting and user guides.

Protect America Visit Site
Bottom Line
Protect America is an established and trusted brand, with strong partnerships allowing it to offer heavily discounted services and a raft of features completely free. A robust security plan coordinated from a central monitoring center makes them one of the safest and most effective providers in the country. This company is one of the best in the industry with its cost efficiency, high quality technology, and renowned customer support.
About Protect America
Protect America is one of the most experienced home security companies currently in the market, having been trading in high quality protection services since 1992. Based in Austin, the company has been leading the way in affordable equipment and outstanding monitoring consistently for the past 15 years.
With five 'Best Buy' awards from Consumer Digest and commendations from ABC, Fox News and The Daily Buzz – Protect America's credentials speak for themselves. Pursuing excellence into 2015, the company doesn't look like slowing down anytime soon.