In a Nutshell
Brinks Home Security is a well-known name in residential protection. With more than 2 decades under its belt, Brinks brings a level of quality, reliability, and commitment to the service like no one else. Add to that its ability to use state-of-the-art technology, offer a high level of flexibility to its customers, and somehow still work out cheaper than most, and Brinks is understandably one of the best.
pros
Fast responses everywhere
Fully connected, mobile-controlled systems
cons
Several complaints online (though they've been resolved)
Only available in the US and Canada
Brinks Home Security Visit Site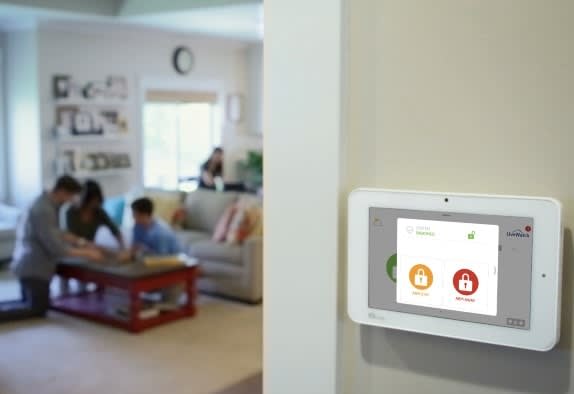 Ideal For
Homeowners who want to stay connected at all times
Property owners who rent out their properties
Anyone who wants a smart and reliable home security system
Why Choose Brinks Home Security
Truthfully, there are a lot of reasons why you'd choose Brinks over another home security system. To begin with, you can get an entire system for less than $400. Video monitoring will cost you a little more (roughly $100 more, but that's understandable). Considering the competition runs you roughly $850 for their packages, Brinks is quite reasonable. Plus, plans generally run from $36-$60 or more per month, while Brinks plans cost just $29 or $39/month. You get a 2-year warranty on all hardware, and there's even a 30-day money-back guarantee if you're not totally satisfied.
What's more, Brinks is a reliable brand that's been around for more than a quarter of a century. It's got a rock-solid reputation for fast response times, reliable security, and quality services. So, while the competition may claim to offer the same services, Brinks actually delivers. On top of that, Brinks offers the most flexibility anywhere. From its packages to its installation and beyond, it's all about the customer and what they want. What's also nice is that Brinks offers both DIY or professional installation.
Features
24/7 monitoring
Totally customizable packages
Smartphone control
30-second response time
Event-based alerts
Group chat for triggered events
Low cost, high quality
30-day risk-free trial period
2-year product warranty
Brinks has a ton of features that will make you feel both more secure and comfortably in control. For example, you can turn the system on or off using a keychain fob, the system hub itself, or the mobile app (more on that below). The home technology makes your life simpler by giving you full control from wherever you are (and that includes lights, locks, systems, etc.) via your mobile device and smart home system's current setup. Add on any additional sensors you want to round out the standard package, and enjoy the easy communications tools that are built into the system as well.
What's Unique About Brinks Home Security?
As mentioned previously, many home security systems claim to provide quality, speed, and reliability, but Brinks actually does. It's stood the test of time and performed impressively well year after year. What's more, the communication methods are top notch. For example, the Brinks home security panel is like a direct line to your security professionals. When an alarm is triggered, you can talk directly to the monitoring center via the panel for instant communication and feedback. There is also an impressive group chat feature that lets you talk to several of your emergency contacts simultaneously, so the triggered alarm can be handled immediately and in the most convenient manner.
But the most impressive selling point for most people is the response time. Brinks security professionals will respond to an alarm within 30 seconds of it being triggered. That's roughly 10 times faster than almost anyone else in the industry.
Security Services
Brinks systems use a dual-path technology so that both cellular and WiFi systems are utilized for the fastest response possible. This is also convenient because it means your security system won't go down even if there's a power outage or if your WiFi is out for some other reason. As an added security measure, Brinks hardware automatically sends a security alert if any part of the system (the hub or the sensors) is tampered with or broken.
Brinks has 2 packages: The Home Complete package offers the Home Touchscreen system hub, wireless motion sensor, 3 wireless door sensors, yard signs, and stickers. This costs $399, but you'll pay extra if you want any add-ons (additional door sensors, for example). The basic package comes with all of the connectivity available in the more advanced package, including mobile app control and smart home connections.
The second package available from Brinks Home Security is the Home Complete with Video package. This plan offers you everything the regular plan does plus a video camera for live video streaming and cloud video storage. The video monitoring is live HD streaming, so you can see what's going on in your home all the time. Plus, you can help ID intruders in case of a break in.
Add-ons cost anywhere from $29 up to $299 depending on the piece you want to add. You can get almost any type of addition including touch screens, freeze/flood/water sensors, smoke detectors, glass break detectors, smart switches, wall light dimmers, outdoor cameras, and more.
Monitoring Services
In addition to hardware packages, you can choose to purchase monitoring services so a professional security team will monitor your home and your alarm system 24/7. This will cost you either $29 or $39/month, depending on if you want video or standard monitoring.
Here's how the Brinks Home Security system works:
An alarm or event is triggered
The alarm is sent to the Brinks monitoring headquarters
You and your emergency contacts get notified via the specified method of contact (SMS, email, or voice call)
Then, one of the following will happen:
You can handle the situation yourself using the ASAPer feature (this is usually ideal if it's a false alarm)
If no one is reachable or a false alarm report is not reported, the police are dispatched to your home immediately by Brinks
Monitoring is done via cellular connection, so you don't have to worry about the batteries dying, the system going down, or losing service.
Mobile Readiness
Brinks systems have the most advanced technologies built in, including mobile interactivity and readiness. You can disable and enable your alarm using your mobile device at any time. In fact, you can do a lot more with the Brinks mobile app, including:
Speak to emergency contacts via the built-in chat function
Turn off false alarms
Send help and emergency services to your home, regardless of where you are
And since Brinks systems are able to be synced with most smart home systems (Amazon Alexa, Google Home, Apple TV, etc.), there is so much flexibility for you to customize, activate, and manage your home security system from anywhere and at any time. The Brinks Home Security system can connect with up to 119 smart devices simultaneously, including lights, cameras, locks, and sensors, so you can be fully connected and conveniently safe.
Help & Support
Customer service is one of the areas that Brinks really prides itself in. That's because customer satisfaction is a priority to this company, so it makes sure to have help available as conveniently and frequently as possible. You can live chat directly on the site with a Brinks representative or send a text message to the dedicated line. Texting and live chatting are available seven days a week from 6am to midnight. Alternatively, you can call customer support Monday-Friday 7am - 9pm CT, and even Saturdays from 8am - 9pm. Brinks also has a great FAQ and help center on the website, so you can browse commonly asked questions and get in-depth answers to everything from troubleshooting the hardware to how the device and monitoring systems work.
Bottom line
Brinks systems are incredibly flexible, reasonably priced, and technologically advanced. You can choose packages with or without video monitoring, DIY or pro installation, full packages or piecemeal, and pretty much any other aspect of the service. It's super flexible in letting you get the exact system that you want. In fact, Brinks will even help you update your old (current) system so that you can get up-to-date monitoring even without a Brinks system.
Brinks Home Security Visit Site
About Brinks Home Security
Brinks Home Security is a leader in the home security industry. It is well-known for its dedication to quality service, delivering top of the line services to all its 1+ million customers. Brinks clients receive fast responses, US-based monitoring, and state-of-the-art technology, so that they can rest assured that their homes are being protected all the time.
Contact Details
866.206.5014
Email: Support@BrinksHomeSecurity.com