With some website builders, like Squarespace, you can pick a design template from the dozens of professionally-designed themes and customize it to your liking. Others, like Zyro, feature AI-powered design tools to help you create a website that is truly yours.
AI is one of the emerging web design trends, and although it hasn't reached the peak of its performance yet, it has a lot to offer to business owners looking for guidance to create a website quickly.
In this article, we'll look at some examples of websites built with AI-powered website builders (like Wix, Zyro, and Jimdo), see some of the more unusual applications of AI in web design and even branding, and also take a look at chatbots.
What Is an AI-Based Website?
An AI-based website is a website in which an AI-powered design tool is used. For example, if someone uses Wix's ADI (Artificial Design Intelligence) or Zyro's AI website generator to build their website, they're essentially creating an AI-based website. AI can help you create a user-friendly website that has all the essential elements a website needs.
1. Living Ginger Designs: Simple, Minimalistic Design With Jimdo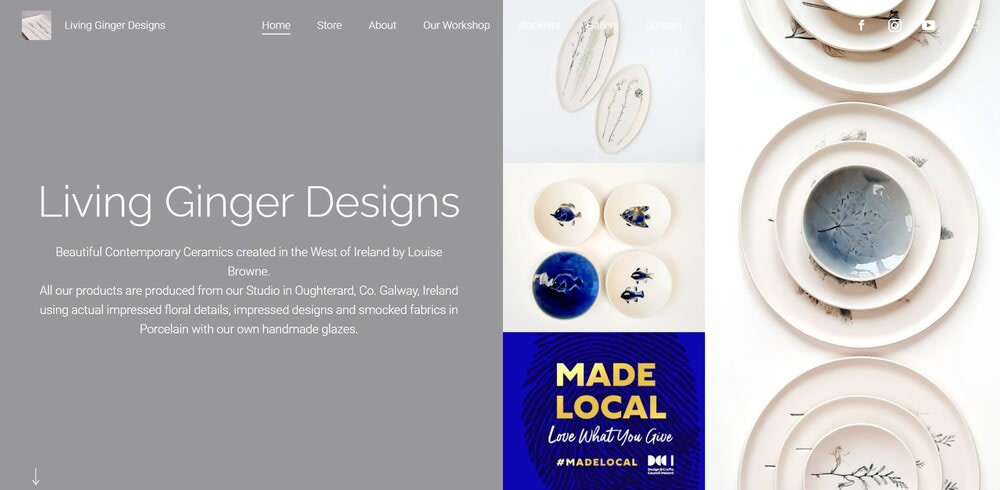 Jimdo is another example of an AI-powered website builder that is simple and easy to use. And in this case, Living Ginger Designs used its capacities very efficiently to create a stunning website.
Living Ginger Designs' website is stylish, minimalistic, and very easy to navigate—truly a great example of what you can achieve with a user-friendly website builder.
» Check out these Jimdo website templates for small online stores.
2. VideoCamp: An Effective Portfolio Website Created With Zyro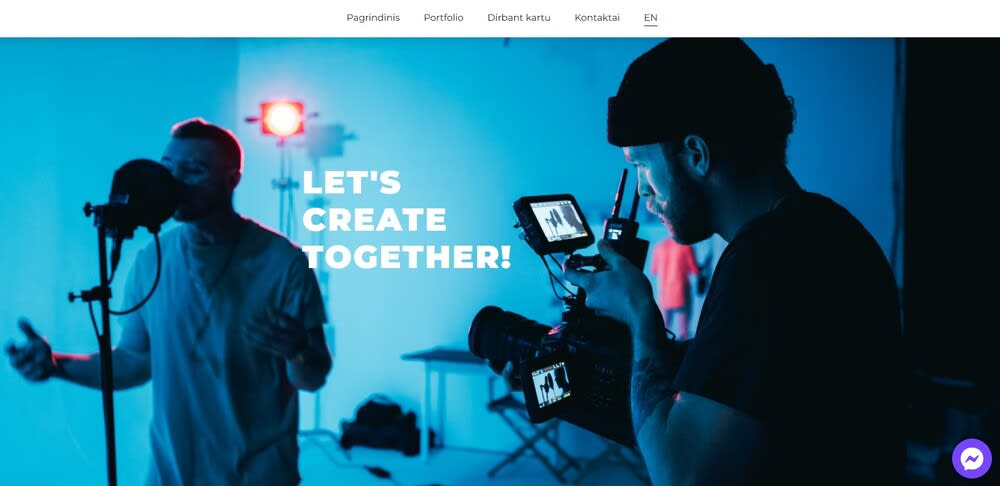 VideoCamp, the brand of Lithuanian videographer Vitalis Mika, has a beautifully designed portfolio website built with Zyro.
The website is simple and effective, featuring high-resolution images and examples of VideoCamp's work. It's an excellent example of what you can do with the right tools. In the words of Vitalis himself, with Zyro, he could express himself creatively with the available tools because the builder "guides you where you need to go."
3. Wendy Ju: A Powerful, Minimalistic Website Created With Wix
Wendy Ju's sleek, minimalistic website shows the true capabilities of the Wix platform. Wix is one of the best website builders that offers an AI-powered design generator capable of creating exceptional custom designs based on the user's requirements. And in this case, Wendy created a stunning website that piques the curiosity of its visitors to continue exploring it.
» Check out our favorite Wix templates.
4. Broadleys' AI-Powered Chatbot
Let's switch gears and look at a specific AI-enabled feature found on almost every website nowadays: a chatbot.
Broadleys is a 125-year-old UK-based independent boutique based in East Grinstead. It uses Tidio's chatbot to assist customers in choosing a product, placing orders, and personalizing their shopping experience.
For this, Tidio proved to be the right solution, thanks to its dozens of AI-enabled chatbot templates. Tidio integrates with Squarespace, Wix, Shopify, and WordPress, among other platforms.
5. This Startup Does Not Exist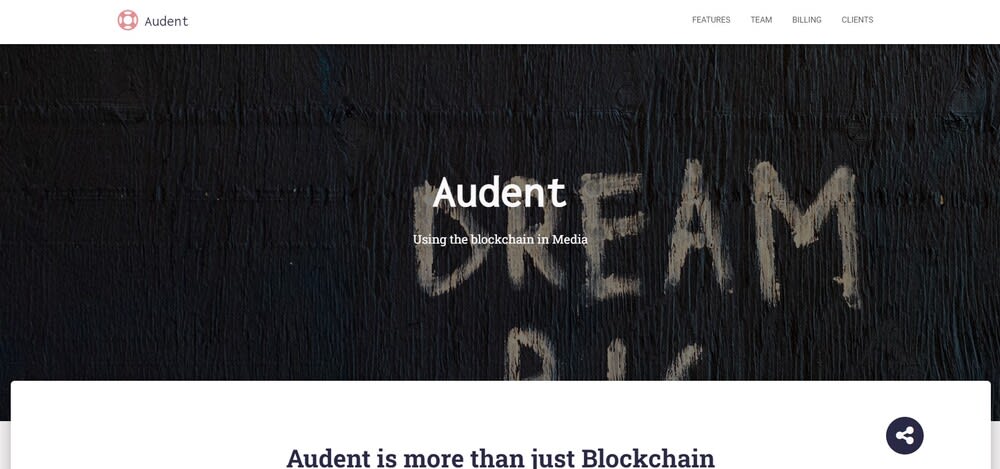 And now for something slightly different: a website that, each time you refresh it, shows you a different startup's website... That doesn't exist!
This Startup Does Not Exist uses AI to create random websites of nonexistent startups in seconds, populating them with graphics and content that look a lot like what you would often find on the websites of early-phase startups. You could use them to get inspiration for your design and maybe even for a new business idea!
This Word Does Not Exist is another similar example of a website that demonstrates AI's outstanding capacities to come up with new concepts or, in this case, words. You can find a full list of similar websites on This X Does Not Exist.
» Use these tips to build a website on a tight budget.
6. PubLaw Project: An AI-Generated Logo
Now, let's circle back to AI-generated design—in this case, a logo.
The PubLaw Project sports a logo by Brandmark.io, which uses artificial intelligence to create logos in a few seconds. The logo is simple and effective, reflecting the company's main focus: AR and VR business solutions.
AI-generated logos are a growing business, with more and more companies offering this service. So, you don't need to limit your use of AI to web design. You can also use it to create your logo.
7. Gud Renders: A Sleek Website Created With Zyro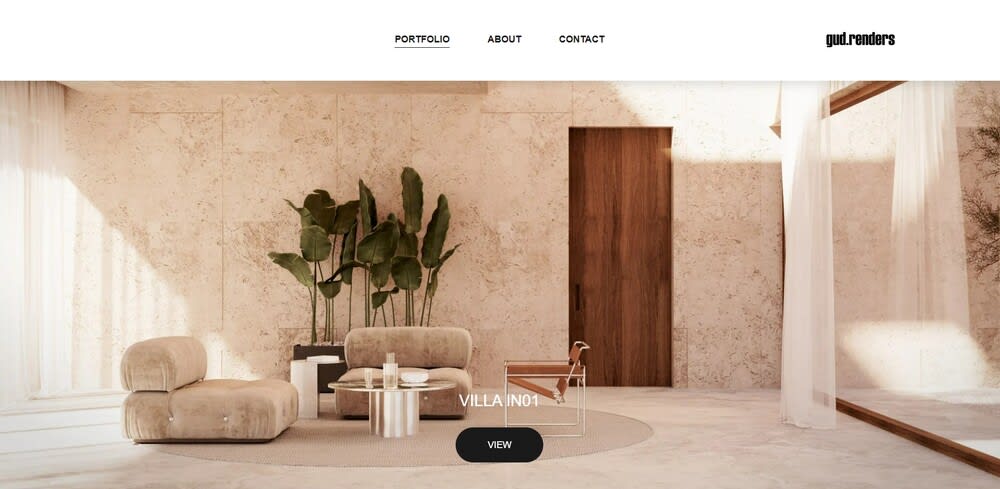 Gud Renders' website is another example of a simple and beautiful portfolio created with Zyro.
This website is very visual, with impressive high-resolution photos at its center and a minimalistic menu design that helps users find their way easily. Exactly what you'd expect from an architect's site!
» Learn how to optimize images for better web performance.
8. Curio Styles: A Stylish Website Built With Jimdo
Curio Styles is a company that offers custom ring designs—and that used Jimdo to create an impressive website that is bold, stylish, and colorful. The result speaks for itself: the website is very easy to navigate and, thanks to its colors and fresh design, very easy to remember.
» Check out our favorite Jimdo alternatives for e-commerce.
9. Rafael Vorona: A Website Created With Wix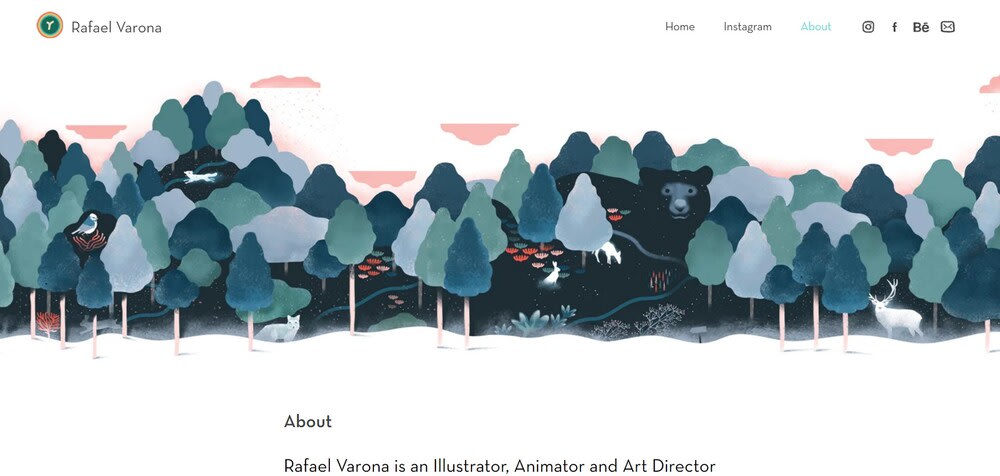 Rafael Varona, a Berlin and Rotterdam-based illustrator, animator, and art director, has picked Wix to build his website. As evidenced in his website, Wix is very versatile and allows for a high level of customization, thanks to its AI-powered features.
This website effectively shows Rafael's work, and the design remains discreet and fully aligned with his style.
» Find out how Wix compares to GoDaddy in our head-to-head comparison.
10. Millaw: An E-Commerce Website Built With Zyro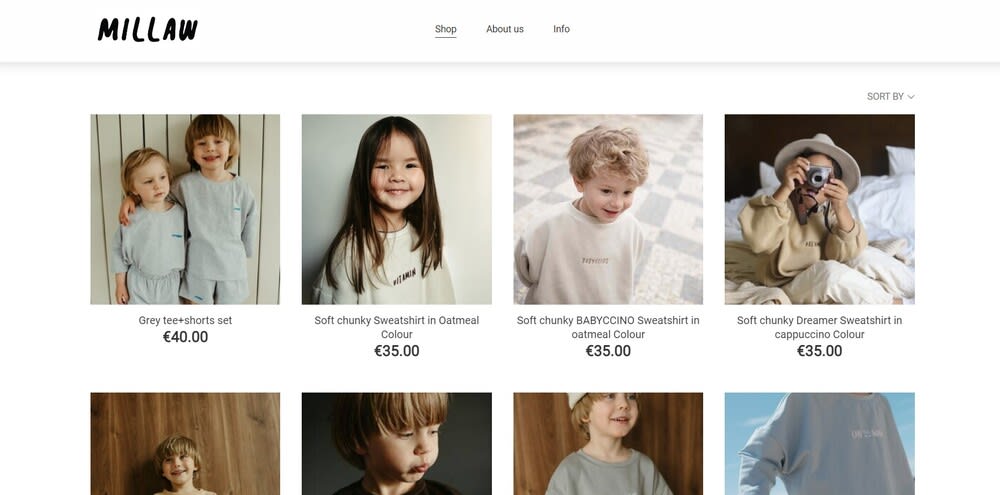 For our last example, we'd like to show you another example of what an online store can look like when built with an AI-enabled platform—in this case, Zyro.
Millaw's website is super simple, but this simplicity makes it effective. This kids' clothing store is minimalistic and uses white space to instantly draw the visitor's attention to its product photos.
Simplify the Creation of Your Website With the Help of AI
Website builders like Zyro, Wix, and Jimdo have AI-powered features that simplify and streamline the web design process, enabling you to be quick and efficient in creating a unique look that fits your brand.
In fact, AI is extremely versatile. There are many ways in which AI can help in web design and development, from generating customized designs to providing features like chatbots, website testing, or QA, and even helping improve the user experience or optimize your website for search engines.
» Check out our favorite website builders for small businesses.