GoDaddy Visit Site
Overview
GoDaddy Website Builder at a Glance
GoDaddy has been the world's largest domain registrar for more than 15 years, and it also offers popular web hosting and website-building solutions. Its website builder was developed from scratch with the aim of providing a fast, hassle-free way for people to create a new website.
The main thing that makes GoDaddy stand out from the competition is that it really caters to small businesses. Its intuitive editor is perfect for users of all skill levels, and you will have access to a suite of marketing and ecommerce tools.
There are also various self-help and educational resources, including a selection that touches on various aspects of starting your new website. All things considered, GoDaddy's Marketing +
Websites package is an attractive option if you have limited experience and want to create your own website.
How GoDaddy Website Builder Works
Using GoDaddy
Getting started with GoDaddy is a super easy process. You can sign up for a seven-day free trial without providing credit card details or any other payment information. It's also possible to continue with the limited free-forever plan once your trial expires, which is nice.
What's more, the GoDaddy user interface is intuitive and easy to navigate. The main management dashboard lets you control everything from your website builder subscription to your domains and any other GoDaddy products you have.
The editor is also tidy and easy to use, and we didn't experience any useability issues during testing.
GoDaddy Features and Tools
GoDaddy's website builder is a little basic, but that's not to say that it doesn't come with a great selection of nifty features.
GoDaddy Appointments
GoDaddy has a selection of excellent online appointment tools that you can add to your website. These let you add a calendar to your site so that customers can make bookings online. You can also configure it so you can accept payments.
Domain Registrations
As the world's largest domain registrar, GoDaddy naturally offers an attractive selection of domain registration and management tools. You can import domains that you already own and manage them through your GoDaddy control panel, and there are numerous domain extensions to select from.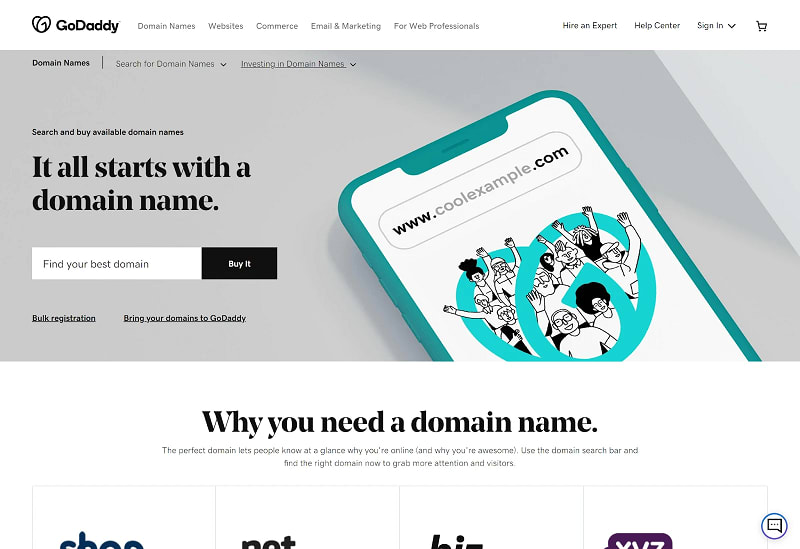 Business Listings
There's also a tidy Business Listings tool that you can access from the main dashboard. This enables you to create Yelp and Google My Business listings. You can also link your Facebook page.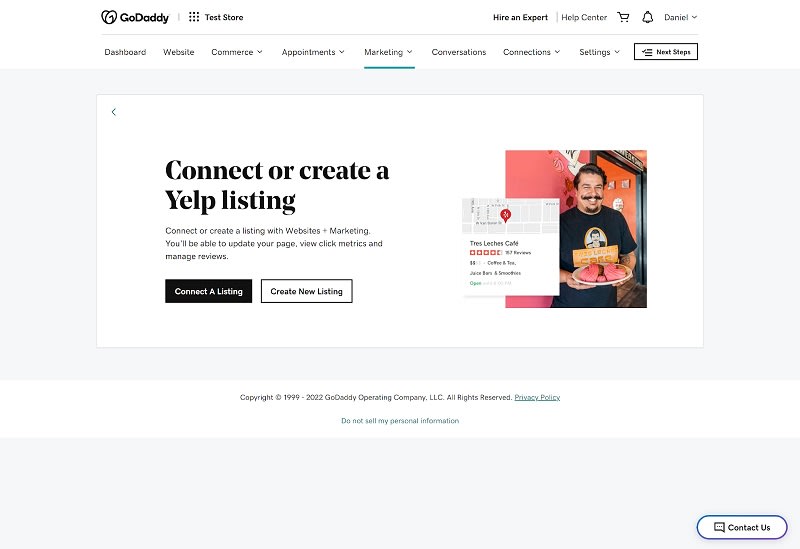 GoDaddy's AI prompt library
GoDaddy's new Generative AI Prompt Library can provide a unique helping hand for small businesses. Business owners can use over 35 prompts and benefit from the power and knowledge of generative AI. Users can interact with AI chatbot systems like ChatGPT, Google Bard, and Bing AI to generate content that can automate tasks such as content creation, social media management, and customer support. You can even get help starting a business and tips on building a website.
The library aims to level the playing field for small businesses by giving them access to technology generally reserved for large corporations. The prompts can help small businesses tackle common issues such as marketing idea generation, suggesting responses to customer reviews, and content creation. The library will continue to grow throughout 2023, and GoDaddy plans to add new innovative features to their products.
It's important to note that since AI technology is relatively new and still developing, all content that is generated should be fact-checked and reviewed before using.
How to Create a Website with GoDaddy
When you start a new GoDaddy website, you have to select a website category and enter a site name. With the free trial, you will have access to all features for free for the first week. You can choose a premium subscription after this if you want to keep using GoDaddy.
Once you've named your site, you will be asked a few questions so that GoDaddy can provide you with the right template. You can also change your template at any time during the editing process. There's even a mobile editor so you can make changes to your site on the go.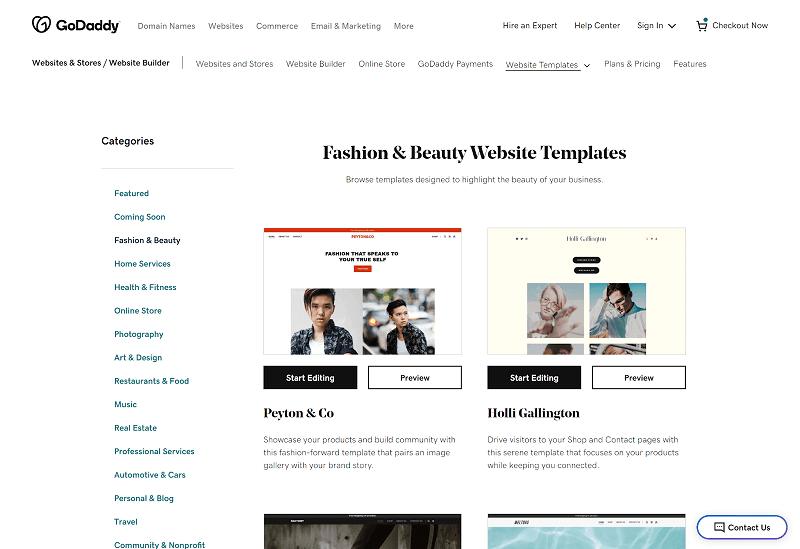 On the downside, there are only 22 designs to choose from, and these tend to be on the basic side. They are fully responsive and work great on both mobile and desktop devices. However, they do lack flexibility, and you will be somewhat constrained by the pre-coded layout.
You can add and remove both sections and elements from your website using the intuitive editor. Here, you can also personalize your site's content, change color and font settings, and access a suite of other excellent tools.
One standout feature is GoDaddy's autosave tool. This means that you will never lose your progress and will never have to save your site manually. However, you can't roll back to previous saves.
You can preview your site before publishing it with a single click. The main downsides of
GoDaddy's editor are that you can't add custom code and there are no keyboard shortcuts. It's also difficult to export a GoDaddy site to another platform.
All in all, I do like GoDaddy. It lacks power if you're looking for an advanced website builder, but it's a great option for users of all skill levels who want to get online fast.
Adding Multimedia to Your GoDaddy Website
To add images to your website, you will need to upload them to the built-in media library. You can upload most popular video and image file formats, and you can upload multiple files at one time. There's also a large built-in stock photo library, and you can link your Facebook and Instagram accounts if required.
You can edit media with the GoDaddy Design Studio, and videos hosted on YouTube and Vimeo can be embedded. Overall, adding photos and videos to your GoDaddy site is a simple process, and the integrated editing tools are excellent.
Marketing Functionality with GoDaddy Websites
You will get a wide range of marketing tools with a GoDaddy website builder subscription. These include integrated social media marketing and email marketing tools, a native content creator, and a powerful marketing planner. You can even link your Facebook marketing account to create ads from your GoDaddy dashboard.
There's also a tidy blog manager that you can use to create and manage content. Plus, powerful analytics are available to help you track the success of these campaigns.
SEO Functionality & Add-Ons with GoDaddy Websites
GoDaddy has a native SEO wizard that you can use to optimize your website for search engines like Google. You can add keywords and tags to your content and images to ensure it's well optimized.
However, this is the limit of GoDaddy's SEO features. Its history of slow performance and slow load speeds will negatively impact your SEO score, and you will find it difficult to perform advanced optimization.
On the plus side, it is possible to link Google analytics so you can track the success of your SEO efforts.
Ecommerce
GoDaddy's website builder comes with an impressive online store feature that makes it easy for users to sell their products online. The online store is equipped with everything a user needs to get started with Ecommerce, including a variety of customizable templates and a user-friendly interface that makes it easy to set up the store and manage inventory.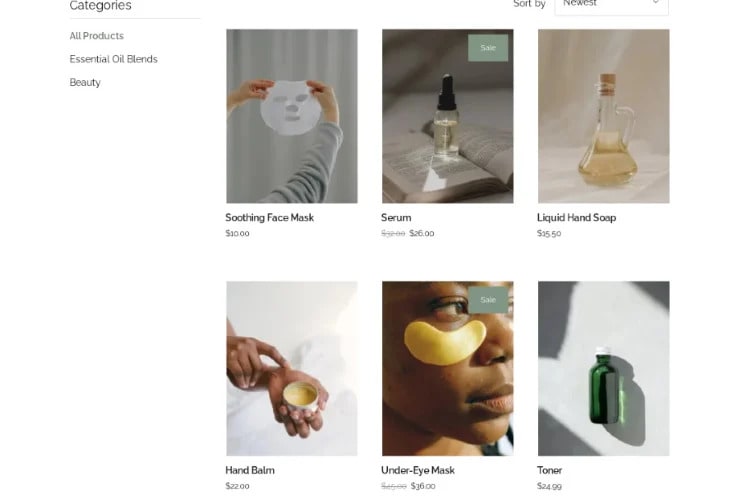 Payment Processing
GoDaddy's online store offers a safe and secure payment processing system that supports multiple payment options, including all major credit cards, PayPal, and Apple Pay. Users can also customize their checkout process to match their brand, ensuring a seamless customer experience. Additionally, GoDaddy's online store offers advanced fraud protection tools that safeguard both users and their customers from fraudulent activities.
Scalability
With GoDaddy, users can start small and easily add more products and features as their business grows. It offers seamless integrations with popular shipping carriers, simplifying shipping and delivery for users as their online store expands. Moreover, GoDaddy's online store provides easy-to-use marketing tools that help users attract more customers, including customizable coupons and promotions and email marketing campaigns.
Marketing
GoDaddy's online store is equipped with powerful marketing features that help users increase their visibility and attract more customers. Users can optimize their product listings for search engines, create targeted advertising campaigns, and leverage social media integrations to drive traffic. The platform includes a built-in analytics dashboard that offers users valuable insights into their store's performance, including sales trends, customer behavior, and more.
GoDaddy Customer Support
GoDaddy offers 24/7/365 phone and live chat support. The support agents are responsive and knowledgeable, and you rarely have to wait more than a couple of minutes to get a reply. Email support is absent, however.
Another great resource is GoDaddy's knowledge base, which contains a variety of step-by-step guides, video tutorials, and other self-help articles. You will also find a selection of educational webinars, and the GoDaddy community forums enable you to interact with other users and view the answers to past questions.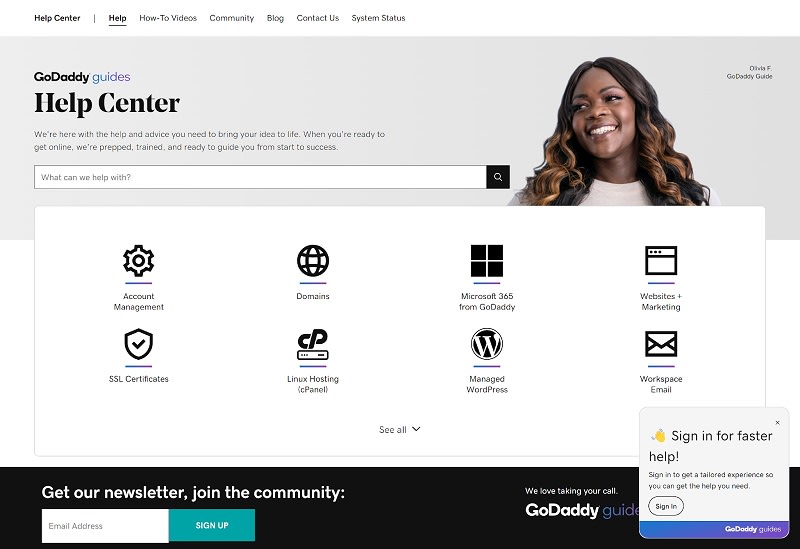 GoDaddy Pricing
How Much Does GoDaddy Website Builder Cost?
GoDaddy has four Website + Marketing plans. These all come with a seven-day free trial so you can test the platform. There's also a simple free-forever plan, though it lacks advanced features.
The Basic plan lets you create a simple website and provides access to email and social media marketing tools. Upgrading to the Premium plan adds online appointment tools, while the Commerce and Commerce Plus packages are designed for ecommerce.
Monthly subscriptions are available, but you will get a sizeable discount with a 12-, 24-, or 36-month plan.
Price Per Month (Annual Introductory Subscription)
Price Per Month (Annual Subscription)
GoDaddy Alternatives
How GoDaddy Compares to Other Website Builders
Email Marketing Functionality
GoDaddy vs Webador
Webador is more affordable than GoDaddy, but it offers slightly more basic website-building solutions. Like GoDaddy, it's intuitive and easy to use. However, its ecommerce tools are on the basic side, and it has no email marketing functionality. Overall, we'd recommend GoDaddy unless you're on a tight budget where every cent counts.
GoDaddy vs Wix
Wix is arguably the world's most powerful website builder, and it offers excellent design flexibility. However, it's a little more difficult to use than GoDaddy and is a better choice if you want to spend some time personalizing your site. We'd suggest going with GoDaddy if your priority is getting online fast.
GoDaddy vs Shopify
Shopify is a leading online store builder that's designed specifically for ecommerce. It's a powerful option if you specifically want to build your own store, but GoDaddy stands out as a much better choice for more general business and personal websites.
GoDaddy vs Weebly
Weebly is a versatile website builder that, like GoDaddy, has a mix of online store and website-building tools. It's also quite easy to use, though it's not quite as simple as GoDaddy. However, it does offer more design customization, which is nice. We'd suggest Weebly for online stores that may be too large for GoDaddy's platform.

GoDaddy Visit Site
Bottom Line
The GoDaddy website builder is a versatile option that's suited to users of all skill levels. Its user-friendly editor requires no coding or other special skills, and it offers a selection of ecommerce and online booking tools.
On top of this, GoDaddy is a competitively priced option, and there's a seven-day free trial for all new users. The editor does lack advanced customization tools, but GoDaddy remains a leading option if you're looking for a website builder that enables you to get online in a fast, hassle-free way.