In a Nutshell
The GoDaddy website builder offers hassle-free website creation solutions. It uses a basic, section-based editor without true drag-and-drop functionality, which means that design flexibility is a little limited. But marketing, e-commerce, and other tools are available, prices are competitive, customer service is excellent, and the management panel is well designed. All in all, it's a good option for beginners creating their first site.
pros
Enables rapid site creation without special skills needed
Integrated e-commerce and marketing tools
Very beginner friendly and easy to use
cons
Design flexibility is somewhat limited
Poor platform for SEO
GoDaddy Visit Site
GoDaddy Video Review

What Is GoDaddy?
GoDaddy is a huge name in the web services space, offering high-quality hosting, domain registration services, and a beginner-friendly website builder, among other things. The company claims to service more than 20 million customers worldwide and has an excellent reputation.
What makes GoDaddy's website builder stand out from the competition is its ease of use. It's designed for beginners, and everything about it is simple and intuitive—but don't expect advanced design flexibility or a huge number of professional tools. There are numerous video guides and other resources designed to help you get started, and these do a great job of outlining common actions.
Using GoDaddy Website Builder
To get started with GoDaddy, you can either take advantage of the free trial or immediately take out a premium subscription. The sign-up process is straightforward, and you shouldn't experience any problems.
Both the management dashboard and the website builder itself are well designed and easy to navigate. We didn't experience any performance issues during testing and were quite happy with the whole process.
GoDaddy Features and tools:
Domain registration
GoDaddy is known for its domain registration services, which enable you to find and register a new domain for your website. There's also an excellent domain management panel, and you can import domains that you already own.
Security
Little information is available about GoDaddy's security practices. All sites come with an SSL certificate to ensure all data transmissions are encrypted and secure. It also has a 99.9% uptime guarantee.
Backups
The GoDaddy editor features an auto-save tool that prevents you from losing changes if your web browser crashes or another problem arises. However, only the most recent backup will be stored, which means you won't be able to restore a previous version of your site if you run into any problems.
GoDaddy Appointments
All GoDaddy plans come with some sort of appointment booking tools. The more advanced plans enable recurring appointments, and online payments, and they come with various other tools such one-time group events and email/text message reminders.
Creating a website with GoDaddy
How to Create Design & Edit Your GoDaddy website
When starting a new GoDaddy website, you will be asked to choose a category and name your site. Then, you will be taken directly to the editor.
Here, you will have access to various customization tools. The theme tab on the right of the screen enables you to specify global color schemes, fonts, and button styles. You can also change your template here, but there are only 22 designs to choose from.
These are quite basic, and you will be constrained by the theme's layout when you're customizing your site. On the plus side, all templates are fully responsive, and you can change your theme at any time.
The editor itself is very easy to use, if a little basic. It uses a section-based editing style, enabling you to add and remove elements as required. The sections are quite simplistic, though, and you will be largely limited to customizing their content.
There's also a tidy mobile app that you can use to edit your site on the go. On the downside, keyboard shortcuts aren't available, you can only add custom HTML code snippets, and there's no AI design assistant.
Once you've finished customizing your website, you can preview a live version before publishing. It is possible to export your GoDaddy site to a third-party platform, but the process is difficult. Pages will need to be saved manually and then uploaded to your new platform.
Overall, the GoDaddy editor is a great option for beginners who don't need access to too many advanced tools. It's not a great option for experienced webmasters, but there's still a lot to like.
Adding Multimedia to Your GoDaddy website
The GoDaddy website builder comes with a media library that you can use to store images. Uploading is simple, and you can add multiple video and/or image files at once. Alternatively, browse the large built-in stock media library to find the right images.
You can also connect to your Facebook and/or Instagram account to import media directly. All images can be edited with the GoDaddy Design Studio before you add them to your site. Videos hosted on YouTube and Vimeo can be imported via URL.
Overall, it's very easy to add media to your GoDaddy website, and the integrated editing tools are excellent.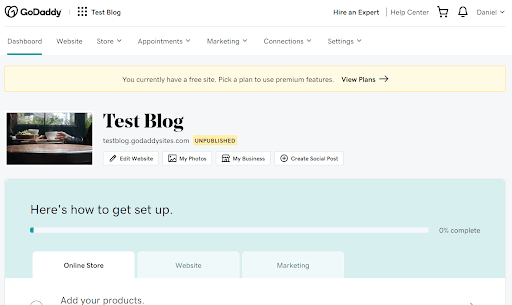 Marketing Functionality with GoDaddy Websites
A selection of marketing tools are included with all GoDaddy website builder plans. You can integrate your social media accounts, enabling you to manage content and track performance directly from your GoDaddy management panel.
Email marketing and newsletter tools are also included, so you can create custom email templates and monitor campaigns to track their performance. A built-in blog manager also lets you add new content and manage existing posts.
All of these marketing methods are backed by data collection and reporting tools, enabling you to monitor the success of your campaigns. Excellent analytics are also available for your store.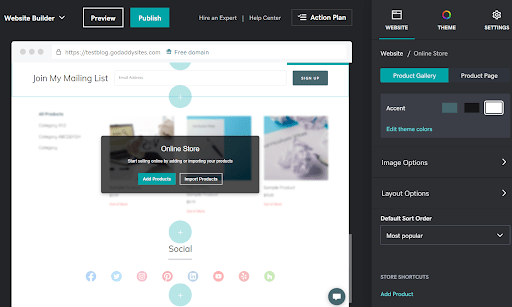 SEO Functionality & Add-Ons with GoDaddy Websites
The free forever and Basic plans come with very limited SEO tools. Premium SEO tools are available with advanced subscriptions, but these are also quite basic. Couple this with slow load speeds and a history of poor performance, and you've got a recipe for disaster.
The bottom line: GoDaddy's SEO tools are poor, and you will likely find it hard to rank well on the relevant search engine results pages.
E-Commerce
GoDaddy enables you to create an online store with its most expensive Ecommerce plan. Customization options are quite limited, although the entire setup and management process is simple and beginner friendly.
You won't benefit from the advanced tools that come with dedicated e-commerce platforms, but there are a few notable inclusions. Selling digital downloads is possible, you can sync your store with third-party marketplaces such as eBay and Amazon, and you can add your products to Google Shopping with the click of a button.
You might consider GoDaddy for e-commerce if you want to sell a small number of products through a basic store, but it's not great for scalability or large stores.
GoDaddy Plans and pricing:
There are four premium plans, along with one free-forever option. The free plan enables you to create a site and test the editor, but it is quite limited. Premium subscriptions start at $6.99 for an annual Basic plan, which gets you access to all basic tools, including the ability to connect a custom domain and 24/7 support.
The Standard plan (from $10.49 per month) adds SEO and a selection of other marketing tools. A Premium subscription (from $13.99 per month) adds more advanced marketing tools and support for recurring online bookings. The Ecommerce plan (from $17.49 per month) enables you to create an online store.
Prices will increase by up to 30% on renewal. Paying monthly instead of annually is significantly more expensive.
Introductory price (annual term)
Renewal price (annual term)

Help and Support
GoDaddy provides excellent 24/7 live chat and global phone support. The team is friendly and knowledgeable, and response times are excellent. We tested the live chat and received a clear reply within a few minutes, despite a warning stating that there was a "higher than normal volume".
There are also numerous self-help resources in the Help Center, and articles and guides are cleverly categorized, making it easy to find what you want. All resources are well written and comprehensive, containing text, images, and video content to ensure you get the most out of them.
In addition, numerous videos outline common procedures such as setting up payments on your online store or integrating your Facebook and Instagram profiles.
How GoDaddy Compares to Other Website Builders
$6.99 to $29.99 per month
Email marketing functionality
Wix is an excellent alternative for those looking for a more powerful website builder, Weebly is great for online stores, and like GoDaddy, Jimdo is targeted at those designing a website for the first time. But while competitors offer attractive tools and features, GoDaddy remains a leading choice for beginners.
GoDaddy Visit Site
Bottom Line
Our in-depth analysis shows that the GoDaddy website builder lives up to its reputation as one of the best site creation platforms for beginners. While its editor is quite limited, it's easy to use and allows for basic customization.
All sites are backed by a selection of e-commerce tools, marketing integrations, and the ability to link your social media platforms and other third-party apps. Overall, we'd recommend taking advantage of the free trial and giving GoDaddy a go—particularly if you just want to get online in the fastest, simplest manner possible.