In a Nutshell
WordPress.com is great for quickly getting a blogging site off the ground, and you can extend your website with WordPress add-ons that cover just about everything you could imagine. But for sites where blogging isn't the focus, you'll need to spend a lot of time bending the system to your will. And even if you love the WordPress software, you can easily get WordPress hosting for cheaper elsewhere.
pros
Great blogging features
Massive list of plugins
Free plan
cons
Designs favor blog sites
A bit difficult to learn
Expensive for e-commerce

WordPress.com Visit Site
WordPress.com Video Review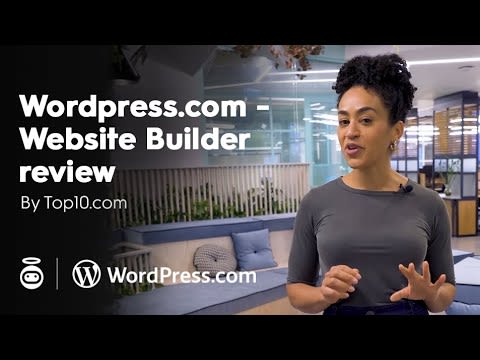 What Is WordPress.com?
WordPress.com is a website builder based on the popular WordPress.com content management system (available at WordPress.org). With WordPress.com, you can get a fully functioning WordPress.com website up and running in minutes by using its drag-and-drop editing tools. It's best for websites centered around a blog because of its excellent blogging features.
Using WordPress.com Website Builder
If you already plan to use WordPress.com to power your website, WordPress.com makes for an easy way to go about it. Instead of worrying about getting a hosting plan and domain name and building a WordPress website from scratch, WordPress.com bundles this all into a monthly payment and includes a drag-and-drop editor for rapid website deployment.
WordPress.com Features and tools
Website hosting
All WordPress.com plans include website hosting as part of the monthly or annual payment. Free accounts start with 3GB of storage space, while the cheapest paid plan includes 6GB of storage space, and the most expensive plans include 200GB.
SSL certificate
All sites hosted at WordPress.com include an SSL certificate from Let's Encrypt that ensures the privacy of all traffic sent to and from your site. Competitors like Web.com charge hefty fees for an SSL certificate.
The WordPress.com ecosystem
The WordPress.com content management system has long been the most dominant blogging platform used on the web. Because of this, tens of thousands of themes and plugins have been developed for WordPress.com, and almost all of them are available to use on a website hosted at WordPress.com.
Creating a website with WordPress.com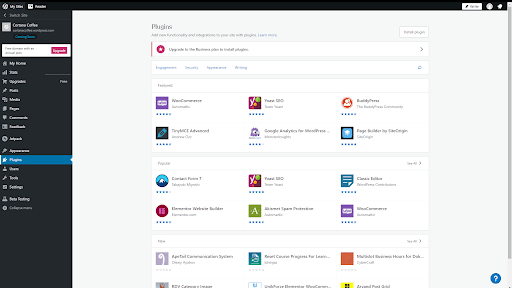 How to Create, Design, & Edit Your WordPress.com website
WordPress.com takes you through a short website-building wizard where you choose your site's name and template. Then you're taken to the drag-and-drop website visual editor.
Compared to most website editors we've reviewed, the WordPress.com visual editor feels somewhat old-school, often requiring more steps to perform an action than required. It uses a block system, where you can drag and drop elements onto each page and move them around on a virtual grid.
WordPress.com's hundreds of built-in themes are responsive, so they'll work well on mobile devices. With an E-commerce plan you can install any WordPress.com CMS theme you find. As there are tens of thousands of these, you're spoilt for choice.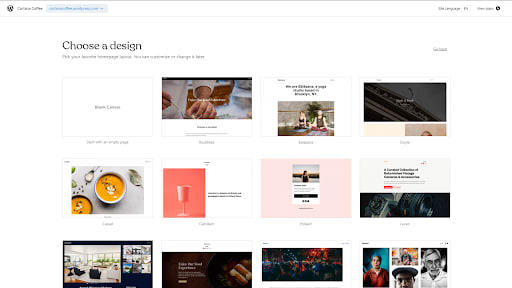 WordPress.com's website editor isn't immediately intuitive to use. If you haven't used the WordPress system before, the onboarding wizard doesn't help much. Instead, you'll likely need to spend some time at learn.wordpress.com reading the tutorials on how everything works.
But once you get the hang of it, WordPress.com's editor is actually very powerful and offers you more options than most other website builders on the market.
Adding Multimedia to Your WordPress.com website
You can upload your own images to WordPress.com via the browser wizard. Videos and audio files can be uploaded on all paid plans. Documents like PDFs, PowerPoint presentations, and Word documents can be uploaded to the media library to be shared on your pages as well.
WordPress.com also offers a free photo library with over 40,000 copyright-free photos. You can connect your Google Photos account with WordPress.com and import photos from there. Overall, WordPress.com makes working with media easy.
Marketing Functionality with WordPress.com Websites
WordPress.com only has a few built-in marketing tools. You can advertise your brand on Facebook and Instagram (Business and eCommerce plans only), connect social media accounts, and track user engagement with Google Analytics. This feels like the bare minimum.
Instead, WordPress.com directs you to third-party tools for marketing your website and building user engagement. Support documentation suggests the use of MailerLite for email marketing, for example.
SEO Functionality & Add-Ons with WordPress.com Websites
WordPress.com websites are very well optimized for search engines by default. URLs, site maps, and page code are all automatically created in a way that should help raise your site's search engine rankings. Pages include all the basics to make your site search engine optimized. There are also many SEO plugins for WordPress.com, including the popular Yoast SEO.
WordPress.com's plugin system is one of its biggest strengths. You'll need a Business or eCommerce plan to use them, but there are over 50,000 free and premium plugins for WordPress.com that can extend and even transform the functionality of your website.
E-commerce
E-commerce on WordPress.com comes via the WooCommerce plugin, available on Business and eCommerce plans. These plans are relatively expensive, but WooCommerce is one of the most powerful and versatile E-commerce platforms available today.
You can sell unlimited variations of products (color, size, etc.) and organize products by tags, categories, and attributes. WooCommerce supports physical and digital goods, affiliate sales, and multiple shipping options.
This complexity means it takes a little longer to set up a WooCommerce store than say, a Wix store, but it could be the better option for a company looking to sell a lot of different types of products.
How Much Does WordPress.com Cost?
You can get started with an ad-supported free WordPress.com website, but you won't be able to customize your site much. There are four paid plans that are a little pricier than most of the competition. You can pay monthly or annually, and get up to a 43% discount for paying annually.
Accept payments in 60+ countries
Help and Support
WordPress.com has a fantastic list of support articles, online tutorials, video content, and email courses to teach you every facet of the WordPress system.
Human support depends on your plan. Personal plans include unlimited email support, and Premium plans add basic live chat. If you have a Business plan, you'll get 24/7 live chat, and eCommerce plans include some one-on-one personalized help sessions.
How WordPress.com Compares to Other Website Builders
Email marketing functionality
WordPress.com vs Wix
Wix offers a much more intuitive editor than WordPress.com. It's also more flexible, allowing you to drag and drop elements anywhere you like on the page. Wix has a strong add-on library, too, and nearly 1,000 themes, but it still can't compete with WordPress.com in terms of how far you can take your website with third-party add-ons.
WordPress.com vs Jimdo
Jimdo is extremely easy to use, but it's also very limited. WordPress.com sits at the other end of the market, offering the most flexibility and complexity. If you're not particularly technical and only need to create a small, simple website, Jimdo may be a better option.
WordPress.com vs Squarespace
Squarespace offers a more streamlined set of features than WordPress.com. In particular, there are far fewer add-ons and themes from which to choose, limiting your options somewhat. But the Squarespace editor is much easier to use and the workflow is more intuitive.
Bottom Line
WordPress.com is a good place to create a WordPress website, such as a site with a focus on blogging. E-commerce is also handled well if you're willing to pay for it, thanks to the powerful WooCommerce plugin.
Competitors like Wix and Squarespace have more user-friendly website-building tools and are overall easier to get started with, particularly if your site is not blog-focused. But the thousands of templates, massive plugin library, responsive designs, and great E-commerce tools make WordPress.com a good alternative option.