Wix Visit Site
Overview
Wix Website Builder at a Glance
The Wix website builder is a powerful tool with nearly 1,000 attractive templates, and the customer support is great. On the downside, Wix websites aren't really responsive for mobile, and the SEO tools are simplistic. But we believe that Wix is top notch compared to all of the other website builders currently available on the market.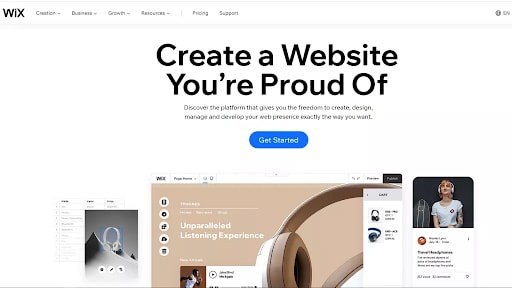 Wix Website Builder Video Review
Check out this short video to learn why Wix's website builder is an ideal choice for all:
How Wix Website Builder Works
Getting started
Getting started with Wix is easy. When you sign up, you're asked whether you want to jump into editing your site immediately or use the ADI (artificial design intelligence) tool. ADI asks you a few questions about the type of site you want and automatically sets up defaults for your Wix online presence, saving you time.
Creating a Website with Wix
Wix made a smart move by letting customers start with the ADI wizard first or jump right into the Wix editor. Wix's ADI tool does an excellent job setting up a Wix website based on your responses to a short questionnaire.
You can also choose from almost 1,000 website templates. While they're not as visually impressive as competitor Squarespace's templates, Wix does offer many more options. You're more likely to find a relevant theme for your business or project from the get-go.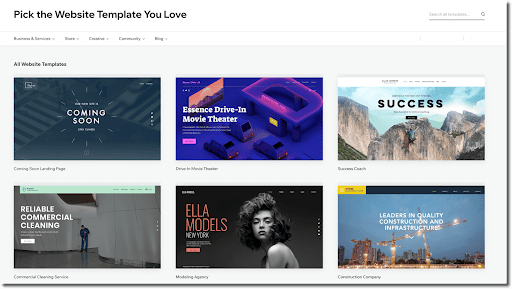 Then, it's simply a matter of dragging and dropping elements onto your pages.
Wix lets you place elements anywhere on the page, unlike most website editors that force you to stick to a grid. This ultimately makes Wix more powerful, but it can mean your website looks a little weird on mobile until you tweak that version.
Wix Features and Tools
Free website hosting
Besides access to the easy-to-use website editor, a Wix plan includes many of the things you need to host a website, all rolled into a monthly subscription. Your website is hosted on Wix's servers, and there's no additional setup required.
Free Wix websites get 500MB of storage. Each paid plan has its own amount of storage, ranging from 3GB on the Combo plan to 50GB on the Business VIP plan.
Open platform development
Wix has a framework for building advanced web applications called Velo. You can develop bespoke website functionality, which ultimately gives you more power and freedom than most website builders.
Velo includes a rapid visual front-end designer, a unified database manager, and an integrated development environment to design and code more complex Wix sites.
Adding Multimedia to Your Wix-site
Including images and videos on your site is as simple as dragging and dropping them onto the pages. Once you've uploaded your media to Wix, you can reuse it throughout your sites and marketing. You can even import it from Facebook, Instagram, and Flickr, use Wix's free images, or buy Shutterstock images from within the Wix interface.
Wix includes an excellent photo studio and a basic video maker that lets you edit and manipulate your media after uploading it.
Marketing Functionality
Wix has its own basic app for email marketing called ShoutOut, or you can choose third-party apps in the Wix App Store. Site traffic reporting is equally bare bones.
This is because Wix sells a separate marketing product called Ascend. It starts at $10/month, and you get email marketing, chat boxes, forms, and social media marketing. Ascend is quite sophisticated, allowing you to send posts on a schedule or when users perform particular actions.
SEO Functionality & Add-Ons
Wix pages include all the basic details needed to optimize your site for search engines. The Wix SEO Wiz is a step-by-step wizard that takes you through everything you should do to boost your website's online presence. This includes making your site accessible, submitting structured data to Google, and optimizing your website for mobile.
You can extend the functionality of your site with apps from the Wix App Market. There are loads of third-party apps - around 300 - which is many more than competitors like Squarespace but fewer than WordPress. Most apps add ways to collect leads, analyze traffic, and interact with visitors.
Ecommerce
Wix's online store solution is pretty impressive. It lets you upload thousands of products to your store, connect a payment solution and track customer orders. This definitely puts it head and shoulders above its competitors.
There are also a ton of predesigned templates you can try out when opening your e-commerce site - from physical product stores to digital downloads. We really like how extensive the options are, and also how easy it is for new store owners to pick a template and get selling.
Payment Integration
Running a 24/7, international business like an Ecommerce store? That can be a downright nightmare if you don't have the right setup at your disposal.
One of the most effective tools in your arsenal is the simplification of transactions. Considering how hard it actually is to get a potential customer to convert, it's in your best interest to make the transaction process as smooth as possible.
From a processing perspective, they do a respectable job when it comes to handling payment integration. With the 7 most popular payment options covered, 90% of your customers won't be inconvenienced.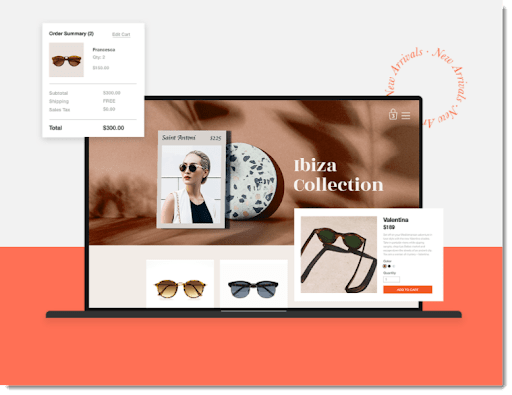 Wix Ecommerce provides you with automated customer email notifications and order fulfillment tools. Instead of having to send out a purchase confirmation yourself, Wix Ecommerce instantly handles it. And by connecting your Wix page to Shippo or Shipstation, you can streamline the shipping process with pre-printed shipping labels, advanced tracking tools, and pre-negotiated shipping rates through carriers such as UPS and FedEx. When those orders do go out, your Wix page can automatically update your inventory so it's easier to stay on top of stock levels.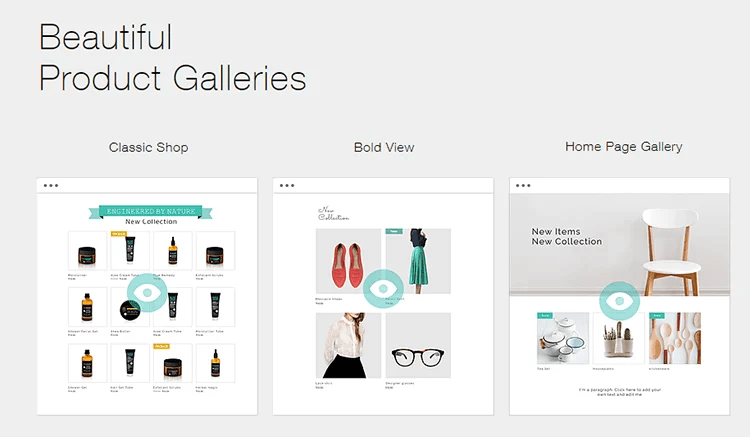 Wix Ecommerce offers a free mobile-friendly storefront (crucial for getting recognized by Google's search algorithm) with no ads. Through a combination of different services, Wix Ecommerce has managed to create a layered integration system that gives you more time to focus on what really matters.
Scalability
Wix Ecommerce works for businesses that are scaling up by providing users with an all-in-one management system to track orders, promote sales, manage shipping, and most importantly, get paid quickly and easily. All of these features are on top of the beautiful, customizable templates and flexible store design that has made Wix Ecommerce well-known. Users will find it easy to optimize for mobile devices so customers can browse your store anytime, anywhere.
Security
The Wix App Market is full of useful tools from Wix and third parties that extend the functionality of your website. Wix Ascend is an all-in-one marketing solution, Wix Bookings adds the ability to take reservations through your site, and there is a whole heap of other great apps like Wix Music, Wix Events, and Wix Restaurants that totally change how your website works.
Wix Apps
The Wix App Market is full of useful tools from Wix and third parties that extend the functionality of your website. Wix Ascend is an all-in-one marketing solution, Wix Bookings adds the ability to take bookings through your site, and there is a whole heap of other great apps like Wix Hotels, Wix Events, and Wix Restaurants that can totally change how your website works.
Wix Customer Support
Wix has an excellent help center available from within the editor itself. The developer mode has its own superb support website with video tutorials, step-by-step exercises, and examples.
Human support isn't far away, either. 24/7 ticket and callback phone support are available to all Wix users, even if you only have a free account. In our testing, we always got a call back within five minutes.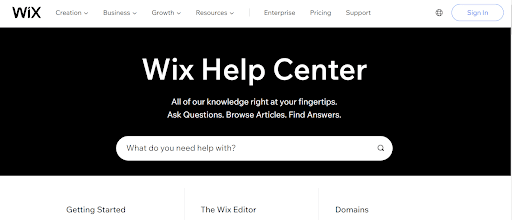 Wix Pricing
How Much Does Wix Website Builder Cost?
Wix has no less than seven paid plans and a free-forever one too. The paid options come with a 14-day money-back guarantee, and you get half off your first term if you buy a year or more in advance.
Wix Alternatives
How Wix Compares to Other Website Builders
Wix is priced in line with its main competitors, but you typically get more for your money. It has nearly 1,000 templates, for example, which is many more than most others. It also offers the most flexibility in its editor, though it doesn't have responsive design like other website builders.
Email marketing functionality
Wix vs. WordPress.com
Wix has better, more intuitive editing tools than WordPress.com. You can drag and drop elements anywhere on the page, making it more flexible as well. The add-on library is what really sets Wix apart, though, with nearly 1,000 different types of apps. However, WordPress.com allows you to take your website much further when it comes to third-party add-ons.
Wix vs. Squarespace
Squarespace isn't as beginner-friendly as Wix and has fewer template designs. However, Squarespace's templates are higher in quality. While Wix has many more options for add-ons than Squarespace, its responsive designs are lacking compared to those of the other design tools.
Wix vs. Weebly
When it comes to e-commerce features, design, and marketing features, Weebly falls slightly behind Wix. Site owners have more design flexibility on Wix and a wider range of templates to use. However, Weebly offers users online appointments and other features that need to be downloaded from the Weebly App Center to match. Their plans are much cheaper - making them a better option if you're on a budget.

Wix Visit Site
Bottom Line
While many website builders restrict your creativity, Wix offers a great balance of functionality and simplicity. It might take a little longer to get started as you learn how the interface works, but it ultimately pays off because you have more control over your website.
With nearly 1,000 great designs, excellent e-commerce tools, and superb support, Wix should be near the top of your list if you need a versatile website builder.