Weebly Visit Site
Weebly Video Review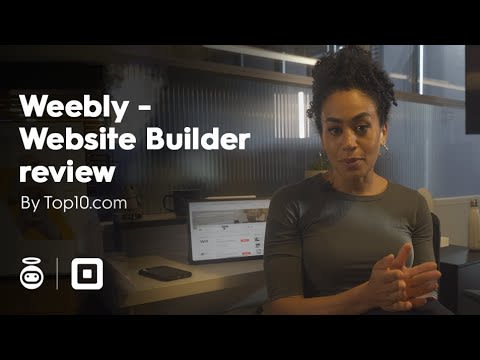 Overview
Weebly is a San Francisco-based website builder founded in 2006. It was one of the first builders to introduce a drag-and-drop page editor, and it's been at the leading edge of ecommerce in recent years. In 2018, Weebly was acquired by Square and now uses Square as its payment processor for most sites.
Weebly is suited for a wide range of websites, especially professional sites and ecommerce stores. It comes packed with marketing features and tools to help run your business, and it also has an app store that enables you to add even more capabilities. Weebly has excellent templates and a user-friendly page editor, but some designers might find the range of customization options lacking.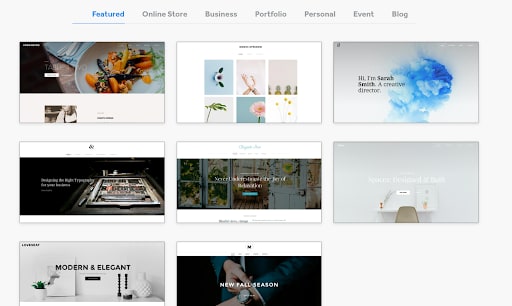 How Weebly Works
Getting started with Weebly is quite simple. Just sign up with your email, and you can begin designing your website right away—you don't even have to select a plan to get started. When you're ready to publish, Weebly will ask if you want to upgrade to a paid plan to connect your own domain.
Weebly Features and Tools
Hosting
All Weebly plans include free hosting with unlimited bandwidth. Free and Personal plans come with 500MB of storage, while Professional and Performance plans offer unlimited storage. In addition, all Weebly sites come with a free SSL certificate.
App Center
One of the best things about Weebly is that you can expand its capabilities by adding apps. The Weebly App Center has more than 360 apps for features like marketing, SEO, and social media integration. You'll also find apps that give you unique content elements, such as booking calendars and countdown timers. Many of these apps cost extra, although there are a few free ones.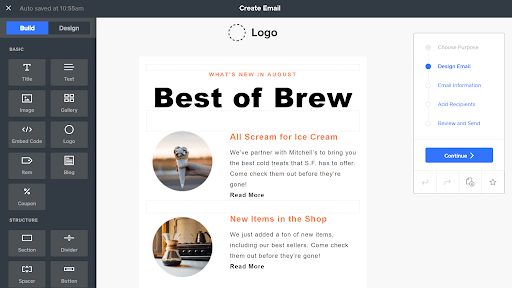 How to Create a Website with Weebly
Creating a new website or online store with Weebly is straightforward. To start, you can choose from 75 professionally designed themes. You're free to change themes at any time, so there's little risk in trying out one that you're not sure about.
The Weebly page editor uses a combination of page sections and individual content elements to help you customize your site. You can add an unlimited number of page sections to each page, each with its own layout. There are 20 different section layouts available, and these are not set in stone. You can easily rearrange, delete, or add content elements to any page section by dragging and dropping.
The content elements available within Weebly are fairly basic because they're meant to be used as building blocks within these customizable page sections. You can add text and image boxes, spacers, buttons, contact forms, videos, and downloadable files. Fonts are controlled by your site-wide settings, but things like text size and color, button styles, and image options can be customized on an element-by-element basis.
While this is as much design freedom as most users will need, it's worth pointing out that you can't move content just anywhere you want with Weebly. All content elements must conform to a grid layout. In addition, there are relatively few site-wide style options. If you want to change more than just your fonts or background colors, you'll need to dive into Weebly's code editor to modify your theme's CSS directly.
Overall, we were impressed with Weebly's site editor. It's easy to use, and you have a fair amount of freedom to customize the way that your content is laid out. That said, to make more significant changes to your theme in Weebly, you need to be comfortable editing CSS code. We'd like to see more site-wide style options.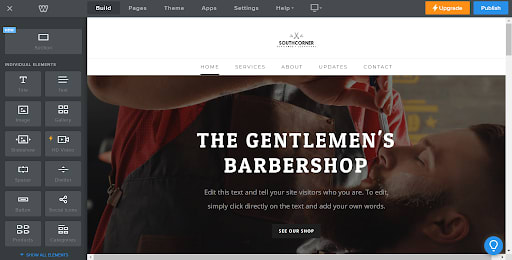 Adding Multimedia to Your Weebly Website
Weebly can display images, video, and audio files right on your site. In addition, you can add any other type of file to your site as a download. There's no media library, so you have to re-upload content every time that you want to use it somewhere on your site. However, you can also search for images across the web or import content simply by entering a URL.
We found that the media uploader can be a little finicky. For example, if you click around on your site before an image finishes uploading, the upload process will simply stop altogether. On the bright side, it's easy to upload multiple files simultaneously when building an image gallery.
Marketing Functionality with Weebly Websites
Weebly offers a built-in email marketing suite that enables you to gather contacts and segment them into groups. You can easily design email campaigns using a newsletter builder that mirrors the Weebly page editor.
On top of that, Weebly offers several tools for marketing to visitors who are currently on your site. You can create pop-ups that offer a coupon or collect a visitor's email address. In addition, Professional and Performance plan users can set up automated emails that are triggered after visitors take certain actions on your site.
Weebly also makes blogging tools available to all users. It's easy to launch a blog, and you can craft your posts with a drag-and-drop editor.
SEO Functionality & Add-Ons with Weebly Websites
All Weebly sites are mobile-responsive and enable you to edit your site's meta title and description to improve your SEO. In addition, you can easily set up redirects to eliminate broken links and add alt text to all the images on your site. Weebly doesn't offer tools to analyze your site's SEO by default, but you can find apps for this purpose in the App Center.
Weebly enables all users, including free users, to track their site's performance with Google Analytics. Professional and Performance users also get access to Weebly's built-in reporting tools, which capture sales and traffic data.
Ecommerce
Weebly's Ecommerce platform is designed to make it easy for businesses to set up an online store. The platform offers a simple drag-and-drop interface, making it easy to add products, images, videos, and audios. With over 100 professionally designed templates to choose from, businesses can create a unique and customized online store without needing any coding skills.
Payment Processing
Weebly's Ecommerce platform makes it easy to integrate payment methods into your online store. You can choose between PayPal or Google Checkout and even set up Android Pay for free. Weebly also recognizes the importance of providing a mobile-friendly checkout experience and optimizes all sites for mobile browsing. The platform also supports Square's shopping cart, which allows you to accept credit card payments directly on your site.
Scalability
Weebly offers excellent value and a range of plans to choose from, making it easy to upgrade as your business grows. With free hosting and no hidden fees, Weebly's plans differ mainly in the amount of storage space offered.
Although paid plans offer more features and services such as a custom domain, advanced site analytics, and unlimited storage space, it's important to note that all plans, even the free plan, include all the features you need to sell an unlimited number of products. This means that you can easily expand your business as it grows, regardless of which plan you choose.
Other Key Features
Weebly's user-friendly interface allows for easy customization and the creation of mobile-friendly sites. Hosting on a secure cloud architecture and integration with PayPal or Square ensures the safety and security of your online store. Customer support is also readily available, with an in-depth FAQ section, email support, and live training sessions.
Weebly Customer Support
Weebly offers 24/7 customer support by live chat and email for all users and has phone chat for Professional and Performance subscribers. Weebly also has a thorough online knowledge base with hundreds of tutorials. Most of these include screenshots, although there are few video tutorials.
Weebly Pricing
Weebly has 4 pricing options: Free, Personal, Professional, and Performance. All plans enable you to sell an unlimited number of items and include all site design features.
The Free plan is limited in that you can't connect your own domain or sell digital downloads. The Personal plan, which costs $9 per month or $72 per year eliminates these restrictions. Both plans include only 500MB of storage space.
The Professional plan costs $16 per month or $144 per year and offers unlimited storage, built-in site analytics, automated emails, and phone support. The Performance plan costs $29 per month or $312 per year and adds additional analytics for ecommerce stores and abandoned cart recovery. It also enables you to use PayPal as your payments processor as opposed to Square.
Unlimited (physical only)
Built-in analytics, automated emails
Ecommerce analytics, PayPal payments, abandoned cart recovery
Weebly Alternatives
How Weebly Compares to Other Website Builders
Email marketing functionality
Built-in and Google Analytics
Built-in and Google Analytics
Built-in and Google Analytics

Weebly Visit Site
Weebly vs Wix
Weebly is slightly behind Wix when it comes to design, marketing, and ecommerce features. Wix offers site owners more design flexibility and a much wider range of templates. It also has features like online appointments that you'll need to get from the Weebly App Center to match. However, Weebly plans are far cheaper, so it may be the better option if you're on a budget.
Weebly vs Jimdo
For most designers, Weebly offers far more features than Jimdo. The latter lacks design flexibility, doesn't offer blogs, and doesn't support email marketing. The main reason to use Jimdo is that it automates the design process, so you can launch a custom site in minutes as opposed to hours.
Weebly vs Squarespace
Squarespace is one of the leading website builders when it comes to in-depth design tools. However, it's much more complicated to use than Weebly and costs significantly more. If you have time and money to spend on your site, Squarespace can be worthwhile. Otherwise, Weebly offers a cheaper and faster option to get online.
Bottom Line
Weebly is a versatile website builder that excels for professional websites and online stores. It offers essential tools for growing a business, including an email marketing suite with automation features. Weebly also integrates with retail stores for inventory management and in-store pickup, and you can add to its capabilities with third-party apps.
We found Weebly's page editor to be quite easy to use. The platform doesn't offer quite as much flexibility as some other builders, but most users will find it to be plenty customizable. Overall, we were impressed with what Weebly can do, especially given its bargain price point.