Jimdo Visit Site
How Jimdo Works
imdo is a website builder and hosting service based in Hamburg, Germany. The company was founded in 2007 and has gone through several iterations of its website builder. In the most recent iteration, Jimdo has done away with templates and uses AI to help you launch a new website.
Jimdo is best suited for anyone who wants to build a custom website as quickly as possible. It's also fairly inexpensive and is a good budget option if you don't mind giving up some control over your site design.
Using Jimdo
It's quick and easy to design a website with Jimdo. It uses an automated site designer to help you get started, and then you can customize your site in page sections rather than content element by content element. While this doesn't give you a ton of flexibility, it's ideal for getting up and running as fast as possible.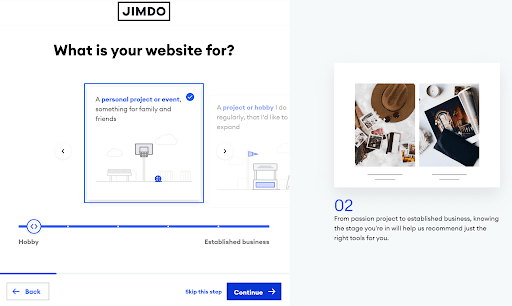 Jimdo Features and Tools
Web Hosting
All Jimdo plans include web hosting, although storage and bandwidth limits vary by plan. You also get a free SSL certificate and a free domain for 1 year with paid plans.
Logo Designer
Jimdo has a logo designer to help you shape your online business's brand. Just enter your business's name and category, and Jimdo will instantly suggest logo designs. There are several options for customizing your design, and you can download the final product as an SVG file.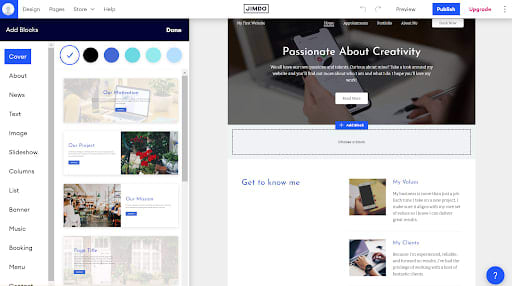 How to Create a Website with Jimdo
The process of creating a website with Jimdo is a little different from other website builders. Instead of selecting a template, you'll answer questions about your business and the types of pages you want to include on your website. Based on this, Jimdo will use AI to suggest several personalized website options. Just choose the one you like best to begin customizing it with the page editor.
Jimdo doesn't let you drag and drop individual content elements like text boxes or images onto your pages. Rather, you can only add page blocks, each of which contains multiple content elements. For example, a block might include an image and text box, a banner, or an image gallery. Jimdo has dozens of premade blocks, so it's easy to build up your site content quickly. You have very little control over the layout of each block, although you can show or hide individual content elements within blocks.
Notably, Jimdo also doesn't give you much control over your site's styles. You can customize your color palette, fonts, and button shape, but that's about it. There are no options to modify block padding, the navigation bar layout, or your site's footer. All Jimdo sites are mobile-responsive, but you can't easily customize the look of your mobile site.
Jimdo's approach towards website design will appeal much more to those who want to get up and running quickly than to those who want tight control over their site's design. It's straightforward to create a custom site in minutes, but your options for creating a unique look or layout are very limited.
Adding Multimedia to Your Jimdo Website
Jimdo lets you import images and videos from your computer, Facebook, and Instagram. If you opt to import images when first setting up your site, the AI designer will incorporate them into the sites it suggests for you. Jimdo saves all of your images to a media library, making it easy to add alt text and reuse them anywhere on your site.
Jimdo also lets you add audio to your site via a link to Spotify or iTunes. However, there's no way to add documents or PDFs.
Marketing Functionality with Jimdo Websites
Jimdo has very few marketing features. You can import images and videos from social media, but you can't publish updates from your website automatically to your social media pages. In addition, Jimdo doesn't support blogging or any email marketing or newsletter tools.
SEO Functionality & Add-Ons with Jimdo Websites
Paid Jimdo websites include SEO tools that help your site get discovered by Google. All sites are optimized for mobile, and you can click to have your site re-indexed by Google after you make major changes. In addition, you can edit meta titles and descriptions for all of your pages. Jimdo even offers personalized advice to help you maximize your site's SEO potential.
Jimdo doesn't offer its own analytics tools. Instead, the platform offers instructions for how to integrate with Google Analytics to monitor your site statistics.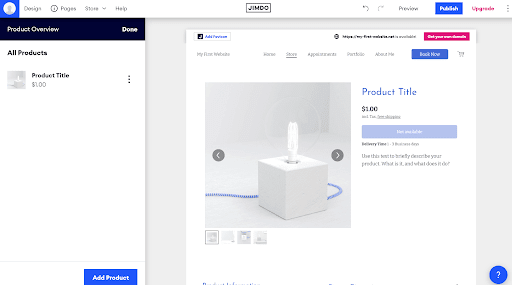 Ecommerce
Jimdo is one of the cheapest platforms for building an Ecommerce site. We don't love the Ecommerce features, but they perform well enough for basic storefronts.
You can design products using the same page editor as for the rest of your site. In fact, products are simply a type of block that you can add to any page. That gives you some flexibility, but it also means that Jimdo doesn't let you add SKUs or track inventory. You also can't or sell digital downloads or organize products into categories that visitors can search or filter.
That said, Jimdo does have a few handy storefront features. The Business plan lets you sell products on Facebook and Instagram, as well as create discount codes and product variants. You can also set up custom shipping rules. For payments, Jimdo integrates with PayPal and Square.
Jimdo Customer Support
Jimdo offers 24/7 customer support by email only. The company offers varying levels of responsiveness according to your plan: Grow, Basic, and Business customers can expect a response in under 4 hours, while Play and Start customers may wait 1-2 days for a response.
Jimdo has a detailed online support center, but it doesn't include many screenshots or video tutorials. In addition, a large number of support articles refer to an outdated version of the Jimdo website builder.
Jimdo Pricing
Jimdo offers 5 plan options, including a free plan. Three of the plans are for basic websites, while 2 are for Ecommerce sites. All plans except the free plan include a free domain for 1 year. In addition, all Jimdo plans are paid annually and come with a 14-day money-back guarantee.
Jimdo Alternatives
How Jimdo Compares to Other Website Builders
Email marketing functionality
Built-in and Google Analytics
Built-in and Google Analytics

Jimdo Visit Site
Jimdo vs Wix
Wix is one of the most flexible website builders available and has an enormous selection of content elements. It's ideal if you want complete control over your site design, although it can take much longer to launch compared to Jimdo. Wix has a much wider range of Ecommerce and marketing tools compared to Jimdo, but its Ecommerce plans start at $23 per month.
Jimdo vs WordPress.com
Whereas Jimdo doesn't support blogging, WordPress.com is designed first and foremost for bloggers. All paid WordPress.com plans enable you to sell products, and more advanced plans allow you to place paid ads on your blog. However, WordPress.com is much more expensive than Jimdo if you want to sell internationally or access plug-ins for marketing and SEO.
Jimdo vs Squarespace
Squarespace offers a significant degree of design flexibility and control, which distinguishes it from Jimdo. On top of that, Squarespace's tools for online stores, email marketing, and blogging are far more in-depth than what Jimdo offers. Expect to pay for the advanced features, though—Squarespace plans start at $12 per month and Ecommerce plans start at $26 per month.
Bottom Line
Jimdo is a user-friendly website builder that uses AI to build a personalized website for you in minutes. It's a good option if you want to launch a website or online store as quickly as possible. Jimdo is also inexpensive compared to other website builders, and you can get started for free with the Play plan.
The downside to Jimdo is that you give up a significant amount of creative freedom. You can't drag and drop individual content elements and style customization options are quite limited. Jimdo also doesn't have many marketing features and doesn't support blogs. So, it's best suited for website builders who want to prioritize value and don't mind keeping things simple.