In a Nutshell
Jimdo helps you create a personalized site with tailored text, photos, and other details fit for your industry in only 3 minutes. Jimdo Dolphin is used by entrepreneurs, musicians, photographers, and even people who just want to share their stories and inspiration. The company has over 200 employees in Hamburg, The Netherlands, and Tokyo, and its tool has been used to create over 25 million websites.
pros
Tailor-made website in only 3 minutes
All websites are optimized for mobile
cons
No customer support phone number
Limited customization options
Jimdo Visit Site
Standout Features
Most website builders offer features for easy website creation, but Jimdo Dolphin takes it a step further.
Standout features that make Jimdo Dolphin a top website builder include:
Smart website-creation bot
Easy text inputting
Matching and high-quality images
When using Jimdo Dolphin, no coding or web development experience is required. All you need to do is answer a few simple questions to tell the tool what kind of website you want. The site uses a bot that asks you questions and reacts accordingly to your responses. This makes the process very simple.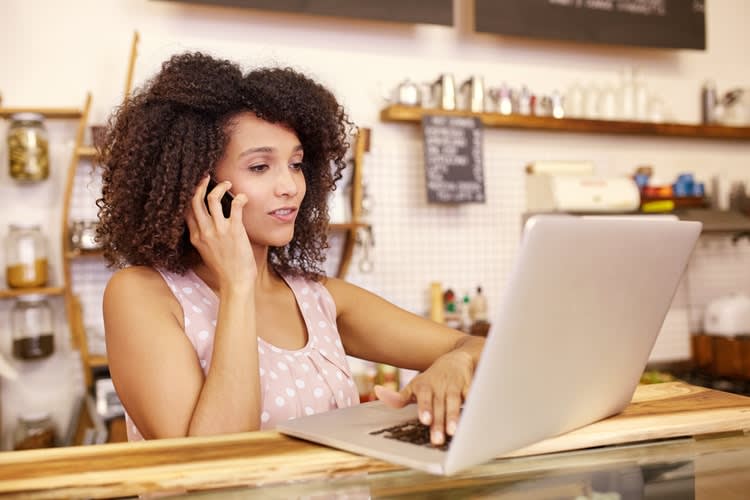 Another fantastic feature is the ability to easily edit your text after your initial website is made. Once the tool creates your site, you can easily click text boxes and edit them according to your needs. You can change the words, fonts, sizes, and make them bold or italic. Jimdo Dolphin also offers relevant and high-quality images for you to use on your site, saving you the time and money of having to buy or search for photos.
Ease-of-Use
Jimdo Dolphin is extremely easy to use. Whether you're creating a personal or Ecommerce site, the flow is very similar.
Personal website: To get started creating your personal website, you'll first have to create your account. An automated bot will then ask you a few questions in a chat-like form. Questions include:
What type of website do you want to build?
What industry is your service in? You can respond with "fashion blogger," "health & wellness," "personal training," and much more.
You'll then be asked to select examples of other sites you like, and choose certain styles including "modern," "playful," "elegant," or "minimal." Then the bot will ask you to create a web domain (you can choose free or paid), and after that you're done. From there you can edit and customize your site according to your tastes.
Ecommerce website: You'll first have to create your account, specify the industry of your business or shop, and choose your desired template. After that you can customize your site according to your tastes.
Features
Another top feature that makes Jimdo Dolphin stand out as a website builder, is the fact that it connects to your social media channels for personalization options. For example, you can sign into your Instagram account to use pictures from your profile on your site.
All Jimdo Dolphin sites are mobile-optimized – a feature required in today's mobile-driven world.
Pricing
*Prices last updated January 2021
There are different plans and prices depending on whether you're building a personal website or an online store. Using Jimdo Dolphin's website builder is completely free, but you will be required to pay if you want your site to have a custom domain and other advanced features.
Personal websites: The free plan is a great way to get started with your own website. Although you won't have a custom domain, it can help you get comfortable using and editing your site. The free plan comes with a ".jimdosite.com" subdomain, 500 MB of storage, and 2 GB bandwidth. Since it's free, an email connection isn't included, and you're limited to 5 website pages. If you're looking for something that offers a bit more, there's the "Start" plan, which costs $9.00 per month. The plan is best for personal or creative projects, comes with a free domain for the first year, and connects to your personal email address.
Your site will be ad-free, and you'll also get 5GB of storage space and 10GB of bandwidth, which makes uploading photos a pleasure. The "Start" plan has a limit of 10 website pages, but you get HTTPS Encryption, and fast and personal customer support. This professional design analysis (only available with the unlimited plan) is a website examination done by one of Jimdo's design experts to ensure your site has the greatest impact on visitors.
Ecommerce websites: The "Business" plan, which costs $19 per month, comes with all Jimdo features, a free domain for the first year, 15GB of storage and 20GB of bandwidth, HTTPS encryption, premium support, is ad-free, optimized for smartphones, and comes with SEO features. The "VIP" plan, which costs $39 per month, offers everything the business plan offers, plus an expert review of your website.
Jimdo Dolphin charges annually for all of its personal and Ecommerce website plans.
Templates
Jimdo Dolphin has templates to choose from, but only if you're building a site for an online store. You can choose from 15 different templates, which is a small selection compared to what other sites offer, or you can start with a blank template and build your own. If you're using Jimdo Dolphin for a personal website, you won't have the ability to use a template. For a personal website, the tool uses your information, input, and content to create a one-of-a-kind and personalized site for you.
Ecommerce/Online Store
To get started building a site for an online store using Jimdo Dolphin, you will first be prompted to input the industry of your business. After that, you will be asked to select your desired template. From there you will either have to upgrade your plan, depending on the features you want, or continue using the free version. Everything in your online store site can be customized according to your store's needs and preferences.
Jimdo Visit Site
Customer Service
Jimdo Dolphin has an incredibly useful support center that has forums and tutorial videos on frequently asked questions. Categories include account, blogging, SEO, domains & email, and design. You can also use the search tab to type in your query and find the answer or contact its support team via an online form. You will be asked to select the plan you're using, which lets the customer support team know the priority of the message. "Start" and "Growth" members get first priority and receive a response within 1-2 business days.
The site also offers examples of other sites to help you draw inspiration for your own. On top of all of that, Jimdo offers an interesting and informative blog called "The Jimdo Blog for Entrepreneurs." It has posts in the categories of inspiration, starting your business, growing your business, website tips, and news.
Conclusion
Jimdo Dolphin is an extremely easy and hassle-free way to create your perfect website. Simply input your information, tell the website builder what styles you're into, and you're done. In less than 3 minutes you have yourself a one-of-a-kind and professional looking website. If at any point you want to make changes to your site, just click on the element and edit away. It's clear why Jimdo Dolphin was used to create over 25 million websites – the tool works.