SITE123 Visit Site
SITE123 Video Review

Overview
SITE123 is a simple website builder platform that has been operating in the space since 2015. It has rapidly grown to become a leading option, and it's known for its ease of use and rapid site creation solutions.
Creating a website with SITE123 is a straightforward process, and there are numerous video tutorials and how-to articles to help you get started. Consider this platform if you're looking for a beginner-friendly, no-frills website builder, but look elsewhere if you require decent design flexibility, advanced ecommerce tools, or powerful marketing integrations.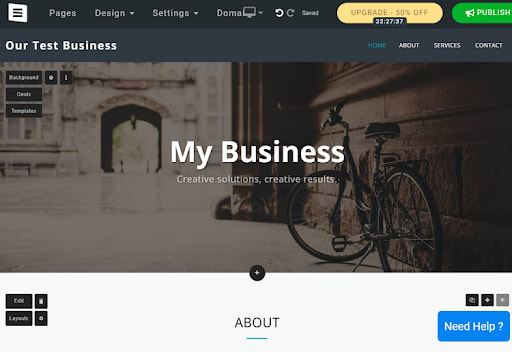 How SITE123 Works
It's very easy to get started with SITE123. You will be asked what sort of site you want to build, what it should be called, and for a name, email address, and password to create an account. You can also sign in with Google or Facebook.
The management dashboard is a little clunky, and the overall design appears somewhat outdated. But the expected tools are available, and navigation is intuitive. The editor is fast and responsive, and we experienced no issues using it.
SITE123 Features and tools
Site123 offers a number of noteworthy features that you can take advantage of when building your new website, whether it's for personal use or to build your online store.
Plugins
There's a selection of plugins that you can use to integrate with third-party platforms or to add extra functionality to your site. Many of these are free, but you will be required to pay for some of them.
Free domain name
All premium subscriptions with a 12-month or longer term come with a free domain name for the first year.
Multilingual support
All SITE123 websites include multilingual support. Hundreds of languages are supported, and you can display your site in any combination of up to five of them.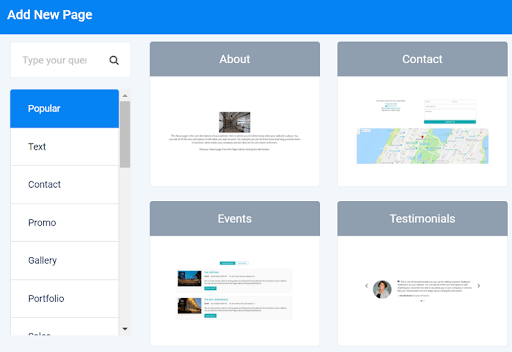 How to Create a Website with SITE123
To start a new website, log in to your SITE123 account and click the New Website button on the top right of the screen. Follow the prompts, and wait a few seconds to be redirected to the editor. So far, so good.
There are 189 templates available to base your site on, and you can switch between these by clicking the Templates button on the top right of the editor. All designs are fully responsive and optimized for mobile, but you won't be able to switch themes once you've published your site.
SITE123 uses a basic section-based editor. Pre-designed blocks can be added or removed from each page, enabling you to add the required elements. Various layouts are available for each block, but you can't create your own custom layout.
Because of this, the editor is very easy to use and great for beginners, but the design flexibility is certainly below the standard we'd like to see. You can preview the mobile, desktop, and tablet versions of your site, although it's only possible to edit in desktop mode.
Despite its reputation as a beginner-friendly website builder, SITE123 provides no real guidance during the site creation process. We would have liked to see a few tips or a tour of the editor upon our first login, but nothing of the sort was available. Keyboard shortcuts also appear absent, and there's no design assistant.
As a final note, SITE123 doesn't enable website export. This means that you can't leave the platform and take your site (or at least its code) elsewhere.
Overall, SITE123 lived up to our expectations. It markets itself as a beginner-friendly website builder for newbies to the space, and that's indeed what it is. You won't have access to advanced editing tools or a pixel-perfect drag-and-drop builder, but you will have what you need to get an attractive site online with a minimum amount of fuss.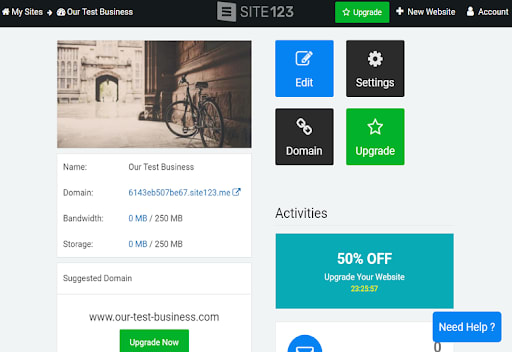 Adding Multimedia to Your SITE123 website
SITE123 enables you to add all popular image and video file types to your website. Add files to your media library by uploading them directly from your computer. Or, connect to Facebook, Instagram, Google Photos, Google Drive, OneDrive, Dropbox, or Flickr. You can also capture images directly with your device's camera.
However, you can only upload a single media file at a time, and there's a 100MB max file upload size. There is an integration with the Unsplash stock media library, but there doesn't appear to be any easy way to add videos hosted on YouTube or other video-hosting platforms.
There's also a basic image editor, but it's underwhelming and overly simplistic. Overall, SITE123's media management tools are okay, but we've certainly seen better.
Marketing Functionality with SITE123 Websites
SITE123 includes basic email marketing functionality, enabling you to collect email addresses and send simple marketing messages. There are templates available, but these are basic and customization is very limited.
There's also a blog section that you can add to any page of your website. The blog manager is overly simplistic, and you will have very limited layout and post customization options. You can add media links to your site, but there are no other social media tools to speak of.
Both blogging and email marketing come with basic reporting tools.
SEO Functionality and Add-Ons with SITE123 Websites
SITE123 offers basic SEO tools that you can use to boost your search engine ranking. The SEO advisor is accessible via the Settings menu on the main management dashboard. It enables you to add homepage meta tags, a sitemap, a favicon, and a custom domain name. You can also set up 301 redirects if required.
The built-in SEO audit tool can be used to identify simple issues, such as the lack of effective page descriptions or title tags. A Google Analytics integration is available, but the built-in analytics tools are quite limited.
Ecommerce
SITE123's ecommerce website builder would be a great fit for anybody wishing to sell online that wants to use a builder tool that can do it all. SITE123 allows users to build sites based on templates, configure 301 redirects to make sure that old URLs route through to new ones, and even includes optimization settings for mobile versions.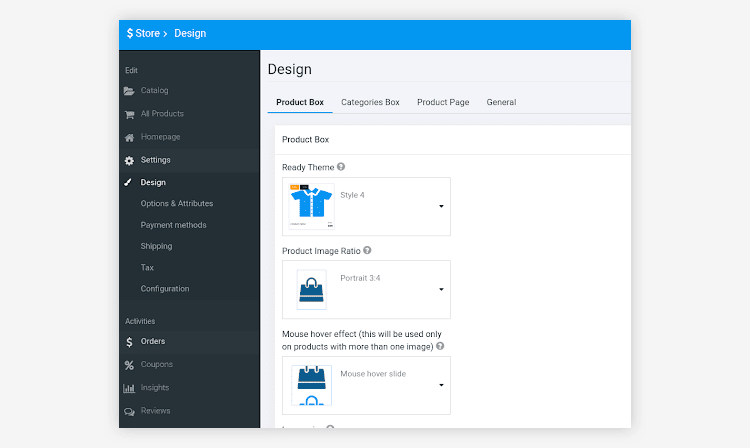 Currency Support & Payment Processing
Over 80 currencies are supported with SITE123's ecommerce capabilities.
SITE123 integrates with 3 payments gateways:
To receive money, users can connect Paypal and bank accounts.
SITE123 does not levy any transaction fees but the payment gateways do.
SITE123 Customer Support
SITE123 offers responsive 24/7 live chat support, but email and phone options are notably absent. There's a selection of self-help resources available via the SITE123 support center. These include detailed video tutorials, well-written how-to guides, and various other informational articles. We would have liked to see a few more built-in tips, but the support resources on offer are excellent overall.
SITE123 Pricing
Pricing & Special Offers
Alongside a limited free-forever plan, there are 4 subscription options that range in price from $12.80 to $34.80 per month for a 12-month term. Monthly payments aren't available, and prices are significantly higher with the minimum 3-month term. Introductory discounts are available periodically, and you can access increased discounts with 24-month, 36-month, 60-month, and 120-month terms.
SITE123 Alternatives
How SITE123 Compares to Other Website Builders
Email marketing functionality
*Listed prices in the table above represent the monthly price of an annual subscription term.
SITE123 vs. WordPress.com
SITE123 is quite a simple website builder that targets beginners and those entering the website-building space for the first time. Its site editor lacks a little design flexibility and power, but it's still much more advanced than WordPress.com's. Like SITE123, WordPress.com targets beginners. However, it's a little expensive and hasn't kept up with recent advances in the website building world, making it a much less attractive option.
SITE123 vs. Squarespace
If SITE123 is a leader for beginners wanting to get online fast, Squarespace is a clear winner for those looking for attractive templates, more design flexibility, and decent design tools. It boasts an excellent selection of professionally-designed themes, decent online store support, and a great range of native features to add functionality to your site.
SITE123 vs. Wix
Wix is known as one of the world's leading website builders, and it's easy to see why. It offers advanced design flexibility through its pixel-perfect drag-and-drop editor, and it's much more powerful than SITE123. However, it can be a little expensive and confusing to get started with, and SITE123 may be a better option for industry newbies.

SITE123 Visit Site
Bottom Line
SITE123 offers excellent website-building solutions for those with little experience in the industry. Its intuitive, beginner-friendly editor enables users to get online in next to no time. Design flexibility is limited, but there's a decent selection of attractive templates and layouts to base your site on.
The integrated blogging, ecommerce, and marketing tools are quite simple, but the basics are there. Prices sit around the industry average, and the customer support is decent. Overall, we'd suggest trying SITE123 if you want to develop an online presence with a minimum amount of fuss.