Squarespace Visit Site
Squarespace Video Review

Overview
Squarespace is a website builder first developed in 2004. Through the use of intuitive user interfaces, it, like other Ecommerce platforms, makes deploying a website easier and faster for those who don't know how to code.
Squarespace offers modern, aesthetically-pleasing designs, unmetered bandwidth, unlimited storage, and good marketing tools.
It's best for those who want to build a great-looking, image-focused website or online store using an uncluttered, intuitive interface. However, its limited set of add-ons means it's a poor choice if you need a site with advanced features like a community forum or complex forms.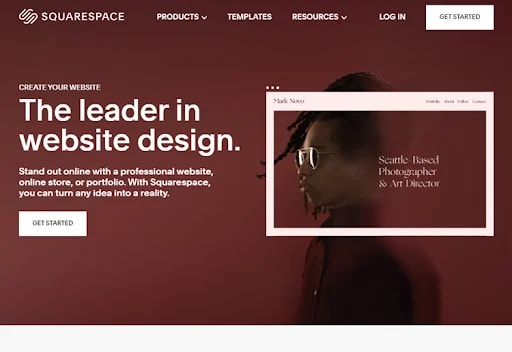 How Squarespace Works
Building an online store with Squarespace starts with a short questionnaire that asks what you plan to do with your website, the types of products and services you sell, and how far along in the process of building your online business you are. Your answers dictate the features your Squarespace website starts with.
All of Squarespace's features, from page design and Ecommerce to marketing and analytics, are available from a single main menu, yet the interface never feels crowded or complicated. Despite Squarespace's powerful features, it's one of the easiest website builders for new users to get started with.
Squarespace Features and Tools
Fluid Engine
Squarespace has a drag-and-drop editor tool called Fluid Engine. This feature is an overhaul of the existing drag-and-drop feature, providing an easy-to-use canvas and toolkit for designing an online store layout.
You can take website design one step further by using intuitive tools to create personalized layouts. And, the great screen responsiveness makes editing both mobile and desktop sites easy.
Unmetered bandwidth
All Squarespace plans include unmetered data transfer with no caps on usage. This is relatively unusual in the marketplace. Squarespace's competitors typically charge for bandwidth and force you to upgrade to a more expensive plan if you go over the set limit.
Unlimited storage
Again, Squarespace impresses by offering unlimited storage on all plans. Most competitors have a tight limit on storage on their cheapest plans and expect customers to upgrade to get more storage as their business grows. With Squarespace, you can upload as many images and videos as you need without worrying about hitting a limit.
SSL security
Squarespace includes an SSL certificate with all plans. This means that visitors to your website will see your website is secure and be more inclined to trust your site. All data sent to and from your website will be encrypted, keeping Ecommerce transactions safe and secure.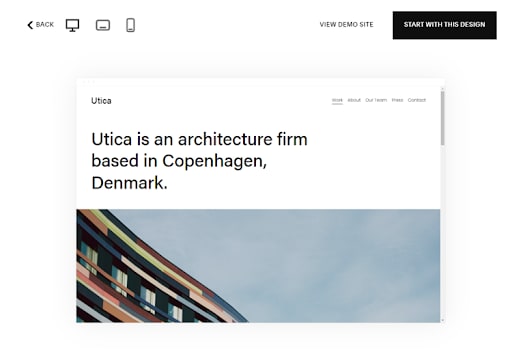 Creating a website with Squarespace
After filling in the questionnaire that outlines the focus of your website, you're free to choose from around 120 high-quality designs. From there, edit your pages in the website editor, replacing images and text as you see fit.
Squarespace uses a contextual drag-and-drop editor, so when you're editing a section of your online store or website, irrelevant menus are hidden. This keeps the interface wonderfully uncluttered and is perfect for beginners, but you can often find yourself searching for a feature you want until you get used to it.
The editor is also relatively restrictive. For example, you can't just place a video in the middle of an existing text box; you instead need to create a separate video section to place the video within. This can be frustrating at first, but may help inexperienced designers stick to best modern web design practices and means Squarespace websites are responsive.
The latest version of Squarespace (7.1) uses a new template system that essentially means you can switch between templates at will. Prior to this, swapping templates was possible, but difficult.
If you decide to switch to another provider, it is possible to export your Squarespace website. However, the export feature is very limited. For example, you can export the text of your blog pages, but exporting images isn't nearly so easy.
Adding Multimedia to Your Squarespace Website
You can upload your own images to Squarespace while you're editing your web pages. You can also choose free images from Unsplash or premium images from Getty from within the interface.
Videos are supported too, but they need to be under 500MB in size. Alternatively, you can insert videos hosted on YouTube or Vimeo.
Adding images in Squarespace is straightforward, but adding videos less so—which could be a conscious decision by Squarespace to stop people from taking liberties with the service's unlimited storage feature.
Marketing Functionality with Squarespace Websites
Squarespace offers email marketing as an additional paid feature costing between $5 and $48/month. This allows for personalized email newsletters, but there are few features for sending emails automatically based on user behavior.
Squarespace has excellent blogging features. It also does a good job of integrating with Instagram and Facebook, so you can automatically direct people to your Squarespace store pages from these social media sites.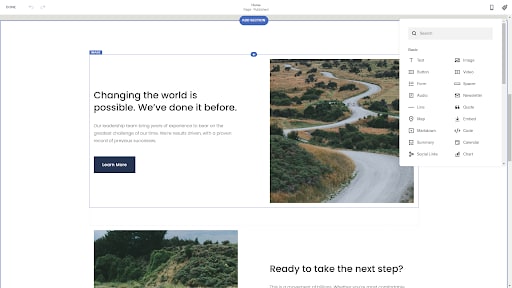 SEO Functionality and Add-Ons with Squarespace Websites
Squarespace has quite good search engine optimization features for a website builder. Sitemaps and markup are automatic, and all pages are automatically optimized for mobile. All URLs are static, making them easily readable by search engines. There's an SEO panel where you can edit all important SEO features of your website such as how it will appear in search results.
Squarespace's add-ons are limited. There are fewer than 30 extensions, and they are almost all about adding new products to your site to sell through drop-shipping. If Squarespace doesn't already offer a feature you need, you're unlikely to find it in the list of add-ons.
Ecommerce
Squarespace Commerce is an all-in-one platform that allows you to create an online store with ease. With Squarespace's intuitive interface, even those without any prior experience in web design or running an Ecommerce site can set up an online store.
Payment Processing
Squarespace Commerce offers flexible payment options and abandoned checkout recovery, which helps to ensure that your customers complete their purchases. You can connect PayPal, Stripe, or Apple Pay to your Squarespace Commerce site and pay their processing fees. Squarespace Commerce's mobile-optimized checkout provides a seamless payment process that is designed to increase conversion rates. The platform also provides SSL security to protect sensitive customer information.
Scalability
Whether you are a small or large business, Squarespace Commerce offers a suite of features that can cater to your needs. The platform provides users with the necessary tools and resources to scale their online store as their business grows.
With advanced inventory management features, including real-time tracking and low-stock alerts, businesses can manage their inventory effectively. Squarespace Commerce also offers a range of analytics and reporting tools to help users track their store's performance and make data-driven decisions to optimize their business.
On the downside, many important Ecommerce features are reserved for the expensive Advanced Ecommerce tier. This includes abandoned cart recovery, which competitor Wix includes on all Ecommerce plans.
Squarespace Customer Support
Squarespace offers 24/7 support via email and live chat during business hours, Monday to Friday. There's no phone support. Replies to emails took about 6-7 hours during our testing, whereas live chat was prompt.
Squarespace's user guides, FAQs, webinars, and videos are good. There's a busy community forum, too. Overall, Squarespace does quite well for support, but we'd like to see live chat hours extended and the option for phone support.
Squarespace Pricing
Pricing & Special Offers
Squarespace offers a 14-day free trial, but you can't make your site live until you've paid for a plan. The 4 plans can be paid monthly or annually, with a discount of 25-30% for paying annually.
* When paying monthly. Paying annually offers a discount of up to 30%.
Squarespace Alternatives
How Squarespace Compares to Other Website Builders
Email marketing functionality
Squarespace vs. Wix
Wix is arguably more beginner-friendly and offers more template designs than Squarespace, but Squarespace's templates are of a higher quality. Wix has a much bigger list of add-ons than Squarespace, but it doesn't create sites with responsive designs like Squarespace does.
Squarespace vs. GoDaddy
GoDaddy has a particularly simple interface, making it a better choice than Squarespace for complete beginners. It's also significantly cheaper. But that simplicity comes at the cost of theme selection and design customizability.
Squarespace vs. WordPress.com
Squarespace is easier to use than WordPress.com, but WordPress.com beats it on sheer power and flexibility. For developers creating larger websites, WordPress.com offers a huge list of add-ons and templates that can transform a website, and if you're willing to learn the idiosyncrasies of WordPress and even dig into code from time to time, WordPress.com is worth checking out.

Squarespace Visit Site
Bottom Line
Squarespace is one of the best online store builders we've tested. While it takes an hour or so to get used to its minimalist interface, once you've mastered it you can build gorgeous responsive-design websites in no time.
Squarespace's high price is the main reason to look elsewhere. But considering that all Squarespace plans include unlimited bandwidth and storage, the playing field is evened out, particularly if you plan on uploading a lot of media to your website. And with Squarespace's beautiful templates, you're virtually guaranteed a sophisticated modern website that will impress your visitors.