In a Nutshell
If you're looking for the quickest way possible to build a website on a respected shared hosting provider, then Hostgator's point and click website builder, called Gator, is just the tool for the job. Want to know more about the features it contains and what kind of website you can build with it? We have all the details.
pros
No coding knowledge required
Click and point designer
Over 200 mobile-friendly templates
cons
Not suitable for advanced websites
Poorly developed web store
Dedicated support not available

HostGator Visit Site
Hostgator Video Review
Ideal For:
Those that want a web presence at the push of a few buttons


Website owners looking for an all-inclusive solution that bundles a domain name, a website builder, and analytics. Everything is ready to go out of the box!


Website owners looking for a basic solution that includes everything they need to get going (Starter package) with room for expansion and more advanced functionalities (Ecommerce package)

Why Go With Hostgator
The product is built on top of Hostgator. Hostgator is one of the most trusted and longest operating brands in the shared web hosting industry.


Gator is more than just a website builder. It's an entire plan which includes hosting, a domain name, analytics, and a free SSL certificate to show users that their connection is secure. Gator bundles together everything needed to put users' minds at ease that they are dealing with a reputable provider.


Gator comes back with one of the sturdiest uptime guarantees in the industry. Its current one is 99.99%. This means that the provider guarantees that websites built with it will stay online—or customers can get their money back.

Features
Gator includes the following features to make getting a professional website as easy as selecting a template and dragging and dropping in some elements to get that polished final look.
Mobile Friendly Templates
These days, viewers like to access their favorite websites from just about any device that has an internet connection. In order to display a consistent website to all those browsers, it's important that webmasters roll out responsive themes that have been designed to look good no matter what screen size the user has at their disposal. For this reason, all the templates that Gator offers are mobile optimized.
Templates for Every Type of Website
Gator offers an extensive library of templates that are fine-tuned and tested to meet the needs of various types of customers. You can actually browse their entire collection of templates at templates.hostgator.com. These include:

Ecommerce themes for those selling online.


Blogs, for those that want to get their thoughts out into the world—but want to use something a bit less intimidating than Wordpress to do so.


Businesses: Gator has a number of themes that are designed for general businesses. These are suitable for use by a variety of industries. Hostgator has excellent demo sites where you can see how a taxi company, dentist, and technology consultant have all created impressive looking websites just by using the Gator builder.


Whether you're a freelance writer or an SEO consultant, one of the first things you need to start winning clients and closing deals is a good-looking website. Gator includes a variety of terrific-looking templates that are all perfect for solopreneurs and other types of small business owners.


Technology sites. Just because you're in the technology sector doesn't mean that you need to build your site on something elaborate such as Wordpress, Drupal, or Joomla. Gator offers its users a variety of templates, all optimized for UX flow, that are designed to look great for showcasing technology products.

Drag and Drop Editor
Some people call this "point and click." Can't tell a HTML snippet from the back of a cereal box? No worries! With Hostgator, all you need to know how to do is to drop the required elements that your website needs into the right places. The technology itself will take care of all the messy technical stuff.
Integrated Analytics
Whether you're building a site for yourself or for your business, you'll probably want to know how many eyeballs are viewing your content. With Gator, there's no need to insert Javascript snippets from Google Analytics or any other provider. Gator offers comprehensive viewer analytics straight from within the product—allowing you, the webmaster, to take smarter data-driven decisions to optimize the site and drive conversions.
Get Selling Online
Ecommerce subscribers are able to roll out ecommerce websites complete with payment gateways to get selling online—before lunch.
Customization
While you can't do as much with a point-and-click editor as you can with a website built upon a full fledged Content Management System (CMS), Gator still lets you tweak your site to give it the best look and feel for your audience.
Users can:

Choose from one of the company's templates to select the most fitting appearance for their site.


Edit pre designed templates according to font, color, and other design details.

Payment Processing
If you're on the Ecommerce plan and selling online then at some point you'll need to figure out how to get paid by your customers.
Hostgator natively supports Paypal through Gator. This means that if users run into any difficulties with integrating it that they will be able to reach out to the team for support. However, by using the HTML embed functionality, users are also able to integrate any third party payment processor that better meets their needs. Some of these includes:

Stripe


Alipay


Google Wallet

Using Paypal, however, should be enough for most store owners and it also provides a means of taking credit card payments from those that do not have an account with the provider.
SEO Tools
Having your website rank well in the search engines is just as important as ensuring that it looks good.
Hostgator SEO Tools are available with all Hostgator hosting accounts—which you'll need if you're signing on for Gator. The assessment tool provides basic configuration settings designed to optimize the appearance of your Gator site in search engines.
This looks at issues such as:

Providing a weekly scan


Automatically generating a report with keyword suggestions


A deeper 50 page analysis (higher tiers only)

Higher level SEO tools packages are available as an add-on subscription. Additionally, Hostgator ensures that all templates offered through Gator are basically optimized for SEO—and users are able to configure basic tags manually such as meta titles and descriptions.
Customer Support Services
Hostgator is no lightweight when it comes to customer support.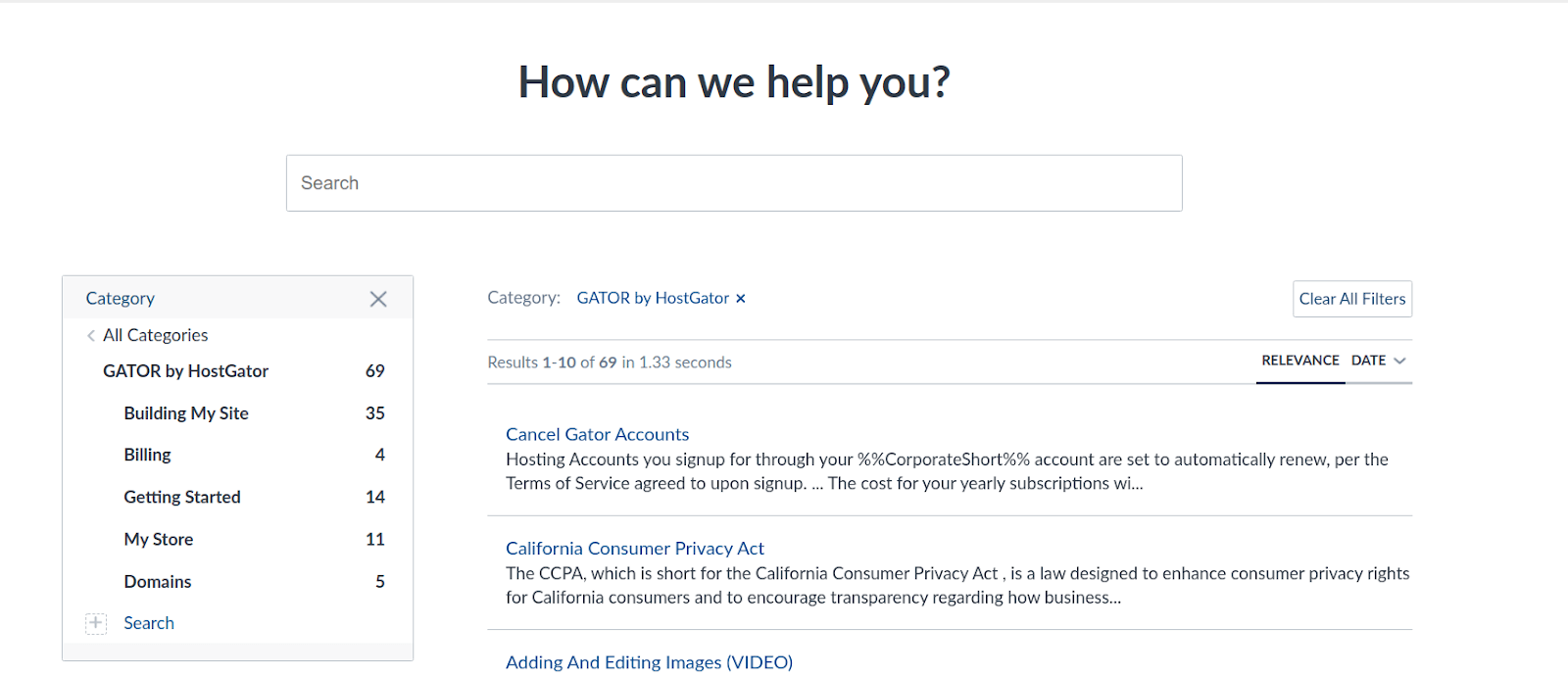 Gator users have access to:

A Gator-specific knowledge base covering common issues such as compliance with the California Consumer Privacy Act and how to cancel their overall Hostgator account (note: Gator accounts are all hosted on Hostgator and the service does not exist as a standalone product).


24/7/365 support available over live chat, phone, and fax. Hostgator operates a number of international dialing numbers, although the company's main operations are based in Texas.


Video tutorials specifically for Gator.

All things considered, Hostgator offers a comprehensive and impressive array of support options for new and existing customers alike.

HostGator Visit Site
Review in Short
Hostgator Gator isn't the tool for enterprises looking to roll out an international website with hundreds of backend users. But what it does offer is a very usable and effective point-and-click editor backed by lots of templates suitable for a variety of industries and use-cases. Highly recommended!
About Hostagtor
Hostgator is the maker of the Gator website builder platform. The company is headquartered in Houston, Texas, and has more than 1,000 employees. It is one of the largest and best-established players in the shared hosting industry.