Network Solutions Visit Site
Network Solutions Video Review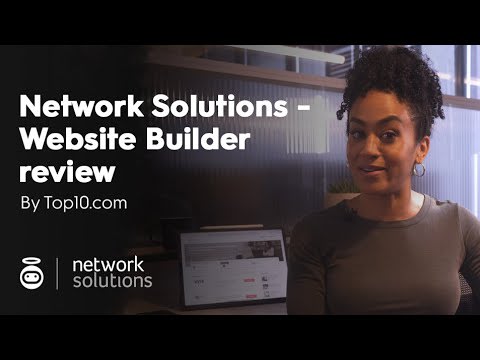 Overview
Network Solutions was founded in 1979 as the world's first domain registrar. The company has survived huge changes in the internet landscape over the past 40 years, and today offers web hosting, domain services, and a simple website builder.
The Network Solutions website builder is pretty no-frills, but does a decent job for basic websites. However, we wouldn't recommend this builder for most users because of the expensive pricing structure. For the money, alternative site builders like GoDaddy, WordPress.com, and iPage offer much more in-depth design and marketing tools.
How Network Solutions Works
One of the first issues we encountered with Network Solutions is that the pricing structure is opaque. The website only displays the introductory pricing for the first month. To find the regular pricing, you have to dig through Network Solutions' terms of service.
Once we got into the drag-and-drop editor, though, we found the interface to be easy to use. Network Solutions uses a content editing panel that's similar to those that other site builders offer. Adding and moving content is intuitive, and, after designing a site, we could publish in just a click.
Free Domain
All Network Solutions website builder plans include a free domain for one year. That's a nice deal, although it's worth noting that most other builders offer this as well.
Professional Design Service
If you don't want to spend time building your own website, you can pay developers from Network Solutions to do it for you. The company will create a website to your specifications, and then you'll have access to the standard Network Solutions site builder to make changes and maintain your site over time.
How to Create a Website with Network Solutions
The first step in creating a website with Network Solutions is to choose a template. The platform offers more than 150 professionally designed templates, with categories for most common types of businesses. In fact, the templates were one of our favorite things about the Network Solutions builder. The only downside is that if you want to change templates later, you'll need to restart your design from scratch.
Once you select a template, you'll be taken to the drag-and-drop site editor. This is pretty intuitive to use, with a panel of content elements that you can drag onto your site. Content elements include basics like text boxes, images, videos, forms, and buttons, as well as more advanced elements like HTML snippets and image sliders. You can also modify your template's fonts and background colors, although there aren't a lot of customization options available.
Notably, Network Solutions' builder also offers predesigned blocks. These are full-width panels that contain multiple content elements. Blocks offer a simple way to design your site without need to arrange individual content elements, so they're a great option for first-time designers.
Network Solutions doesn't have a mobile editing interface, but all sites are mobile responsive. As you build your site, you can easily preview how it will look on a desktop, tablet, or mobile device.
Overall, we thought the process of building a simple site with Network Solutions was pretty smooth. The site builder doesn't offer a ton of customization options, but it's easy to use and the availability of premade blocks is a huge plus for beginners. If you want to build a more complex site, however, the editor may not provide the flexibility you need.
Adding Multimedia to Your Network Solutions Website
Network Solutions lets you add photos and videos directly to your website. You can also embed audio files, PDFs, and other types of files using the HTML code snippet content element. Adding files is easy, although you can only upload one image at a time when creating galleries. Helpfully, the builder also includes access to more than 2 million free stock images from Unsplash. Overall, the multimedia functions on offer are average, but sufficient.
Marketing Functionality with Network Solutions Websites
Network Solutions doesn't offer a ton of marketing features. There are no email marketing tools, for example. You can create a blog, but there are no options to schedule posts or cross-post to social media. Network Solutions does offer social media icons so you can link to your social media accounts, but there's no in-depth integration with Facebook or Instagram.
SEO Functionality & Add-Ons with Network Solutions Websites
The extent of your site's SEO functionality depends on which Network Solutions plan you choose. The basic Website Builder plan lets you add a meta title and description to each of your pages, but doesn't offer much else. If you upgrade to the Website and Online Marketing plan, however, Network Solutions will automatically list your site across search engines and local directories like Yellow Pages, Yelp, and more.
Network Solutions doesn't offer its own built-in traffic analytics, but you can easily integrate Google Analytics.
Ecommerce
Network Solutions offers an all-in-one Ecommerce solution that combines storefront design, secure order processing, inventory management, marketing tools, and training and support. It is ideal for new or emerging businesses with small- to medium-sized inventories looking to expand online. The service offers fully customizable storefronts, social media integration, SEO marketing tools, and mobile-friendly design templates.
Payment Processing
Network Solutions offers a secure payment processing system that integrates easily with a wide variety of credit card processing companies, including merchant accounts and payment gateways, and PayPal. The service is fully compliant with the Visa Certified Cardholder Information Security Program and meets all PCI data standards. Customer transaction data is never stored on the site for added protection.
Scalability
Network Solutions provides scalable hosting and storage options that offer stability regardless of the plan you choose. The catch is that Network Solutions doesn't provide many advanced tools for inventory management or shipping. So, this platform might work well for small businesses with only a few products, but it probably won't be robust enough to keep up as your online business grows.
Network Solutions Customer Support
Network Solutions offers customer support by phone, email, and live chat. Phone support is available from 7AM-12AM (ET) 7 days a week, while live chat is available from 8AM-11PM Monday-Friday.
The company also has an online knowledge base, although we had to navigate through several links to find it. Once you find it, however, the tutorials are quite easy to follow and include plenty of screenshots.
Pricing & Special Offers
The price of the Network Solutions website builder is the main reason we don't recommend this platform. It's prohibitively expensive, especially considering the lack of advanced tools. Worse, Network Solutions isn't transparent at all about how much it costs after the first month. We had to dig through the company's terms of service to find the regular subscription rates for the website builder.
Network Solutions offers 3 plans: Website Builder, Website and Online Marketing, and Website, Marketing and Store. All plans include access to the builder as well as a free domain for one year. The Online Marketing plan adds the SEO features we described above, while the Website, Marketing and Store plan lets you sell up to 500 products.
Network Solutions doesn't offer a free trial, but you can get a refund if you cancel within the first 30 days.
Website and Online Marketing
Website, Marketing and Store
Automatic Search Engine Listing
Network Solutions Alternatives
How Network Solutions Compares to Other Website Builders
Email marketing functionality
Built-in and Google Analytics
Google Analytics (with upgrade)
Google Analytics (with upgrade)
Network Solutions vs GoDaddy
We think GoDaddy offers much more bang for your buck than Network Solutions, especially if you're building a small business website. GoDaddy offers email marketing and tools for booking appointments online, as well as more advanced traffic analytics.
Network Solutions vs WordPress.com
WordPress.com is a great alternative to Network Solutions for building a blog. With WordPress.com, you can schedule posts and share them across social media channels. You can also monetize your blog with ads, which isn't possible using Network Solutions.
Network Solutions vs iPage
The iPage website builder is similar in many ways to the Network Solutions builder, but it's much cheaper. SEO tools come standard at iPage, and the builder is free with any iPage hosting plan. For basic websites, we think iPage offers a better value than Network Solutions.

Network Solutions Visit Site
Bottom Line
Network Solutions is a decent website builder for creating basic sites. While it doesn't offer as much flexibility as other builders, the templates are well-designed and the site editor is very easy to use. We especially like the use of pre-designed content blocks, which allow you to put together a custom site in minutes.
However, we don't think Network Solutions justifies its price. This website builder is much more expensive than competing builders, and it doesn't offer much in the way of extra features. In fact, running an online store with Network Solutions is prohibitively expensive and lacks essential tools for growing your business. Overall, we'd recommend avoiding the Network Solutions website builder in favor of alternatives like GoDaddy, WordPress.com, or iPage.