Shopify Visit Site
Overview
Ecommerce giant Shopify claims to power more than 1,700,000 businesses across the world. It targets beginners and those creating their first online store, but it has the infrastructure and advanced tools for enterprise-level stores too.
With Shopify, you will have access to an all-in-one site creation solution. Along with the native website/store editor, there's built-in hosting and a suite of Ecommerce management tools.
There are numerous guides and helpful tutorials available to aid those building a new store. You can also add extra functionality with third-party apps or import a custom theme to ensure your store looks exactly the way it should.
How Shopify Works
There's a 14-day free trial available that enables you to test Shopify. The signup process is easy, although you will need to spend a few minutes adding a decent amount of information.
The Shopify dashboard is excellent, with menu options clearly outlined on the left of the screen. All new users will benefit from built-in tips outlining recommended tasks. The main downside here is the Shopify theme editor, which is a little confusing at times.
Shopify Features and Tools
Shopify offers a huge range of integrated tools and features to help you create and manage a powerful online store.
Shopify App Store
The Shopify App Store contains thousands of native and third-party apps that you can use to add functionality to your store. Some of these can get expensive, but many are free or have a free tier.
Hatchful logo maker
Hatchful, Shopify's free logo maker, is designed to help you create high-quality, attractive logos that you can use in your store. It's intuitive and easy to use, and you should be able to design your own logo in minutes.
Shopify Exchange marketplace
Those who want to skip the store creation process and jump straight into selling will love Shopify's Exchange marketplace, where you will find listings for thousands of established online stores with verified sales data and attractive custom designs for sale. Purchase a fully operational store and get started without the fuss.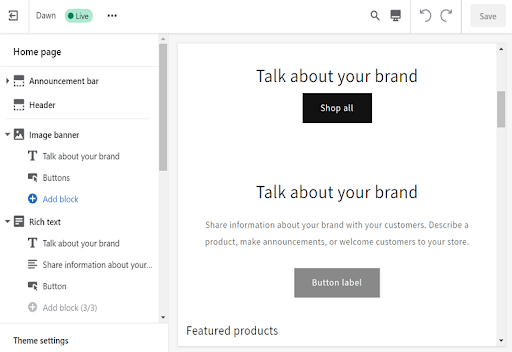 How to Create a Website with Shopify
Your new Shopify store will be automatically created when you start a new account or free trial. Editing and store customization can be completed by navigating to the Online Store menu option on the bottom left of the main dashboard.
Shopify offers 12 free and 120 premium themes. Premium themes range from $180 to $360 each. You can also upload your own custom theme, and there are numerous third-party marketplaces across the web.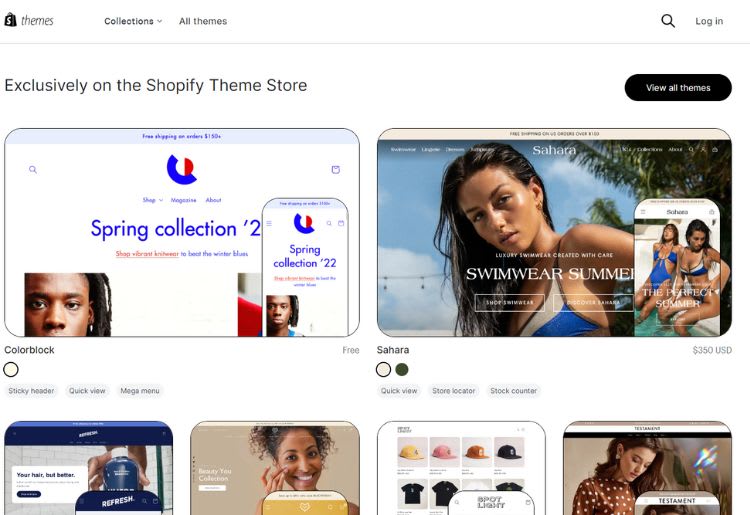 All templates are fully responsive and optimized for mobile, and you can change your theme at any point in time. The Shopify mobile app comes with various store management tools, but you aren't able to edit the site from within the app.
Unfortunately, the Shopify theme editor is below the standards of many other website builders. It uses a section-based interface that's a little confusing at first. Design flexibility is limited, although you can fine-tune your site's appearance by editing your code files if you have technical skills.
On the plus side, there's a decent number of customization and layout options. You can specify global color and font settings, and product page layouts can be changed significantly depending on your theme.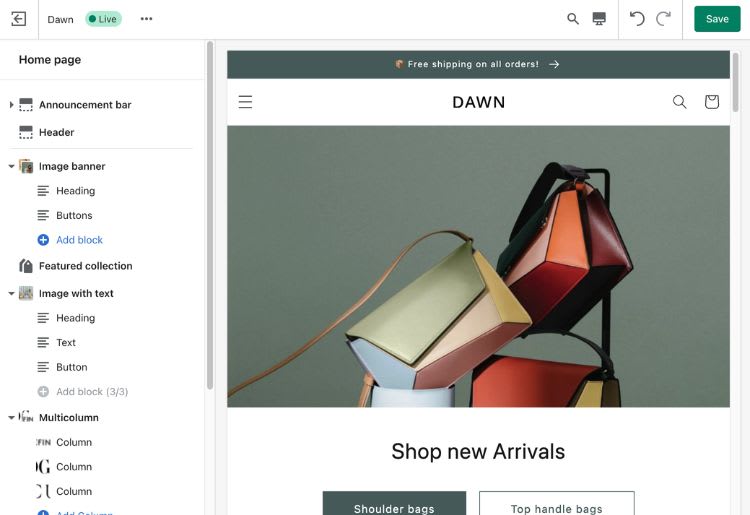 Adding content to your product pages and blog posts is done through the Shopify dashboard, rather than through the editor. This process is also quite straightforward, but it was frustrating to have to deal with content and layout tools in two completely separate places.
There's no built-in design assistant, but the selection of customizable keyboard shortcuts stands out as excellent. All edits are updated in real-time, enabling you to preview the mobile and desktop versions of your site within the editor. Stores can be exported by exporting your theme files and the CSV files containing product information.
Overall, the Shopify editor does what it needs to, even if it is a little underpowered and confusing. You will need code knowledge or the assistance of a developer to make major customizations, but the basics shouldn't take too much time to get the hang of.
Adding Multimedia to Your Shopify Store
You can upload images directly from your computer or mobile device, and the most common file types are supported. But it's difficult, if not impossible, to import media directly from a third-party app. The exception here is videos, which can only be added by embedding a URL from YouTube or another platform.
There are no media editing tools within the store editor, but product media can be edited slightly when customizing product listings. There's a large stock photo library, but the rest of the media management options are a bit of a letdown.
Marketing Functionality
Shopify offers advanced marketing functionality. You can connect Facebook, Instagram, and other social media accounts for streamlined social media marketing. A decent blogging tool and blog manager are available, enabling you to add custom content.
Built-in email marketing is available via the Shopify Email platform, and there are tools to run high-quality Facebook and Google Shopping ads. All marketing streams come with advanced analytics and reporting, and you can add even more advanced tools with apps from the Shopify App Market.
SEO Functionality and Add-Ons
Shopify offers decent SEO functionality that will enable you to land high search engine rankings—if it's used properly. There are various resources available via the Shopify Help Center outlining SEO best practices, and we'd recommend using them.
Shopify automatically generates sitemap.xml and robots.txt files, which are essential for SEO. You can add meta-titles and meta-descriptions to all pages and products, and you can add things like image tags and alt text to further boost your SEO score. SEO plugins can also be added from the Shopify App Store.
Ecommerce
As the world's leading Ecommerce store builder, Shopify naturally offers way too many features to list here. You will have access to advanced order, inventory, and customer-management panels. For example, you can link your inventory database to your physical store, automatically updating stock as items are purchased.
Abandoned cart recovery is simple, and your product pages can be customized as required. You can add numerous product variants, offer discount codes or coupons, and accept payments through any of a number of popular gateways.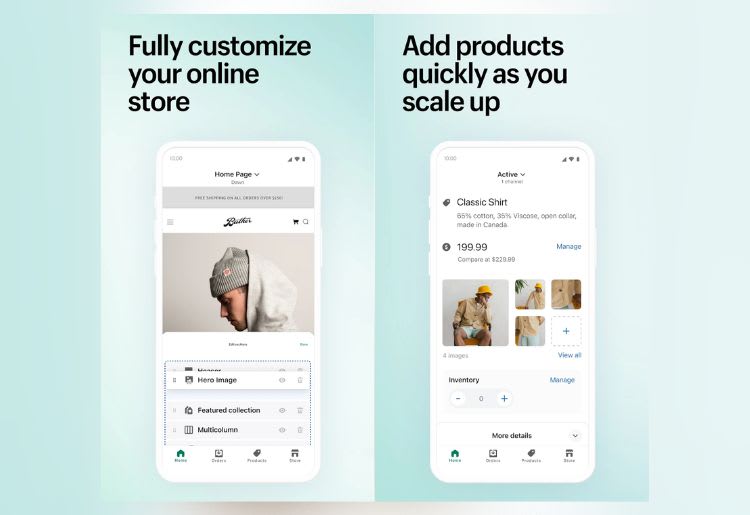 Payment Processing
When you consider that simplicity is one of the major selling points of Shopify as an Ecommerce site builder, it's no surprise how much emphasis was put on integration. This is particularly noticeable when it comes to the payment options that Shopify offers.
For starters, your online store will instantly be compatible with more than 100 external payment gateways. From Paypal to Stripe, Shopify makes it easy to accept payment from just about anywhere in the world.
Where Shopify really starts to pull ahead of the pack is with its social media Ecommerce integration. By allowing you to sell directly from your Facebook, Twitter and Pinterest pages, Shopify has made it easier than ever before for your customers to purchase from you
Scalability
Shopify is designed for Ecommerce experts and beginners alike - making it perfect for scalability. Its fully-customizable online stores are ready to be adjusted as you require and your business grows. You never have to worry about changing to a new Ecommerce platform as you can access unlimited bandwidth, and you can import or export product data in a click. There's no limit on the number of products you can sell with unlimited product inventory and unlimited customer data ensures you profit from every interaction in your online store.
Shopify Customer Support
All users will find various tips and suggestions built into their Shopify dashboard. The Shopify Help Center contains comprehensive articles, guides, video tutorials, and how-to posts covering virtually everything you need to know. There's also a community forum and various courses.
Live support options include 24/7 live chat, which is usually fast and manned by knowledgeable support agents. You can also reach out to the Shopify team via email or request a callback 24/7, and the team will get back to you in a timely manner.
Pricing & Special Offers
There are 3 standard Shopify plans ranging from $29 to $299 per month. Shopify Lite ($9 per month) lets you add a buy button to an existing website, and Shopify Plus offers custom solutions for enterprise-level stores. A 14-day free trial is available for all new users. Annual discounts aren't available, and you can only connect one store to each account.
Third-party transaction fee
Shopify Alternatives
How Shopify Compares to Other Website Builders
Email Marketing Functionality

Shopify Visit Site
Shopify vs. WordPress.com
WordPress.com was once a leader in the website-building space, but it has failed to keep up with the competition in recent times. It still offers viable solutions for creating blogs and simple websites, but there's little else to like. Shopify is obviously a better option for Ecommerce, although it's not a great choice for standard websites.
Shopify vs. Squarespace
Shopify is a clear leader in the online store-building space, while Squarespace stands out because of its advanced design tools and professional themes. Shopify is clearly better for Ecommerce, but we'd recommend Squarespace for virtually any other type of website.
Shopify vs. Wix
Both Shopify and Wix offer Ecommerce solutions, but Shopify stands out as a better option. Its online store creation and management tools are much more powerful than Wix's, although Wix is clearly better for creating customizable websites designed for anything other than Ecommerce.
Bottom Line
Shopify has a well-deserved reputation as the world's leading online store builder. It offers an excellent selection of Ecommerce tools, its customer service is great, and there are numerous built-in marketing and analytics tools.
The Shopify store editor is a little limited, but you can edit your code files for extra customizability. Ultimately, Shopify is one of our leading choices for those looking to create a new online store. But if you want any other type of website, you will need to look elsewhere.