It boasts a beginner-friendly online store builder, a suite of management tools, and an app market where you can find numerous extensions for your store.
Like many website builders, Shopify has thousands of plugins covering everything from SEO and email marketing to product reviews and dropshipping. It can be hard to know which ones to install, so we've put together this list of the top 10 Shopify apps on the market today to help you get started.
1. Plug In Seo
Search engine optimization (SEO) is a process that you can use to achieve a high search engine ranking for relevant keywords and phrases. When done right, it can drive huge numbers of visitors to your store for a minimal cost.
Shopify has limited native SEO tools. But with an app like Plug In SEO, you can take control of your optimization efforts. It's available for free, although a premium subscription is required if you want to access advanced features.
With the free version, you can access unlimited SEO checks, a broken link checker, and automatic email alerts. Premium subscriptions start at $29.99 per month and include automatic SEO, structured data, SEO reports, and a selection of training materials. The most advanced plan also comes with a homepage speed report and SEO audit to inform future decisions.
2. Sendinblue
Some store builders, like GoDaddy and Wix, come with native email marketing tools to help you build strong email campaigns. Shopify's native tools are basic, but plugins like Sendinblue provide powerful alternatives. And they're worth using, as some sources claim that email marketing can have an ROI of more than 4,200%.
Sendinblue is available with a number of subscription options, and it's free to connect the app to your Shopify store. It boasts an array of powerful email marketing tools, including an intuitive email designer and a selection of pre-designed templates.
You will also have access to various pre-built marketing automation flows, enabling you to set up automated welcome emails, abandoned cart emails, and more. You can add subscription forms to your store to gain more contacts, and the integration enables you to send marketing messages directly from Shopify.
3. HubSpot CRM
HubSpot is one of the world's most advanced customer relationship management (CRM) platforms. This marketing app enables you to sync HubSpot and your Ecommerce store. With access to your store data, HubSpot can begin making informed marketing and store management recommendations.
One of the best things about HubSpot is that it's absolutely free to install and use. The free plan even comes with email marketing tools for creating custom marketing campaigns. You will have to upgrade to a premium subscription to access unlimited email marketing functionality and other advanced tools, and this will be worth doing for many users.
For example, the Professional marketing package (from $800 per month) includes advanced campaign optimization tools. These include A/B testing, traffic analysis, and custom campaign reporting.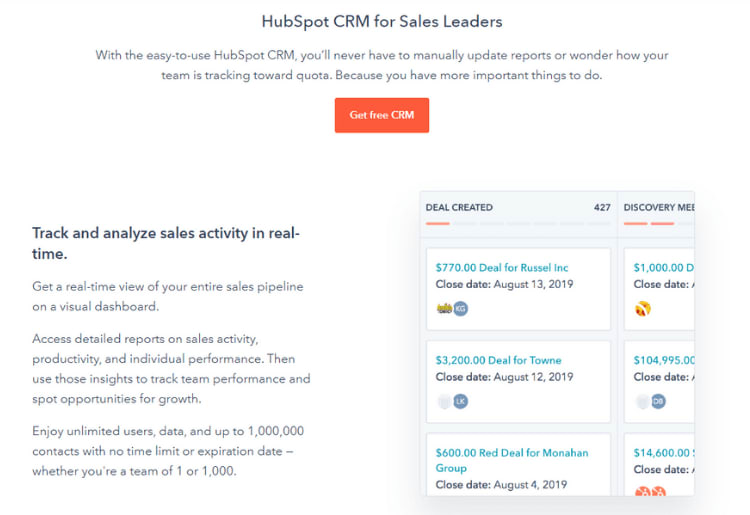 4. Judge.me
Some small business website builders come with native product review widgets, but Shopify enables you to add advanced review plugins. Judge.me is one of the best Shopify apps for adding reviews, and it's available for free.
As one of the leading apps for managing customer reviews, Judge.me naturally comes with a suite of neat features. In a study conducted by Dimensional Research, an estimated 90% of customers made their buying decisions based on online reviews. This highlights the importance of gathering positive reviews and collating them in one place if you want to run a successful store.
Judge.me can be configured to send automatic emails to help you collect more reviews. It enables you to show star ratings and other review elements on the search engine results pages, and these tools are designed to help you harness social proof to boost your sales.
5. Klaviyo
Klaviyo is another popular email marketing platform that enables you to create advanced marketing funnels and email campaigns. There's a free forever plan that enables you to link it to your Shopify store, but this only supports up to 250 contacts.
Premium plans start at $20 per month for up to 500 contacts, and this increases as your contact list grows. SMS marketing tools are also available, with prices starting from $5 per month for up to 150 SMS contacts.
All plans come with the ability to create custom email and SMS marketing campaigns and automated marketing funnels. You can add forms to your website, create push notifications, and add marketing pop-ups. There's even a selection of campaign optimization tools, including A/B testing and predictive analysis.
6. Oberlo
Oberlo is arguably the best Shopify app for dropshipping. This involves selling products that you don't actually have in stock before forwarding your order to a supplier who then processes it and sends it out to your customer.
The online retail market is expected to reach 23.6% of the total market by 2025, and tools like Oberlo will leave you perfectly poised to take advantage of this. It's designed to connect you with suppliers and help you find products for your dropshipping store.
These can be added almost instantly with a click of a button, and you can customize every aspect of your product listings. Oberlo also comes with a range of order fulfillment and customer management tools, enabling you to work faster and more efficiently.
7. Jebbit
If you're looking to add something a little unique to your online store, Jebbit is an ideal app. It enables you to build short quizzes that you can embed on your website to encourage visitor engagement, creating a unique selling proposition that sets you apart from your competitors.
With these, you can also collect customer data that you can use to drive targeted ads and boost sales. Some of the things that Jebbit can help you create include product quizzes, personality quizzes, and surveys.
We love Jebbit because it has a free forever plan (with a maximum of 500 engagements) that enables you to test it out. Premium plans start at $49 per month and include a free Klaviyo integration, conditional logic, and unlimited experiences.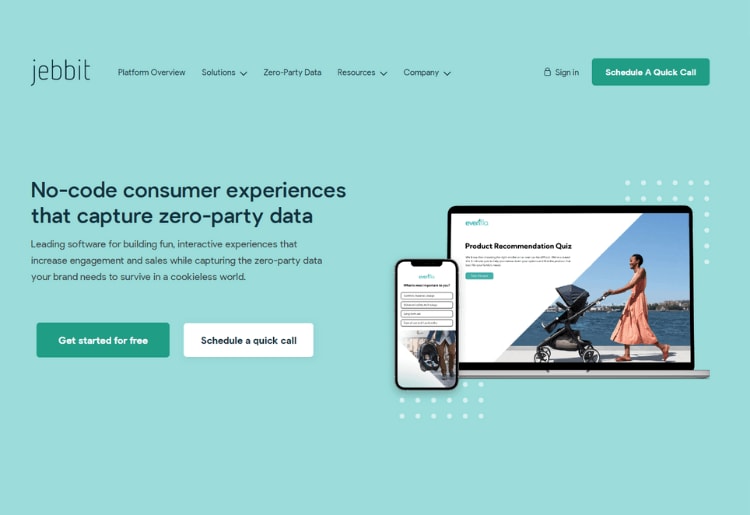 8. Printful
Printful offers print-on-demand product creation for a number of different items. It works similarly to dropshipping apps, forwarding your order to a supplier who then processes it and sends it directly to your customer.
The beauty of Printful is that it enables you to add custom designs to products. You can either stock your own designs in your store or allow your customers to create their own personalized designs.
There are more than 340 different products available for customization, and the platform offers very competitive shipping prices. There's even a free forever plan available, and paid plans start from as low as $9 per month.
9. Gameball
Gameball offers innovative loyalty program tools to help you encourage customers to make repeat purchases from your store. It enables you to provide streamlined rewards to customers when they complete specific actions, such as completing their first order or signing up for your newsletter.
On top of this, Gameball comes with tools to help you run promotions and giveaways. You can target at-risk customers, encouraging them to complete their purchase with a small gift or coupon. There's a free forever plan that enables you to create a loyalty program, give various rewards, and add basic branding. Paid plans start at $29 per month and come with a suite of more advanced tools.
10. Promo.com
Promo.com just sneaks into our list of the top 10 best Shopify apps because of its promotional video creation tools. It enables you to create attractive, high-converting product videos that you can share on social media and as part of your other marketing campaigns.
One of the best things about Promo.com is how easy it is to use. There's a tidy video wizard that you can follow to get started, and there's a small number of templates that you can base your clip on. What's more, the Promo app can scrape product photos and videos from your store, meaning you don't have to go through the tedious task of importing media manually.
Conclusion
Shopify is a beginner-friendly and powerful Ecommerce website builder, and there are thousands of apps in the Shopify App Store that you can use to add extra functionality to your store. However, it can be very difficult to select the right options if you don't have experience selling online.
In this article, we've outlined 10 must-have Shopify apps to boost the success of your online store. Start by installing these, then spend some time researching any niche apps that could help you become even more successful.