Fortunately, most website hosting companies provide options for simple website builders. These builders significantly reduce the learning curve for anyone to create a small business website. Often starting with a pre-made template and featuring drag and drop functionality, what takes web design companies weeks can be done in a matter of minutes.
While these website builders are improving every day, there is still a wide range of prices, features, and capabilities depending on the service you choose. Throughout this article, we will explore ten of the best small business website builders and what you can expect to get from these services.
Choosing the Best Website Builder for Your Business Needs
The best way to ensure your website is up to standards and can perform all the functions you need it to is by choosing the right website builder. To do so, compare the best website builders for small businesses below and keep in mind the following factors for small businesses:
Ease of use and setup
One of the great benefits of website builders is that they make it easy to build your own website, without having to pay someone to do it or spend precious time learning code. Some are easier to use than others, though—an important factor for many SMB owners who need something that "just works." Each of our website builder reviews speaks to ease of use and setup, and you can benefit from the free trials many website builders offer to ensure the interface is clear and simple to use.
Cost Efficiency
As a budget-conscious SMB owner, think carefully about what you need from your website (such as an online store or a built-in appointment calendar), paying special attention to what's included in the cost when comparing builders. As a general rule, the more bandwidth and storage you get, the better—but also take into account features, security, and how your costs may change as your website grows.
Features
Most website builders offer somewhat similar features, such as drag-and-drop website creation and plenty of good templates. Some excel at particular features that may be necessary for your success—like Wix and Squarespace do with ecommerce, for example.
Security
Cybercrime continues to rise year on year, with an average cost to SMBs of $200,000—a crippling amount for most. Good security features for your website may cost a little extra now, but they could end up saving you big time in the future. At the very least, you'll want DDOS protection, SSL protection, a good backup solution, and multifactor authentication.
Design and Style
The look and feel of your website greatly impact user experience and speaks to the quality of your brand. While style is subjective, some builders stand out for their particularly attractive templates, such as Wix and Site123. Choose a website builder whose templates you feel match your brand and will help it stand out.
Key Considerations for Creating a Small Business Website
Before you purchase and start building your website, you need to spend some time thinking about the design and features your website needs. Are you looking for a simple landing page, or do you need an extensive e-commerce site for hundreds of products? What information, at a minimum, do you want to provide for your customers? By thinking about what you need in the near term and accounting for your long-term vision, you'll ensure you avoid costly changes in the future as your business grows.
Essential Elements of a Company Website
The design of the website is the first thing customers will notice. When customers visit it, they expect to see clean, modern designs and relevant information to describe your business. It's worth spending time on a professional-looking website. Your brand identity, mission, and vision should also be clear—that is, who you are, what products or services are provided, and what helps set you apart.
You'll also want to dedicate time to creating content for your target customers. For most businesses, this will take the form of written content, likely a blog, where you can demonstrate your expertise, authority, and trustworthiness. This helps build credibility with customers and is an important factor for ranking well on Google.
Think about features that will make it easier for your customers to interact with your business (take a look at your competitors and see what the most successful ones are doing), and add them to your website. You may need an online store, an appointment calendar, a contact form, or a chat box. Website builders allow you to add such elements usually in a few clicks.
Must-Have Features in a Site Builder
Choosing a website builder that makes your life easier should be your first priority, depending on your skills and comfort level. Reducing costs is important, but if building the website just causes frustration, you'll spend more time and money correcting mistakes.
An underrated aspect of choosing a website builder is finding quality customer service. Some companies provide extensive how-tos and documentation for you to follow, but there will be times when you need to speak with someone. Hostgator, for example, provides a real-time chat feature that is available 24 hours a day.
Finally, as your small business grows, you may want to add features to your website that automate certain manual processes. For example, while email services are usually provided, you'll want to integrate an external mailing service provider if you want to send automated marketing campaigns or create a newsletter for customers.
Breaking Down Our Top 10 Choices: Which Is Best For You?
Top 10 Best Website Builders for Small Businesses
1. Wix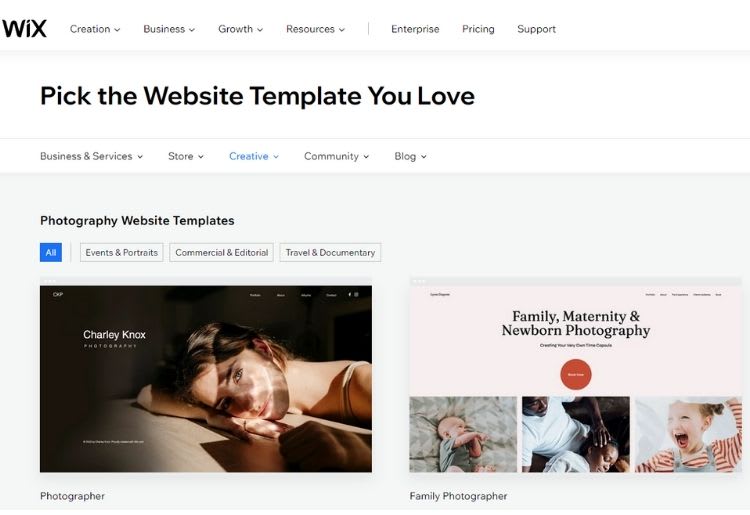 Price: Business plans start at $23 per month
An easy-to-use platform with hundreds of professional, gorgeous templates, Wix has become one of the most popular website builders in the world for good reason. The drag-and-drop interface and image editor are both very simple to use and should have you putting together a stunning website for your business in no time.
Wix runs the Wix App Market, where users can purchase and download hundreds of apps and plugins made by Wix and third-party companies. For small business owners who want to run an ecommerce site, there are also two packages - VIP and Ecommerce - which can accommodate this and also allow you to run a Facebook store.
Why we chose Wix: Wix has one of the most comprehensive help centers out there. No matter if you have technical issues, need help to promote your site, or want to find out how to better manage your business, their articles are easy-to-read and full of helpful and evergreen information.
Pros:
Simple, intuitive drag and drop interface
Hundreds of brilliant templates
Use the free option to try out Wix for yourself
Cons:
Must pay to add Google Analytics if you want to view site stats
Free site will feature Wix ads unless you pay extra
Not as customizable as some other sites

Wix View Plans
2. Squarespace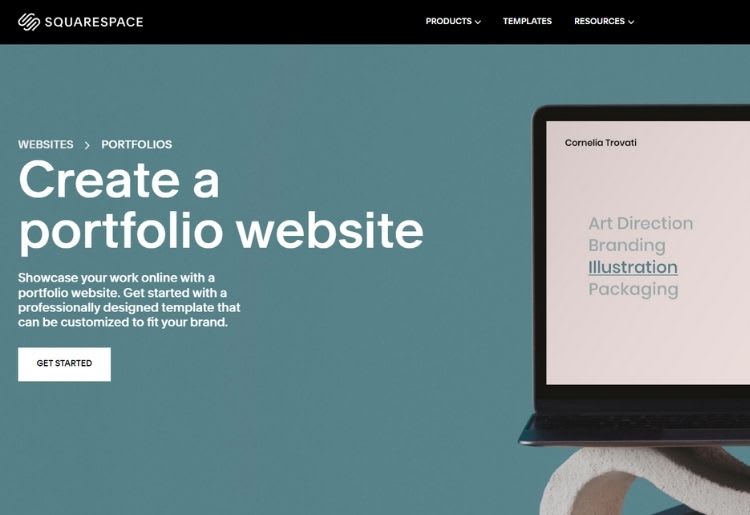 Price: Business plans start at $18 per month
Squarespace is another website builder that blends simplicity with sophistication. The builder is easy to use and features an extensive template library organized by business type.
Squarespace offers a drag-and-drop editor that gives you creative control of your website design without requiring mastery in code. The templates are divided into categories that make it easier to pair a layout with an industry type. The local business and professional services categories, for instance, showcase dozens of sleek templates pre-designed to capture the essence of specific business types.
Business owners will find plenty of business-friendly and ecommerce features as well. Squarespace offers SEO and analytics, email campaign tools, and social media integration.
Why we chose Squarespace: This website builder has the capabilities to make the best looking sites possible, with templates that can help your business be on-par with the biggest names out there in terms with eye-catching and modern templates.
Pros:
Templates categorized by industry
Produces sleek, professional websites
Ample marketing tools and analytics
Cons:
Pricier than some other services
Techy users may want more freedom to customize

Squarespace View Plans
3. SiteBuilder.com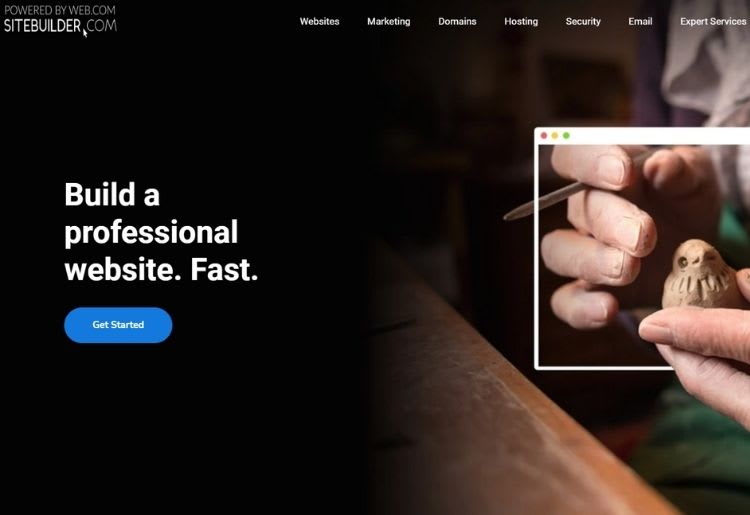 Price: Business plans start at $9.40 per month
Like Wix, SiteBuilder found the right recipe of rich templates and a simple drag-and-drop interface. With over 1,000 templates the odds are slim that you won't be able to find one that works perfectly for your business, and even if you're a novice at web design you shouldn't have a problem using the site.
The company lets you add a blog onto the site for free, and in addition to the 1,000+ templates, you can also make use of an expansive image library, even with the free plan. That said, SEO tools are only available on the premium and ecommerce plans, so you'll have to pay extra for the tools to help your site get noticed. The same goes for analytics, which requires an upgrade.
The site builder is a bit limited on storage, but there is always a choice to upgrade if you have the need to host a large number of high-resolution images or big files.
Why we chose SiteBuilder: If you get to the point where you want to upgrade your company website to an online store, you can opt for the eCommerce package. SiteBuilder offers robust e-commerce tools, such as product management, SEO, built-in analytics tools, secure payment processing, and inventory tracking, making it a great option for small businesses looking to sell products online.
Pros:
Affordable with flexible service packages
Easy-to-use drag-and-drop editor
More than 1,000 templates
24/7 customer service
Cons:
Editing is limited - you aren't able to get into the HTML
SEO tools only available on Ecommerce and premium packages
Pricing can be unclear with lots of upselling

SiteBuilder View Plans
4. Weebly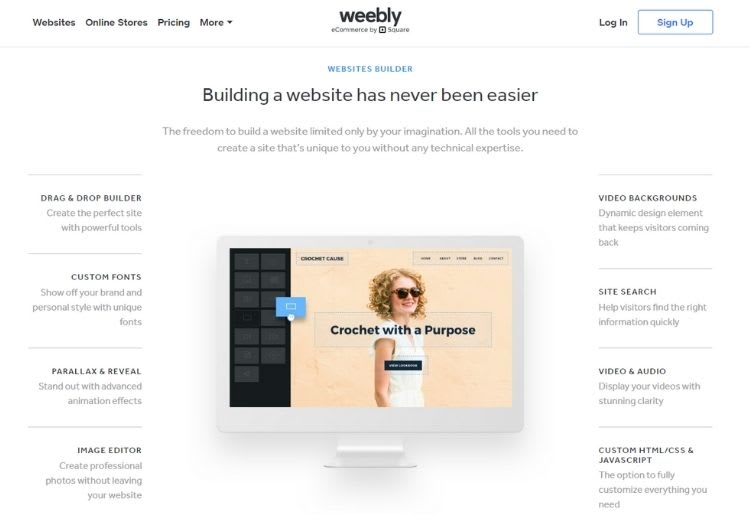 Price: Business plans start at $12 per month
Weebly has come a long way since it was founded by a trio of college students a little over a decade ago, and today has been used to build more than 25 million websites worldwide.
The platform offers hundreds of free templates split across several different sections, with new ones added all the time. The website builder also makes use of a very easy-to-use drag-and-drop builder, which automatically resizes and adapts elements to your site.
In 2015 Weebly unveiled Carbon, a revamped version of the company's interface which gives you a better website dashboard, 21 new responsive themes, a state-of-the-art mobile app, and more. Not only that, but Weebly is also highly affordable, and provides some of the best value on the market considering their ease of use, features, and customer service.
If you're on Weebly and would like to upgrade to an eCommerce store, you can do it with the business package at $28.17/month over 6 months.
Why we chose Weebly: Weebly offers intuitive blogging tools, including post scheduling, comment management, and SEO optimization, making it an ideal choice for businesses that want to establish a strong online presence through blogging.
Pros:
Easy, user-friendly interface
Extensive customer service
Hundreds of available templates
Cons:
Less photo-editing options than other sites
Must purchase an email through Google
Migrating your content from Weebly to another platform can be difficult

Weebly View Plans
5. WordPress.com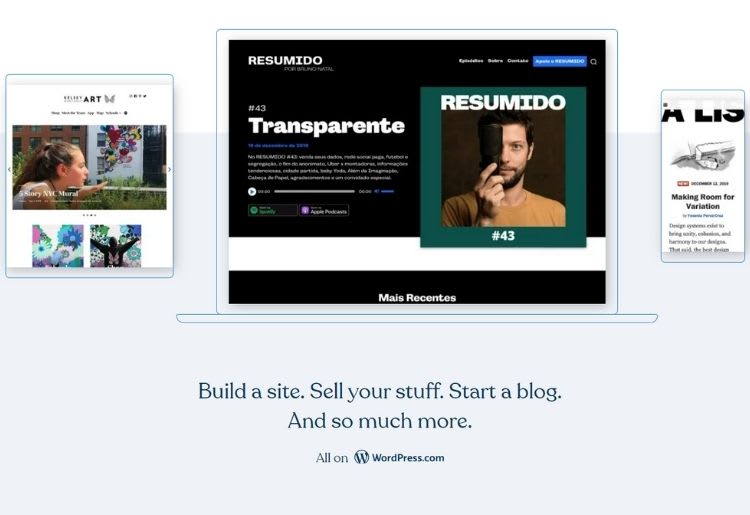 Price: Business plans start at $25 per month
WordPress is a household name, even for those who've never considered or even understood website design, which that alone speaks to its approachability and popularity. Indeed, WordPress makes taking your small business online an easy, hassle-free endeavor. With its rich templates, sleek, professional looking designs, and celebrated adaptability, WordPress is a natural go-to for millions of people trying to promote their small online business.
Why we chose WordPress: WordPress has one of the most robust plugin ecosystems. You can boost your SEO with a plugin like Yoast SEO, monitor analytics and the search console with Google's Site Kit, easily create contact forms with Contact Form. All these plugins and more can optimize your site content to a maximum.
Pros:
Professional quality and design
More than 2,500 templates
Blogging app with commenting, multi-author, and more
Mobile-friendly site available
Cons:
No third-party app integrations
Shallow menu hierarchy
No live chat customer service option

WordPress.com View Plans
6. HostGator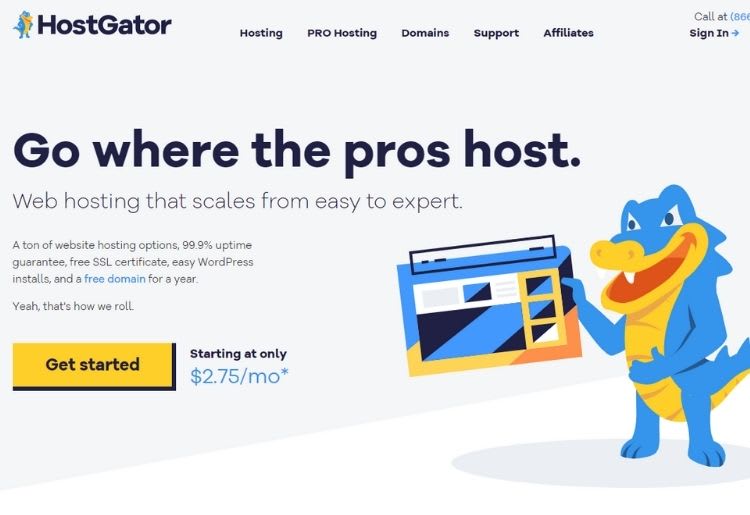 Price: Business plans start at $3.46 per month
Hostgator's Gator Website Builder is a solid option for small businesses that need a simple website design. Hostgator provides most of the basic services, like domain name, security certificate, and unlimited bandwidth, with its hosting packages to get you started quickly.
The website builder is simple to operate with its drag, drop, and edit functionality. Compared to other website builders, Hostgator has zero restrictions on where you can position components. This means you have much more flexibility when it comes to bringing your custom design to life.
Hostgator's website builder packages range from $3.84 per month up to $9.22 per month depending on the features. The cheapest option provides a domain name, security certificate, and is designed primarily for information-based websites. The higher option includes unlimited product capabilities with an e-commerce storefront and no transaction fees. Unfortunately, Hostgator has no free or trial options.
Why we chose Hostgator: Hostgator is the optimal website builder for those who are looking for an all-in-one package that can get your site running, all things taken care of. Hostgator doesn't only provide an easy-to-use site builder; you'll also get everything you need for a strong online presence - domain name, hosting capabilities, and more.
Pros:
100+ templates
Limitless drag-and-drop functionality
Built-in free logo creator
Cons:
Less stylistic, dated template styles
No free or trial options

HostGator View Plans
7. SITE123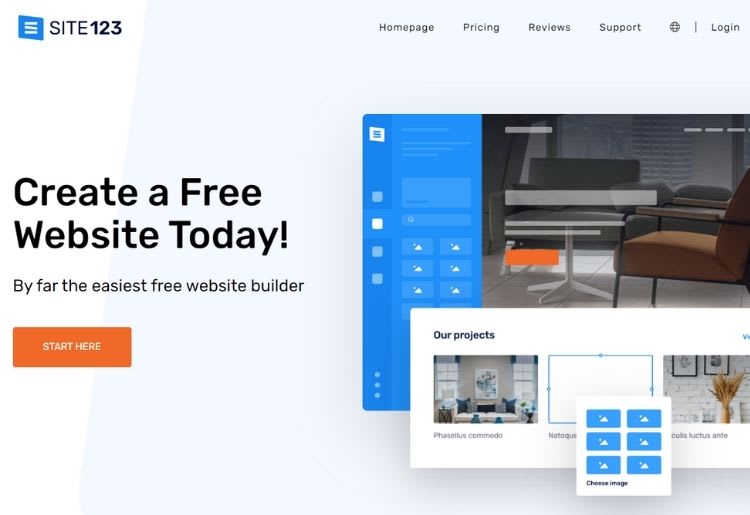 Price: Business plans start at $19.80 per month
As the name suggests, Site123 provides one of the simplest options for launching your website. After you input some basic information, you select your type of business and type in the name, and Site123 generates your template for you to customize.
The customization process is straightforward but limited. The provided templates are also outdated, and appear very similar to one another. SEO is another limitation. You can integrate Google Analytics to track performance, but the internal structure for keeping your website search-friendly is lacking.
Why we chose Site123: With its user-friendly tools and pre-made content blocks, Site123 simplifies the website creation process, making it ideal for beginners or those looking for a quick and straightforward website solution.
Pros:
Over 150+ templates
Very quick to set up and launch
Quick, responsive customer service
Cons:
Templates are entire pages with limited customization
Settings and features must be manually changed on each page

SITE123 View Plans
8. Zyro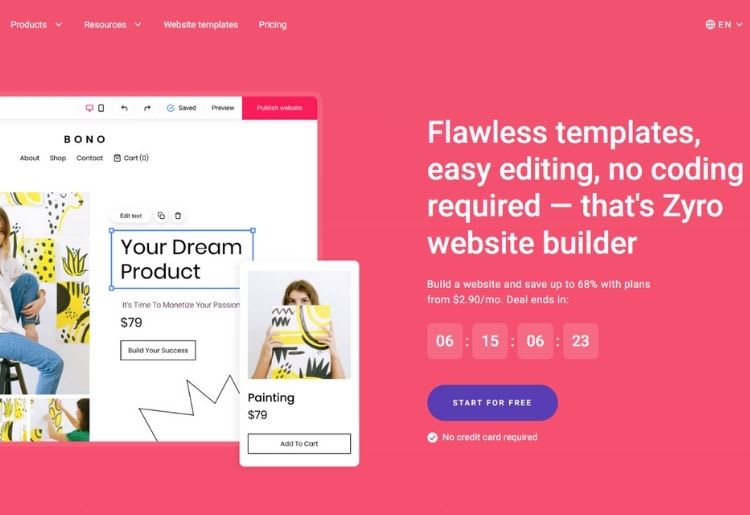 Price: Business plans start at $12.49 per month
Zyro incorporates artificial intelligence into its website generator. You can start with a template, start from scratch, or input some basic preferences and allow the AI to generate your website. It's a neat addition, but the templates are limited based on the presets you can input.
As for customization, Zyro uses standard drag and drop with an underlying grid. There are specific locations where you can place elements, so you won't have as much customization as Hostgator or Wix.
Where Zyro excels is in its added features to support your business. It provides far more features than most website builders and hosting services, from logo and image editing to AI writing tools. If you're looking to take advantage of these additional features, Zyro can quickly accelerate your business content creation.
Why we chose Zyro: Zyro is compelling choice for users seeking intelligent website-building capabilities due.to its advanced AI-driven features. With its integrated AI Writer, Logo Maker, and Heatmap analytics, Zyro offers innovative tools to enhance website content creation, branding, and optimization.
Pros:
140 website templates
Artificial intelligence website generator tools
Logo maker and image editor capabilities
Cons:
Renewal prices increase after the initial plan
Customer service and documentation are limited

Zyro View Plans
9. 1&1 IONOS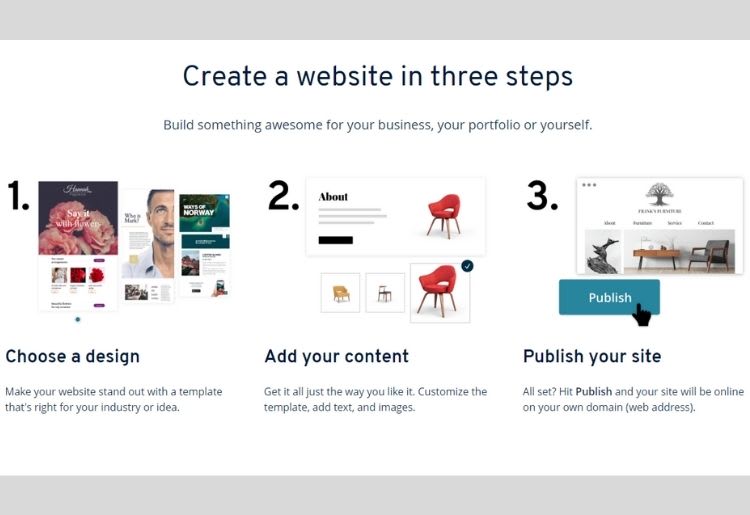 Price: Business plans start at $5 per month
IONOS' website builder is just one feature from a larger suite of tools. The template options are limited, but the entire IONOS package is tailored to successfully launching your small business website. With security, email, analytics, and responsive designs included, you can launch quickly and easily
The pricing structure is as low as $1/month for the first year, but this increases to $5 per month after the initial plan expires.
Why we chose IONOS: IONOS ensures a stable and protected online presence through free SSL certificates, data encryption, and server hardening - making sure that any site you build is protected behind powerful security measures.
Pros:
Scalability for future business growth
Clean, modern template designs
Plenty of features to accommodate your business needs
Cons:
Not as beginner-friendly
Pricing increases after the initial 12-month plan

IONOS View Plans
10. GoDaddy
Price: Business plans start at $6.99 per month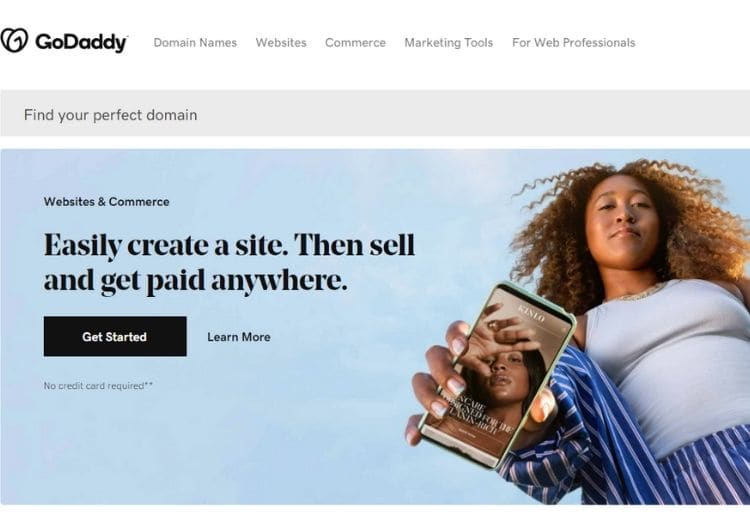 The GoDaddy name may be synonymous with domain and web hosting services, but its website builder boasts the same approachability, ease-of-use, and professional sheen that has earned the company its reputation as a go-to online service provider.
Deftly balancing accessibility with sophistication, GoDaddy's website builder is especially worth considering for new business owners on a budget or those without a lot of time or tech-savvy. There's hardly any learning curve to start using the drag-and-drop commands on the designer interface, which produce a workable number of options for creating a site that can capture the individuality of your brand.
You can access around 100 industry-specific templates--for example for restaurants, stores, and services--which may not be as plentiful as some other website builders but are tasteful and smartly designed. The company has been continuously adding to its suite of features, including new marketing tools, SEO features, and a content-creation tool that are part of its impressive marketing hub.
One of the more affordable site designers out there, GoDaddy offers a surprisingly inclusive free plan as well as 4 paid plans with more advanced tools such as social media integration, marketing email automations, and ecommerce services.

Pros:
Easy drag-and-drop designer takes minutes to master
Industry-specific templates
Free plan available
Cons:
HTML only
Banner ads with free plan
Conclusion
As you can see, there are several ways to get your small business website running for a fraction of the costs of an agency. Website builders provide a lot of features that allow beginners to design high-quality, highly functional websites in a short amount of time. Resources like pre-made templates and drag and drop functionality practically do the work for you.