Zyro Visit Site
Zyro is a relatively new website builder launched in 2019. It's owned by Hostinger, a prominent web hosting company based in Lithuania. The platform focuses on providing easy-to-use website design tools at a budget price, and it has a blog and design tips to help you get started. While Zyro offers limited flexibility for meticulous designers, it's ideal if you want to create an engaging website or online store quickly.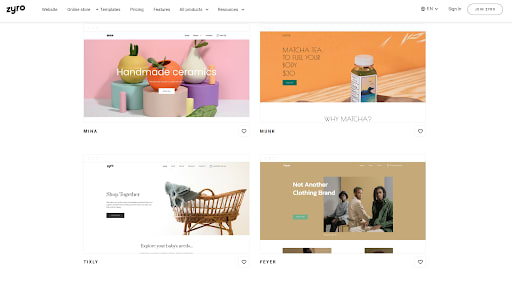 How Zyro Works
Signing up for Zyro is simple. Just choose your plan, select a template, and start designing your site with the drag-and-drop builder. The only thing to keep in mind is that you can't change your template later. However, you can modify all your site's styles, making it easy to customize your website no matter what template you choose.
Zyro Features and Tools
Included Hosting
All Zyro plans include hosting, and all plans except the Basic plan include unlimited storage and bandwidth. The company promises 99.9% uptime, and your site is secured with a free SSL certificate.
Branding Tools
Zyro includes an AI-enabled business name generator that can help you come up with a brand name for any new online business. Just enter keywords that describe your business to get suggestions.
In addition, Zyro has a logo maker that can save you from paying for a graphic designer. You can choose to create a logo yourself with a suite of simple drawing tools or use Zyro's AI logo generator. The AI will suggest starter logos based on your business category, and you're free to customize them.
AI Design Tools
Zyro can also help you build your website content. You can use the built-in AI to automatically write product descriptions or even your about page. Just choose from any of 12 topics, select the type of content that you're looking for, and Zyro will instantly offer several options for copy.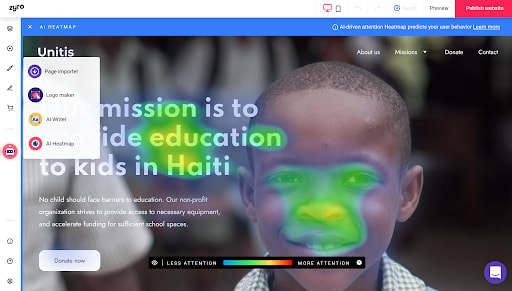 On top of that, Zyro can analyze any page on your website and overlay a heatmap that shows where visitors' eyes will be drawn to. This is extremely helpful for making sure your website is funneling visitors to your call to action.
How to Create a Website with Zyro
It's incredibly easy to create a custom website with Zyro. To start, you can choose from one of 133 templates across categories like Restaurants, Portfolios, Events, and eCommerce. All templates are mobile responsive. However, you can't change your template later without restarting your design from scratch. So, think carefully about what you want your site to look like when picking a template.
This is especially important because your site styles are controlled by your template. You can change your color scheme, fonts, and button shapes, but that's about it. Heading formats, image padding, and site menu layout are all baked into the template and cannot be changed.
Zyro's website builder enables you to quickly add content elements like text boxes, images, videos, galleries, and buttons. You can drag and drop them anywhere onto a premade grid layout and rearrange them at will. The grid layout can be helpful for building quickly because you don't have to worry about ensuring that everything is aligned.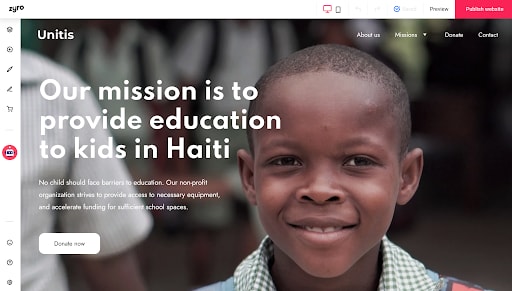 That said, Zyro also doesn't provide much flexibility when adding content. There's just one type of each content element available, and you cannot change the style settings for any individual element.
Overall, Zyro's designer is great if you're happy with the platform's templates and don't mind giving up a significant amount of design control. However, the fact that you can't change templates is disappointing, especially given how important your template is in determining the look of your website.
Adding Multimedia to Your Zyro Website
You can add JPG, PNG, and SVG images to your Zyro website in any image container. There's no media library, so you'll need to re-upload images every time that you want to add them to your site. For galleries, you can drag and drop multiple images into the uploader at once. In addition, you have access to free stock images from Unsplash.
Zyro can embed video files from any website (including YouTube and Vimeo), but you cannot add videos directly to your website. The platform also doesn't support documents or audio files.
Marketing Functionality with Zyro Websites
Zyro has limited marketing tools. There's no built-in email marketing suite or newsletter builder. You can set up a blog and add social media buttons, but you must share new blog posts to your social media accounts manually. The only notable integration with social media is that you can set up live chat on your website via Facebook Messenger or WhatsApp.
SEO Functionality & Add-Ons with Zyro Websites
All Zyro websites are designed to be mobile responsive and fast to load. You can add SEO titles and descriptions to all your pages,as well as add alt text to images.
Zyro doesn't have its own analytics dashboard or traffic reporting, but you can track your site with Google Analytics or Facebook Pixel (not available with the Basic plan).
E-Commerce
Zyro is excellent for selling products online. You can add an unlimited number of images to any product, write custom descriptions, add SKUs, and create multiple versions or sizes. You can't add product videos, but you can embed links and attach downloadable files, like user manuals.
One thing that's nice about Zyro for e-commerce is that you can suggest related products. The platform also supports discount coupons and gift cards with all e-commerce plans.
Online stores can be integrated with Facebook, Instagram, Amazon, eBay, and Google Shopping. You're free to choose from more than 50 payment processors, including PayPal, iDeal, and Yandex Kassa.
Zyro Customer Support
Zyro offers 24/7 customer support by email and live chat. During our testing, we contacted the company by live chat and were connected to a representative in just over a minute.
For design help, Zyro has a comprehensive online support center that includes over 200 tutorials, complete with screenshots. You'll also find design tips and a blog with articles about how to improve the quality of your website.
Zyro Pricing
One of the most appealing things about Zyro is its cost. This is one of the cheapest website builders around, with plans starting at just $2.90 per month. However, for that price, the Basic plan doesn't offer analytics or online payments.
The Business plan includes Google Analytics and Stripe integrations and costs $12.49 per month ($3.90 per month for the first year). There are two e-commerce plans, eCommerce and eCommerce Plus, which start at $24.49 per month ($9.90 per month for the first year) and $29.99 per month ($14.90 per month for the first year), respectively. eCommerce Plus adds abandoned cart recovery; Facebook, Instagram, and Amazon integrations; and product filters for customers.
All plans include a 30-day money-back guarantee.
First year price per month
Zyro Alternatives
How Zyro Compares to Other Website Builders
Email marketing functionality
Built-in and Google Analytics
Built-in and Google Analytics

Zyro Visit Site
Zyro vs Squarespace
Zyro is cheaper than Squarespace, which offers plans starting at $12 per month or $26 per month for e-commerce. However, Squarespace offers a much wider range of customization options in its drag-and-drop editor and enables you to edit your site's CSS for complete design control. Squarespace also has a handful of extensions for e-commerce and built-in email marketing tools.
Zyro vs Wix
Wix is one of the most flexible website builders available and offers much wider latitude in how you can design your site compared to Zyro. While this can be a positive, it's also important to note that site layout and styling takes significantly longer with Wix than with Zyro. Wix has built-in email marketing and appointment scheduling tools, but its e-commerce plans start at $23 per month.
Zyro vs Site123
Zyro and Site123 are comparable in cost, but we feel that Zyro offers much higher-quality templates and a more flexible drag-and-drop editor. Site123 also doesn't have any AI design tools. While Site123's page editor is slightly simpler than Zyro's, we think that Zyro is the better platform for most users' websites.
Bottom Line
Zyro is a value website builder that delivers a streamlined experience and excellent AI design tools. You can choose from more than 130 templates and customize your site in minutes using the drag-and-drop page editor. The AI features enable you to automatically add copy, create a custom logo, and optimize your content layout. Plus, Zyro offers built-in blogs and has powerful features for e-commerce.
Zyro is surprisingly inexpensive, especially if you want to launch an e-commerce store. For site owners who aren't overly picky about customization, this website builder is quite attractive. However, if you want total control over your site design, you may find that Zyro sites aren't customizable enough. In that case, more expensive and flexible competitors, like Squarespace and Wix, may be worth a look.