In a Nutshell
IONOS MyWebsite is a powerful and affordable website builder for small businesses. It offers 2 versions of its site editor to cater to both beginners and advanced designers. Features like email and traffic analytics are standard, while an online store option offers inventory management and cross-selling on social media. Overall, IONOS MyWebsite is a great option for small businesses looking to grow their online presence.
pros
Beginner and advanced versions of site editor
Excellent ecommerce features for the price
Options for personalized visitor experiences
cons
Blog features require an upgrade
Limited selection of templates

1&1 IONOS Visit Site
IONOS Video Review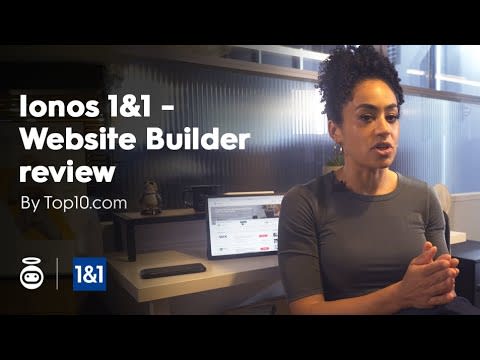 What Is IONOS?
IONOS is a web host and domain registrar founded in 1988. The company offers everything from shared hosting to cloud computing. Its MyWebsite site builder includes shared hosting by IONOS with unlimited storage and bandwidth.
The IONOS MyWebsite builder was created with small businesses in mind. It offers site editors for both first-time and experienced designers, as well as selling tools that can help your business grow. It's ideally suited for small businesses that want to build a scalable online store, but that don't want to spend a fortune on a more advanced ecommerce-specific platform like Wix or Shopify.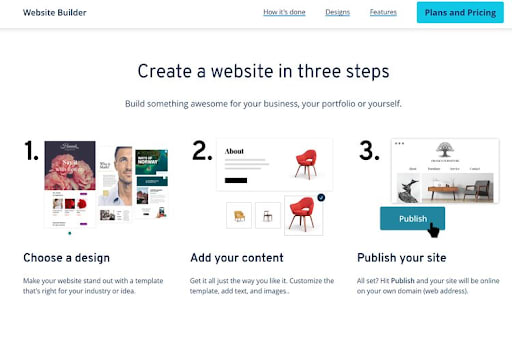 Using IONOS
We found the overall experience of using IONOS MyWebsite to be quite seamless. You can sign up, choose a template, and start designing all within a few minutes.
The complexity of the editor will depend on whether you sign up for the beginner-friendly MyWebsite Now or the more advanced MyWebsite Creator editor. In either case, it's easy to customize your template's styles, drag and drop content elements, and preview your site.
IONOS Features and Tools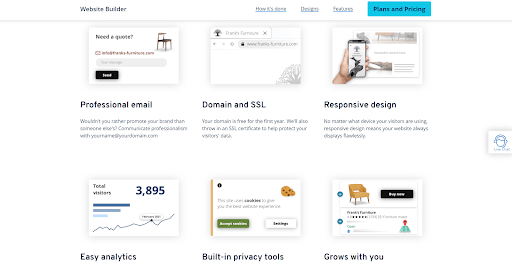 Hosting
All IONOS MyWebsite plans include shared hosting from IONOS with unlimited storage and bandwidth. You also receive a free SSL certificate, a free domain name for one year, and 1 free email address at your domain.
Privacy Tools
IONOS helps you communicate to your visitors that you take privacy seriously. You can easily add a banner to your site explaining your cookie policy. In addition, all forms you add to your site are GDPR-compliant by default.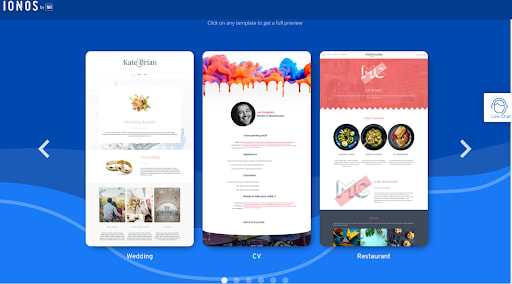 How to Create a Website with IONOS
The process of building a website with IONOS MyWebsite starts with choosing a template. There are only 18 templates available, much fewer than comparable website builders. The designs are decent, although they can feel a bit bland. You can switch templates at any time, but you'll have to restart the design process if you do.
Once you've selected a template, you can customize it and add content elements to your site. How much control you have over this process depends on whether you choose MyWebsite Now or MyWebsite Creator.
With MyWebsite Now, you only have a small degree of flexibility to customize your site. You're limited to showing or hiding content elements within the blocks already present on the template you selected. You can't drag and drop new content elements onto your site or edit your site's code.
With MyWebsite Creator, you have the ability to drag and drop content elements like text boxes, images, buttons, forms, and more onto your site. You can customize the layout of these elements and add effects like video backgrounds. MyWebsite Creator also enables you to edit your site's CSS code, so users with coding experience can make more in-depth changes to the basic design.
Whichever editor you use, we found MyWebsite to be pretty straightforward. You can preview how your site will look on desktop, tablet, and mobile devices, and it only takes one click to push your site live.
Overall, we were pretty happy with the site creation process for IONOS MyWebsite. We think most users will want the flexibility of MyWebsite Creator, although MyWebsite Now can be useful for first-time designers who want to launch a site as quickly as possible.
Adding Multimedia to Your IONOS Website
IONOS MyWebsite supports photos, videos, audio files, and PDFs. You can upload files simply by clicking on an existing media content element. Files are saved to a content library, so it's easy to reuse them across your site.
One thing we especially liked about IONOS is that the platform automatically resizes images to optimize them for faster page loading. You also get access to thousands of free stock images to use on your website. Overall, the platform's media management is quite solid.
Marketing Functionality with IONOS Websites
IONOS offers several features for marketing your online business. First, all sites include a built-in email marketing tool that you can use to send newsletters to your contacts. It's not the most customizable newsletter builder we've seen, but it's pretty handy if you don't want to pay for a third-party email marketing service.
MyWebsite Creator users also have access to an app for scheduling appointments online. While this app doesn't integrate with MyWebsite's online store system, it can be a big help for small businesses that offer in-person services.
IONOS has good support for blogs, although you must use MyWebsite Creator to launch a blog. You can schedule posts ahead of time, create accounts for multiple bloggers, and allow your posts to be collected in an RSS feed. You can also easily advertise your new posts on social media or in an email newsletter.
Finally, users on IONOS' top-tier Pro plan can personalize visitors' experiences based on how they got to your site, whether they're first-time visitors, and more. For example, you can put a coupon code on your home page that's visible to first-time visitors, but not to anyone else.
SEO Functionality & Add-Ons with IONOS Websites
IONOS MyWebsite offers strong SEO capabilities. To start, you can add a meta title and description to each page on your site. You can also add alt text to images and videos to help search engines better catalog your site. On top of that, MyWebsite optimizes your content—including images—to ensure your site loads as quickly as possible.
To analyze your visitor traffic, IONOS offers a built-in analytics tool. You can also integrate Google Analytics.
E-Commerce
IONOS offers an online store upgrade for all plans, including MyWebsite Now plans. The number of products you can sell depends on your subscription tier, but starts at 500.
The ecommerce features are very robust. You can import products from a spreadsheet, manage your inventory and shipping options online, and cross-sell on Facebook, Instagram, and Google Shopping. Importantly, IONOS lets you offer in-store pickup as an option for local customers and integrate with services like Klarna to offer buy now, pay later.
How Much Does IONOS Cost?
IONOS offers 3 plans: Starter, Plus, and Pro. The Starter plan includes access to MyWebsite Now, while the Plus and Pro plans use the more advanced MyWebsite Creator software. You can add ecommerce functionality to any of the 3 plans for an additional charge.
All plans are billed annually and you can get a steeply reduced price for your first year. There's no free trial, but you can request a refund if you cancel within the first 30 days of your subscription.
Personalized Visitor Experiences
Number of Products (Ecommerce Plans)
IONOS Help and Support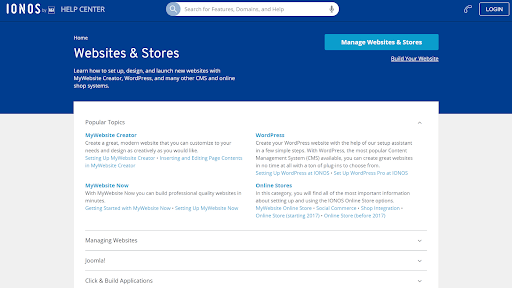 IONOS offers 24/7 customer support by phone, email, and live chat. You can also request a free personal consultant so that you have a single point of contact for all questions about your website.
For troubleshooting on your own, IONOS offers a detailed online knowledge base with tutorials for both MyWebsite Now and MyWebsite Creator. The tutorials don't have many screenshots or videos, but they are pretty thorough nonetheless.
How IONOS Compares to Other Website Builders
Email marketing functionality
Built-in and Google Analytics
Built-in and Google Analytics
Built-in (with upgrade) and Google Analytics
IONOS vs GoDaddy
IONOS and GoDaddy are closely matched when it comes to building a small business website. GoDaddy offers slightly better tools for email marketing and booking appointments online, but we prefer the ecommerce functionality of IONOS. We think IONOS comes out on top if you're looking to launch an online store.
IONOS vs Bluehost
IONOS offers a much smoother design process than Bluehost and more robust ecommerce features. That said, Bluehost is built on WordPress, so it's worth looking into if you want to launch a blog rather than an online store.
IONOS vs Wix
Wix is more customizable than IONOS and offers paid apps to expand your ecommerce potential. However, it's also much more expensive than IONOS. So, we think Wix is best suited for online businesses that are looking to scale up their marketing efforts and sales, while IONOS is better for businesses that are just starting to sell online.

IONOS Visit Site
Bottom Line
IONOS MyWebsite is a powerful yet affordable website builder that offers many of the tools that small businesses need. With this site builder, you can create a highly customized website, market to customers with an email at your domain, and sell products online for delivery or local pickup. There's a lot to like about IONOS MyWebsite, and we found few drawbacks for businesses that are new to selling online.
That said, IONOS MyWebsite isn't right for everyone. The platform doesn't offer blogging functionality with its most basic plan, and it's not as scalable as an ecommerce-focused website builder like Wix. Overall, we think IONOS is best suited for businesses that want to expand their online footprint and don't want to spend a fortune to launch an online store.