In a Nutshell
SiteBuilder.com is available for free, which is ideal for freelancers or individuals, and its interface is incredibly easy to use and navigate on your own. Plus, you have the option to have your site designed by the professionals at SiteBuilder. In this SiteBuilder review we'll delve into the features, pricing and support on offer.
pros
Great customer service that's available 24/7
Free custom domains for everyone who upgrades their plans
cons
Pricing isn't clear when you start building and lots of upselling
SEO tools are only available with Premium and Ecommerce Plans
SiteBuilder Visit Site
Design Features
With over 1,000 website templates to choose from at SiteBuilder, you're sure to find something that meets your business needs. There's also a great image library that will enable you to further customize your site with rich media. You can do all of this without spending a dime, as the free version of the website builder gives you access to all of these great web templates and images. A blog can also be integrated at the touch of a button as another free feature of SiteBuilder's website building services.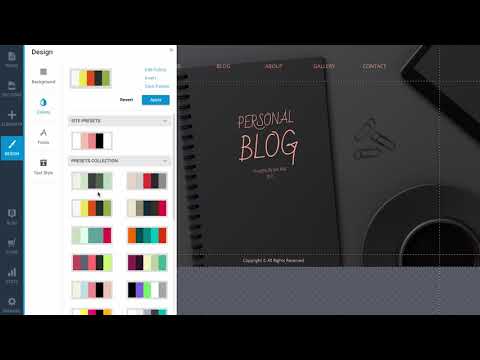 SiteBuilder's Editor
Mobile-optimized sites are available but you have to upgrade your site to get this. However, once you have, you'll be able to view your site as a mobile one, adapting the design to suit. All of these features and add-ons are very easy to manage with the drag-and-drop interface that's very self-explanatory. However, if everything is a bit too much for you, you can speak to the designers at SiteBuilder who will build a site for you, but this will come at an additional cost.
Marketing Features
Google Maps and social media buttons are free for all users and are easily integrated using the links on the left-hand side of the interface. You have the freedom to move these wherever you want on the site, which gives you great flexibility with your design.
You do have to upgrade to the Premium or Ecommerce Plans to get search engine optimization (SEO) tools. However, you can alter your site meta tags, site header and footer HTML through the free plan, which is a huge bonus. Analytics are also an upgrade-only feature, but are worth investing in if you want to drive plenty of business to your site. If you're an online store or you want to sell a few products online, you will need to upgrade to the Ecommerce plan, because no shopping features are available on the other plans.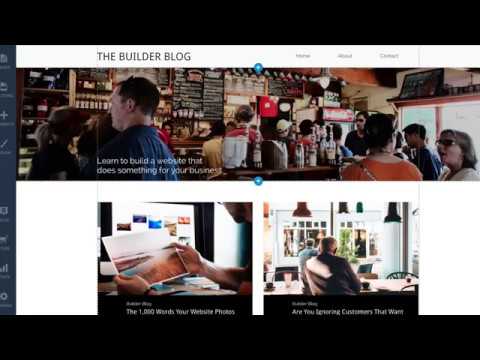 Hosting Options
A free custom domain is available to you if you upgrade your website building plan with SiteBuilder. If you're using the free version, you'll be able to choose a domain but it will have ".myfreesites.net" fixed on the end. However, this won't be an issue if you're just using the site as a portfolio, blog or basic site for your business.
SiteBuilder's Hosting Plans
Storage is a bit limited with all of the plans, and the free plan only comes with 50MB. This goes up to 10GB when you upgrade to the Premium or Ecommerce Plans. However, as SiteBuilder say themselves, unless you're going to be uploading a lot of high-resolution images or large files to your site, this won't be an issue. Nevertheless, for larger Ecommerce stores or photographers, for example, this may be something you need to watch out for as a lot of other web builders will provide unlimited storage. You'll also get a free email address when you sign up for the paid plans, with each additional email priced at $5 a month.
SiteBuilder Pricing
SiteBuilder.com offers 4 pricing plans: Starter, Pro, Premium, and Ecommerce. None of these plans is technically better than the other; they simply offer different things. In order to decide which one you want, you need to first determine your needs and goals. So while there's no "better" plan, there certainly is a plan that is best for you.
Monthly Cost for Annual Subscription

Total Cost (not including VAT*)
*Prices last updated September 2020
*Hidden Fee Alert: Prices do not include VAT; that is tacked on at the end and you can only see the full total once you've entered your payment information and are ready to checkout.
Starter
The Starter Plan is free, which means that you can choose from thousands of SiteBuilder templates to create your own site. The Starter option is good for someone who wants a personal blog or a forum to share their thoughts and ideas. When you choose the Starter Plan, your domain name will reflect that it's a free plan, and SiteBuilder ads will appear (which is standard practice for all free website building services, including Wix and Weebly).
Pro
Pro is SiteBuilder's most popular plan, and it costs $9.22/month for an annual subscription. When you purchase Pro, you get your own domain name (no more .myfreesites.net), an ad-free website, and a free email address. If it's important to have your own domain name but you don't need to sell anything online, Pro is a good option.
Premium
If you're considering Premium, it means that Search Engine Optimization (SEO) is crucial for your needs. SEO and customer support are the main additions to the Premium Plan, and these extra features bring the price to $12.29/month for an annual subscription. People who rely on Google searches for exposure and new clients would do well with this plan, since SEO is what makes your website appear high up in web search results.
Ecommerce
This is the plan for anyone who wants to set up an online store. It comes with all the features of Premium, with the addition of a fully-equipped Ecommerce store, which means users can display products and accept payments from customers. Ecommerce option costs $19.98/month for a yearly subscription.
Below is a table detailing the costs of annual subscription pricing plans.
Annual Subscription vs. Monthly Billing
The prices listed for the plans above apply only to those who order an annual subscription. An annual subscription means that you pay a lump sum. For example, if you're ordering an annual subscription of the Pro Plan, you will be charged $110.64 when you checkout; this translates into $9.22/month.
You also have the option of monthly billing, which means you will be charged a much lower amount, once per month. However, monthly billing always comes out more expensive than annual billing in the long run.
Something that may help you decide is to first create a website using SiteBuilder's free plan—after all, all of the website building features are the same as the paid plans. If you're happy with the result, you may decide that you are ready for a long-term commitment and opt for an annual subscription, as opposed to monthly. (Or vice versa!)
In the table below you can see a price comparison of SiteBuilder's annual subscription costs vs. its monthly billing costs. Please note here as well that prices do not include VAT.
Total price (monthly billing)

Monthly cost (annual subscription)

Total cost (annual subscription)

As you can see, when you order an annual subscription, your total cost will be less than if you pay 12 months with monthly billing. However, with the Pro and Premium plans, the difference is not very significant—about $8-$9. When it comes to Ecommerce, the difference between ordering an annual subscription and paying monthly for a year is about $60.
SiteBuilder Visit Site
Customer Service
There's an extensive customer support section on SiteBuilder. This features the answers to a number of questions that you may have as you start building and maintaining your site. If you can't find the answers you're looking for, you can email the team, chat with a representative live, or call them with your questions. This service is available 24/7 with telephone support for those in the U.S./Canada, U.K. or Australia. But, it's worth noting that much of the customer support team are not native English speakers, so they have some trouble understanding questions given to them. This might pose a problem if you run into some major issues with your site that you can't fix on your own.
SiteBuilder Review Summary
SiteBuilder might not come with all of the additional frills that other website builders do, but what it offers is something that's simple and easy to use. That's why it's a recommended site builder for individuals or small businesses who want to get their site live with minimal fuss or hassle. What's more, the templates and features that are offered are well made, so you can really make your site look sleek and professional.