In a Nutshell
Sitebuilder.com offers a simple website builder at an affordable price point. It's not the most impressive builder when it comes to customization options, advanced marketing features, or ecommerce. However, it does a decent job for basic websites and online stores, and it's incredibly simple to use. If you're looking to get online in minutes and don't need extensive design capabilities, Sitebuilder.com is a great choice.
pros
Simple design process
Supports appointment bookings
Inexpensive introductory pricing
cons
Limited tools for ecommerce
Minimal design flexibility

SiteBuilder Visit Site
What Is Sitebuilder.com?
Sitebuilder.com is a website builder that launched in 2014. It recently partnered with Web.com, another website-building and -hosting service, to offer professional website design.
This builder is ideal for first-time website creators. It offers incredibly simple tools, and the setup process doesn't require any difficult design choices. You could easily launch a custom site in minutes.
That said, Sitebuilder.com does have many limitations for more advanced designers. It doesn't offer much flexibility when customizing your site and includes only barebones features for selling goods online. If you want to scale your website over time or build a thriving online business, you're better off with an alternative website builder.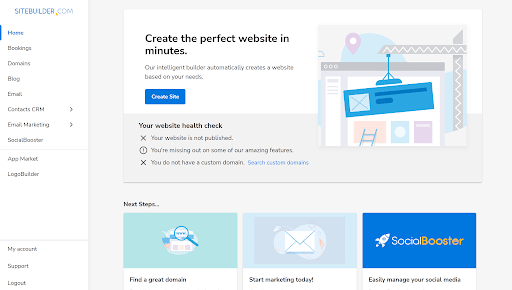 Using Sitebuilder.com
Sitebuilder.com is an incredibly easy-to-use website builder. The setup process takes under a minute, and it's possible to launch a fully customized website with less than 30 minutes of effort. In addition, Sitebuilder.com's back-end dashboard is intuitively laid out, so you can easily manage incoming leads and appointment bookings.
Overall, this is one of the simplest and most user-friendly website builders that we've tested.
Sitebuilder.com Features and Tools:
Web Hosting
All Sitebuilder.com sites include free web hosting with unlimited bandwidth and storage. Sites also include an SSL certificate.
Logo Builder
Sitebuilder.com offers a handy logo design tool for new businesses. This AI-enabled tool uses your business name and slogan to craft a series of custom logos for you. Once you pick a design, you can modify the text, color, spacing, and more to get a logo that suits your business. The logo can be downloaded as a PNG file for use across your business's properties.
Google Workspace Integration
Sitebuilder.com integrates with Google Workspace, making it easy to set up a custom email at your domain. You're also free to connect a custom email from another provider to your website.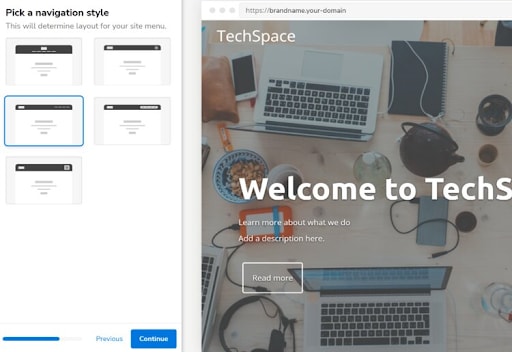 How to Create a Website with Sitebuilder.com
The process of creating a website with Sitebuilder.com is simple. To get started, simply select the type of website that you're creating, and then choose from a series of starter designs. Sitebuilder.com doesn't have templates, and you can fully customize your starter design once you get into the site editor.
That said, your options for customizing Sitebuilder.com's basic designs are limited. You can change the color palette for your site and your fonts and select from a few navigation menu styles. You can also choose to hide elements, like your site's subtitle and call-to-action button, but that's about it.
The site editor enables you to customize the contents of each page by adding sections. Sections are full-width blocks of content that can contain a single element—like a text box, image, or button—or multiple elements arranged together. You can't drag and drop content elements within a section, but Sitebuilder.com does let you choose from multiple layouts for each section. You can also customize a section's background color and height.
Notably, Sitebuilder.com has many different types of sections available. For example, you'll find ones for displaying reviews and testimonials, for image galleries and carousels, and even for special displays like progress bars and maps. The broad selection of sections makes Sitebuilder.com feel relatively customizable, even though you don't have many options for modifying individual page sections.
Overall, we found that creating a website with Sitebuilder.com was simple and quick. The platform doesn't offer a huge number of design choices, but that can be a good thing for first-time site designers. The wide range of section types and layouts is a plus, as this opens up more options for customizing your site and adding unique content.
Adding Multimedia to Your Sitebuilder.com Website
Sitebuilder.com enables you to add images and videos to your site. However, it doesn't support audio files or PDFs. In addition, when creating galleries, you must add images one by one.
To add a new image, simply create a page section with an image box or click on an existing image. A media library will appear, showing all your previously uploaded images. You can also add images from your computer or search stock images from Unsplash. Unfortunately, the media library isn't searchable, so it can get confusing quickly as your site scales up.
Marketing Functionality with Sitebuilder.com Websites
Sitebuilder.com offers impressive marketing capabilities for such a simple website builder. It has a built-in contact management system, which automatically imports data from the contact and sign-up forms on your website. You can export this contact list or use Sitebuilder.com to segment your contacts into groups.
The platform also has a basic email marketing tool that lets you create campaigns for product announcements, sales, and more. The email builder is similar to Sitebuilder.com's site editor, and you have access to all the same page sections to customize your email. When you're ready to send, simply choose a contact list, and Sitebuilder.com will deliver your campaign. The platform tracks open rates but doesn't offer much other data about the success of your email marketing efforts.
SEO Functionality & Add-Ons with Sitebuilder.com Websites
Sitebuilder.com offers fairly limited SEO tools. All sites are mobile-responsive, and it offers a blog with all plans. You can add alt text to images across your website and create a favicon for your site. However, you can't customize your site's SEO title or description or modify the SEO description for individual pages.
Sitebuilder.com has a built-in analytics tool and enables you to connect your site to Google Analytics. The analytics dashboard is useful and shows traffic sources, new vs. returning visitors, and visitors' average session time.
Ecommerce
Sitebuilder.com's Ecommerce features are only available in their most expensive plan, which may not be ideal for larger stores due to some limitations. While the platform offers decent tools for selling, it is limited in some aspects.
Payment Processing
SiteBuilder.com offers multiple payment options, including credit and debit cards, PayPal, Stripe, and more. The platform also provides secure checkout options, ensuring that your customer's sensitive information is protected.
SiteBuilder's Ecommerce platform supports multiple currencies, making it easy to sell products globally. Additionally, the platform offers tax management tools to help you comply with various tax laws and regulations.
Scalability
SiteBuilder's Ecommerce platform is designed to be scalable, allowing you to add products, manage orders, and process payments with ease.
The platform offers robust inventory and shipping management tools, allowing you to track your stock levels and automate reordering processes. SiteBuilder.com also provides order management tools, allowing you to view and manage orders from a single dashboard.
Other Key Features
One thing we like about Sitebuilder that is available to all users is its appointment booking feature. It's simple to set up an online calendar and book customers for in-person services. While you can't accept payments for appointments online, you can display pricing for different services on your bookings page.
Sitebuilder.com also offers abandoned cart recovery but this isn't automated. You'll need to set up a campaign manually to target customers who left your store without finishing their purchase. The platform also doesn't have pop-ups or other features to nudge visitors into your sales funnel.
How Much Does Sitebuilder.com Cost?
Sitebuilder.com offers three plans: Pro, Premium, and ecommerce. All plans include free hosting, full access to the platform's site builder, analytics, SEO, and the ability to book appointments online. There's no free trial, but new users who sign up for a two-year contract can get steeply discounted pricing.
Price per month for the first 2 years
Sitebuilder.com Help and Support
Sitebuilder.com's customer support team is available by phone, email, and live chat 24/7. The help center also has a simple button to enable screen sharing, which makes it easier to get help with any issues that you run into with the site editor.
You can also troubleshoot on your own with Sitebuilder.com's online knowledgebase. It's fairly comprehensive, although most articles lack screenshots to help walk you through the process being described.
How Sitebuilder.com Compares to Other Website Builders
Email marketing functionality
Built-in and Google Analytics
Built-in and Google Analytics
Built-in and Google Analytics
Sitebuilder.com vs Jimdo
Sitebuilder.com and Jimdo have much in common. Both eliminate templates to streamline the design process, and both let you customize your site with page sections. While Sitebuilder.com is more expensive than Jimdo (after the 2-year promotional pricing), we think that it offers significantly better features for email marketing and ecommerce.
Sitebuilder.com vs Wix
Wix is one of the most advanced and customizable website builders available. It offers much more design flexibility than Sitebuilder.com and has many more tools for scaling up an ecommerce business. That said, it's also much more expensive than Sitebuilder.com and takes longer to get online with.

SiteBuilder Visit Site
Sitebuilder.com vs WordPress.com
WordPress.com excels at blogging, but it can also be used to launch an ecommerce store. If selling online is your aim, Sitebuilder.com offers similar tools at a much lower price. However, if you want to monetize a blog, then WordPress.com is the better choice.
Bottom Line
Sitebuilder.com is a simple website builder that goes far beyond the basics. The design process takes as little as a few minutes, and the wide range of page section types makes up for the overall lack of customization options. In addition, Sitebuilder.com offers built-in email marketing and traffic analytics.
The platform's SEO and ecommerce features leave something to be desired, but they can work well for businesses that are just starting out in the online world. For Sitebuilder.com's price and ease of use, you'll be hard-pressed to find a website builder with similar capabilities.