Many user-friendly website builders come with a neat range of SEO tools to help you get started. Some of these are powerful, enabling you to rank well for even the most competitive keywords, while others have much poorer SEO offerings.
To help you find the right website builder for SEO purposes, we've put together the following list of our top 10 options, some of which even have free plans if you're on a budget.
The Advantages of Using SEO-Friendly Website Builders
We always recommend taking advantage of the SEO features that your site builder offers. By doing so, you can ensure your website is responsive and ready to appear on SERPs. Many website builders come with advanced SEO tools presented in a simple manner. This will make it easy for you to familiarize yourself with the basics and begin implementing your own SEO strategy.
In some cases, you will even receive access to specialized SEO apps or plugins to boost your efforts.
Why is SEO Important?
SEO is important because it enables you to drive organic visitors to your website from search engines such as Google and Bing. Although implementing an SEO strategy can be time consuming and a little unrewarding at the beginning, it can drive long-term results.
For example, achieving a high search engine ranking for a high-traffic keyword can drive large numbers of visitors to your website for years to come. Of course, you will have to keep up the work to ensure you don't lose your search rankings, but it's worth the effort.
Important SEO Considerations and What They Mean
There are a number of crucial things to think about when you're developing your SEO strategy. Here, we've outlined a few of the more important ones, explaining how they can impact your SEO score.
Meta titles and meta descriptions
Google uses your meta titles and descriptions to understand more about your content and what it's about. The meta title is a great place to add a focus keyword or keyphrase that you want to rank for.
Your meta description is often what is shown on the SERPs to describe what a web page is about. As well as ensuring it's SEO-friendly, you should ensure it's accurate, enticing, and designed to encourage people to visit your website.
If more people are clicking through to your site and browsing, the search engines will view you as more of an authority figure in your field, and your search engine rank should increase.
URL structure
There are a few ways in which your URL structure can impact your SEO efforts. For one, a poor URL structure can impact the user experience, which is closely linked to SEO.
A clear URL structure will also make your website much easier for the search engine crawler bots, which scan webpages to learn what they're about. Adding keywords to your URLs where they fit naturally can be beneficial, and human-readable URLs are much more likely to be clicked or shared in their natural form.
For example, a URL in the form of "www.thiswebsite.com/digital-marketing-tips" is much more likely to be clicked than something like "www.uhfgkjfdgkjhd.com/post/06052022", as the URL immediately provides some indication of what the site is about.
Image alt text
An image alt text should accurately describe what's happening in the image. A good approach is to pretend that you're describing the image to someone who can't see it—which is essentially what you're doing. If a user's browser can't render an image, the image alt text will appear instead.
Image alt text is also crucial for accessibility purposes, as it enables individuals with visual impairments who use screen readers to understand what's happening in an image.
Furthermore, adding keywords to your alt texts is beneficial because it increases the chances of your images appearing high in image search results. But this only works if you're able to include them naturally. If you can't, just write a tidy, readable description.
Site speed
In simple terms, faster websites rank better on SERPs. Search engines such as Google are increasingly rewarding fast, user-friendly websites, which means that site speed is something you need to think carefully about.
We'd suggest using Google's PageSpeed Insights tool to monitor your site's performance. You can also ensure you're using an image optimizer or other SEO plugins to minimize media load times.
Structured data
Structured data enables you to add extra information for the search engines. Adding structured data enables you to get what's known as a "rich snippet," which is a higher-quality search engine result that's super clickable. Rich snippets contain more information than a standard search engine result.
For example, a recipe website might use structured data to add information about cooking time, calories, rating, an image of the meal, and more to its search engine results page listings. It's worth noting that there are numerous types of structured data for different types of rich snippets.
Some website builders will enable you to set up structured data via a native tool, while others will require you to install a plugin. You can also manually customize your site's code if you have access.
Mobile usability
Your website won't rank well if it doesn't render or perform well on mobile devices. Things to think about here include mobile-friendly templates, responsive design, and whether or not you can create separate mobile and desktop versions of your site.
Most modern website builders are great for mobile usability, so you shouldn't have to worry too much here.
SEO support and guidance
The best SEO website builders come with comprehensive support and guidance to help you get started on your SEO journey. Sometimes, you will find a guided SEO wizard to introduce you to the basics. But more often, you will receive user-friendly SEO tools backed by comprehensive user guides and tutorials.
If you're new to SEO and don't really know what you're doing, select a website builder that includes some sort of support and guidance.
Breaking Down Our Top Choices: Which Is Best For You?
Wix - Best overall SEO website builder
WordPress.com - Best for advanced SEO
Squarespace - Best for small business SEO
Network Solutions - Best for basic websites
HostGator - Best for design flexibility
SITE123 - Best for getting online fast
Weebly - Best for SEO-friendly online stores
1&1 IONOS - Best for automated SEO
Web.com - Best for simple professional websites
The Best SEO Website Builders in 2023
1. Wix
A powerful, feature-rich website builder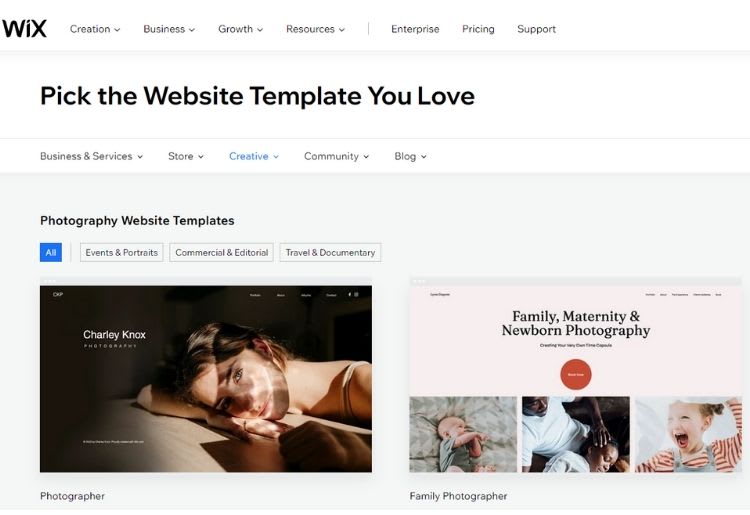 Best for: Guided SEO
Price: From $16/month
Free version: Yes
Wix offers advanced SEO tools, and the Wix SEO Wiz stands out as an excellent feature for small businesses and newbies with limited SEO experience. It provides guided SEO tips, enabling you to get started in a fast, efficient manner.
You will also receive a step-by-step SEO plan, a selection of educational resources explaining more advanced SEO concepts in more detail, and a selection of user-friendly basic SEO tools for rapid optimization.
Pros
Powerful Wix SEO Wiz tool

Detailed educational resources

User-friendly SEO features
Cons
Slow performance

Expensive

Wix Visit Site
2. WordPress.com
A basic website builder with advanced SEO tools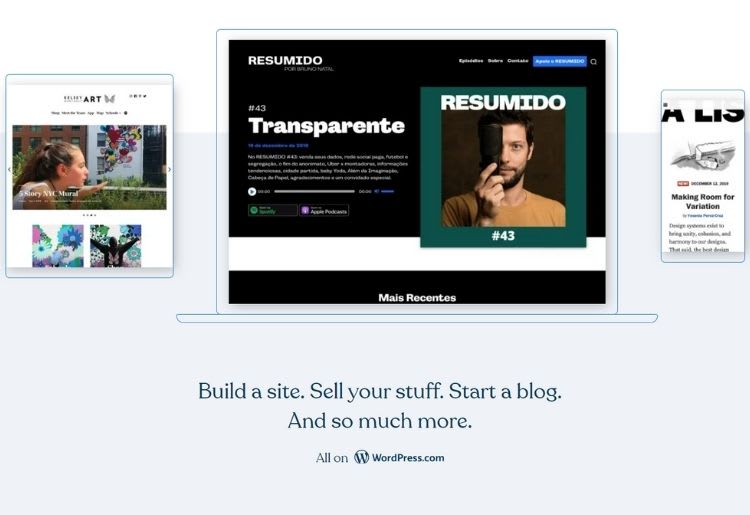 Best for: Advanced customization
Price: From $15/month
Free version: Yes
WordPress.com has a slightly outdated website building interface, but it performs admirably on the SEO front. It boasts a large number of highly-customizable SEO options that don't require coding or other advanced knowledge.
With an upgraded WordPress.com plan, you will also have access to hundreds of SEO plugins from the WordPress plugin library. There are auto-generated sitemaps, advanced site verification tools, and an image optimizer to reduce page load times.
Pros
Advanced SEO customization tools

Access to SEO plugins

Beginner-friendly
Cons
Outdated editing interface

Limited SEO tools with free plan

WordPress.com Visit Site
3. Squarespace
A design-focused website builder for professionals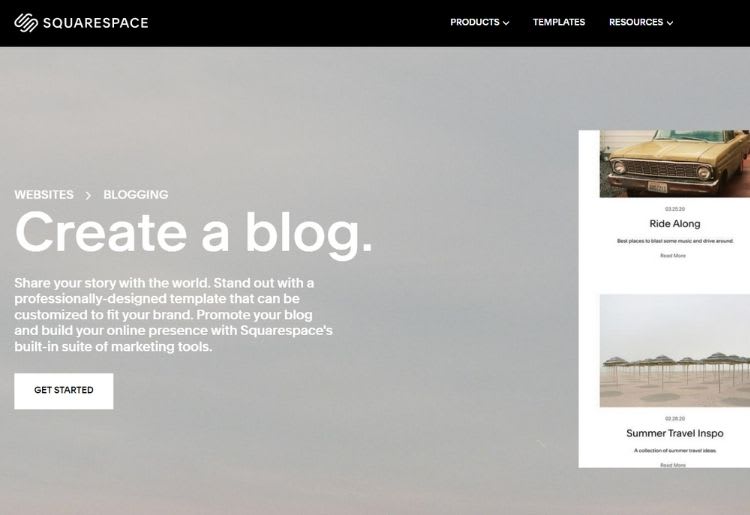 Best for: Small business SEO
Price: From $14/month
Free version: No
Squarespace is a design-focused website builder known for its advanced native tools and attractive templates. It includes loads of SEO tools that are great for small business users, including the ability to connect to Google Search Console.
You will also benefit from integrated SEO reports, which present detailed information about your efforts. Sitemaps are generated automatically, structured markup is performed automatically, and all sites are fully mobile-optimized.
Pros
Tidy SEO analytics

Google Search Console integration

SEO checklist
Cons
No free version

Limited templates to select from

Squarespace Visit Site
4. Network Solutions
A basic option for simple websites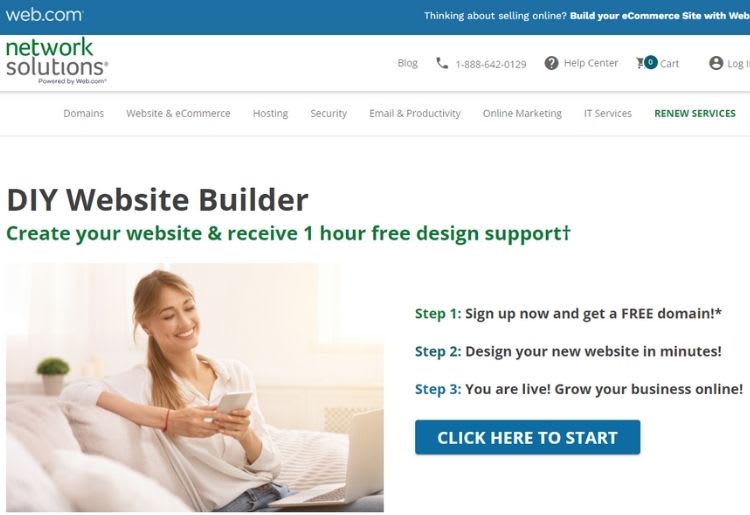 Best for: Building small websites
Price: From $2.95 per month
Free version: No
Network Solutions offers basic website building solutions for those who require a small, simple website. Its SEO tools are basic, but even the cheapest plan enables you to add custom meta titles and meta descriptions.
With an upgraded subscription, your website will automatically be submitted to the search engines for indexing. There are no built-in analytics tools, but it's easy to link your Google Analytics account.
Pros
Automatic search engine submission

Streamlined Google Analytics integration

Very beginner-friendly
Cons
No native SEO analytics

Limited structured data tools

Network Solutions Visit Site
5. HostGator
An advanced website builder with excellent design flexibility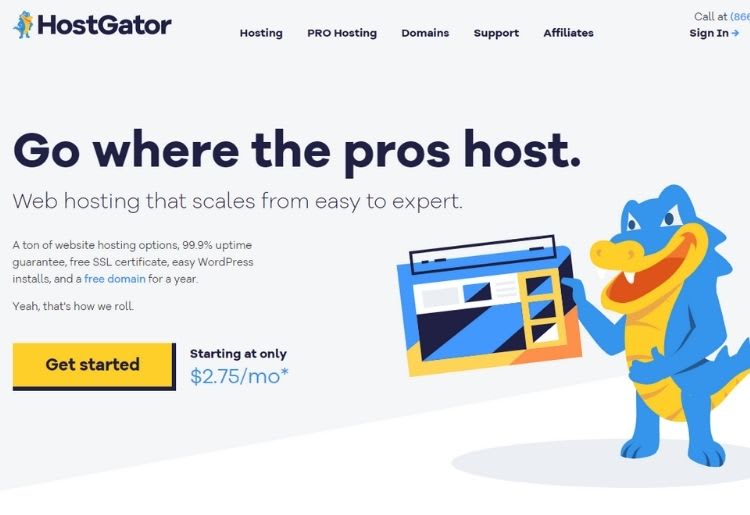 Best for: Customized designs
Price: From $3.84/month
Free version: No
Gator, a website builder offered by web host company HostGator, has rather basic SEO tools. But it's a good option if you value design flexibility and customization. You can add meta titles and descriptions to all pages, but one notable omission is the inability to specify image alt texts.
On the plus side, you can link Google Analytics, and there's a powerful built-in analytics tool. HostGator is also known for its decent performance, which is an essential search engine ranking factor.
Pros
Great analytics

Excellent design flexibility

Streamlined meta title and description customization
Cons
No alt-text customization

No advanced SEO tools

HostGator Visit Site
6. SITE123
A no-frills, beginner-friendly website builder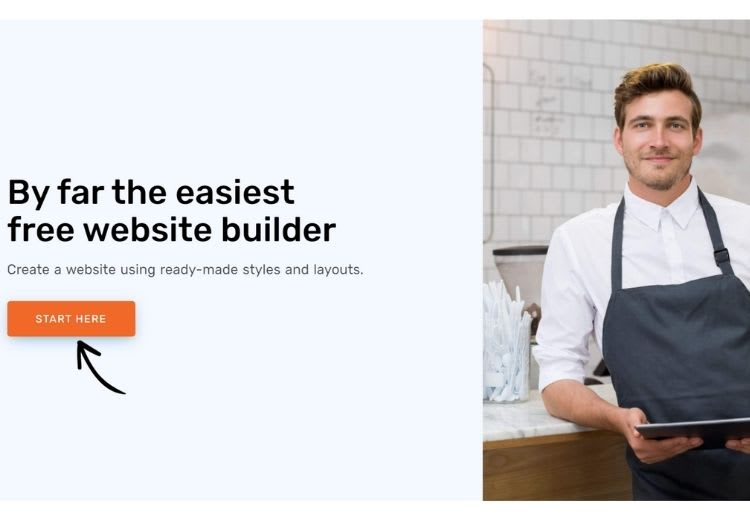 Best for: Getting online fast
Price: From $4
Free version: Yes
Site123 is a beginner-friendly website builder that enables you to create a new site in just a few hours. It comes with a built-in SEO audit tool which you can use to ensure every aspect of your website is optimized.
You can add meta titles and descriptions, a sitemap, and meta tags to boost your SEO score. What's more, it's very easy to link Google Analytics, which makes up for the lack of native analytics tools.
Pros
Very easy to use

Enables rapid website creation

Integrated SEO audit tool
Cons
Limited design flexibility

Very basic blogging tools

SITE123 Visit Site
7. Weebly
An Ecommerce-focused website builder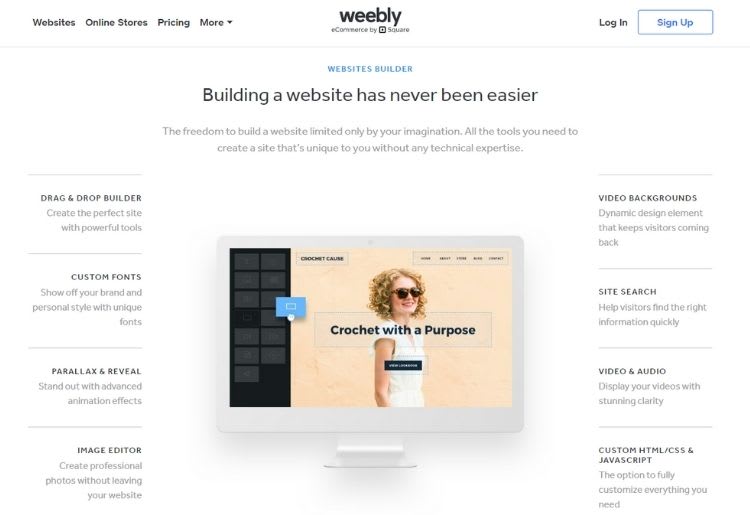 Best for: Ecommerce website building
Price: From $9 per month
Free version: Yes
Weebly offers streamlined website building solutions with a focus on marketing and Ecommerce. It comes with a selection of SEO tools, including the ability to add meta titles and descriptions, edit alt tags, and add broken link redirects.
There's also a selection of apps in the Weebly App Center that you can use to complement your SEO efforts. All users can connect Google Analytics, and upgraded subscriptions come with integrated reporting tools.
Pros
Great for Ecommerece SEO

A selection of SEO apps

Great marketing tools
Cons
Poor design flexibility

Limited free plan

Weebly Visit Site
8. 1&1 IONOS
A website builder with automatic SEO tools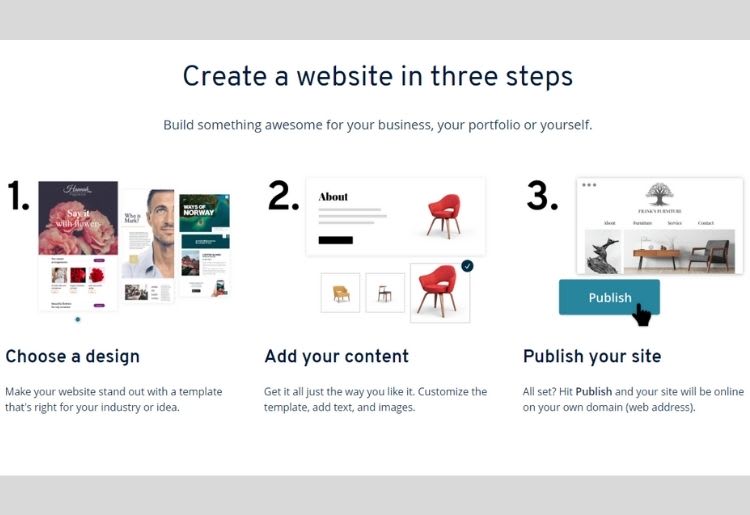 Best for: Advanced automated SEO
Price: From $5
Free version: No
1&1 IONOS offers a strong SEO package, enabling users to add meta tags and descriptions, customize video and image alt text, and specify a site title. There's also an automatic MyWebsite SEO tool that optimizes all content to boost your site speed.
You can also integrate Google Analytics or use the comprehensive built-in analytics tools to track your SEO success.
Pros
Automatic SEO optimization

Easily customizable meta information

Built-in analytics tools
Cons
Limited design tools

No free forever plan

IONOS Visit Site
9. Web.com
A professional website builder for basic websites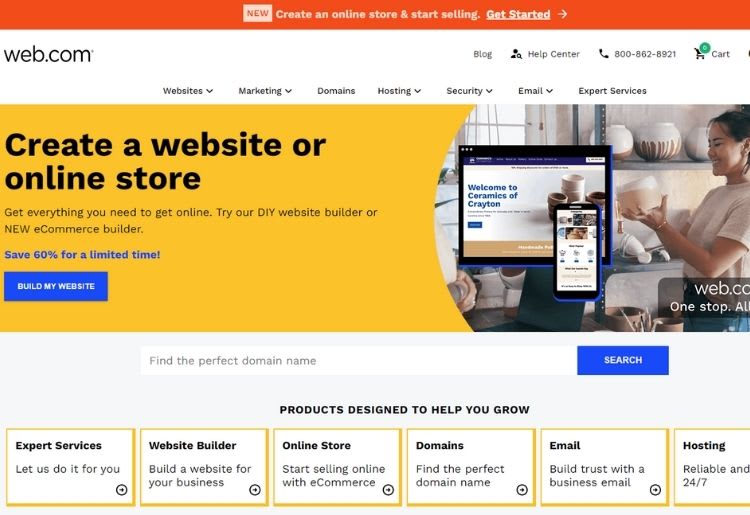 Best for: Building simple websites
Price: From $10/month
Free version: No
Web.com offers poor SEO tools with its basic package, but all upgraded users will benefit from a selection of features. For starters, you will be able to customize meta information and add alt texts. You can also create a blog to launch SEO-friendly content if you would like to, and you have the option to connect to Google Analytics to track your campaigns.
Pros
Google Analytics integration

Neat blogging tools

Attractive, well-designed templates
Cons
Poor SEO features with base plan

Quite expensive

Web.com Visit Site
What Features Should an SEO-Friendly Website Builder Have?
There are a few key features you should look out for when you're selecting the right SEO-friendly website builder. We've outlined some of the most important here.
Great page indexing
Good page indexing by the search engine crawler bots is one of the keys to achieving a good search engine ranking. Some websites boast excellent indexing due to their logical, easy-to-navigate structure. Ensure you select a website builder that has a reputation for good indexing.
Meta descriptions and headings
All SEO-friendly website builders should enable you to edit your meta descriptions and meta titles. This enables you to provide more information to the search engines and write an attractive title and description for your search engine results.
SEO-friendly URL structure
Ideally, when creating new webpages or blog posts, you should be able to edit your URLs to include keywords and descriptive language that's clickable and tells the search engines what your page is about. If not, you should at least get automatically-generated URLs based on your page title or something similar.
You should also make sure your URLs are concise, easily readable, and not riddled with special characters. If your URL consists of multiple words, separate them with hyphens to avoid long strings of confusing letters.
SSL certificate
SSL certificates indicate that your site is secure and encrypts all data sent between a web browser and web server. Without one, you will find it almost impossible to achieve a decent search engine ranking.
All reputable website builders should offer an SSL certificate to secure your website, but it's worth checking on this.
Responsive web design
It's important for your website to appear correctly on devices of all shapes and sizes. Responsive design enables this, and sites with poor responsiveness usually struggle to rank. Again, most modern website builders come with responsive design by default.
Creating and editing Robots.txt and sitemap.xml
Most website builders enable you to create (or automatically generate) robots.txt and sitemap.xml files. These are designed to help your website get indexed more efficiently and more thoroughly. Some builders include advanced tools that enable you to edit your sitemap and robots.txt files.
Rapid web page load
Fast site load speeds are essential to achieving a good SEO score. Since this largely depends on your website builder, it's important to pay special attention to this before settling on a platform. Look for a host that prioritizes speed and includes performance optimization tools.
Marketing and analytics tool integration
The ability to integrate marketing and analytics tools such as Google Analytics or Google Search Console will streamline your SEO efforts. Most website builders enable you to link Google Analytics, but more powerful integrations are much less common.