Drawing from my experience in the Olympic arena and my expertise in the fitness industry, I can attest that what you eat post-workout is as important as the training itself.
Meal delivery services can change the way you nourish your body, especially after intense workouts. These kits take the hassle out of meal planning, ensuring you receive the right nutrients for optimal post-workout recovery.
What you eat after exercising is extremely important. For instance, neglecting carbs, protein, fluids, and electrolytes after training can hinder your progress and performance. Let me explain why post-workout nutrition is vital and how meal delivery services can be your secret weapon in achieving your fitness goals.
» Discover our top picks for organic meal delivery kits to supercharge your health.
Essential Post-workout Meal Nutrients You Need
When trying to build muscle, consider adding extra protein to your diet, such as protein powder in a high-calorie smoothie, especially if you're in a hurry. Not eating enough protein may leave you feeling drained during workouts. If you're vegan or can't eat meat, try plant-based protein sources.
Also, control your portion sizes. Many active individuals benefit from meal delivery services, ensuring they get the right nourishment even on hectic days.
After a workout, focus on these key nutrients:
Protein: Crucial for muscle repair and growth. Consider lean sources like chicken, fish, tofu, or legumes.
Carbohydrates: Replenish glycogen stores with complex carbs such as whole grains, fruits, and vegetables.
Healthy fats: Avocados, nuts, and olive oil can support your overall health and offer lasting energy.
Hydration: Drinking water is essential for recovery, as dehydration can hinder muscle repair.
Electrolytes: Sodium, potassium, and magnesium help restore electrolyte balance lost through sweat. Opt for natural sources like fruit.
Antioxidants: Foods rich in antioxidants (e.g., berries, spinach) combat the cell damage caused by exercise-induced imbalances in the body, known as oxidative stress.
Fiber: Eating vegetables, whole grains, and fruits can promote digestion and overall health.
Vitamins and minerals: A balanced diet typically provides these essentials, which are crucial for various body functions.
Timing Is Key for Post-workout Meals
Nutrient timing is vital for optimal muscle recovery. When I was an athlete, our coach insisted we snack on protein right after leaving the pool, ideally within one hour after training.
After a morning workout, grab a quick protein source like a protein bar or smoothie for immediate recovery. A couple of hours later, eat a substantial meal with healthy fats and carbohydrates to maintain energy for the rest of the day.
If you finish workouts late, around 9:30 to 10:00 p.m., choose smaller snacks with carbs and proteins. This approach helps avoid sleep disruptions from consuming too much fat. Throughout the day, particularly during intense training days, have snacks ready to refuel your body as needed.
» Are you a pescatarian? You'll love these 10 fat-burning, high-protein meals.
Optimize Post-workout Nutrition With Meal Delivery Services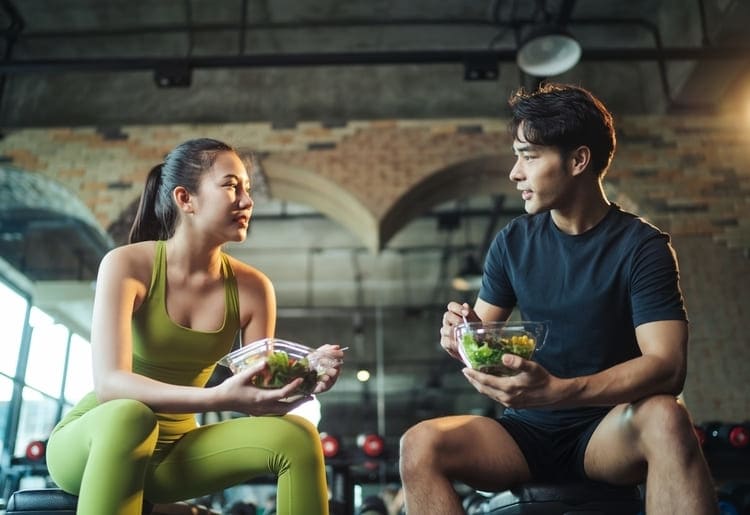 When considering meal delivery, you have a lot of options. You can choose the frequency of delivery and select meals that align with diets like vegan, paleo, or keto. Prioritize high-quality, organic ingredients, transparency about the food's composition, and clear macros for straightforward tracking.
During my athletic days, we had personal chefs at training camps, and meal delivery services weren't widespread. However, I've used meal kits that deliver ingredients for DIY cooking, such as HelloFresh. And I've heard positive reviews about apps like Trifecta.
6 Benefits of Meal Delivery Services for Post-workout Recovery
Convenience: Meal delivery services take care of meal planning and portion control for you, reducing stress.
Precise nutrition: Each meal provides a clear macronutrient breakdown, making tracking easier.
Time and cost savings: Skip the grocery shopping hassles and save time and money.
Ideal for busy lifestyles: These services free up time for those with hectic schedules.
Dietary adaptability: These kits cater to various preferences, including low-calorie, vegan, or keto diets.
Tailored solutions: You can customize each dish for muscle building, weight loss, or balanced nutrition.
Convenient Post-workout Options for Busy Lifestyles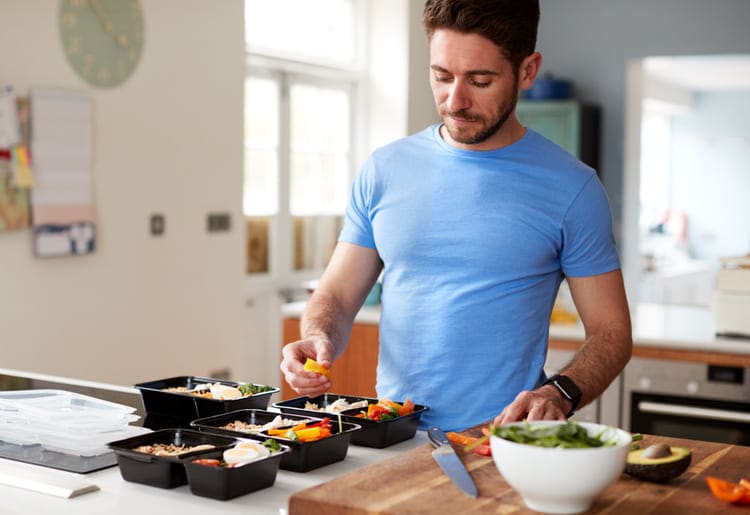 I always start my day with whole-wheat toast topped with peanut butter and banana. It's affordable and well-balanced. I also recommend oatmeal or a yogurt parfait mixed with fruits and granola. Greek yogurt and chocolate milk are high in protein and taste delicious.
I prefer salmon and lean meats for main meals, though I occasionally indulge in grass-fed beef. I pair these with superfoods like quinoa and a generous serving of vegetables. After intense workouts, I make sure to hydrate with electrolytes. Eating fresh fruits and replenishing glycogen stores ensures a quick recovery and keeps me energized.
Nourishing Your Way to Effective Post-workout Recovery
Eating the right foods after exercising enhances the benefits of your workout, whether you aim to build muscle or boost your overall fitness.
Meal delivery services can help you achieve your goals by offering convenient, pre-portioned, nutrient-rich meals. They take the guesswork out of post-workout nutrition and can adapt to fit different dietary preferences, ensuring effective recovery and growth.
» Craving something sweet? Check out these 10 healthy desserts for weight loss.