This diet form has been prevalent for some time and is considered extremely beneficial. The high omega-3 fatty acids can help fight against cardiovascular diseases, diabetes, hypertension, and even cancer. A pescatarian diet has also been said to increase longevity and improve overall health.
Many people from coastal areas practice this diet form naturally. However, it's easy for anyone to follow a pescatarian diet these days, especially with meal delivery. The best meal delivery services offer delicious, easy-to-prepare pescatarian meal kits. You can even use a vegetarian meal delivery service and add your choice of fish at home.
Whatever you decide, having fish with plant-based protein sources can be an extremely effective way to burn fat. Here are 10 fat-burning, high-protein pescatarian meals for you to try.
1. Feta Tomato-Basil Fish
This high-protein pescatarian dish is an instant hit. It's delicious and super easy to make!
You can use bass, walleye, or tilapia. White fish is low-calorie and low-carb and contains plenty of protein—perfect for triggering fat burning. Feta cheese contains conjugated linoleic acid (CLA), which supports fat burning and improves body composition.
Tomatoes boost lipid metabolism and help reduce body fat and cholesterol. They stimulate the production of carnitine, an amino acid that promotes fat burning. Tomato also increases good cholesterol (HDL) in the body (1).
Ingredients
Olive oil, chopped onion, garlic, can of diced Italian tomatoes, fresh basil, white fish fillets, and crumbled feta cheese.
Method
Heat oil in a pan and sauté onions and garlic until translucent. Toss in tomatoes and chopped basil, and allow to come to a boil. Simmer for 5 minutes.
Top fish fillets with tomato mixture and feta. Broil for about 10 minutes or until fish flakes easily with a fork.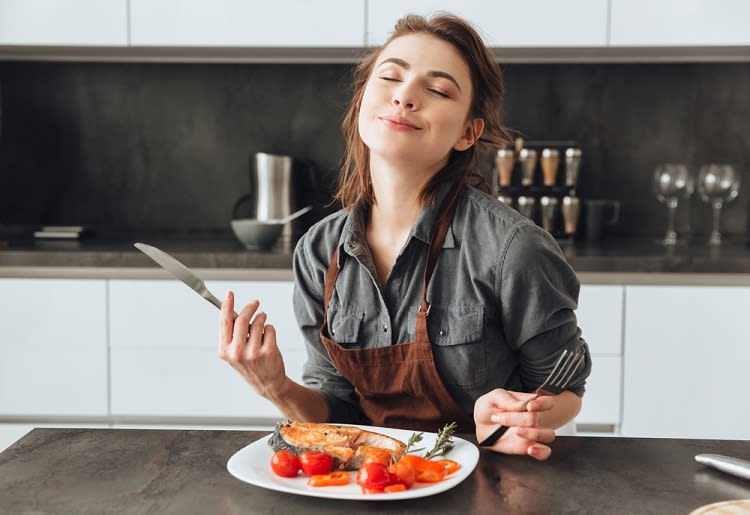 2. Avocado Crab Boats
Avocado crab boats are high in protein, low in carbs, and high in good fats.
The monounsaturated fatty acids in avocado can actually increase the rate at which fat is burned in your body. In addition, it reduces appetite and aids weight loss. Crab meat is low in fat and rich in essential nutrients that are beneficial to your health.
Ingredients
Avocadoes, Greek yogurt, lemon juice, crabmeat, chopped cilantro, and cayenne pepper.
Method
Mix Greek yogurt, lemon juice, crabmeat, cilantro, and cayenne pepper in a bowl. Cut the avocadoes in half and remove the pit. Spoon the crab mixture into the avocado and serve.
3. Zucchini Spaghetti With Garlic Butter Shrimp
Garlic butter shrimp with zoodles are a match made in heaven. It has juicy shrimps and nutrient-rich zucchini—all made in less than 30 minutes! You can't go wrong with these low-carb, low-fat zucchini noodles!
Zucchinis are low in calories and have a high water content, helping you lose weight. The fibers make you feel full for longer. Zucchinis also contain vitamin B6, which regulates fat metabolism.
Ingredients
Butter, minced garlic and shallot, zucchini noodles, peeled and deveined shrimp, chopped parsley, and lemon juice.
Method
In a pan, melt butter and cook garlic until fragrant. Add zoodles and toss in the pan until tender. Remove from the heat and set aside.
In a skillet, melt butter and cook garlic and shallot until fragrant. Add shrimp and allow to cook through. Toss shrimp with zoodles and top with chopped parsley and a squeeze of lemon juice.
4. Tuna Salad Lettuce Wraps
Tuna is a great choice for fish lovers. It is very high in protein and low in calories. It also reduces the hunger hormone ghrelin, decreasing your overall food intake.
The omega-3 fatty acids in tuna help turn off fat genes (2). On top of that, the red cabbage, baby spinach, and kale in the salad contain organic compounds that help burn belly fat.
Ingredients
Light mayonnaise, Greek yogurt, lemon juice, canned tuna, diced red onion, baby spinach, chopped kale, and large lettuce leaves.
Method
Mix mayonnaise, yogurt, tuna, red onion, baby spinach, and kale in a bowl. Spoon tuna mixture onto lettuce leaves and roll into wraps.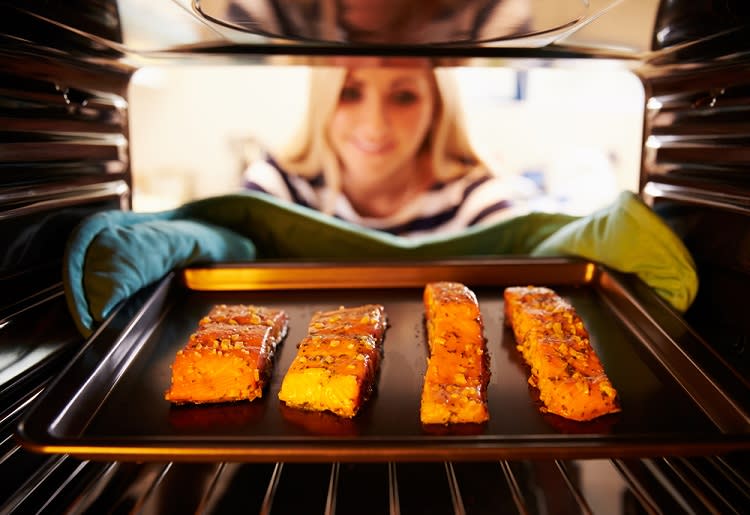 5. Fish Tacos With Black Beans
These fish tacos are high protein, low fat, and highly nutritious.
Black beans are high in soluble fibers that help decrease fat around the waist. As mentioned previously, avocado triggers fat burning. The red bell peppers and cabbage are good sources of dietary fibers and antioxidants.
Ingredients
Black beans, diced red onions, sliced red bell peppers, shredded cabbage, diced avocado, lime juice, white fish, taco seasoning, corn tortillas, and chopped cilantro.
Method
In a bowl, mix black beans, red onions, red bell peppers, shredded cabbage, avocado, and lime juice. Coat fish with taco seasoning and grill until cooked. Place a spoonful of the black bean mixture onto a tortilla and top with grilled fish.
Tip: To elevate your tacos, top them with salsa, shredded cheese, or sour cream.
6. Classic Norwegian Fish Soup
A bowl of classic Norwegian fish soup is the perfect comfort food and any pescatarian's dream.
Haddock is low in calories, has a low mercury content, and is high in protein. It is a good source of vitamin B6, B12, magnesium, and selenium. Most of these minerals help boost your metabolism and burn fat.
Ingredients
Butter, flour, fish stock, haddock fillets, carrots (cut into strips), diced celeriac, sliced leeks, lemon juice, egg yolks, double cream, cayenne pepper, and chopped chives.
Method
In a large pot, melt butter and add flour and fish stock. Whisk until smooth. Add carrots, celeriac, and leeks to the soup and allow to boil for about 15 minutes.
In a bowl, mix lemon juice, egg yolks, cream, and cayenne pepper. Add the egg mixture to the soup with haddock fillets. Simmer until the fish is cooked through, and serve with a sprinkling of chopped chives.
7. Salmon Avocado Salad
Apart from being a good source of protein, salmon contains omega-3 fatty acids that improve digestion. The protein and omega-3 fatty acids in salmon help prevent insulin spikes, creating a condition where the body can burn stored fat for energy.
Ingredients
Olive oil, salmon fillets, chopped red onion, halved cherry tomatoes, diced avocado, chopped lettuce, and sliced cucumber.
Method
In a pan, heat olive oil and cook salmon fillets. Combine red onion, cherry tomatoes, avocado, lettuce, and cucumber.
Top with cooked salmon and drizzle over dressing of your choice.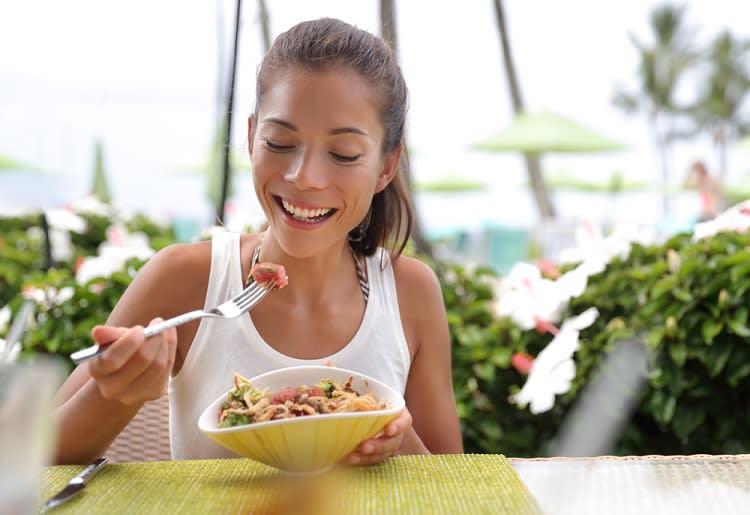 8. Edamame-Rye Crusted Sea Bass
Sea bass is low in fat and high in protein and a great alternative to red and processed meat, which is full of saturated fat.
One cup of edamame contains 8 grams of fiber and 17 grams of protein. They also contain phytoestrogens that help reduce fat accumulation by inhibiting the life cycle of fat cells.
Ingredients
Butter, chopped edamame, rye bread crumbs, chopped chives, sea bass fillets
Method
In a skillet, melt butter and cook chopped edamame. Mix in bread crumbs and chives, and set aside. In another skillet, cook the fish fillets and top with edamame crust. Serve with a side of your choice.
9. Cornmeal Catfish
Catfish has a great nutritional profile and can be appropriate in a pescatarian diet for boosting fat burning. You can get about 18 grams of protein from 100 grams of catfish. It also contains a good amount of vitamin B12, selenium, phosphorus, thiamine, and potassium.
Ingredients
Yellow cornmeal, flour, seasonings of your choice, catfish fillets, oil for frying, asparagus
Method
Mix cornmeal, flour, and seasonings in a bowl. Evenly coat catfish fillets in cornmeal mixture and shallow fry until cooked and golden brown.
Tip: Serve with a side of grilled asparagus. It is low in calories, high in water, and rich in fiber. It contains asparagine, an alkaloid that breaks down fat cells.
10. Lime Broiled Salmon With Red Bell Peppers
Salmon contains all nine essential amino acids, making it a complete protein source. This fatty fish is loaded with selenium, phosphorus, and plenty of B vitamins.
Red bell peppers contain an active compound called capsaicin that has been found to increase the fat-burning rate (3). The vitamin C found in red bell pepper boosts fat burning by increasing fat oxidation by nearly 30% (4).
Ingredients
Lime juice, soy sauce, finely chopped ginger, honey, salmon fillets, and sliced red bell peppers.
Method
Mix lime juice, soy sauce, ginger, and honey. Pour over salmon fillets and allow to marinate in the fridge for 30 minutes to an hour. Broil until salmon is flaky and serve with sliced red peppers.
Tip: Occasionally brush salmon with leftover marinade while broiling or reduce it in a saucepan to pour over cooked salmon.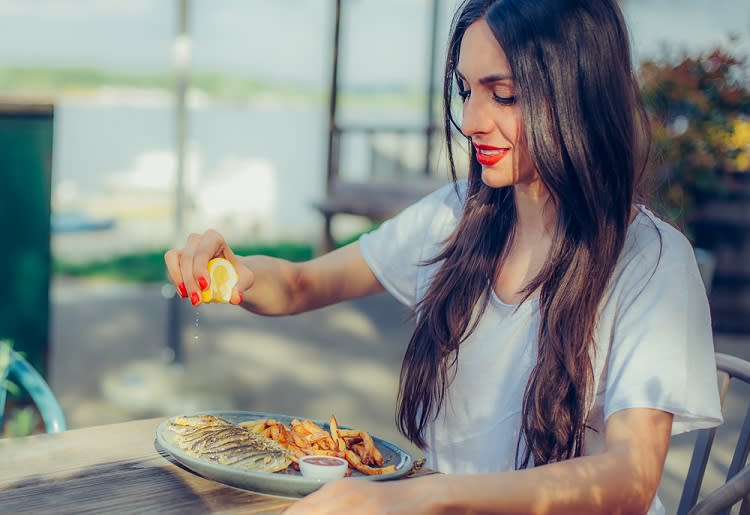 Pescatarian Meals Can Improve Your Overall Health
Pescatarian meals are low in calories and high in protein. They provide the perfect way to improve your overall health, especially when enjoyed with healthy, nutrient-rich sides.
If you want to try a few pescatarian meals but just can't find the time to prepare them, look no further than meal delivery services like Home Chef and Sunbasket.
References