After a tough workout, your body needs enough protein and calories to repair and strengthen damaged tissue (1). This is why you shouldn't have a calorie deficit if you're bodybuilding, otherwise, your body will start burning muscle mass instead of fat.
So, building muscle on a keto diet, which rapidly metabolizes fat, may require extra food substitutions to ensure you get what you need.
To help you bulk up, try these 10 high-calorie, protein-rich smoothies.
» Want healthy foods delivered to your door? Check out our top 10 picks for the best meal delivery services.
1. High-Calorie Green Smoothie
Ingredients - Almonds, soy/oat milk, chia seeds, leafy greens, fruits, apple, banana, orange
This nutritious beverage is a refreshing blend of flavors that surpasses the typical taste of green smoothies. It's fruity and delicious and its ingredients are suitable for certain dietary restrictions. For example, it includes muscle-building foods for vegans.
This drink contains almond, soy, and chia seeds, all rich protein sources essential for building muscle. Green vegetables in the smoothie offer you iron, which optimizes muscle function (2), and minerals that boost blood circulation and immunity.
This green delight will give you two servings of about 260 calories.
Recipe
Start with two cups of green leafy vegetables, such as spinach, lettuce, or collard greens
Add a cup of fruits
Throw in one and a half cups of soy or oat milk
Put in a tablespoon of some almonds and/or chia seeds
Finally, blend till really smooth and creamy
» Looking to optimize your health? Try these oxygen- and iron-rich foods to improve circulation.
2. Strawberry Cheesecake Smoothie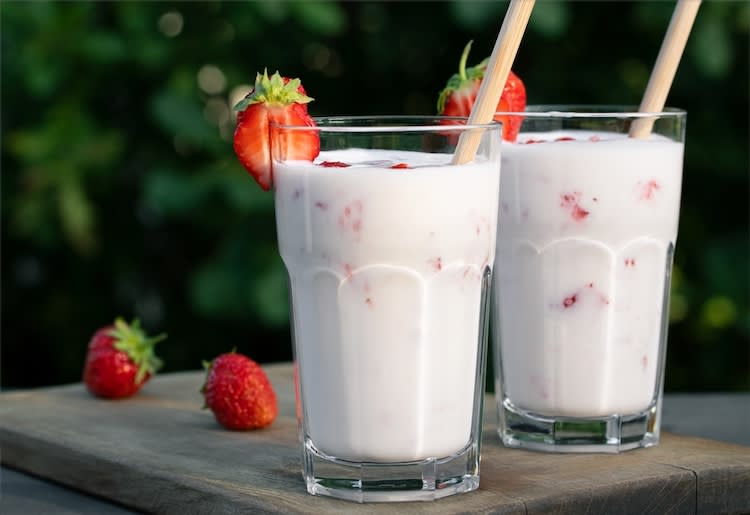 Ingredients - Strawberries, yogurt, milk, vanilla essence, sugar, cream cheese, biscuits
This is a cheesecake lover's dream with its creamy strawberry flavor and buttery biscuit crunch. It consists of multiple sources of protein that aid in building muscles, such as cream cheese, milk, and yogurt.
This fruity beverage adds up to 257 calories.
Recipe
Gather a cup of strawberries, and half a cup each of yogurt and milk
Add vanilla essence, two tablespoons of sugar, and some ice cubes
Add four tablespoons of cream cheese
Blend all the ingredients
Top off your smoothie with crushed biscuits
3. Chocolate, Banana, and Peanut Butter Smoothie
Ingredients - Peanut butter, unsweetened almond milk, banana, cocoa powder, peanuts, dark chocolate shavings
This delicious smoothie is a trendy drink among bodybuilders. Its ingredients give you the boost you need to complete your workouts, replenishing your energy levels, and aiding recovery from an intense training session. Its high-potassium banana is also ideal for promoting heart health (3).
This decadent drink provides 350 calories and 11 grams of protein.
Recipe
Start with half a cup of unsweetened almond milk and a large ripe banana
Add two tablespoons of peanut butter and one tablespoon of cocoa powder
Blend all ingredients
Garnish with some banana slices, peanuts, and dark chocolate shavings
4. Blueberry Tofu Smoothie
Ingredients - Tofu, blueberries, bananas, honey, soy milk
This berry beverage is ideal for bulking up as tofu offers protein, while blueberries aid in effective weight management (4). This recipe uses bananas, honey, and soy milk to create a thick texture and sweet taste.
This simple smoothie gives you 425 calories and 21 grams of protein.
Recipe
Gather a banana, a tablespoon of honey, and two-thirds cup of blueberries
Add six ounces of tofu
Top off with some soy milk
Blend and enjoy
5. Apple Cinnamon Smoothie
This flavorful smoothie can be used as a meal replacement drink as it's loaded with calories and highly nourishing ingredients such as peanut butter, hemp seeds, oats, and apple. This beverage provides 775 calories and 21 grams of protein.
Recipe
Gather an apple, half a banana, half a cup of rolled oats, and a cup of oat milk
Add half a teaspoon of ground cinnamon
Add three tablespoons of hemp seeds and two tablespoons of peanut butter
Blend all ingredients till smooth and creamy
Garnish with a dusting of cinnamon and a clove
6. Carrot Cake Smoothie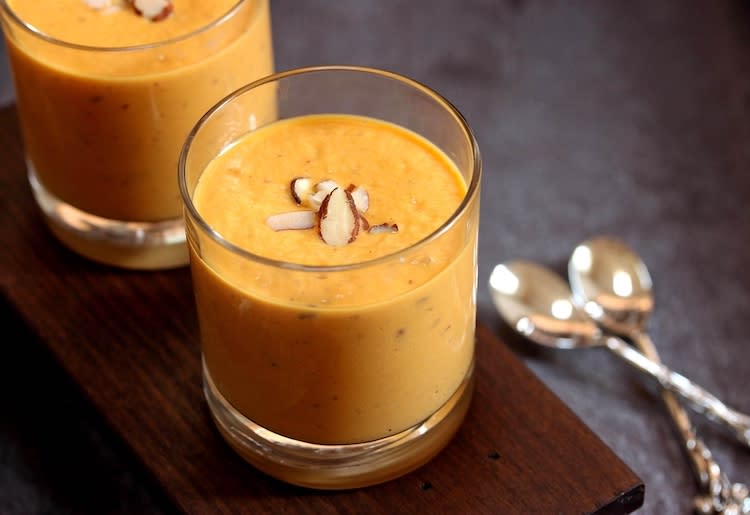 Ingredients - Frozen bananas, shredded carrots
This creamy smoothie is the perfect sweet and chilled drink for a post-workout calorie intake. It has about 518 calories and five grams of protein.
Recipe
Gather three frozen bananas and two large shredded carrots
Add two tablespoons of maple syrup and one cup of coconut milk
Add one-quarter teaspoon of cinnamon and a pinch of nutmeg
Blend all ingredients
Serve topped with toasted coconut flakes
» Try the best bodybuilding meal delivery services for your muscle-building journey.
7. Peanut Butter Avocado Smoothie
Ingredients - Medjool dates, avocado, peanut butter, milk, cocoa powder, cinnamon
The combination of Medjool dates with avocado makes this smoothie sweet and creamy without needing additional sweeteners. This decadent drink helps meet energy and macronutrient targets to build more muscle during workouts.
This smoothie serves you 688 calories and 19.3 grams of protein.
Recipe
Puree avocado and two fresh Medjool dates
Combine with two tablespoons of peanut butter
Add as much or as little of your preferred milk
Use dark cocoa powder and cinnamon for flavoring
Blend all ingredients
8. Weight-Gain Chocolate Smoothie
Ingredients - Coconut milk, banana, frozen strawberries, peanut butter, cocoa powder, protein powder, baby spinach, pitted dates, fruit
This delicious drink may be the ultimate high-calorie smoothie, with a whopping 1,000 calories per serving.
Full-fat coconut milk provides high protein and healthy fats, all necessary to bulk up and build muscle. Dates and fruits, such as frozen strawberries and bananas, add plenty of sweetness. Unsweetened protein powder and peanut butter dramatically increase the protein content. Baby spinach adds more nutrients, while cocoa powder masks its flavor and brings out that rich chocolaty taste.
Recipe
Gather one chopped frozen banana and half a cup of frozen strawberries
Add one tablespoon each of peanut butter and cocoa powder
Add two scoops of protein powder and a cup of coconut milk
Add some baby spinach and two pitted dates.
Blend all ingredients
Decorate with some extra fruit pieces
9. Coffee and Banana Protein Shake
Ingredients - Almond/oat milk, cold-brew concentrate, protein powder, peanut butter, frozen banana
A cold glass of this treat is made using banana and peanut butter with cold-brew coffee. The frozen banana is the best addition to get that chilled, thick smoothie consistency without adding any ice cubes.
One serving will give you 220 calories and 15 grams of protein.
Recipe
Gather one-fourth cup of protein powder and one frozen banana
Add two tablespoons of peanut butter
Add half a cup of almond or oat milk with one-fourth cup of cold-brew concentrate
Blend all ingredients
10. Mango Spinach Smoothie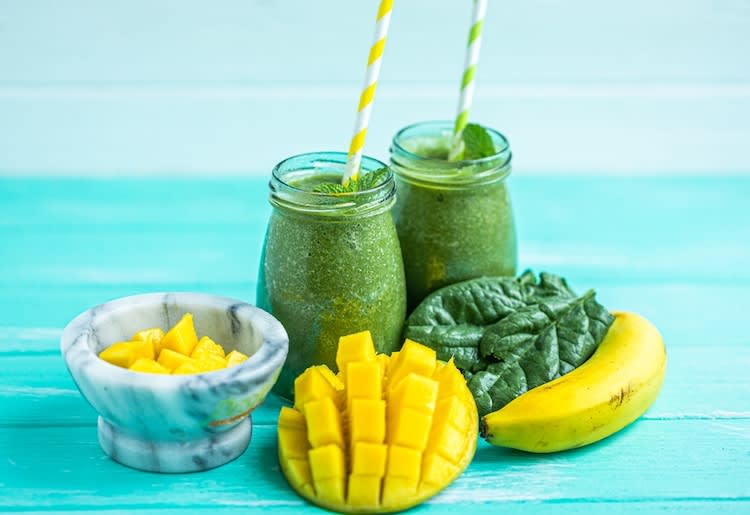 Ingredients - Strawberries, mango, banana, peanut butter, cashew milk, spinach
Frozen strawberries, mango, and banana come together in this delectable beverage to add a natural sweetness and hide any taste of spinach. Cashew milk and peanut butter pack on the protein, while spinach makes it an even more nutritious drink with its high vitamin and mineral content.
This gives you two servings of 198 calories each.
Recipe
Combine a cup each of strawberries, a mango, and a medium-sized banana
Add a tablespoon of peanut butter and one and a half cups of cashew milk
Toss in two handfuls of spinach
Blend till smooth
The Right Calories Are Important To Help Build Muscle
Ensuring your body has enough vitamins, proteins, and nutritious calories is a crucial starting point for building muscle. Different calories bring different values, and smoothies are a great way to load up on all the delicious goodness you need before a workout.
HelloFresh and Home Chef offer excellent smoothie recipes high in calories and protein. You can use these before or after your workouts to help build and maintain strong muscles.
» Working out on a plant-based diet? Try these tips for building muscle on a vegan diet.
References