We must deal with our food cravings for successful weight loss, especially for something sweet. Keto diets often allow dieters to enjoy healthy desserts and still lose weight. This is because your body burns fat as fuel when it gets into ketosis. Therefore, desserts that are high in healthy fats and fiber and very low in carbs are the right choice for losing weight.
No matter what diet you follow, meal delivery services can make sticking to your diet that much easier. In fact, some great weight loss meal delivery plans are out there, such as Nutrisystem and Diet-to-Go. Many of them offer desserts and snacks that are limited in calories and have greater nutritional value than your average dessert.
However, if you want to give it a shot yourself, here are 10 healthy and delicious desserts that are great for weight loss. Some of these will keep in your fridge or pantry for a while, so you can incorporate them into your meal planning and make them ahead of time.
1. Berries and Cream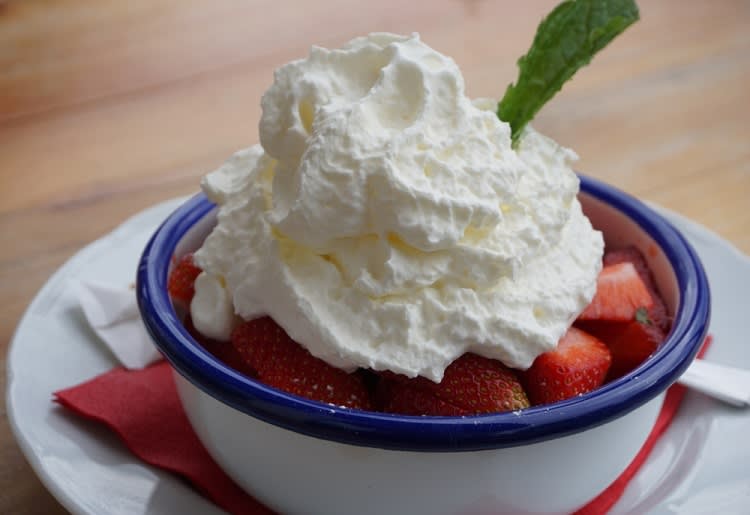 Berries and cream make a heavenly dessert with its combination of mascarpone cheese and heavy cream; berries are a keto-friendly and highly recommended nutrient-dense superfood. They are high in anthocyanin, fiber, and micronutrients.
A four-ounce cup serving of this decadent dessert gives you 153 calories,15.8 g of fat, 0.9 g of carbs, and 1.7 g of protein.
Ingredients:
Fresh strawberries - 350 grams
Fresh blueberries - 350 grams
Mascarpone cheese - 225 grams
Heavy cream - 230 grams
Vanilla-flavored stevia - 1 teaspoon
Method:
Beat the mascarpone cheese.
Add in heavy cream and vanilla-flavored liquid stevia
Whisk until smooth.
Add berries and serve with a fresh dollop of cream.

Factor Visit Site
2. Shortbread Keto Butter Cookies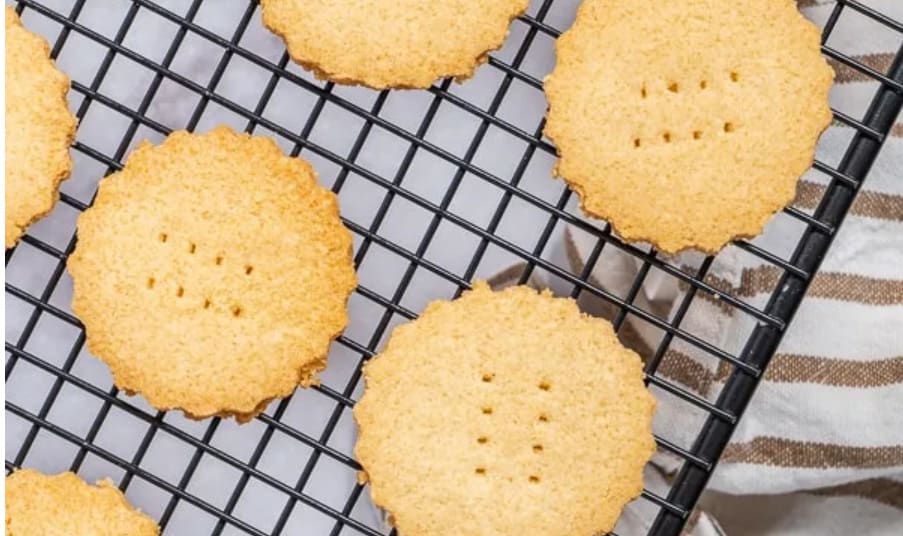 These shortbread keto butter cookies are made using only five ingredients and have only 1 g of net carbs per cookie. Each cookie contains 58 calories, 5.2 g of fat, and 1.4g of protein. You can make 34 cookies with the recipe given below.
Ingredients:
Butter - 6 tbsp
Monk fruit or erythritol - ⅓ cup
Vanilla extract - 2 tsp
Almond flour - 2 cups
Salt - ¼ tsp
Method:
Soften butter, add sweetener, and mix until smooth and creamy.
Add vanilla extract, almond flour, and salt. Mix it until a dough is formed. Let it chill for 30 minutes in the fridge.
Roll out the dough and, with a cookie cutter, cut the pieces. Poke some holes in it.
Bake at 325 degrees for 10-12 minutes or until the edges become golden brown. That's it! Your delicious cookies are ready to eat.

Home Chef Visit Site
3. Keto Brownies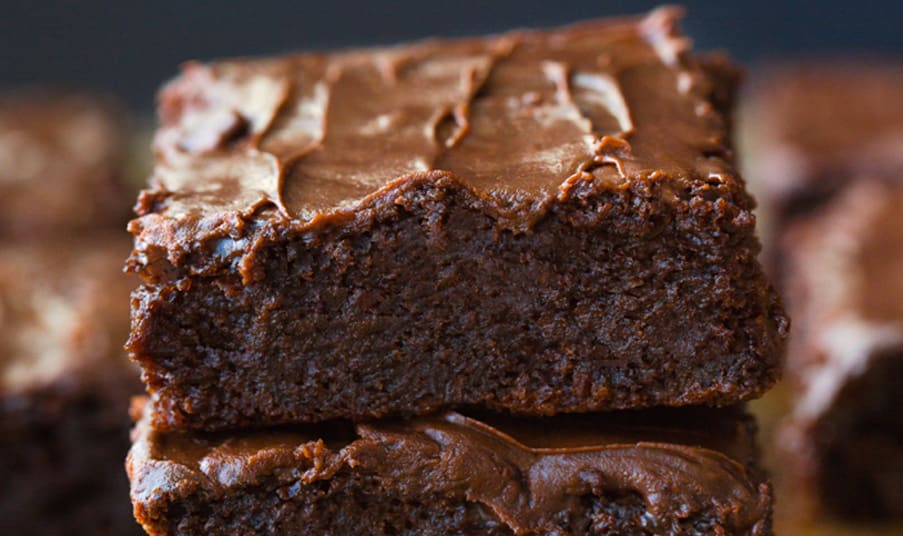 Everyone loves chocolate, and these keto brownies are an excellent choice for a very low-carb dessert. Each piece contains just 3 g of net carbs. It has zero sugar, and zero grains, and is also gluten-free.
Ingredients:
Almond flour - 1 cup
Eggs - 2
Dutch cocoa powder - 2 tbsp
Baking powder - 1 tsp
Salt - ½ tsp
Melted coconut oil or butter - ⅓ cup
Water - 3 tbsp
Granulated erythritol - ⅔ cup
Vanilla extract - 1 tsp
Method:
Combine all the dry ingredients in a bowl.
Melt the butter and chocolate in a double-layered steamer and keep whisking until glossy and combined.
In a separate bowl, whisk the eggs until frothy.
Add the chocolate and butter mixture to the eggs and continue mixing.
Add the dry ingredients and bake the batter for 14-18 minutes.

Fresh and Easy Visit Site
4. Keto Chocolate Peanut Butter Cups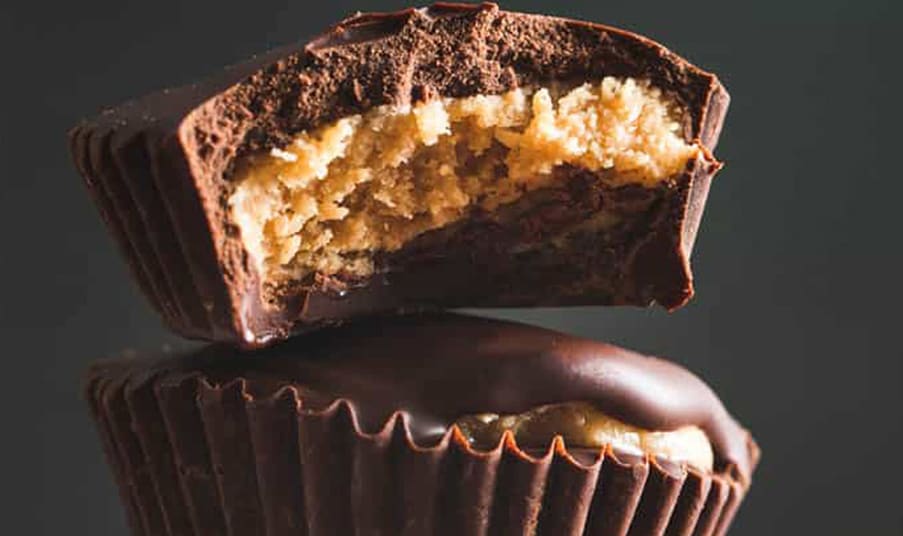 These chocolate peanut butter cups have dark chocolate covers with rich, creamy peanut butter in the middle. Who can resist this decadent deliciousness? To top it all, it's gluten-free, vegan, and clean. Make sure to use dark chocolate made with at least 70% cocoa.
The net carb content in one peanut butter cup is just 3 g. It has about 180 calories and 3 grams of protein. This recipe makes 12 peanut butter cups.
Ingredients:
Shredded coconut flakes - 3 cups
Sugar-free maple syrup - ¾ cup
Coconut milk - ¼ cup
Dark chocolate chips - 1.5 cup
Blanched almond flour - 1 cup
Method:
Heat the chocolate and coconut oil in a double boiler.
Once melted, evenly fill the bottoms of some parchment cups with half of this chocolate mixture. Freeze for 10 minutes.
Mix peanut butter and coconut oil in a double boiler and add peanut flour, vanilla extract, and sea salt.
Once the chocolate layer is firm, add the peanut butter mixture. Freeze again for 10 minutes.
Pour the rest of the chocolate mixture on top to make the final layer. Freeze for 20-30 minutes or until firm, and they are ready to enjoy
5. Dark Chocolate Coconut Bites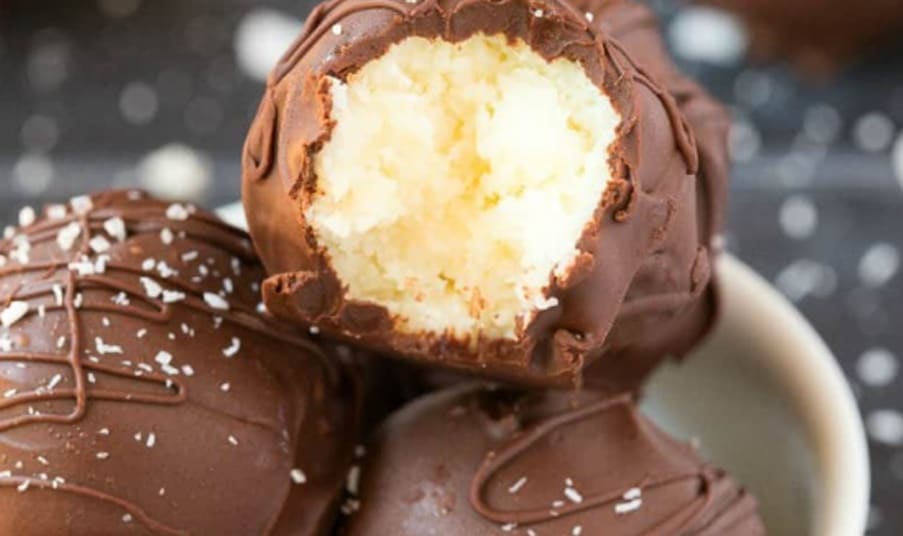 These dark chocolate coconut bites are irresistible. Each bite or ball has 40 calories, 1 g of net carbs, and 4 g of fat. With this recipe, you make 40 balls.
Ingredients:
Shredded coconut flakes - 3 cups
Sugar-free maple syrup - ¾ cup
Coconut milk - ¼ cup
Dark chocolate chips - 1 cup
Blanched almond flour - 1 cup
Method:
Add all the ingredients to your food processor except for the chocolate, and blend nicely.
Make small balls of this mixture. Slightly wet your hands if needed.
Let it firm up in the refrigerator for some time.
Melt the dark chocolate.
Dip each coconut ball with a fork in the melted chocolate.
Allow the excess chocolate to drip off of the balls and place them on the wax paper to cool.
Keep them in the fridge and enjoy them whenever you like.
6. Yogurt Parfait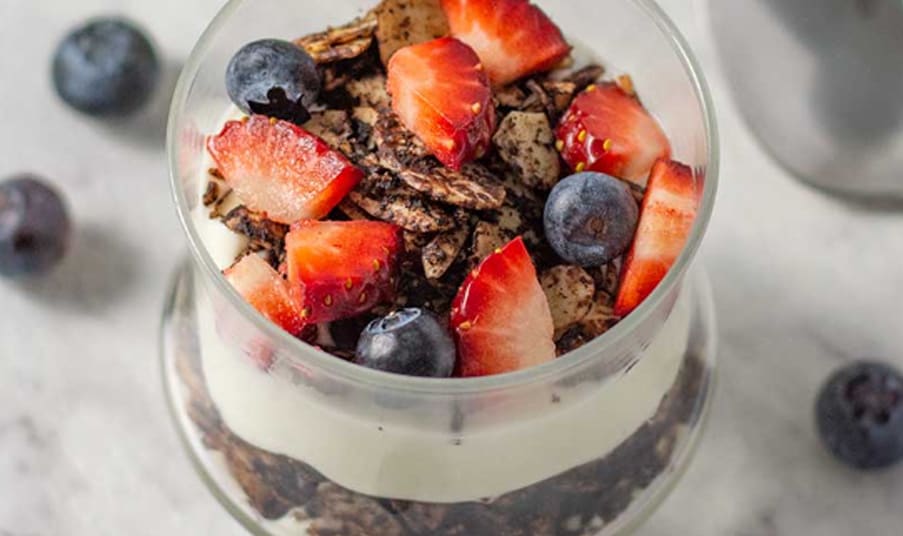 This yogurt parfait will brighten your day when you're craving a dessert while trying to lose weight. This recipe has 29 g of fat, 5 g of net carbs, and 11 g of protein. This recipe makes two servings.
Ingredients:
Greek yogurt - ½ cup
Heavy whipping cream - ¼ cup
Keto Chocolate Almond Cluster - ½ cup
Vanilla extract - 1 tsp
Strawberries - 2 pc.
Blueberries - 8 pc.
Method:
Whisk yogurt in a bowl and add heavy cream and vanilla extract.
Spoon the yogurt mixture into three or four glasses or jars.
Layer almond granola and berries.
Top with the remaining yogurt and more granola.
7. Paleo 7-Layer Magic Bar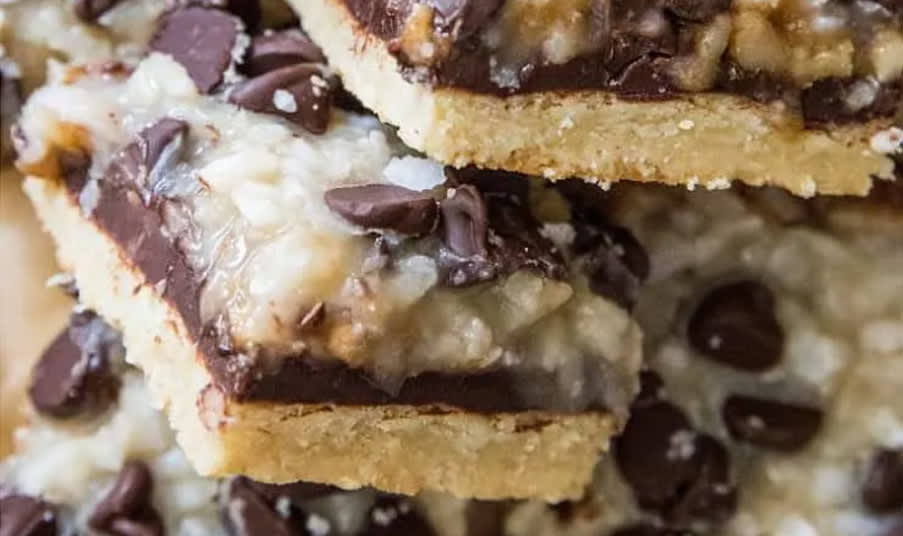 As the name suggests, this paleo 7-layer magic bar consists of seven layers of rich, sweet treats that can help you lose weight in a delicious way. It is grain-free and totally vegan. This recipe provides 16 bars.
Ingredients:
Almond flour - 2 cups
Coconut oil - 3 tbsp
Sea salt - 1 pinch
Pure maple syrup - 3 tbsp + ½ cup
Vegan unsweetened dark chocolate chips - ½ cup
Full-fat canned coconut milk - ⅔ cup + 2 tbsp
Butter or ghee - 2 tbsp
Tahini - ¼ cup
Cinnamon powder - ¼ tsp
Chopped walnuts - ½ cup
Unsweetened shredded coconut - ⅔ cup
Method:
Stir together almond flour, coconut oil, a pinch of salt, and an artificial sweetener of your choice. Pour into a parchment-lined pan and bake for 10-15 minutes.
Mix melted chocolate chips and coconut milk over a double boiler and spread over the cooled crust. Sprinkle chopped walnuts over this.
Mix butter, maple syrup, and cinnamon, and pour this mixture on top. Sprinkle some chocolate chips and sea salt over this.
Bake your 7-layer bars at 350 degrees F for 20 minutes. Cool and cut into squares.
8. Banana Chia Pudding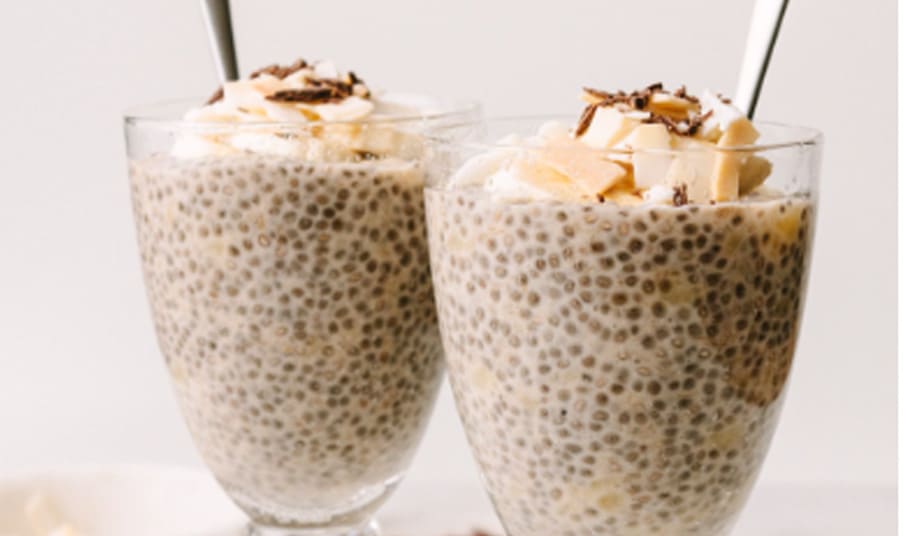 This is a creamy banana chia pudding full of fiber and with only 1 g of net carbs per serving. Chia seeds can absorb ten times their weight in water, making them very filling. They are high in antioxidants and are known to lower high blood pressure. The serving size is ½ cup, and this recipe makes around six servings.
Ingredients:
Bananas - 2 medium-sized ripe ones
Chia seeds - 6 tbsp
Unsweetened almond milk or any other keto milk - 2 cups
Coconut flakes and shaved dark chocolate for garnishing
Method:
Mash the bananas, place them in a glass jar, and add chia seeds and almond milk.
Mix well, give it a shake, and put it in the refrigerator or keep it aside overnight. It'll be ready to eat the next morning.
Garnish with coconut flakes and shaved dark chocolate,
9. Sugar-Free Peanut Butter Cookies
With only three ingredients, these sugar-free peanut butter cookies are a joy in every mouthful. They are keto-friendly, low-carb, and gluten-free. One cookie contains 88 calories, 7 g of fat, 4 g of protein, and 5 g of net carbs. This recipe makes around 18 cookies.
Ingredients:
Peanut butter - 1 cup
Monk fruit sweetener - 1 cup
Egg - 1 large
Method:
In a large bowl, combine all three ingredients.
Drop spoonfuls of cookie dough on a baking sheet and bake them at 350 degrees F for 12 minutes.
10. Chickpea Chocolate Chip Cookies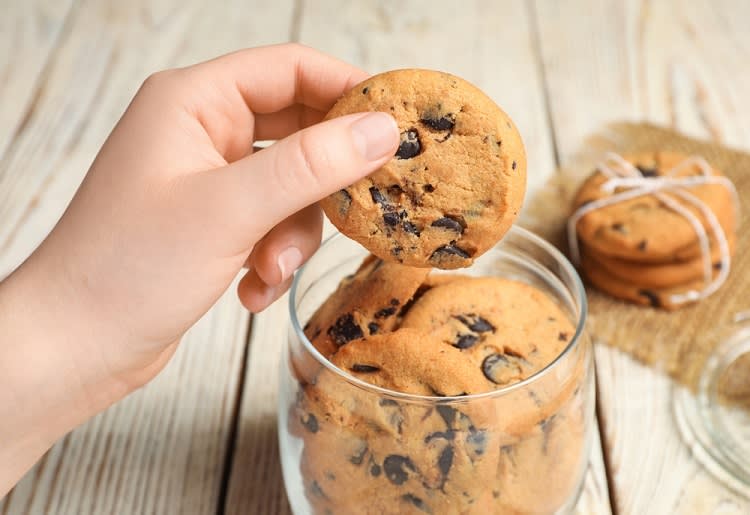 These chocolate chip cookies are crispy on the outside and chewy on the inside. They are filled with dark chocolate, making them irresistible. They are dairy-free, gluten-free, grain-free, and vegan. It is made of naturally sweet chickpea flour, which is high in protein and fiber. Each cookie has only 2 g of net carbs. This recipe makes around 24 cookies.
Ingredients:
Softened butter - ½ cup
Coconut sugar - ¾ cup
Egg - 1 large
Chickpea flour - 1⅓ cup
Vanilla extract - 1 tsp
Baking soda - ½ tsp
Sea Salt - ½ tsp
Unsweetened chocolate chips - ¾ cup
Method
Combine all the ingredients and mix them well.
In an 8-inch pan, spread them evenly.
Bake at 350 F for 20 minutes.
Take it out and let it cool.
Once firm, cut into pieces and enjoy each bite.
Indulge in Guilt-Free Delights
A dessert that helps you lose weight should be high in fat, have moderate protein, and have very few net carbs. This can promote ketosis, wherein you are burning fat as fuel. The above keto diet desserts meet these criteria and are absolutely delicious.