In a Nutshell
Using Nutrisystem's Body Blueprint DNA kit, you can find out which foods to avoid, how your metabolism works, and what to do in order to finally lose the weight based on what your DNA has to say. The simple cheek swab kit is easy to use, delivers fast results, and offers you new insights into how you can regain control over your health, utilizing information and feedback that your own body is giving you.
pros
Comprehensive Action Plan based on your results
Online results for faster answers
Less expensive than other kits in its category
cons
Doesn't test for genealogy
No information on size of database
Nutrisystem Visit Site
Nutrisystem DNA Review 2022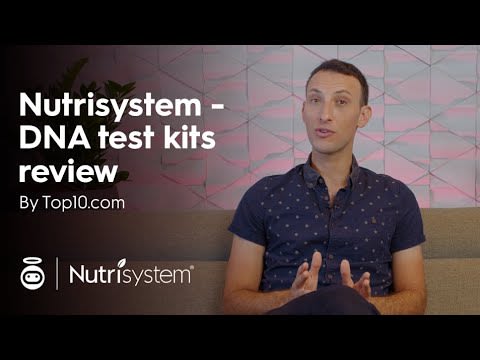 Best For
Anyone looking to lose weight and live healthier based on an understanding of how their genetic and biological makeup works and interacts with food and exercise.
Why Go With Body Blueprint
Nutrisystem is a wildly successful diet plan, which already earns itself points on the weight loss scene. The company markets its Body Blueprint kit as a supplement to its healthy living regiment. So, you are combining 2 weight-loss tools in one. Essentially, the DNA kit is meant to tell you what your genetics have predisposed you to. Armed with this information, you can select the diet features that will work best for your genes, giving you better results overall. If, for example, the DNA test tells you that you have a healthy dose of carb eating genes, you don't need to avoid carbs to lose weight. Instead, focus on eating the right foods that work based on the genetic information you're given
The most impressive reason to go with Nutrisystem's DNA kit over anyone else's though is the terrific Action Plan that is included. When your results have been processed, Nutrisystem will generate a 30-page Action Plan, a report that is filled with useful information, helpful dieting and eating tips, and other data. The report is meant to be used as a tool to help you lose weight and live healthier. The great part about the plan is that it is completely based on scientific research, extensive knowledge from professional dieticians, and, best of all, your own genetic input. So, you are really getting a professional, tailor-made diet plan when you use the Nutrisystem Body Blueprint kit.
What's on Offer
Nutrisystem has a single DNA test kit. It is a simple kit, easy to use, and non-invasive. The sole purpose of the kit is to learn about your biological makeup and how that affects your diet. Nutrisystem's kit tests your genes to see how they work and interact with different types of foods, vitamins, and minerals and then delivers solid results and actionable ideas on how to improve your weight loss efforts for healthier living
The DNA kit is meant to be used alongside the Nutrisystem diet plan. While this isn't strictly necessary, it will improve your chances of losing weight and seeing results. Though you can substitute your own diet plan if you have one that you prefer, the Nutrisystem diet is easy to follow, highly customizable, and effective.
Ease of Use
The Nutrisystem Body Blueprint DNA kit is extremely easy to use. Here's how it works
Order the kit online and sign up for an account on Nutrisystem. This is where you'll register your kit and where you'll receive your test results. It's also where you can track your weight loss progress, get helpful tips, and interact with others in the Nutrisystem community.
When your kit arrives, register it online using your Nutrisystem account.
Once registered, use the swabs provided in the kit to swab your inner cheek. This is meant to gather the cheek cells for testing.
Return the swabs to their tubes, and place the tubes in the return envelope provided.
Mail the envelope back to Nutrisystem (address already on the envelope), and wait for your results
The cheek swabs are much more comfortable to use than most other test types. This earns Nutrisystem even more points.
Speed of Kit Delivery and Results
The kit will arrive within a few days of ordering. Take your swabs and return the kit as soon as you get it, so you don't have to wait long for the results. It's nice that the kit comes with a prepaid self-addressed return envelope. This way you don't have to start worrying about addressing an envelope or additional expenses
Something most users appreciate about the Nutrisystem DNA kit is that you get your test results online. This means you'll get results faster, not having to wait for them to arrive in the mail. As soon as the DNA is tested, your results will be calculated and the report written up. It will then be uploaded online for instant and continuous access.
DNA Test Type
The Nutrisystem Body Blueprint DNA kit is exclusively meant for health and eating information. It does not provide maternal or paternal lineage information.
Report Features
Nutrisystem reports are loaded with useful information that can really help you lose weight if used properly. It includes your body-specific eating behaviors, precisely how your body reacts to and processes the food you eat, which foods you should be avoiding, which foods are good for you, which vitamins you are lacking, and which vitamins and minerals you should be getting more of. The report is broken down into 5 key areas of your health, including
Metabolism
Eating behavior
Food breakdown
Fitness
Vitamins and mineral
All of the information is available online and is downloadable, so you can print it out and take it wherever you want.
Customer Support
Nutrisystem has plenty of customer support that is both helpful and conveniently available. Because it is involved in helping people lose weight and maintain a healthier lifestyle, Nutrisystem has trained professionals on staff ready to help, answer questions, and offer support
Nutrisystem has an in-depth FAQ section and dedicated community for help. Additionally, support staff can be reached via email, phone, and even live chat. Phone services are from Monday-Sunday 7am - midnight ET and live chat Monday-Sunday from 8am - 11pm ET.
Pricing
*Last updated: October, 2018
The Nutrisystem DNA kit is cheaper than some of the competitors out there. Add to that the free return shipping and the fact that you get a custom-made diet plan based entirely on your own personal results, and you have a real steal with Nutrisystem.
Data Privacy
Nutrisystem is strong on data privacy. It assigns each customer an ID number, and anyone else dealing with your account only receives the ID number. So, nobody knows your personal information at all, even the labs being used to test your DNA. Additionally, Nutrisystem holds to a strict privacy policy, ensuring your security and privacy at all times. You can even request to have your information deleted at any time. (Otherwise, it will be saved, so Nutrisystem can give you additional feedback or added information regarding your diet in the future.)
Nutrisystem Visit Site
Bottom Line
The Nutrisystem DNA test answers important questions like how does metabolism affect weight loss and why do we overeat, crave sugar, or have a harder time processing some foods. With the answers to vital questions like these, you can see more success from your weight loss efforts, finally giving you the results that you've been striving for.
The comprehensive Action Plan with detailed weight loss and health tips helps people go from the theoretical to the practical, giving actionable steps toward healthier living. Nutrisystem also has a great community, terrific customer and community support, and some of the most competitive pricing anywhere. All of these factors combine to earn Nutrisystem a place at the very top of our rankings.
About Nutrisystem
Nutrisystem was founded in 1972 to give people weight loss and health advice. In the 45+ years its been in existence, Nutrisystem has developed and grown its offerings, and now includes a wide variety of healthy lifestyles tools including mobile app, on-call dieticians, and the newest addition, DNA testing for genome-related health indicators
Nutrisystem offers several diet plans geared towards different audiences including the Turbo13 plan that can jumpstart serious weight loss and Nutrisystem for Men, a system that hones in on precisely what men need to trim down and bulk up.
Contact Details
1-855-297-5272
1-800-585-5483