In a Nutshell
Vitagene is focused on giving users tips for improving their wellness based on their individual genetic makeup. If you're interested in getting advice on diet, supplementation, and exercise, this is a solid option. Although they offer ancestry services, the results are not as robust as those for the bigger companies. The website has a limited FAQ section, but customer service reps are friendly and responsive.
pros
Personalized health recommendations
Affordable health add-on to big company DNA test
Detailed supplement advice
cons
Only available in the US
No disease specific risk information

Vitagene Visit Site
Types of Tests and Kits You can Get from Vitagene
Vitagene uses a cheek swab sample to provide two levels of DNA testing with reports that provide individualized advice for lifestyle improvements based on your genetic makeup. It's important to note that none of their health reports include risk assessments for hereditary diseases.
Health+Ancestry Report
The basic Health+Ancestry Report includes:
Diet report. An analysis of how your genes interact with fat metabolism, gluten sensitivity, and other dietary factors

Micronutrient/supplement reports. A report on your genetic risk for nutrient deficiencies and personalized supplement recommendations

Fitness report. Advice on exercises geared toward your genetic traits, such as the ability to build muscle and your expected blood pressure response to exercise.

Ancestry report. An interactive ethnic map, with percentages of your corresponding DNA. Details on the number of regions and the size of the DNA database are not provided on the website.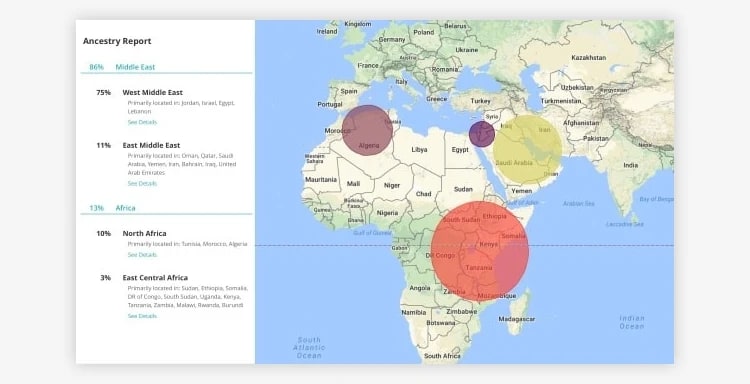 Premium Report
If you upgrade to the Premium Report, you will also receive:
Skin report. A list of traits and recommendations for your skin based on your DNA. Skin conditions include acne, dry skin, and "youthfulness."

Free updates. While the base report is a one-time report, the premium package includes free updates.
Health Upload Report
If you have already had a DNA test through 23andme, AncestryDNA, or MyHeritage DNA, you can buy a Health Upload Report, where you upload your DNA data to Vitagene for a health report that includes their personalized diet, fitness, and supplement reports.
How much does Vitagene cost?
The Vitagene Health+Ancestry test kit has a list price of $99 plus shipping, but you can get $20 off this price when you sign up to receive their emails, and shipping is free if you order two or more kits.
$20 off with email signup
Free shipping with 2 or more kits
$20 off with email signup
Free shipping with 2 or more kits
Health report with upload of DNA data
At $29, the health report you can get by uploading your DNA data from another company is a promising option, taking advantage of those companies' better database for ancestry and relatives but gaining access to unique wellness offerings from Vitagene.
Vitagene coupons and promo codes
Vitagene does not list a sale price for their core products—Health+Ancestry and Premium—but if you are willing to join their email list, you'll get $20 off the list prices.
How to Get Started with Vitagene?
DNA Test Instructions
After you order your kit online, it should arrive within three to five business days with standard shipping. While you are waiting for your kit to arrive, you can fill out Vitagene's online lifestyle questionnaire. The company states that information from the questionnaire is combined with DNA data to provide your personalized wellness tips.
The DNA collection kit includes:
Instruction manual

Cheek swabs

2 vials

Resealable baggie

Vitagene sticker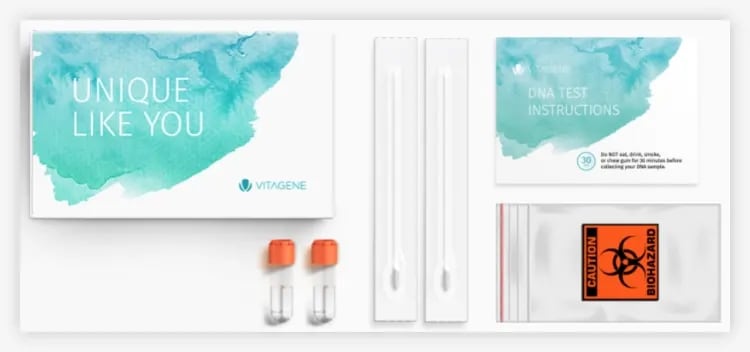 To get started, you'll need to register your kit online using the barcode on your specimen bag. Don't put anything in your mouth for 30 minutes prior to taking your sample. Then, follow these steps:
Loosen vial caps and open bag with swabs.

Rub and rotate the swab along the inside of one cheek for 30 seconds.

Insert the swab into a vial and break the swab off at the black line.

Close the vial and shake for at least five seconds.

Repeat with the second swab in the other cheek.

Place vials into baggie.

Place the baggie inside the box your kit came in and seal with the sticker.

Place the box in any USPS mailbox.
Uploading data from another site to access Vitagene's health report
If you have taken a DNA test through AncestryDNA, 23andMe, or MyHeritage and would like to get Vitagene's DNA health analysis, you can purchase a Vitagene Health Upload Report.
After placing your order, you will be sent to your Vitagene account, which includes instructions on how to upload your DNA file. These instructions will be specific to the company that performed your previous analysis.
Getting The Results
Within four to six weeks from the time the Vitagene lab receives your sample, you will receive your results through your online dashboard. From your dashboard, you can click on each of these areas to learn more:
Diet Traits. This provides a variety of genetic dietary traits and your likelihood of risk/sensitivity based on your DNA. These include alcohol metabolism, lactose intolerance, salt sensitivity, and others. Clicking on each trait provides detailed information on specific genes influencing this trait, and dietary recommendations.

Micronutrient traits. This report gives you a list of micronutrients and your corresponding likely levels based on your genetic makeup. You can explore each micronutrient in more depth by clicking on it.

Exercise Traits. Your exercise report gives results for several exercise areas that can be influenced by genes, like the ability to build muscle strength and the effects of exercise on weight loss. Customized fitness tips are provided for each area.

Supplementation. This is a list of micronutrients and recommended supplementation based on your genetic makeup. For each supplement, the report specifies the genes connected to the recommendation, doses, and how to take each (with food, etc.).

Ancestry. This section provides regional ethnicity and an interactive world map.

Skin Report. If you have paid for the Premium test, you'll receive a report about several skin conditions that can be influenced by your genes.
How Vitagene Protects your Privacy
Vitagene provides a privacy policy on their website. Key points include:
They will not sell or license your genetic data to any third party without your explicit consent.

They use industry standard practices to store and protect your DNA file and other personal information.

They store the results of your DNA analysis indefinitely.

They do not share personal information with public databases, or with law enforcement unless required by law.
Help and Support
The Vitagene website has a basic FAQ page, but it lacks the level of detail and searchability we've seen on other DNA test company sites.
If you have questions for the company, you can email them at support@vitagene.com or call 855-781-8227. Past customers report that while the website is sometimes difficult to navigate, the customer service representatives respond quickly and effectively to questions.
How Vitagene Compares to Other DNA Test Kits
Price per kit
$79+$9.95 shipping
Price per kit
$59+shipping
Collection type
Cheek swab
Collection type
Varies by test
DNA Test Type
SNP genetic disease markers
Vitagene vs. Futura Genetics
While both Vitagene and Futura Genetics provide health-related genetic testing, the two companies have very different offerings. Vitagene offers limited ancestral information and specific health and wellness advice, while Futura Genetics focuses on providing a detailed risk assessment for 28 common medical conditions that have a genetic component.
Vitagene vs. EasyDNA
Vitagene is an all-around health and wellness DNA test, with individualized tips based on your genetic makeup. In contrast, EasyDNA offers dozens of test options to answer specific health questions. Their options include specific tests for the gut biome, food sensitivity, healthy weight ranges, skin care, and fitness. Vitagene is a great option for an affordable overview, while EasyDNA can provide more details on specific areas of wellness.
Vitagene vs. AncestryDNA
These are two very different tests. With Vitagene, you get personalized recommendations for health and fitness based on your genetic makeup. Their database size is not reported, but assumed to be quite small, so the ancestry portion of the test is more limited, and you will not be matched with relatives. AncestryDNA, on the other hand, is a top choice for ancestry and relative information. If you are looking for health information to supplement family tree information, consider uploading your AncestryDNA data to Vitagene and purchasing their $29 health report.
Bottom Line
If you have questions about how your genes influence your wellness and want specific recommendations about how you can improve it, Vitagene is a great choice. Their reports will not give risk assessments for hereditary diseases, or provide detailed ancestry information, however.