In a Nutshell
Backed by physicians, experts, and universities, Vitagene's DNA tests can help you learn about your past in order to shape your future. The test results include a personalized optimal fitness regimen, along with what vitamins you're lacking, and which food sensitivities and eating patterns you may have. It uses a simple at-home saliva test to give you a personalized diet, exercise, and supplement plan, to help users live a healthier life.
pros
3 products available
DNA test uses a painless saliva cheek swab
cons
Recently founded in 2015
No toll-free support number

Vitagene Visit Site
Vitagene Review 2022 - Does Vitagene Really Work?
Ideal For
Women and men looking for a diet that will work for their specific bodies
Busy professionals looking to restore their energy and better manage stress
Athletes searching for a tailored supplement plan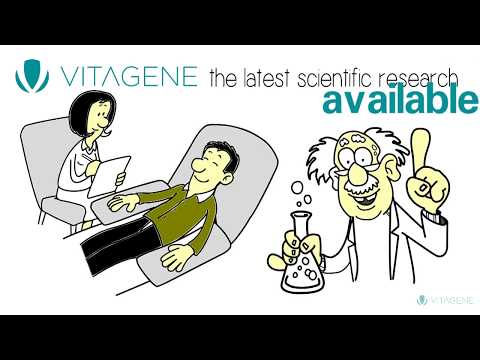 Why Go With Vitagene
When you sign up for Vitagene, you sign up for more than a DNA testing kit; you sign up for a process. Taking the saliva test and sending it into the lab for analyzation is just the start to a more informed you. In the lab report, you'll get a look at your DNA, along with a thorough explanation, so you are more knowledgeable about your own body. In terms of ancestral information, you'll see a map with percentages that shows how much of your DNA comes from different regions around the world. You will also receive a personalized supplement recommendations, actionable advice based on your body's deficiencies and the vitamins it's lacking. All of the recommended supplements are high quality – made in the US, no hydrogenated or trans-fats, no wheat, nuts, eggs, or gluten. There is also a lot of educational material within the report, like useful information about genetics and nutrition.
What's on Offer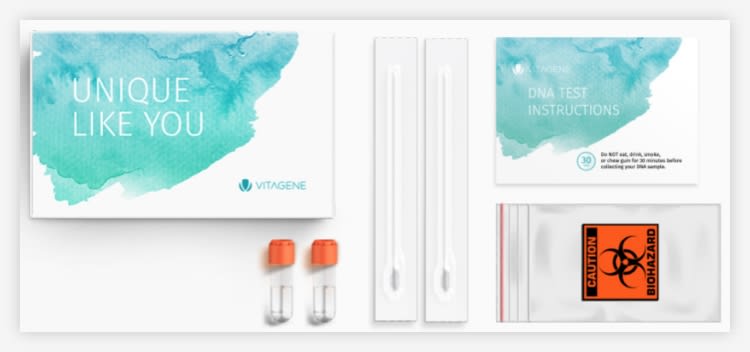 Each kit includes: 1 instruction manual, 2 cheek swabs, 2 vials, and 1 resealable baggie
US-based analysis
Results in 4-6 weeks
DNA tested against hundreds of thousands of genetic markers
Diet plan tailored to your DNA
Customized fitness plan
Personalized vitamin plan
Breakdown of your ancestry and ethnic mix
All results are private
More Reasons to Choose Vitagene
Aside from delivering an in-depth and detailed report, Vitagene also emphasises customer privacy and is in accordance with regulations, something that's desirable when handling personal DNA. The test provider uses the latest industry standard security practices to store DNA, and takes precautions with users' test results and other information submitted. The company says that it doesn't sell, publish, or share information with third-party firms or partners.
All of Vitagene's DNA testing kits are manufactured in accordance with the FDA's Good Manufacturing Practice regulations, ensuring customers that they're trustworthy and reliable. Saliva swab samples are also all processed in CAP-accredited and CLIA-certified labs. All of the DNA is analyzed in US labs that meet high quality standards. Test accuracy and reliability stem from it being analyzed using the latest available research in the fields of genetics and nutrition.
Ancestry Report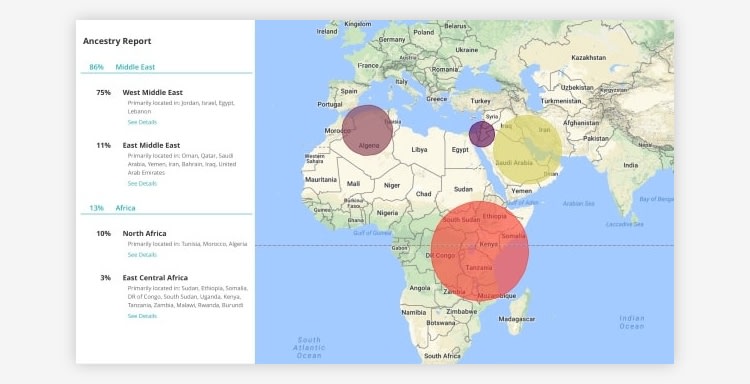 Another of Vitagene's great features is Ancestry Reports, by which Vitagene details your genetic origins by percentage. The percentage is based off of how your DNA matches to other people in the database. Keep in mind, however, that since Vitagene's database is not as large as some of the bigger brands, the breakdown may not be as in-depth, but the database is continually growing.
Ease of Use
The Vitagene process is hassle-free, and begins with ordering the sample collection kit. This can be done on its website or by phone.
You must be over 18 to order
It's not for medical diagnosis, rather for informational and educational purposes
After requesting your sample, you'll receive a box with 2 mouth swabs in the mail. Follow the instructions that are included in your kit to complete the sample. Once complete, you put the swabs back into the box and return your sample to the lab using the prepaid envelope. You'll be requested to fill out a questionnaire to personalize your results to your lifestyle, medical history, and medications. Your DNA sample will be analyzed against important genetic markers. After 4-6 weeks after your kit has been received by the lab, you'll be able to view test results on your online dashboard.
Information required at the time of signup includes:
ID information like name, email, phone number
Shipping address
Billing information
Gender
Speed of Kit Delivery and Results
Results from your saliva sample will be ready approximately 4-6 weeks after your kit is received by the Vitagene lab. You will receive an email letting you know that your results are available to view on your online dashboard. These results, displayed as a Vitality Guide, help you learn about your ancestry and make positive changes in your life accordingly. You will receive a personalized action plan based on your DNA, lifestyle, family history, and goals.
Ancestral make up - your DNA can show your unique blend of ethnicities across 25 regions throughout the world. See your ancestry information on a map with percentages.
Fitness - see what exercises are best for you and the optimal fitness regimen to meet your health goals.
Supplements - learn about your body and if you're at risk for certain vitamin deficiencies that can affect your heart, memory, and energy levels. See which vitamins you should be taking.
Allergens - your DNA can give you insight into traits such as sodium intake and emotional eating. See your lactose and alcohol metabolism, and if you have a gluten sensitivity.
Following your vitality guide, which takes your DNA into account, allows your to follow a plan that's personalized for you. Within 4-6 weeks, you can be healthier and more energized.
DNA Collection Kit
DNA Test Type
Autosomal (family DNA)
Health indicators
Disease indicators
Report Features
Ethnic makeup estimate, regional detail
Health information (traits, disease markers, etc.)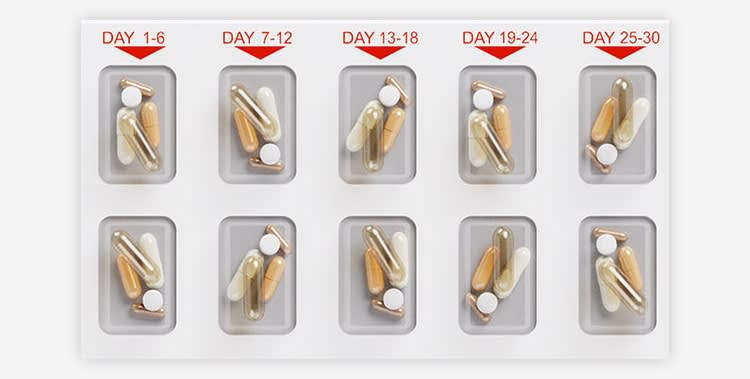 Customer Support
The company's customer support department is strong. Because DNA is private and users may have concerns or questions, the company makes a point of being there to answer those questions. Support can be reached either by phone or email, support@vitagene.com, between 9am to 6pm PT, Monday to Friday. Since the company is based in San Francisco, CA, the hours are not always convenient for users around the country, especially those on the East Coast. You can always email your question in and wait a day or two to receive a response. The company also has a box on the bottom right hand side of its website for any questions outside of business hours. You can leave a message along with your name and phone number, and customer service will get back to you.
Pricing
Health + Ancestry Report & Smart Supplements
There are 3 Vitagene products to choose from. The most basic product is the Health Report, which costs $49. It offers a detailed report with personalized diet, fitness, and supplement recommendations. This is the only Vitagene product that allows you to upload our own data.
The middle level product, Health + Ancestry Report, costs $99. It offers everything that the Health Report does, with a bit more. You'll get a detailed report with personalized diet, fitness, and supplement recommendations, as well as ancestry make up information. This can tell you about your past and your lineage.
The top tier product, Health + Ancestry Report & Smart Supplements, costs $149, and is a slightly more involved product. It includes a detailed report with personalized recommendations, as well as monthly Smart Supplements that get delivered to you. It's important to note that you will be charged $79 per month for the vitamins and that your subscription will automatically renew every 30 days. Vitagene marks this product as the best offer, as you get the high-quality supplements included in the price.
Bottom Line
The Vitagene DNA testing kit is far more than a simple ancestral review. Customers will receive an in-depth vitality report that can help them make better life decisions tailored to their body and their needs.
Since everybody's DNA is different, it's safe to assume that we shouldn't all be following the same diet or eating plan. With a simple cheek swab, you can find out exactly what vitamins you're low on, health risks, and an exercise plan that's right for you.

Vitagene Visit Site
About Vitagene
Vitagene was founded in 2015 by Dr. Malek, a San Francisco-based neurosurgeon. The DNA testing kit was developed by doctors and healthcare professionals in the fields of genetics and nutrigenomics with the goal of helping people make more informed and effective decisions using their DNA.
The team is made up of professionals from the fields of integrative medicine, computer systems, genomics, and product design. They leverage big data and the latest scientific research to ensure that the tips and supplements they're recommending to users is right for their bodies.
Physical Address
415 Brannan St
San Francisco, CA 94107
Contact Details
Phone: +1 844 698 4824
Email: support@vitagene.com