In a Nutshell
Futura Genetics is one of the most advanced genetic testing services that exists. With state of the art technology, a robust security and privacy network in place, and extensive testing tools, Futura Genetics provides in-depth genetic information about your predisposition to 28 of the most commonly found diseases.
pros
Free express UPS delivery and pickup
Highly secure process and fully certified labs
28 genetic diseases and conditions tested with accurate results
cons
Only tests for genetic health conditions

Futura Genetics Visit Site
Futura Genetics Review 2022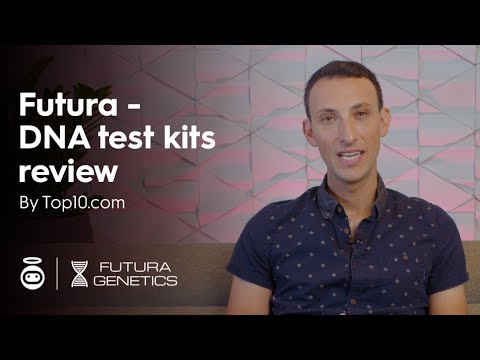 Best For
People interested in their health and knowing about their genetic predispositions to avoid common conditions.
Why Go With Futura Genetics
As the company puts it, knowledge is power, and Futura Genetics is helping to empower people with foreknowledge about their propensity toward certain diseases and health conditions. This knowledge allows people to better know how to proceed with their diet, exercise routines, and daily habits, as well as what to avoid for a happier, healthier life. Testing for 28 of the most commonly found health problems, Futura Genetics can help you discover where your genetics may take you so that you can plan your life accordingly to avoid those conditions. We'll explain exactly how this works a little later on.
There were a lot of other factors we liked about Futura Genetics during our assessment as well. This service takes privacy and security seriously. Every page uses high-level encryption, labs use barcodes to conceal your identity, and Futura Genetics doesn't share your information with any third parties or outside laboratories. Its in-house labs meet the highest levels of certification including ISO 9001, ISO 15189, and CLIA. Futura Genetics also has great customer service and comprehensive reports to round out this excellent service.
What's on Offer
Futura Genetics is a DNA test that focuses solely on health. It tests for nearly 30 of the most common diseases and conditions including:
Age-related macular degeneration
Alopecia
Alzheimer's disease
Atrial fibrillation
Basal cell carcinoma
Bladder cancer
Breast cancer
Celiac
Colorectal cancer
Coronary heart disease
Exfoliating glaucoma
Gastric cancer
Graves' Disease
Intracranial aneurysm
Lung cancer
Lupus
Melanoma
Migraine
Multiple sclerosis
Obesity
Open angle glaucoma
Peripheral vascular disease
Prostate cancer
Psoriasis
Type 1 diabetes
Type 2 diabetes
Rheumatoid arthritis
Venous Thromboembolism
The DNA analysis tests your genes to see if you have a proclivity for the health conditions listed above. Once you know what your propensity towards a disease is, it is much easier to avoid common triggers or unhelpful lifestyle choices. For example, Futura Genetics might tell you that you have a genetic predisposition towards Type 1 Diabetes. Knowing this, you can consult with your physician and draft a diet plan that is healthier for you. This, in turn, can actually help prevent you from contracting this disease
Having a genetic disposition toward a condition doesn't mean you will inevitably get it, just that you are more likely than other people to contract the condition. That's why it's important for you to take steps toward protecting yourself. Futura Genetics gives you the information you need to stay one step ahead of your own genes
The testing stage is broken down into several parts, each stage testing your genes in a different way. Some of the stages include:
Basic DNA analysis
PCR and DNA fragmentation
APEX reaction
APEX detection
Final analysis and interpretation
Once all this is done, your report will be cultivated and sent to you online
Ease of Use
It was very easy to work with Futura Genetics. You can order the kit online, it takes about a minute. Using the Futura Genetics test is equally simple. Here's how
Spit your saliva into the sample tube provided by using the funnel attachment for cleanliness and ease
Fill up the tube to the fill point, making sure no air bubbles get trapped—it needs to all be saliva
Remove the funnel and secure the cover onto the tube
Click on the Register Your Kit button at the top of the Futura Genetics page to register your kit
Place your sample tube into the envelope provided
Click on the Collect my sample link on your account page to have a courier dispatched to collect your sampl
Once again, simple and fast. You can be done with the entire process in minutes. To register your kit, you'll need
Your login information to get into your Futura Genetics account
The 8-digit barcode that can be found on the bottom of the sample tube (that's why you need to register the kit before you return the sample to Futura Genetics)
Speed of Kit Delivery and Results
Futura Genetics uses UPS express shipping to deliver your kit to you. When you've completed the DNA test, Futura Genetics arranges a courier to come pick up the sample from your home and to deliver it to the lab. The best part is that all of this is totally free
Futura Genetics says the results can take 4 weeks to process. You'll receive email updates throughout the processing stage, and when everything is completed, your results can be accessed online via your account portal. Futura Genetics encourages you to review all of the results of the testing, but you do have the option to keep Alzheimer's results undisclosed if you don't want to know about this particular disease.
DNA Test Type
Health/disease indicators
Report Features
The Futura Genetics report consist of 26 pages. It's very informative, comprehensive, and clearly laid out. It also gives you important information about the diseases and preventative measures you can take. The report includes
All of the results of your genetic testing, including your genotypes for 103 SNPs tested
Information and scientific data about the genotypes testing and each disease that pertains to you
Basic information about each disease tested for
Environmental factors that contribute to these conditions
Pictographs to make reading the results clearer
Useful tips for staying healthy based on your results
The report is structured as a list of genetic conditions and diseases with 2 percentages alongside each one: the first is your risk percentage, and the second is the average risk percentage. There is also a paragraph explaining your results and giving you expert advice on how to avoid the condition.
Customer Support
Futura Genetics customer support is available via an online contact form or email any time of day or night. The representatives are incredibly well-informed and eager to help, making it a pleasure to get in touch. What's more, we found the service wonderfully responsive to issues. In fact, we heard from a few customers about how easy it was to get the money-back guarantee because of a mix-up with the mail service delaying the kit delivery.
Pricing
Ordering a kit takes seconds, literally. Additionally, each page of the website has high-level encryption, so all of your payments are secure. When you order, you'll be asked to put in your basic information (name, address, phone number, and email) as well as payment information. You can pay via credit cards like Visa, MasterCard, Maestro, and American Express or Sofort. The DNA test costs $375 normally, but you can instantly get a discount code from Futura Genetics to apply on the spot.

Futura Genetics Visit Site
Bottom Line
Futura Genetics is a trusted and reliable DNA testing service that uses cutting-edge technology to provide accurate and fast results for some of the most commonly suffered diseases of today. There's a lot to like about the company, too. The test is easy to order and administer, shipping is fast and free (and you can get it shipped anywhere in the world), and the privacy policy is top notch. The results are exhaustive, and the reports are easy to understand, giving you solid, actionable information to work with.
What's more, Futura Genetics customer support is always available to help, and the lab itself is highly certified from major certifying organizations. All in all, this company is an excellent choice if you want to empower yourself with the knowledge of what types of health conditions your DNA inclines you toward. We highly recommend Futura Genetics.
About Futura Genetics
Futura Genetics was founded in 2014 and is currently headquartered in Prague. The company uses state of the art technology, known as APEX (array primer extension), to test people's DNA for proclivity toward some of the most common diseases, such as Alzheimer's, obesity, cancer, and diabetes. Because of the advanced technology used, Futura Genetics is able to provide the most in-depth and accurate results around. Futura Genetics also proudly follows strict health, security, and morality codes with the highest standards of lab certification including CLIA, ISO, and DNA PEQA.
Contact Details
Phone: N/A
Online chat (during USA business hours)
Email: hello@futuragenetics.com