In a Nutshell
AncestryDNA is one of the leading DNA testing services in the industry. They have a DNA database of 15 million people and more than 20 billion historical records. For $59 per kit, you will get ethnicity estimates across more than 1,500 global regions. You will also see a list of possible relatives, along with the percentage of the DNA you share with them.
pros
Huge database: more than 15 million people
library of billions of records and newspaper articles
Has Thrulines: family tree additions based on DNA
cons
Can't upload raw DNA data from other services
Family tree research library require expensive subscriptions

AncestryDNA Visit Site
Types of Tests and Kits You can Get from AncestryDNA
The AncestryDNA test uses a saliva sample to uncover your ethnic and familial roots. The report included with the kit purchase includes the following results:
Ethnicity estimates: A breakdown of your ethnicity across 1,500 global regions. The report is broken out by the percentage of your DNA from each region.

Relatives: Your report will include a list of matches who share part of your DNA. The list will show your degree of relatedness (the degrees of separation between you on a family tree). From this list, you will be able to message relatives and see which ethnicities you share.

ThruLines: If you opt to see and be seen by your DNA matches and make your family tree searchable, ThruLines shows you likely common ancestors for you and your relatives. It also allows you to add information from the family trees of your DNA matches to your own.
Ancestry uses autosomal DNA testing, which passes through all ancestors, male and female (unlike mtDNA which gets passed only from mothers, and YDNA, which gets passed on from fathers to sons). Autosomal testing can trace ancestry through 6-8 generations, or 150-200 years.
The basic kit (currently selling for $59) does not come with a family tree research subscription. However, for $60, your kit will come with a three-month World Explorer membership, and for $308 you will get a six-month All Access membership. These provide two tiers of access to billions of historical records that link automatically to your family tree.
For a short time, Ancestry had a health risks upgrade called AncestryHealth; however, this service was discontinued in 2020.
Family Tree Research and Other Features on Ancestry
When you create a free account on Ancestry, you can begin creating your family tree. If you add basic information for yourself, your parents, and your grandparents, Ancestry will quickly give you "Hints," which are thumbnail descriptions of historical documents—birth, marriage, and death announcements, and a variety of other records. At the free level, these hints are teasers; you'll need a paid subscription (or sign up for a free trial subscription) to read them. If you upgrade to a paid family tree service, you can access additional services:
US Discovery. $99/six months. Provides instant access to US records and ability to expand on Hints. With this plan level you can connect with other Ancestry members and share family tree data and photos.

World Explorer. $149/six months. Adds access to 3 billion international records, including ship passenger lists.

All Access. $239/six months. Adds access to 8 billion indexed newspaper articles and millions of global military records.
With each of these levels of service, you will be able to open hints to read the full documents, save them, and add them to your family tree.
How much does AncestryDNA cost?
The AncestryDNA test kit has a list price of $99 and is currently on sale for $59. Standard shipping costs $9.95 for the first kit and $4.95 for each additional kit. For $1 extra, your kit will come with a three-month trial of World Explorer, their mid-level family tree research subscription, normally valued at $39.99/month.
Frequent sales; check for third-party coupon codes
U.S. Discovery subscription
World Explorer subscription
AncestryDNA Coupons and Promo Codes
Although the official list price for the AncestryDNA test kit is $99, you should be able to find a deal, either through the website's periodic sales, or via third-party coupon codes. Many of the deals available add some level of the genealogy research subscription for a trial period.
How to Get Started with AncestryDNA?
The ordering process for the DNA test kit is simple. You will be asked whether or not you'd like to add a trial subscription to one of their genealogy services, then you can place your test kit order. With standard shipping, the kit should arrive within 10 business days.
The DNA collection kit includes:
Instruction manual

Activation code

Vial for saliva

Clear plastic collection bag

Postage-paid return box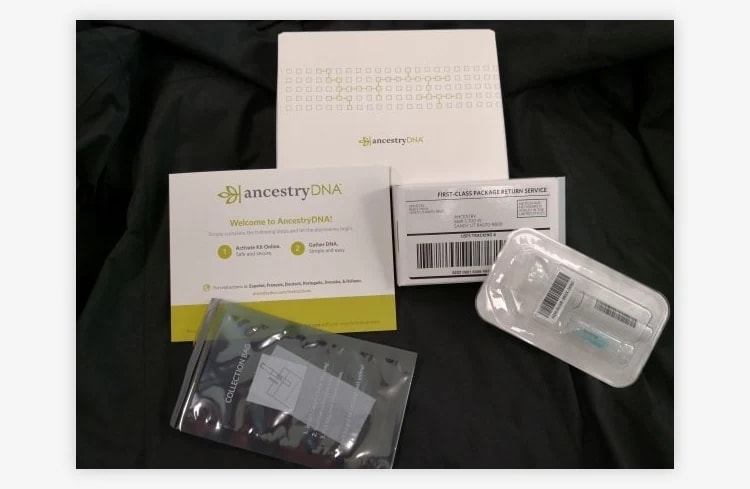 To get started, you'll need to activate your kit online using the code on your activation card. Then, collect your sample:
Brush your teeth, then don't put anything in your mouth for 30 minutes.

Gently rub your cheeks from the outside

Spit into the tube until your saliva reaches the black line on the tube

Remove the funnel from the tube and replace it with the cap that contains the blue stabilizing liquid

Twist the cap tightly

Shake the tube for five seconds

Seal the tube in the collection bag

Place the bag inside the return mailer (Note: return mailer is not postage paid)

Mail the return box to the laboratory
Getting The Results
You should receive your results within eight weeks of your sample arriving at the laboratory. When your results are ready, you will receive an email with a link to view your results. You can access the results through the Ancestry app or through the website. On the website, you'll need to sign into your account, then select from the following results:
DNA Story. This is a list of your ethnicities and regions with your corresponding DNA percentages.

DNA Matches. This is a list of possible relatives, sorted by the percentage of shared DNA. This percentage is translated into a possible level of relationship to you (parent/child, first/second cousin, etc.).

ThruLines. If you'd like to dig deeper into your possible relationships with your DNA matches, you can view a ThruLines report. This is included in your results, as long as you opt to see and be seen by your DNA matches in your privacy settings. You'll also need to link your family tree to your DNA results. AncestryDNA uses your DNA information, along with a search of their family tree database, to suggest the ways you may be related to your matches. The report is a family tree with suggested relationships highlighted. It also gives you potential ancestors: people who are not yet in your family tree, but who are listed on the trees of your matches.
How AncestryDNA Protects your Privacy
Ancestry has a detailed Privacy section on their website. Here are some of the highlights:
You own your DNA data.

Ancestry will not share your information with any third party without your consent.

DNA data and your name are separated throughout the testing process, with samples identified only through the activation code that comes with your kit.

Results are encrypted and stored in their database, protected by several security measures.

Ancestry does not voluntarily cooperate with law enforcement. They respond to valid legal claims for information under US law.

There are a variety of privacy options for each user. You can choose whether or not to be listed as a DNA match, and if you do opt to be visible, there are four levels of access you can provide to them.

You can delete your Ancestry account at any time.
Help and Support
The Ancestry website has a detailed Help center. You can choose from a variety of FAQs and articles. While there is a lot of written information on many subtopics, there are few visual aids for interpreting results.
Ancestry has a chat bot service for individual questions. The phone number is not easy to find—you'll have to search "phone number" or "contact us" to find it. Agents are available by text or phone seven days a week from 9am to 11pm. The company states that agents typically respond to text messages within 24 hours.
How AncestryDNA Compares to Other DNA Test Kits
Compare and contrast the biggest brands in DNA testing to pick the best one for you:
AncestryDNA vs. MyHeritage
AncestryDNA and MyHeritage are both leaders in the field of DNA testing, with huge DNA databases and vast research resources, with similar price tags for the initial test. A choice between the two will come down to your preferences regarding speed, convenience, and your subscription budget. Some key differences:
AncestryDNA requires collecting a tube of saliva, rather than the cheek swab for myHeritage

The time to receive your results will vary, but MyHeritage states that they have a 3-4 week turnaround, versus up to 8 weeks according to Ancestry.

Ancestry has a larger DNA database: 15 million vs. 5.6 million for MyHeritage.

AncestryDNA combines family tree and DNA information to provide ThruLines, which allows you to connect to your matches' family trees.

Ancestry's genealogy subscriptions are more costly than the ones available on MyHeritage, but you will gain access to billions more records to enhance your family history.
AncestryDNA vs. 23andMe
AncestryDNA and 23andMe set the industry standards for DNA and genealogical testing. Each boasts extensive customer databases and advanced technologies for testing genetic samples. AncestryDNA focuses on genealogy and connecting users, and only scans data using autosomal DNA tests. 23andMe is a better option for those who want to get an overarching scope on their DNA and background. What's great about both of these DNA test kits is that you'll have the ability to access and keep the raw data and easily transfer to other services.
The Bottom Line
Ancestry is the global leader in genealogy research for a reason. Their DNA results are detailed, and the paid subscriptions are worthwhile if you want to dig deep into your family history and expand your family tree.