Living DNA Visit Site
The LivingDNA test uses a cheek swab sample to provide two kinds of reports.
The Full Ancestry report includes the following information:
Specialist Ancestry: The report breaks your ancestry down to more than 150 world regions. For certain regions, such as Africa, Britain, and Europe, they provide more detail in sub-regional breakdowns.

DNA Matching: The genetic matching tool lets you see a list of relatives. If you opt into Family Networks, you can connect with other users to see how much DNA you share.

Extended Ancestry: Based on an analysis of maternal DNA (mtDNA) and paternal Y-DNA (for males only), you will be able to trace your ancestry through migrations from tens of thousands of years ago.
The separate Wellbeing test kit provides insight into aspects of your health that are influenced by your genetic makeup:
Vitamin Response. How your body responds to key vitamins, like Vitamin D.

Food Metabolism. How your body processes different foods.

Nutrition advice. Tips for the best foods to get the nutrients you need.

Exercise. Advice for the best types of exercise to support your genetic makeup

Recovery. Recommendations on the best ways to recover after exercise.
The Wellbeing test does not measure your risk of developing hereditary diseases.
The LivingDNA website also offers a free service if you've already been tested through another company. You can upload your genetic information into their system and get free reports including:
Ancestry regions. A report of your DNA breakdown from the last five to six generations from eight major regions of the world.

DNA matching. Access to a list of your genetic relatives through their DNA database.
LivingDNA does not provide a family tree builder. Their family tree feature is based on genetic matches with users within their database.
How LivingDNA Works
After you order your kit online, it should arrive within five to ten business days with standard shipping.
The DNA collection kit includes:
Instruction booklet

Sterile envelope with cotton swabs

Rapid-dry pouch

Plastic specimen bag

Postage-paid return mailer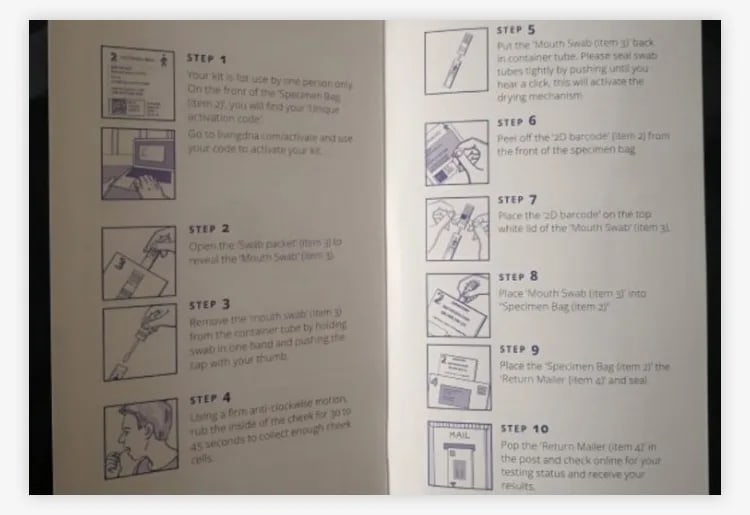 To get started, you'll need to register your kit online using the barcode on your specimen bag. Don't put anything in your mouth for one hour prior to taking your sample. Then, follow these steps:
Rub and rotate the swab along the inside of your cheeks for 30-45 seconds, ensuring that the entire swab has made contact with the cheek.

Place the swab in the rapid-dry pouch and seal with the test ID sticker.

Place the pouch inside the postage bag and drop it in the mail.
Getting The Results
You should receive your results within six to eight weeks of your sample arriving at the laboratory. You'll get an email with a link to view your reports. You will have to sign in, then select from the following results in your portal:
Recent Ancestry Results. This is a list of your ethnicities and regions with your corresponding DNA percentages and a shaded map. You can click on each region or subregion for more information.

Maternal Results. This shows your maternal haplogroup (found through mitochondrial DNA analysis) and a map of the migration patterns over tens of thousands of years. You can also view a map of where in the world your maternal DNA is found today.

Paternal Results. If you are a male, you will be able to view haplogroup information found through Y-DNA analysis.

Family Networks. If you opt into this feature, you can click on "relatives" in your portal to view your matches, read their profiles, and message them.

Wellbeing Results. If you have purchased a Wellbeing test, you can click on "wellness" in your portal to view a list of traits, and then click on individual traits to get more information.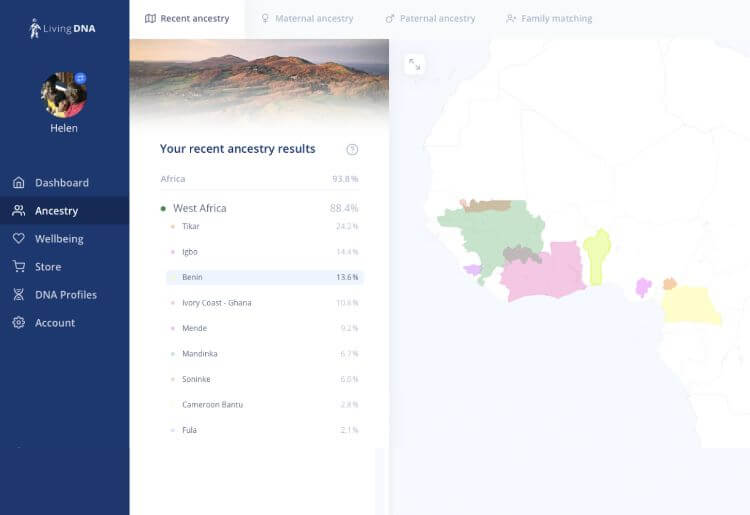 How LivingDNA Protects your Privacy
The LivingDNA website has a comprehensive Privacy section on their website. They include these key points:
They aim to be transparent in how they handle all user information

They don't sell your data to third parties

You can choose to opt in to research

They use secure databases and anonymize data wherever possible
Help and Support
The LivingDNA website has a helpful support center, but you'll have to dig for it at the bottom of the page, in the sitemap. The support center has useful articles to help you through the process, including ordering your kit, taking a sample, and interpreting your results. Many of the articles have illustrations to walk you through the process.
The "Contact Us" page is also located in the sitemap. Here, you can find out how to contact a company representative. Support personnel are available at 0203 424 3482, Monday through Friday 9am-5pm GMT. They are based in the UK, so US customers may not always be able to reach them at convenient times. You can also email them by using their "Contact Us" form or sending a message to help@livingdna.com. Customers report that the support at LivingDNA is prompt and friendly.
LivingDNA Pricing
The LivingDNA ancestry test kit has a list price of $99 and is currently on sale for $79. Standard shipping costs $9.95.
$179 kit + $9.95 shipping
The sale price of the Ancestry kit from LivingDNA is higher than kits from MyHeritage and Ancestry, and similar to the price of 23andMe. However, like 23andMe, LivingDNA offers haplogroup reports based on mtDNA and Y-DNA, which the competitors don't have.
LivingDNA coupons and promo codes
LivingDNA runs several sales throughout the year.
LivingDNA Alternatives
How LivingDNA Compares to Other DNA Test Kits
Price per kit
$79+shipping
Price per kit
$79+shipping
Price per kit
$59+shipping
Collection type
Cheek swab
DNA Test Type
Autosomal, mtDNA, Y-DNA (males only)
DNA Test Type
Autosomal, mtDNA, Y-DNA (males only)
DNA Test Type
SNP genetic disease markers
LivingDNA Vs. 23andMe
A choice between LivingDNA and 23andMe comes down to what you're looking for in your results. If you'd like to drill down to specific subgroups in certain regions—like the British Isles, Europe, or Africa—LivingDNA is a great choice. Both companies have haplogroup reporting for deep ancestry insights. 23andMe has a larger database of users and also provides disease-specific information in their health report.
LivingDNA Vs. AncestryDNA
If you are focused on building and fleshing out a detailed family tree, AncestryDNA is the better choice in DNA testing, with a much larger database of users and access to billions of historical records. If your interest is in ancient ancestry or particular geographical areas, like the British Isles, LivingDNA may be a better choice for you.
LivingDNA Vs. Futura Genetics
LivingDNA and Futura Genetics offer two entirely different services. While LivingDNA is a great option for exploring ethnicities from certain regions and getting personalized wellness tips, Futura Genetics is focused solely on determining your individual risk of contracting 28 of the most common diseases.

Living DNA Visit Site
Bottom Line
The UK-based company LivingDNA provides a unique level of detail, particularly for ethnicities from Europe, the British Isles, and Africa. The Wellness report gives tips on improving lifestyle choices based on your genetic makeup but does not provide any risk reports for hereditary diseases. If you are looking for great subregional information and ancient ancestry, LivingDNA is worth the money.