In a Nutshell
MyHeritage offers a wide range of tools that allow you to discover your genetic profile, build family trees, animate old photos, examine historical archives, and more. For best results, combine MyHeritage's DNA test kit with the Complete subscription, an all-in-one plan that unlocks access to the site's 10+ genealogy research tools. MyHeritage is good for anyone who wants to know more about their ancestry at an affordable price.
pros
Very affordable and competitively priced
Ethnicity results cover lots of geographical regions
Strong commitment to privacy and data protection
cons
Online genealogy tools can be expensive after the first year
Majority of historical records are outside Asia and Africa
Types of Tests and Kits You Can Get from MyHeritage
MyHeritage offers one DNA test, the MyHeritage DNA kit, in addition to a family-tree builder.
Ancestry testing
The MyHeritage DNA kit maps your genetic signature against 2,114 regions around the world, revealing information about your ancestral origins. Using your autosomal DNA, the kit enables you to discover your genetic ethnicity and find out where your ancestors were from. In fact, MyHeritage will provide you with an Ethnicity Estimate, a breakdown of your ethnicity across 42 different ethnicities worldwide.
With over 7 million data points in the MyHeritage DNA database, you can harness the power of big data to glean novel insights—which may even enable you to discover and connect with living relatives.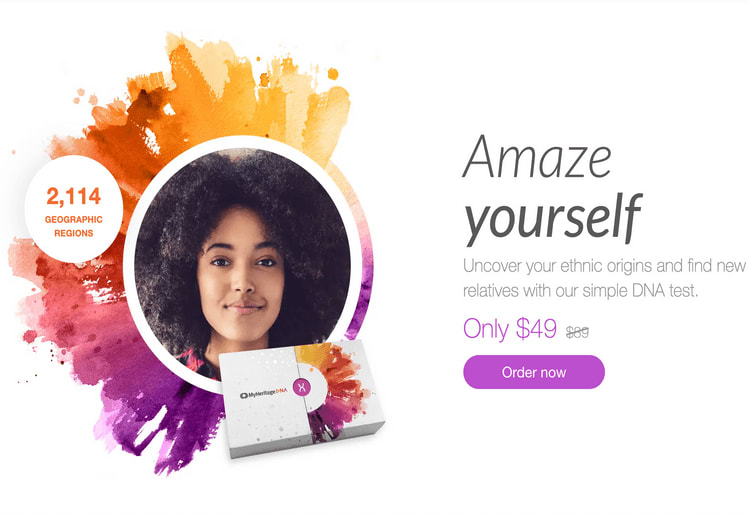 Other Features at MyHeritage
Paired with the MyHeritage DNA kit is a large catalog of tools that help you uncover more about your heritage.
If you want unlimited access to MyHeritage's full suite of genealogical research tools and records—including access to the company's database of 19.4 billion historical records (encompassing birth, death, and marriage records, immigration data, census information, and more), the photo-editing algorithm, and the entire buffet of family tree-building tools—you can upgrade to a paid subscription plan called the Complete subscription. A 30-day free trial of the Complete subscription even comes with the purchase of a DNA kit.

But even if you don't purchase the Complete subscription, you can still receive free access to a smaller selection of historical records, photo-editing tools, and family tree-building capabilities.
Family tree builder
You can start your family tree for free on MyHeritage, even if you don't use their DNA kit. Simply sign up by providing your demographic information and offer a few details about your relatives. From there, MyHeritage will automatically build connections and find possible matches, helping you unlock details about your ancestors.
Moreover, if you previously made a family tree on another site, you can easily upload a GEDCOM file to import your previous data to MyHeritage—saving you time and preventing you from having to enter existing information manually.
Historical records
If you want to uncover even more information about your past, you can dive into MyHeritage's database of 19.4 billion historical records. These records span photographs, birth, marriage and death records, census records, newspapers, immigration records, and more. Though records span every corner of the globe, the historical archive provides most coverage for Europe and North America—less so Asia or Africa.
Enhance old photos
If you have old photographs, you can use MyHeritage's photo enhancement tools to colorize and touch them up. Using the company's Deep Nostalgia™ algorithm, you can also animate your photos, bringing black-and-white images of your ancestors to life. With DeepStory, you can even make your photographs speak—making it appear as though your ancestors were narrating their own biographies.
Third-party DNA kit analysis
If you didn't purchase the MyHeritage DNA kit but still want to take advantage of the company's genetic analysis capability, you can upload your DNA data from another company's kit. MyHeritage will analyze this data for free, helping you reveal potential relative matches at no cost to you.
How much does MyHeritage cost?
MyHeritage's DNA kit normally retails for $89. Currently, the company is running a promotion, so the kit is just $49. However, shipping is additional, and prices will vary depending on your location.
MyHeritage offers 4 subscription plans: Premium, PremiumPlus, Data, and Complete. Its Complete subscription is the most relevant option for DNA testing and provides access to the company's entire suite of tools and archives, including its vast repository of 19.4 billion historical records and the Deep Nostalgia™ algorithm—in addition to all free tools, such as the family tree builder. If this is your first year on the Complete subscription plan, the service is half off, retailing for $149 as opposed to the normal price of $299 annually.
Additionally, if you purchase a MyHeritage DNA kit, you'll receive access to a 30-day trial of the Complete subscription—on top of the 50% first-year discount.
The Complete subscription
Historical record database
Yes, all 19.4 billion records
At $49, the MyHeritage DNA kit is one of the cheapest test kits on the market today, beating out nearly every major competitor. On top of that, the company's 50% first-year discount and the 30-day free Complete plan trial offered with a DNA kit purchase makes MyHeritage possibly the most competitively-priced all-in-one genetic testing, family tree builder, and genealogical research platform out there today.

However, note that the normal pricing schedule puts MyHeritage in the middle of the pack among other offerings for its DNA kit, and at the high end of the market for its genealogical research tools.
MyHeritage coupons and promo codes
MyHeritage currently offers its DNA kit for $49. This is down from the full price of $89 per kit. Similarly, the company's Complete subscription is 50% off for the first year—retailing for $149 instead of its full price of $299 per year.
You don't need to put in a code to get access to any of these discounts. They're automatically applied. If you purchase a DNA kit, you'll also receive a free 30-day trial to the Complete subscription.
Additionally, MyHeritage sometimes runs promotions during the holidays, though the level of discount, and the products/services discounted, will vary.
How to Get Started with MyHeritage
It's easy to get started with MyHeritage.
The sign-up process
To sign up for an account with MyHeritage, simply provide your full name, email, year of birth, address, and your parents' full names.
This information will help you get started with your family tree and allow MyHeritage to begin searching its database to match you with possible relatives.
Building your Family Tree
It's free to build a family tree with MyHeritage. Simply import an existing GEDCOM file or input the information you have on hand about your ancestors to get started.
As you edit your family tree, MyHeritage will search its database for possible matches with living relatives, allowing you to connect with family members you may have never met before.
The company's Smart Matches will do the work for you, identifying possible connections automatically. If you took a MyHeritage DNA test, the company will integrate the results of the kit with your online family tree.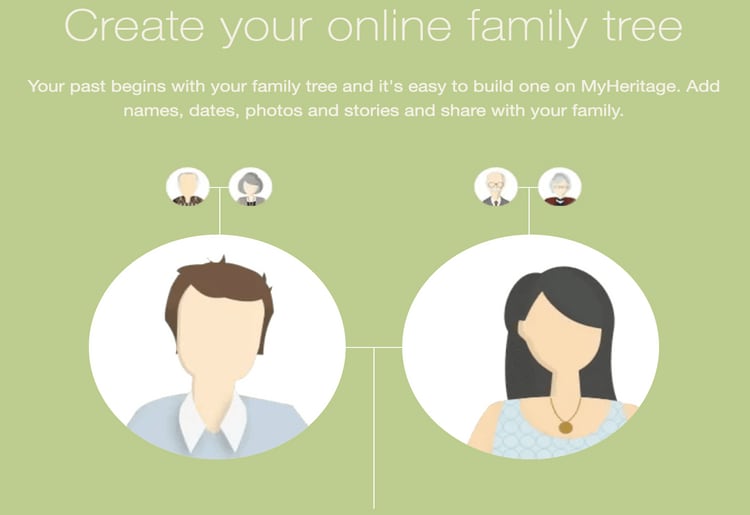 Editing your family photos
If you have old family photos, you can leverage MyHeritage's suite of photo-editing algorithms to enhance, animate, and colorize them.
All you have to do is upload a black-and-white photo, and MyHeritage's deep learning tools will automatically recolor them. (You can fine-tune this process manually using sliders). You can even restore the color of faded photographs, allowing you to get a more accurate view of what the photo looked like when it was originally shot.
Other tools, like MyHeritage's Deep Nostalgia™ algorithm, enables you to animate your photographs, turning your still family photos into a mini motion picture. Finally, you can use DeepStory to make your old photos "speak"—allowing your ancestors to "narrate" their biographies.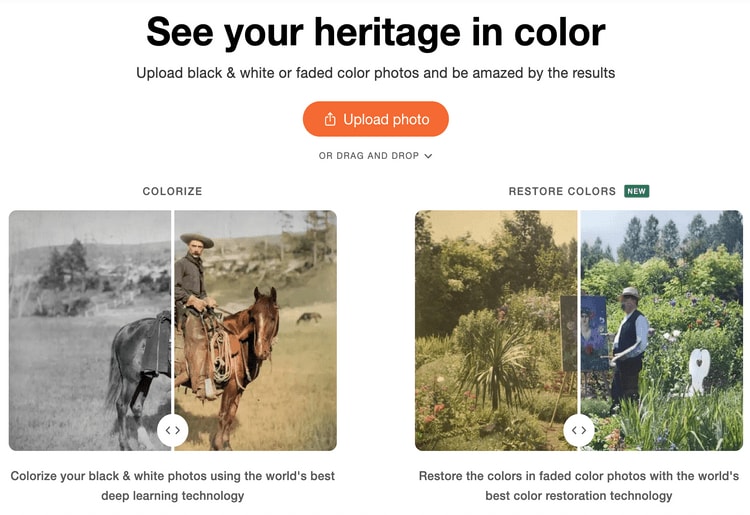 How MyHeritage Protects your Privacy
MyHeritage is serious about protecting your privacy and makes it a priority to safeguard your personal information—including both your demographic and genetic data.
MyHeritage doesn't sell or license any personal or genetic data.

MyHeritage doesn't provide data to insurance companies.

Users can delete their data from MyHeritage at any time.
If you need more information on MyHeritage's data privacy practices, you can take a look at the company's privacy policy.
Help and Support
MyHeritage's website features many ways for you to find answers to your questions.
How to contact MyHeritage
You can call MyHeritage toll-free at +1 (844) 994-1888. They are available 24 hours a day from Monday through Saturday. Hold times will depend on the volume of calls received, among other factors.
For more information, you can visit MyHeritage's contact page.
Are FAQ pages available on MyHeritage?
MyHeritage has a thorough and comprehensive set of FAQs. Hundreds of questions across a variety of question categories are answered in their extensive help center.
If you have more in-depth questions about genealogy, MyHeritage's free knowledge base may be of interest to you. The knowledge base covers everything from tips and tricks for genealogical research to best practices on reading census records. Additionally, you can access downloadable content or even take full courses on genealogy.
How MyHeritage Compares to Other Genealogy Service Providers
AncestryDNA Genealogy Services
$149 (normally $299) annually
$14.95 monthly or $79.95 annually
MyHeritage vs. AncestryDNA Genealogy Services
AncestryDNA offers a collection of 3 billion records from 80 countries worldwide, including a massive repository of 557 million digitized military records via their Fold3 service.

This makes AncestryDNA a good choice if you're from a military family, and want to access the company's comprehensive military archive. On the other hand, if you're interested in a larger array of services, including photo editors, then MyHeritage may be the better option for you.
MyHeritage vs. Findmypast
Findmypast is a technology-enabled digital archive that aggregates together billions of historical documents. A majority of these records are from Britain and Ireland, making Findmypast ideal if you have British or Irish ancestry.
Additionally, Findmypast offers exclusive access to certain historical record sets, like parish records and the 1921 UK Census. If you want access to those records, you should opt for Findmypast. However, if you want a one-stop shop for both genetic and traditional genealogical research services—or don't have British ancestry—then MyHeritage might be the more suitable choice.
MyHeritage vs. OneGreatFamily
OneGreatFamily is the only collective, unified family tree online. The service allows you to build your family tree collaboratively with everyone else. In other words, everyone works on a single family tree—meaning that it continues to improve in accuracy as a greater number of users join. If you only need an innovative family tree builder and don't need access to DNA kits (or a large suite of other genealogical research tools), OneGreatFamily may be the better choice for you.

However, if you're also interested in photo editing or want to seamlessly combine and supplement your DNA kit results with archival research, you may find MyHeritage's offerings to be more enticing.
Is MyHeritage Genealogy Services Worth It?
At just $49 on sale, the MyHeritage DNA kit is arguably the cheapest test kit on the market today. It's a great choice for genetic genealogy enthusiasts who want to use their DNA kit results as an initial stepping stone into the world of genealogy.
MyHeritage also offers a suite of premium features at no cost, such as a family tree builder with automatic relative discovery and matching, a comprehensive knowledge base, and select historical records.
On top of its free services, for $149 (50% off the normal price of $299), you can unlock access to a near-endless collection of records. With 19.4 billion historical records and free third-party DNA kit analysis services, MyHeritage makes it easy for you to perform genetic and traditional genealogical research in tandem.
Moreover, you can enhance the records you already have on hand. With MyHeritage's set of photo editing tools, including the company's Deep Nostalgia™ algorithm, you can colorize, animate, and touch up old family photos.
These features make MyHeritage one of the most affordable, competitively priced, and full-featured offerings on the market today—and a strong contender for one of the best options for any genetic genealogy amateur or professional.