In a Nutshell
EasyDNA offers a wide variety of DNA tests for paternity, relationships, ancestry, pets, and more. Most tests require an oral swab, but EasyDNA can also use cremated remains, hair samples, or other non-standard samples. EasyDNA also offers DNA storage for up to 15 years. EasyDNA is a good choice if you want to try a variety of different DNA tests from a single provider. The company's tests are affordable and you can get results in 3-5 days.
pros
Wide variety of DNA tests
Results in 3-5 days
Works with accredited laboratories
cons
No database for finding relatives
Does not include access to raw data

EasyDNA Visit Site
Types of Tests and Kits You Can Get from EasyDNA
EasyDNA offers dozens of different DNA testing kits.
Paternity Tests
EasyDNA has 5 different paternity tests, including a legal DNA test and an immigration test that follow strict compliance guidelines for validity in a court of law. A home paternity test offers a more affordable option for personal use. A forensic paternity test enables you to submit samples such as hair or skin rather than an oral swab. A non-invasive prenatal paternity test allows you to test the paternity of an unborn child.
Relationship Tests
EasyDNA also offers relationship tests for maternity and grandparentage, as well as for aunts, uncles, and siblings. A twins test can reveal whether two siblings are identical or fraternal twins. Mitochondrial DNA (mtDNA) and Y DNA tests explore your maternal and paternal lineage.
Animal Tests
EasyDNA offers tests for dogs, cats, horses, and birds. These tests provide information about your pet's breed, allergies, genetic illnesses, and age.
Ancestry Tests
EasyDNA offers 4 ancestry tests. The GPS Origins test provides details about where in the world your ancestors came from. The Ancestral Origins test works similarly, but tests more genetic markers to provide additional details. Maternal and paternal lineage tests look specifically at ancestral markers in your mtDNA and Y DNA, respectively.
Health & Clinical Tests
EasyDNA offers 10 different health and clinical DNA tests that provide information about your weight, fitness, allergies, optimal diet, and more. These tests look at specific DNA markers that are associated with diseases such as Celiac disease or specific cancers. They also examine genes that are correlated with specific food tolerances and even personality
EasyDNA offers the following health and clinical tests.
Healthy weight test

Intolerance sensitivity test

Vegetarian food intolerance test

Gut microbiome test

Food and pet sensitivity test

Nutrifit health and fitness test

SkinCare test

Personality test

Celiac disease genetic test

Genetic predisposition test
Additional Tests
EasyDNA offers several additional tests, including a DNA profiling test that offers a holistic overview of many of the genetic markers that the company's more specific tests cover. A cremated remains test enables you to test the relationships and ancestry of a deceased person, while an infidelity test allows you to send in a semen sample.
EasyDNA offers these additional tests.
Prenatal baby gender test

Hair drug test

Heavy metal test

Cremated remains test

DNA-free certification test

DNA profiling

Infidelity test
EasyDNA only works with accredited laboratories that are certified to ISO 17025, the primary standard for DNA testing.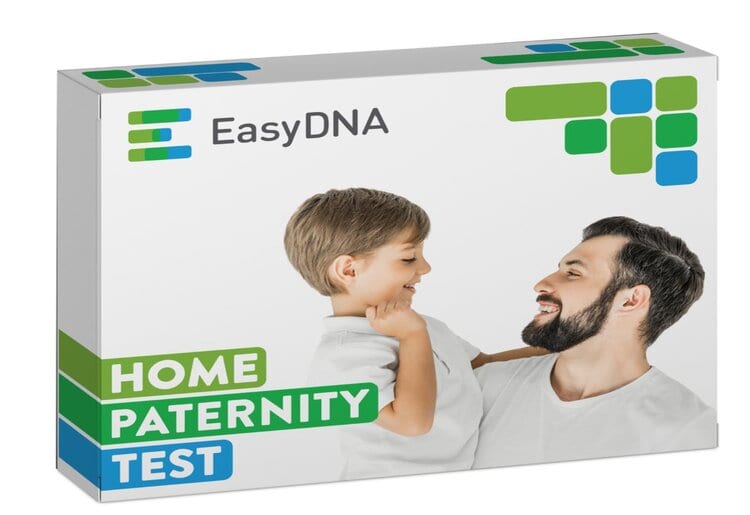 Other Features at EasyDNA
All EasyDNA tests come with a report that helps you interpret the results of the specific DNA test you chose. In addition to testing kits, EasyDNA offers several additional services.
DNA Banking
EasyDNA offers the option to store a frozen sample of your genetic material for up to 15 years. Samples stored with EasyDNA can be tested at any point in the future at your request.
DNA banking costs $169 for 15 years.
Genetic Counseling
EasyDNA has professional genetics researchers and clinicians available if you need additional help understanding your genetic test results. Genetic counselors can answer specific questions about your test, offer advice for potential treatments and further tests, and suggest ways to manage disorders detected by an EasyDNA health test.
Genetic counseling sessions typically last 40 minutes and start from $25.
Family Tree Research
As part of its ancestry tests, EasyDNA offers basic family tree research, which primarily focuses on providing information about the geographic origins of your family. You receive a downloadable PDF report that shows a map of your ancestors' geographic origins and a percentage breakdown of the regions reflected in your DNA. The company does not offer family tree building tools or have a database for finding your ancestors.
How Much Does EasyDNA Cost?
Prices for EasyDNA test kits vary by test and can range from $80 to $1,295. All prices include free standard shipping, or you can upgrade to USPS Priority Mail for $9 per test. You can also opt for express processing (results in 3 working days) for an additional $79 per test.
Here are prices for some of EasyDNA's most popular tests.
The majority of tests cost between $100 and $200, which is in line with the cost for similar testing kits from other DNA testing companies.
How to Get Started with EasyDNA
EasyDNA makes it simple to order a test kit, collect your samples, and get your DNA test results. Here's how the process works.
The Sign-up Process
You can browse EasyDNA's full selection of tests on the company's website. Each test is clearly explained so that you can decide which one is most suitable for your needs.
Once you select a test, you can order it online. Just select your shipping method (standard shipping is included), whether your test is for a legal purpose, and whether you need express shipping or results.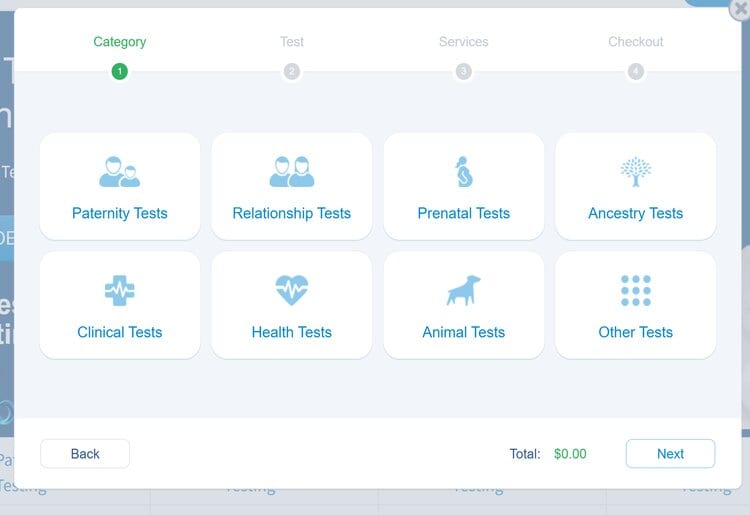 EasyDNA accepts payment by credit card, debit card, PayPal, or bank transfer. You do not need to create an account to order a test.
What's in the Box?
The majority of EasyDNA tests require an oral sample. The kit includes 2 oral swabs as well as a consent form that you must fill out. It also includes a pre-addressed envelope in which you can return your samples for testing.
For prenatal DNA tests, the kit includes oral swabs for the father as well as a blood testing kit for the mother. The maternal blood sample must be collected by a trained professional.
Notably, EasyDNA also works with non-standard DNA samples. For example, the company offers a cremated remains DNA test, a forensic test for hair samples, and a semen test. For unique samples, EasyDNA also offers personalized support for creating your own DNA sampling kit.
How to Collect Your DNA Samples
Swab the inside of your mouth using both of the provided oral swabs. You should swirl each swab against the inside of your cheek for at least 60 seconds. Then place the swabs upright in a clean glass for at least 1 hour to allow them to dry.
Once the swabs are dry, place them inside the included pre-addressed envelope and mail the envelope to EasyDNA for analysis.
Getting the Results
EasyDNA provides test results within 3-5 working days of receiving your sample, or 2-3 working days if you select express processing. Results are sent to your email, although you can also request a paper copy to be mailed to you.
The content of your test results will depend on the DNA test you choose. For an ancestry test like the GPS Origins test, your report will include information about all of the regions to which you have a DNA match. For a paternity or relationship test, your report will include a table showing the genetic markers tested and whether they match between samples.
Importantly, EasyDNA does not offer access to your raw DNA sequence data. This makes it difficult to upload your results to another platform for building a family tree.
If you need help interpreting your results, you can schedule a genetic counseling session (starting from $25).
How EasyDNA Protects your Privacy
EasyDNA protects your privacy in several ways. First, EasyDNA uses SSL encryption to protect your information during the online ordering process. Once you order a test, your kit arrives in an unbranded package. The envelope for returning your samples is also unbranded.
EasyDNA also has a clear privacy policy that sets out what the company can do with your data. The privacy policy states that your data is only transferred for the purposes of analyzing your sample and for required legal purposes.
Help and Support
EasyDNA offers customer support from 9AM-4:30PM (ET) Monday-Friday.
How to Contact EasyDNA
You can get in touch with EasyDNA by phone, email, or live chat. You can also request a callback if you don't want to wait for an agent. We were able to get in touch with a support agent within a minute using live chat.
Are FAQ Pages Available on EasyDNA?
EasyDNA has a thorough FAQs page that covers most common questions about what testing kits include, how to collect a sample, and how to interpret your results. The EasyDNA website also has a glossary that explains common terms used in DNA testing.
How EasyDNA Compares to Other DNA Testing Companies
Here's how EasyDNA stacks up against other DNA testing providers:
Analyzing your family tree
Screening for genetic cancers
EasyDNA vs. MyHeritage
Whereas EasyDNA offers a wide variety of DNA tests for different purposes, MyHeritage focuses solely on ancestry tests. MyHeritage stands out for its family-tree-building tools and integrated database, which can help you find relatives around the world.
MyHeritage charges only $89 for an ancestry DNA test compared to $169 for the GPS Origins test at EasyDNA. However, a subscription to the tree-building tools at MyHeritage costs $299 per year.
EasyDNA vs. HomeDNA
HomeDNA offers the same GPS Origins ancestry test as EasyDNA, but charges $199 for its test compared to $119 at EasyDNA. However, HomeDNA also offers region-specific tests for Africa and Asia, which provide more detailed results about your ancestors' exact geographic distribution.
EasyDNA vs. LetsGetChecked
LetsGetChecked offers a wide variety of health screening and general wellness tests, only a few of which are DNA tests. The DNA tests that LetsGetChecked offers focus on hereditary cancers as well as genetic markers for diabetes and heart disease. Unlike EasyDNA, LetsGetChecked does not offer tests for ancestry, paternity, or animal DNA.
Is EasyDNA Worth It?
EasyDNA offers a wider range of DNA testing kits than most competitors, including paternity tests, ancestry tests, pet DNA tests, and health tests. EasyDNA also stands out if you have non-standard samples to test for DNA, such as cremated remains or hair samples.
One drawback to EasyDNA, particularly for ancestry tests, is that you do not get access to your raw DNA sequence data. EasyDNA also does not have a database to find relatives or build a family tree, and it is difficult to use another ancestry analysis service without having your raw sequence data.
Overall, EasyDNA is a good choice if you want a one-stop shop for a variety of DNA tests. The company's tests are affordable, and you can get results in less than 5 days.