HomeDNA Visit Site
HomeDNA at a Glance
Types of Tests and Kits You can Get from HomeDNA
HomeDNA offers a variety of at-home DNA tests. While all of them can provide information about your ancestry and genetic profile, certain tests provide very specific results, while others emphasize health-related genetic factors or paternity. There are even some for pets.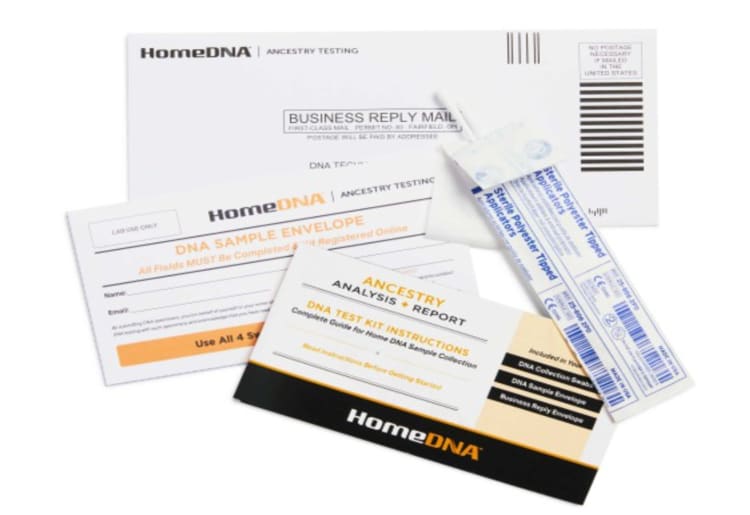 GPS Origins® Ancestry tests
HomeDNA's GPS Origins® Ancestry Test allows individuals to learn more about their genetic backgrounds and family histories. These tests combine in-lab DNA analysis with HomeDNA's proprietary algorithms to reveal specific, subtle details about your ancestral origins. This includes information about your ancestors' migration patterns, cities of residence, and even the times and places where they may have crossed paths to create your genetic signature.
Region-specific tests
If you're of African or Asian descent, HomeDNA has region-specific tests that can offer you even deeper insights about your heritage. These tests compare your genetic profile to gene pools and ancestry markers located exclusively in Asia or Africa, helping you to gain a better understanding of your ethnic background.
GPS Origins® Ancestry Test | African Edition
GPS Origins® Ancestry Test | Asian Edition
Paternal and maternal lineage tests
HomeDNA's parental lineage tests help you trace your ancestry back via either your biological mother or father. Mitochondrial DNA (mtDNA) is used to determine your ancestry via your maternal line, while Y chromosomal DNA (Y-DNA) is used to trace your ancestry back using your paternal line.
DNA Origins® Maternal Lineage
DNA Origins® Paternal Lineage
General ancestry tests
If you're just getting started with genetic genealogy and don't want to spend a fortune, HomeDNA's Starter and Advanced Ancestry tests can provide you with more general genetic information without breaking the bank. These test kits include information up to the continental or regional level, but do not pinpoint your exact ancestral origins.
HomeDNA™ Starter Ancestry Test—The Starter Test uses 100 genetic markers and shows you percentages from your past for each of Europe, Indigenous America, East Asia and Sub-Saharan Africa. It also shows you the locations where more people have DNA like yours.
HomeDNA™ Advanced Ancestry Test—The advanced test analyzes approximately 80,000 autosomal markers to provide a more detailed breakdown of your gene-pool percentages and a more precise geographical pinpoint of your origins. You'll also get to see migration routes for both your maternal and paternal lineage.
Health tests
HomeDNA's health tests shed light on your genetic profile and how it affects your health. For example, perhaps you may be sensitive to certain kinds of foods, or maybe some forms of exercise are more effective for you than others.
HomeDNA™ Food & Pet Sensitivity
HomeDNA™ Skin Care
HomeDNA™ Healthy Weight
Paternity tests
The HomeDNA™ Paternity Test can help you meet court-ordered obligations, resolve family and child support disputes, or regain custody of your child. If this is a time-sensitive issue and you're in urgent need of a test, HomeDNA can also expedite this test for you at an added cost.
Pet tests
HomeDNA's collection of tests for pets allow you to test your four-legged, non-human companions. These DNA tests for both cats and dogs can provide owners with diet and health-related information about their furry friends.
Mixed-Breed Dog Identification DNA Test and Life Plan™
Cat DNA Health Screen and Life Plan™
Dog DNA Health Screen and Life Plan™
Other Features at HomeDNA
HomeDNA offers neither free nor paid family tree research services. However, HomeDNA does allow you to use other brands' DNA test kits for precise insight into where their ancestors are from.
GPS Origins® Algorithm
Using test kit results from either Ancestry.com®, FamilyTreeDNA.com®, or 23andMe.com®, you can use HomeDNA's GPS Origins® Algorithm service to pinpoint your ancestral origins to a high degree of accuracy. In some cases, the algorithm can determine your ancestry down to a specific town or city. If you had ancestors in multiple cities, the algorithm can also highlight the migration routes your ancestors took. Additionally, it can identify the time and location where your ancestors met to form your genetic line.
HomeDNA's GPS Origins® Algorithm service costs $39.99, and requires DNA test kit data uploaded as a .ZIP or .GZ file.
H2: Is HomeDNA Safe and Reliable?
HomeDNA handles confidential information securely, and will not sell or share your personal genetic information to third parties. However, the company may aggregate and anonymize your data and use it for product development and marketing purposes. Additionally, your private test results will be permanently stored online in a secure manner. You can find more information on HomeDNA's privacy practices via their Privacy Policy
and Terms of Use
.
How HomeDNA Works
How to Get Started With HomeDNA / How to Sign Up for HomeDNA
The sign-up process
HomeDNA's sign-up process is automatic. When checking out for the first time, you'll be prompted to create an account. If customers don't choose to create an account then, they will be asked to create an account when it comes time to register their kit. Customers will need to complete this step once their kit is delivered to their home.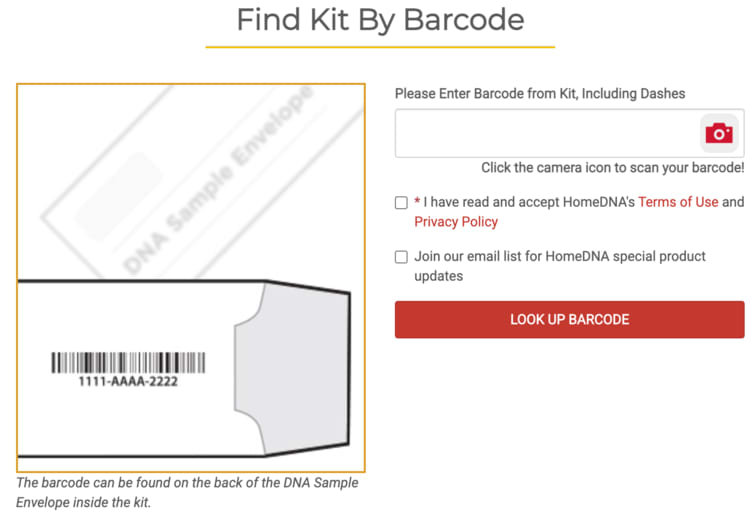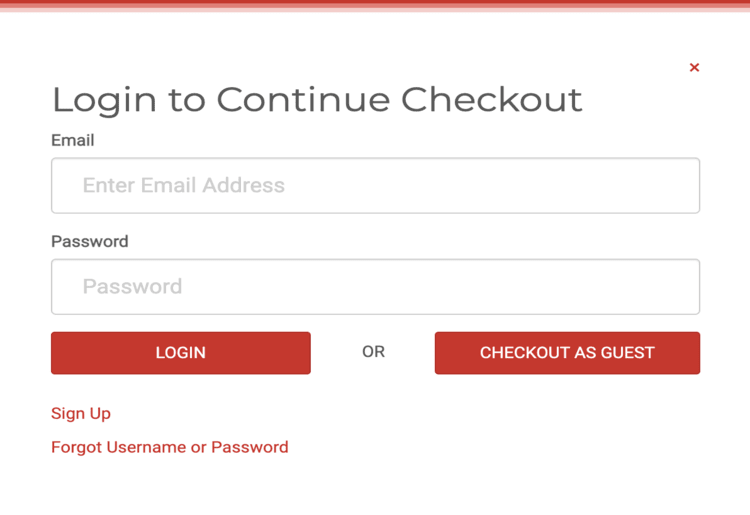 What's in the box?
Each test kit contains:
An instruction manual
4 cheek swabs for DNA collection
An envelope for securing DNA samples
A prepaid envelope for mailing samples to the lab (only for U.S. customers)
How to Collect your DNA Samples
DNA samples should be collected using the cheek swabs provided by the kit. First, remove the swabs, taking care not to contaminate the tip of the swab. Next, place the swab against the inside of your cheek and scrub vigorously, as if you were brushing your teeth.
Do this for 30 seconds, rotating the swab as you do so in order to collect as many cheek cells as possible. When this process is complete, deposit the swab into the DNA sample envelope.
Repeat this process for the remaining cheek swabs. When all swabs have been deposited into the sample envelope, seal it to prevent contamination. Place the sealed envelope into the prepaid envelope. Finally, seal the prepaid envelope and deposit it into the mailbox.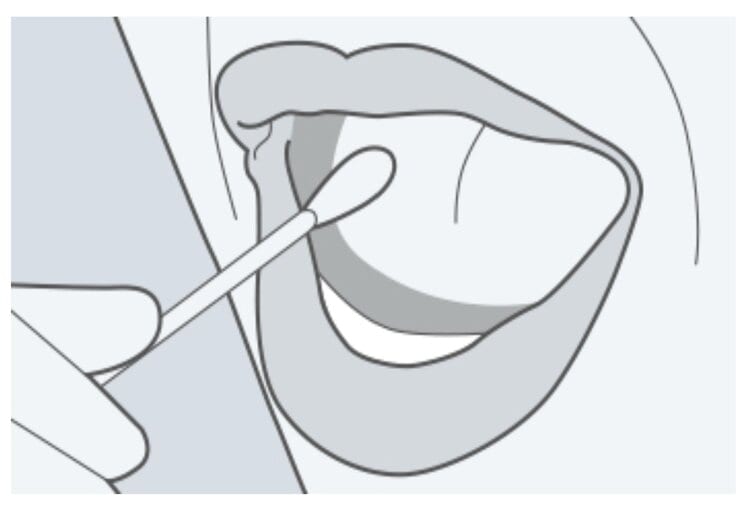 Getting The Results
Once you purchase and receive your test kit, you should register it by submitting the barcode number printed on the outside of the kit to HomeDNA's website.
Once you collect DNA samples and mail them back to the lab, you should receive results within 6 weeks. If you're using the HomeDNA™ Paternity Test kit, you'll receive results within 2 business days, and can pay a fee for 1-day or same-day turnarounds.
Results will be available online and can be accessed by logging into your HomeDNA account, clicking on My Accounts, and then navigating to the Results tab.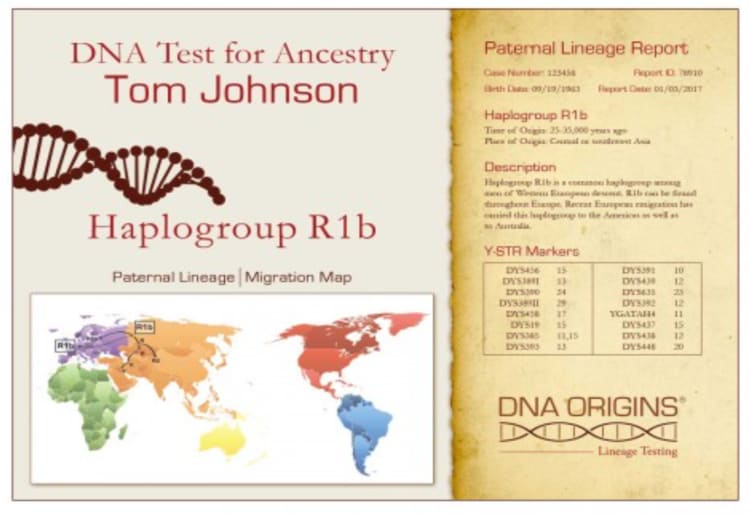 Your results are interactive. Customers who have purchased a GPS Origins® kit will receive results that contain information about their ancestors' geographical origins and their migration histories for as far back as 1,000 years. Moreover, these results are very detailed and can pinpoint your ancestral origins down to a particular city or locale. Additionally, you will receive information on your personal DNA signature, a group of genes that are unique to you.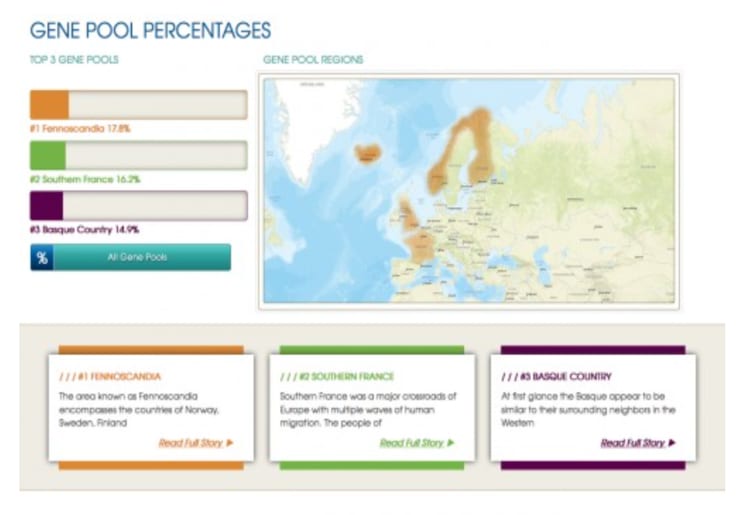 Customers who have purchased a HomeDNA™ Starter Ancestry Test or HomeDNA™ Advanced Test kit will receive broader results that include ancestral data down to the continental or regional level.
The accuracy of your results will largely depend on you and your biological parents' genetic profile. Results will be most accurate if both of your biological parents have Western European ancestry and neither are of mixed race. On the other hand, if your parents are of mixed race, or if certain genetic mutations are detected, your results may be less reliable.
For more information, scroll to the bottom of this page, click the "FAQs" tab, and select "How accurate is the test?"
HomeDNA Customer Support
How to contact HomeDNA
Customers can contact HomeDNA's support team via an online form here or by emailing customersupport@homedna.com. You can also call 1 (800) 281-2916 from 8AMm to 5PM Eastern time between Monday and Friday.
Are FAQ pages available on HomeDNA?
HomeDNA's website contains a large number of FAQs that thoroughly address both general questions and product-specific questions. The general FAQ can be accessed here
, while product-related FAQs can be found by navigating to a specific product, scrolling towards the bottom, and clicking on the FAQ tab.
HomeDNA Pricing
How Much Does HomeDNA Cost?
HomeDNA's range of DNA tests come at a variety of price points. Shipping is always free, and only one of their offerings includes extra fees—the HomeDNA™ Paternity Test.
This test can be purchased from any nationwide retail pharmacy chain, and exact pricing will depend on the retailer. HomeDNA charges a $139 lab fee to analyze samples on top of the retailer's price. For an additional unspecified fee, paternity kit results can be expedited if 1-day or same-day results are necessary.
Pricing for HomeDNA's test kits
GPS Origins® Ancestry Test
GPS Origins® Ancestry Test | African Edition
GPS Origins® Ancestry Test | Asian Edition
HomeDNA™ Starter Ancestry Test
DNA Origins® Maternal Lineage
DNA Origins® Paternal Lineage
HomeDNA™ Advanced Ancestry Test
HomeDNA™ Food & Pet Sensitivity
Variable retail price + $139 lab fee + optional fee for expedited results
Overall, HomeDNA's test kits range from $69 to $199. These prices are roughly comparable to competing offerings, which generally range from $59 to $299.
HomeDNA Alternatives
How Does HomeDNA Compare to Other DNA Tests?
Ancestry/health DNA testing
HomeDNA vs. MyHeritage
HomeDNA offers a larger variety of DNA tests than MyHeritage, including health-related tests, paternity tests, and even DNA test kits for pets. Additionally, HomeDNA offers results that pinpoint your ancestral origins down to the city or town level.
On the other hand, MyHeritage features a rich database of over 16.8 billion genealogical records enabling you to build a free and accurate family tree. The company also offers paid family tree subscription plans that unlock access to premium features, making MyHeritage a good choice for genetic genealogy hobbyists.
HomeDNA vs. LivingDNA
HomeDNA features a wide range of DNA test kits for a large variety of use cases. On the other hand, LivingDNA concentrates its offerings within the health and ancestry categories, and does not offer paternity tests or DNA test kits for animals.
HomeDNA vs. LetsGetChecked
While HomeDNA's results are better for descriptive analytics ("what happened"), LetsGetChecked's health-oriented test kits are more diagnostic ("why it happened") in nature.
Moreover, while HomeDNA's offerings allow customers to learn more about their genetic histories and make changes to optimize their lifestyles, LetsGetChecked is for those who are worried they may have or be at risk for a certain disease, and want to take preventative measures to mitigate the risk or severity of their illness.

HomeDNA Visit Site
Bottom Line
HomeDNA is a technology-enabled DNA test kit provider that offers a wide range of at-home test kits that are priced on par with the broader market. It's one of the only DNA kit providers to offer kits for a wide number of use cases, and can be useful for a large number of people—ranging from those who need a quick paternity test, to others who want to find ways to better their lifestyles and improve their health.
Additionally, HomeDNA's GPS Origins® Ancestry Test kits provide detailed results for tracing your ancestral origins down to a precise city or town, a feature that makes the company unique among at-home DNA test kit providers.
In summary, HomeDNA is a good option if you don't mind going without family tree-building services and instead want the convenience of relying on a single provider for most of your DNA-testing needs.