In a Nutshell
International Biosciences offers a broad range of DNA testing and paternity testing services. It works with accredited labs around the world to provide you with the best service, and though its tests are not the cheapest on the marketing, they're high quality and very accurate. The company even has a quality assurance program in place in order to provide you with the most accurate results.
pros
Quick and painless testing
Data analyzed by accredited labs
High-level customer service
cons
Not the cheapest on the market
NY residents can only use some tests for legal purposes

International Biosciences Visit Site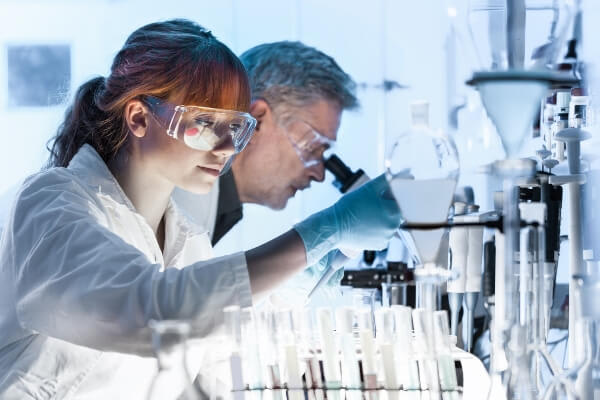 Ideal For
Pregnant women
New immigrants looking to prove family relations
Families needing DNA testing for court requirements
Why Go With International Biosciences
Reliability of test results is critical when using a paternity test, and International Biosciences goes above and beyond what competitors offer to ensure its tests are accurate. The tests check 21 genetic markers against each other to give you the results you're looking for. Compared to other services that only check 10 or 16, this test really goes into depth when analyzing your DNA against someone else's. It also has a quality assurance program in place to make sure each test is analyzed correctly. The program requires that each DNA sample and its results are checked twice to make sure that your DNA test results are accurate.
What's on Offer
At-home paternity testing
DNA collection requiring a cheek swab
Testing done in accredited labs
Results in 3-5 working days
More Reasons to Choose International Biosciences
After sending your DNA samples to the lab for testing, you will receive the results 3-5 days later. Your results will be given to you as a DNA test report, which shows a link, or lack thereof, between family members. The results have an IBDNA guarantee, which means that your results have been processed under the strictest industry standards to ensure the highest level of accuracy. To do this, IBDNA has partnered with one of the world's leading labs. The lab has a lot of experience in the field, and handles thousands of samples a year. For these reasons, you can be sure that you're getting a top quality test and accurate results.
Ease of Use
To get started with International Biosciences, you'll first need to choose the best DNA test kit for your needs. Many different kinds of tests are offered, from animal and ancestry tests to prenatal. Some of its most popular tests are its paternity tests, which include a home paternity test, a prenatal paternity test, a legal DNA test, and an immigration DNA test. After selecting the test, you'll be required to answer some questions meant to ensure you're ordering the test for the right purpose and that the one you're ordering will suit your needs. Questions include:
How many fathers will be tested?
Is the mother going to be tested?
How many children will be tested?
After placing your order, you'll receive the at-home kit with comprehensive instructions for collecting a DNA sample using a painless cheek swab. Before sampling, make sure that you don't drink tea or coffee, or use tobacco products for 4 hours prior, as it may ruin the samples. You should also wash your hands and rinse the applicant's mouth with warm water 3 times.
Remove 1st swab from its packaging
Fill out the required forms, making sure to clearly complete and sign the details
Complete the consent forms
Collect cells by rolling the tip of the sample collection swab against the inside of the right cheek
Repeat process for the same individual with the 2nd swab on the inside of the left cheek
Allow swabs to air dry
Place swabs in the envelope along with the completed registration forms and send to the lab
You have the option to submit a discrete sample, and will be asked if you're interested in doing so on the product placement page.
Speed of Kit Delivery and Results
After sending in your sample kit, your DNA will be analyzed in an AABB and ISO certified lab by trained technicians. Your DNA sample and its results will be analyzed twice to ensure accuracy and reliability. Once complete, you will receive your results report within 3-5 days. The report may look daunting at first, but International Biosciences makes it fairly simple to understand. It will:
Offer a brief explanation of the numbers on the report
Signal a DNA link between the father and child, or not
Provide you with an all encompassing summary of the DNA samples
The test can be used for peace of mind or court purposes, and can be used by mothers, fathers, or children. Before using any tests, remember:
You must be 18 or over
Only New York state residents can use the paternity tests for court purposes
DNA Collection Kit
DNA Test Type
Autosomal (family DNA)
YDNA (paternal)
Report Features
Customer Support
International Biosciences has an excellent and insightful help section. It offers an FAQ, knowledge base, and writeups on things like understanding your DNA and how DNA testing works. Its FAQ goes into depth and answers more detailed questions like "at what age can a child be tested?" You can choose from various questions and read a quick, to-the-point answer. The help section is broad and covers many categories to answer any question you may have.
If you're looking for a more personal solution, you can reach out to the customer care team, which is available by phone or email. A support number and email address are provided on the site, and if it's outside of operating hours, you can request a call back. All you need to do is fill out an online form and wait for the call. International Biosciences also has up-to-date social media pages where it posts interesting articles and information about DNA testing and its uses.
Pricing
International Biosciences offers 4 different products under the category of paternity testing. The most basic test is the home paternity test that requires a simple cheek swab. The product one level up is the legal DNA test, which can be used for court and legal purposes. The next product is the immigrations DNA test, which is a legal document that can be used to prove family relationships for immigration purposes. The most advanced and therefore the most expensive product offered is the prenatal paternity test, which can be done on a pregnant woman to find out the father of the baby.
Some basic information like personal, shipping, and payment details are required at the time of placing an order. You're redirected to a secure server when it comes time to make the payment.
Bottom Line
If you're looking for a reliable DNA test and various paternity testing options, International Bioscience is your answer. You can choose from a selection of tests including ancestry, animal, and health tests, or take one of its many paternity tests.
Not only does IBDNA partner with some of the best labs around the world, but it makes it its main priority to supply you with accurate results. To deliver accurate results, it has a quality assurance program in place which requires all samples and results to be checked twice.
About International Biosciences
International Bioscience is a fully accredited DNA testing company based in New Mexico. It uses state of the art technology and the latest innovations in the field of DNA testing to give you the best experience and most accurate results. It only partners with accredited labs that have been vetted for their professional standards and positive track records. The company prides itself on being able to provide customers with reliable, quick, and confidential DNA results.

International Biosciences Visit Site
Physical Address
Genesis Center B
3655 Research Drive
Las Cruces, NM 88003, USA
Contact Details
Phone: 1 800 837 1725
Email: info@ibdnausa.com