The field of online therapy has been growing for a number of years. And in addition to having been proven to be as effective as in-person treatments for many mental health indications, it is also substantially more affordable in most cases. These two factors combined make it an ideal solution if you find yourself in self-isolation and unable to get to a regular therapist.
So how much, exactly, does it cost, and who are some reputable providers you can use if you are interested in getting help with your mental health from the comfort of your own home?
Here's a guide to how it works, an approximate cost comparison with traditional therapy, and some recommended options for you to consider.
How Much Does Office-Based Therapy Cost?
The traditional model for delivering therapy is visiting a therapist or licensed counselor at their place of practice.
The cost of online therapy varies according to the provider and their level of experience. The majority, however, will charge between $75-$150 per session, with some top-end providers charging in excess of $200 or $300 for each visit.
The next factor to consider is the frequency of the visits.
Many therapists practicing common modalities, such as Cognitive Behavioral Therapy (CBT) and psychodynamic therapy, strongly prefer to see their patients once a week—some even more. In fact, twice weekly visits are not unheard of.
A typical scenario, in which a patient visits their CBT-based provider weekly at $100 a session, would therefore work out at $400 a month, and approximately $4,800 per year.
How Much Do Online Therapists Cost?
It shouldn't come as a surprise that online therapists charge less than their office-based counterparts. After all, there are a number of expenses, such as office rental, that they do not have to bear. But how much more cost-effective online therapists are compared to their office-based counterparts might come as a surprise.
Here are some of the leading solutions on the market and what their subscriptions cost and include.
1. Talkspace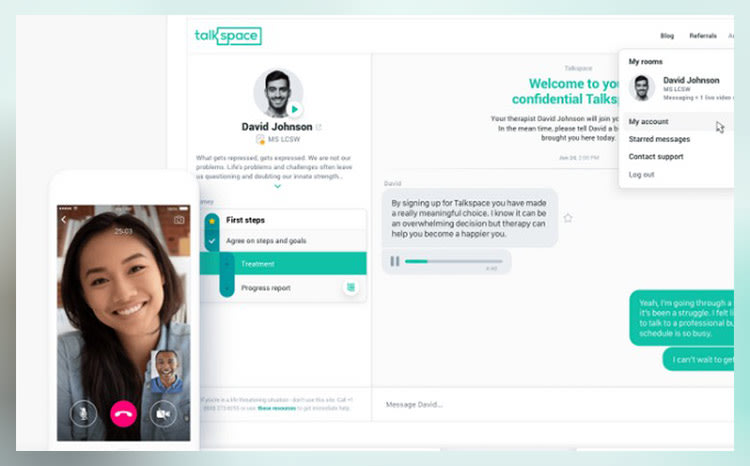 The Unlimited Messaging Therapy Plus plan costs $49/week, which includes text, video, and audio messaging. Therapists respond to messages daily during weekdays. The service is billed as a plan that costs $196/month.
Talkspace's top-tier one-on-one offering, LiveTalk Therapy Ultimate, retails for $79/week and includes text, audio, and video messaging, plus 4 live sessions per month.
Their top-tier offering is couples therapy, which costs $316/month.

Talkspace Get Started
2. Betterhelp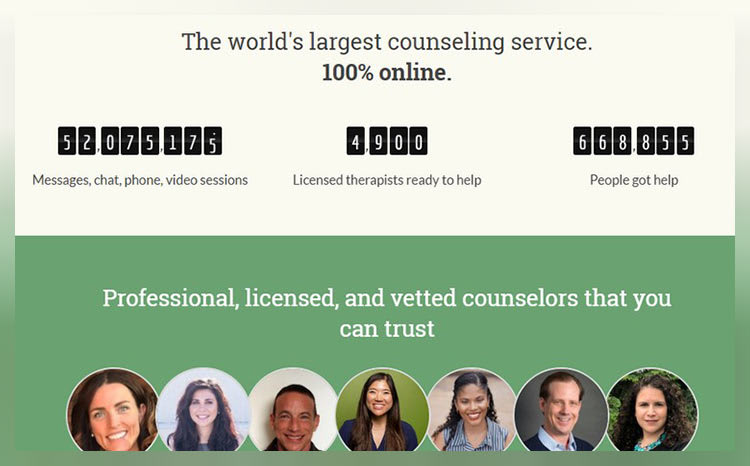 BetterHelp's pricing plans range from $35 to $70 per week. BetterHelp is the largest online counselling platform network worldwide and provides users with access to a wide variety of counselors.

BetterHelp Get Started
3. Faithful Counseling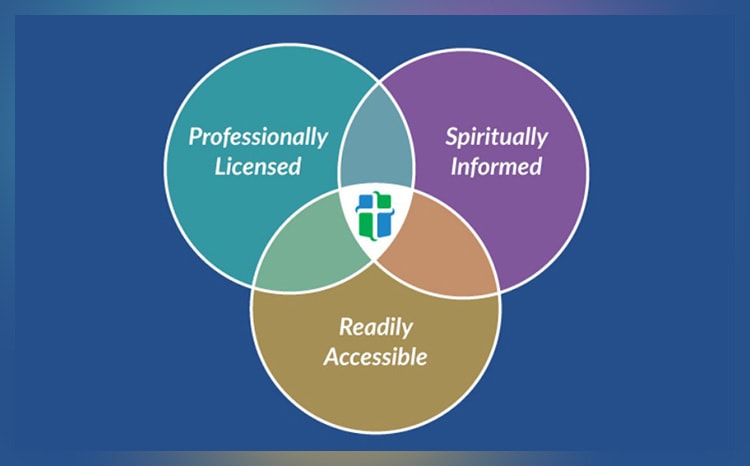 Faithful Counseling's comprehensive full-time counselling service is billed at the rate of $35 to $65 per week when purchased on a monthly subscription basis. Unlike the other alternatives listed, the service is intended for users that want to connect with therapists from a Christian background.

Faithful Counseling Get Started
4. Teen Counseling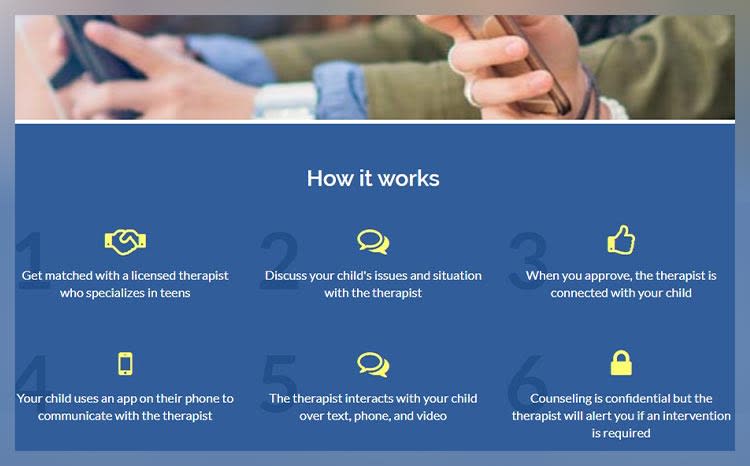 Counseling on the TeenCounseling platform is based on a flat membership structure that covers both use of the platform as well as unlimited counselling for both parent and child. The flat rate covers all messaging, chats, phone calls, and video sessions.

Teen Counseling Get Started
5. 7 Cups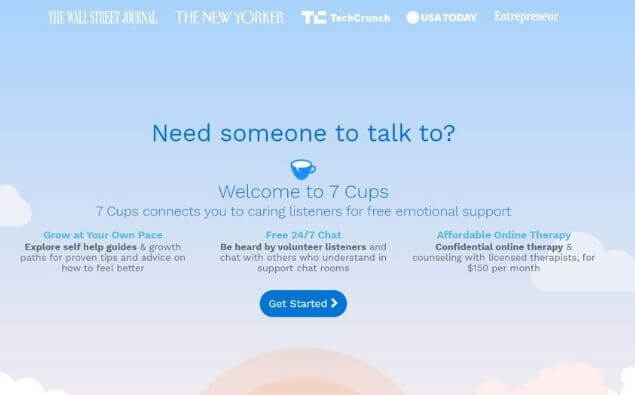 7 Cups costs $150 per month, which includes unlimited access to a therapist. Although the service is best known for its community helper section, it does also offer a wide-ranging network of professional therapy clients as part of its premium service.
How Much Can You Save With Online Therapy?
Clearly the monetary cost savings of online versus in-person therapy are quite substantial, but when you consider what the plans of the leading service providers include in their offer, it looks like an even better deal.
Specifically:
Unlimited sessions—over many channels of communication
Online therapy providers are able to utilize the full plethora of communication technologies that are available to them as digital providers, including instant messaging tools, voice calling services, and even video chats.
Web-based providers can afford to hire large teams of therapists and, by allowing them to work remotely in a location that suits them, the result is often that they are more accessible (through multiple channels) to their clients' needs.
Many of the providers do not enforce limits around the kinds of hours that their therapists operate and even guarantee same day responses via one of their supported communication methods.
When you compare this with the structure of traditional in-person therapy—in which patients have to visit their provider at a fixed location, at a fixed time, and cannot communicate follow-up questions until their next appointment—the value of online therapy rings even clearer.
Commuting costs
Another factor to consider is that being able to access therapy from the convenience of your own home (or hotel rooms) means that you do not have to take time out of your day to commute to the therapy provider's location. For those living in busy urban areas that need to access a specialist skilled in treating their specific position, this can be a major limitation of traditional models.
But Does it Work?
If you're considering online therapy, you'll want to know how its effectiveness compares to that of "offline" sessions.
The good news is that the research is largely positive, although it's worth noting that some types of therapy (such as eye movement desensitization and reprocessing, also known as EDMR) cannot currently be conducted via online means.
The research indicates that online therapy can be just as effective as its in-person-based counterpart. In general, cognitive behavioral therapy (CBT), considered the gold standard treatment methodology, has been found to be equally effective whether it is facilitated in-person, over the phone, or even through an instant messaging platform, for many mental health conditions. For those that are concerned about how e-therapy compares, therefore, there isn't cause for concern.
E-Therapy Is An All-Round Cost-Saver
For those in need of therapy to treat a mental health condition, it's hard to find fault with online therapy methods. Research shows that the treatment is typically as effective as when it is delivered face to face and the cost savings, from multiple perspectives, speak for themselves.