In a Nutshell
Online-Therapy.com offers more than just weekly sessions with a counselor. Its platform hosts a range of interactive worksheets, self-help assignments, and a journaling platform to guide you through its program. All communication is completely secure and confidential, and its pricing is competitive compared to other online therapy providers. As such, Online-Therapy.com is an easy recommendation for those who are looking to get online help.
pros
Competitively priced compared to other providers
Choose your therapist and switch anytime you want
Additional tools such as interactive worksheets
cons
Not covered by insurance
No way to receive prescriptions via its platform

Online-Therapy.com Visit Site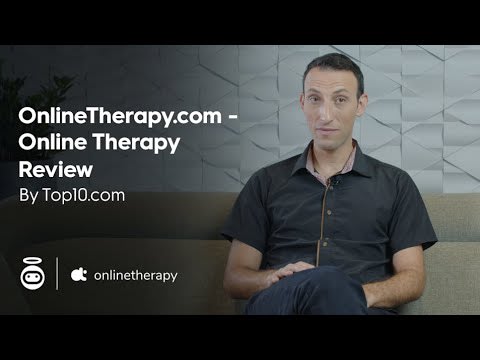 How Much Does Online-Therapy.com Cost?
Online-therapy.com offers four subscription plans that are paid on a monthly basis and cost from $40 to $88/week. The lowest-cost plan, however, doesn't include live therapy sessions. Weekly therapy sessions are included in the Standard plan, which costs $64 per week, and higher tiers.
Unlimited messaging, self-help videos, CBT program, worksheets
One 45-minute session per week, unlimited messaging, self-help videos, CBT program, worksheets
Two 45-minute sessions per week, unlimited messaging, self-help videos, CBT program, worksheets
One 45-minute session per week, unlimited messaging, self-help videos, CBT program, worksheets
Is Online-Therapy.com Covered by Insurance?
Online-Therapy.com does not support any insurance provider natively on its platform. It also doesn't offer financial aid beyond insurance.
Your costs may be reimbursed based on your insurance plan. Online-Therapy.com provides you with receipts for all provided services, which you can forward to your provider to see if they offer partial reimbursements. Get in touch with your provider to find out for sure.
Online-Therapy.com does accept Health Savings Account (HSA) and Flexible Spending Account (FSA) cards. The platform did offer free access to its services during the pandemic, but that offer is no longer available.
Are Online-Therapy.com Counselors Licensed Professionals?
All counselors at Online-Therapy.com are required to hold an MA, MS, MSW, PsyD, or PhD in counseling, social work, clinical psychology, or related mental health areas. In addition, all its counselors are required to have three years of experience providing counseling services. This means that you'll always be paired with a professional with in-depth expertise in whatever you are struggling with.
Every counselor is vetted and interviewed by Online-Therapy.com's team before being onboarded. To verify the credentials of counselors, Online-Therapy.com checks licenses and records of past disciplinary actions and reviews whether therapists are certified by their state's respective professional board.
Online-Therapy.com Specialties and Areas of Expertise
Counselors at Online-Therapy.com are specialized in cognitive behavioral therapy (CBT). In addition, each counselor has specific specialties that will be taken into account in the matching process. Therapists' profiles are displayed on Online-Therapy.com's platform, and they show a wide range of specialties, including the following.
Anxiety

Depression

Family issues

Procrastination

PTSD

Relationship issues

Self-esteem

Panic attacks

Sleep issues or insomnia

Health anxiety

Social anxiety

Stress

OCD

Anger management

Weight loss

ADHD & attention issues

Adoption

Agoraphobia

Alzheimer's

Asperger's syndrome

Autism

Bipolar disorder

Borderline personality disorder

Career difficulties

Therapy for children & teens

Chronic pain

Compassion fatigue

Divorce

Domestic violence

Eating & food disorders

GAD

Grief

Infertility

Intimacy issues

LGBTQ issues

Life changes

Marriage issues

Parenting

Phobias

Postnatal depression

Sex & sexuality

Speech anxiety

Trauma and/or abuse
Online-Therapy.com also offers additional tools to help you. By providing interactive worksheets, a journaling platform, video lessons, and even online yoga sessions, the platform continues to support you even when you don't have a live session planned.
How to Get Started with Online-Therapy.com
Signing up
Signing up for Online-Therapy is straightforward. You'll need to answer a few questions about what you're struggling with, after which you can create an account. Online-Therapy.com requires your name, your home country, and your email address. You are also asked whether you prefer a male or female therapist.
You can remain anonymous if you want to, as Online-Therapy.com doesn't require your actual name, only a nickname. The platform is available in all countries. However, you can only access it if you are older than 18.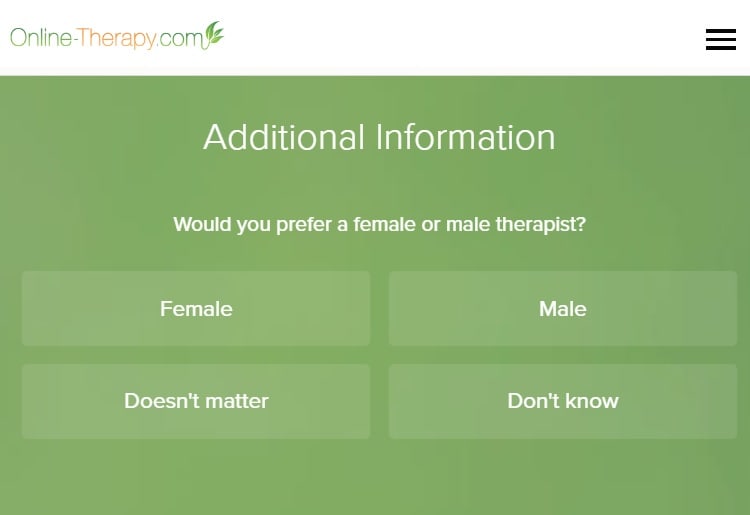 Getting matched with a counselor
After creating your account, you are presented with a list of available counselors based on your preferences. From here, you can view the profile of each counselor and decide on who you prefer.
Each profile contains a short introduction written by the counselor, paired with vital information such as the license type, state of certification, and a complete list of user reviews. The customer reviews are all dated and from real users, showing what people like about a particular counselor.
Changing therapists can be done with a click of a button. At any time, you can return to the counselor selection screen and switch over to another one. You can leave feedback about a counselor once you've completed a session.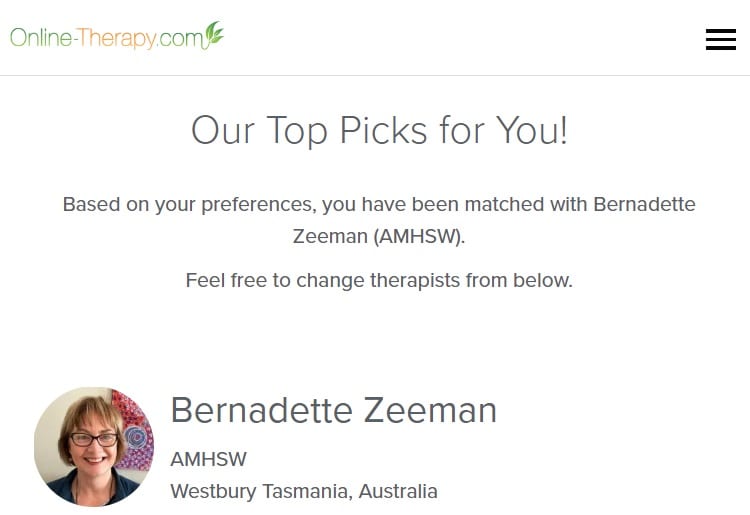 Booking sessions
After selecting your counselor, you're directed to a payment page where you need to select your subscription plan. If your plan includes weekly live sessions, this is where you get to schedule them. From here, you have direct access to your counselor via direct messaging.
You can schedule live sessions by going to your dashboard and clicking on "Live Sessions." When scheduling a session, you can choose if you prefer a video, phone, or chat session. If you miss a session, you can contact Online-Therapy.com's support to reschedule.
Confidentiality and Privacy
The Online-Therapy.com platform is fully HIPAA compliant, so all information you share on the platform is protected and secure. All communication between you and the platform is encrypted. This includes chat, audio, and video calls. On top of that, all your data is automatically deleted after two years, and you can even shorten this period directly from your dashboard in your privacy settings.
Is There an Online-Therapy.com App?
As of writing, Online-Therapy.com doesn't have an app. However, its service has been optimized for smartphones and tablets. This does mean that you always need an internet connection in order to access its platform.
Help and Support
Online-Therapy.com's customer support is accessible via chat or email. As of writing, it does not have phone support.
Online-Therapy's website doesn't show the hours of operation of its support team, but it mentions that you can typically expect a reply within 24 hours. When I sent them a question via email on a Thursday morning, I received a reply a couple of hours later.
Additionally, the website contains a comprehensive FAQ page that covers most questions about its service. While some of the answers are a bit short, I found that most of my questions were answered. There's also a blog that is frequently updated with helpful articles about online therapy.
How Online-Therapy.com Compares to Other Online Therapy Providers
Video, phone, message, live chat
PsyD, LMFT, LCSW/LMSW, LPC
PsyD, LMFT, LCSW/LMSW, LPC
PsyD, LMFT, LCSW/LMSW, LPC
Online-Therapy.com Vs Talkspace
Online-Therapy.com offers weekly therapy sessions at a lower price than Talkspace. However, Talkspace's network includes psychiatrists who are able to prescribe medication, whereas Online-Therapy.com's network does not. Both platforms offer weekly live sessions via video, audio, and chat messages. Unlike Onlike-Therapy.com, however, Talkspace is partnered with some insurance providers, which may lower the cost of therapy.
Online-Therapy.com Vs Teen Counseling
Both Online-Therapy.com and Teen Counseling offer weekly live sessions at a similar price range. These platforms have completely different target demographics. Online-Therapy.com does not provide therapy for people under 18, while Teen Counseling specializes in treating teenagers (aged 13-19). As a result, Teen Counseling's therapy sessions focus more on topics such as bullying, self-image issues, depression, and eating disorders.
Online-Therapy.com Vs BetterHelp
BetterHelp and Online-Therapy.com have comparable offerings. Both platforms are accessible throughout the world and have a network of counselors that are specialized in a wide range of issues. On Online-Therapy.com's platform, you get to choose your own counselor, whereas BetterHelp connects you via its matching process. Both platforms, however, make it easy to switch therapists.
The Bottom Line
Online-Therapy.com professionals use CBT techniques in order to help improve your mental health. Its platform offers weekly sessions, direct chat messaging with your counselor on most plans, and interactive worksheets in order to treat your symptoms. It also offers yoga video sessions and the ability to keep an online journal.
Its services are not covered by insurance, and you cannot get a prescription for medication. Still, it is a more affordable option compared to similar online therapy providers, and its platform is fully confidential and secure. With its vast network of counselors, Online-Therapy.com will likely be able to connect you with a therapist who specializes in the type of treatment that you need.