In a Nutshell
With honorable mentions from major media outlets like Fox News, The Wall Street Journal, and CNN, Talkspace comes credibly backed as being one of the best online counseling services out there. Whether it's the unlimited chat feature, the professional therapists you're working with, or the ease with which the whole system runs, Talkspace has been making it easy to get therapy for those who need it.
pros
Switch therapists at no extra cost
Flexible payment plans that fit your budget
Unlimited messaging therapy
cons
Not all therapists will be the right fit
No true free trial
Talkspace Visit Site
Talkspace Video Review - 10 Reasons You Need to Try Talkspace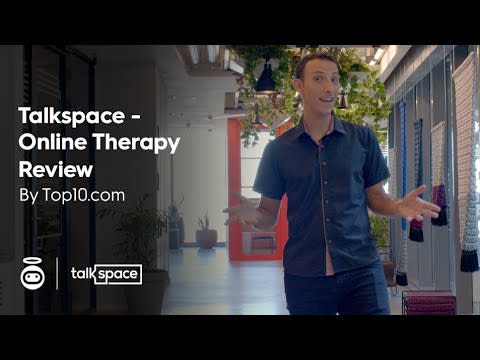 Therapist/Counselor Screening Process
Talkspace employs more than 5,000 therapists that hold a variety of degrees from PhDs to PsyDs and beyond. Every counselor has been personally screened including background checks and is required to meet professional standards such as:
Minimum of 3 years of hands-on counseling
Licensed in their respective states (highest clinical license in the area)
Professional malpractice liability insurance
Talkspace also provides continued training for its therapists and has periodic testing to maintain high levels of professionalism and quality of service. The Talkspace service itself is completely HIPAA compliant and uses SSL encryption to ensure maximum safety and confidentiality for all its clients.
Get Help With
Talkspace sessions cover the spectrum of issues that people experience from infrequent questions or issues to major disorders and debilitating problems. Some of the topics frequently covered with Talkspace therapists include:
Addiction counseling and substance abuse
Anger management
Anxiety
Career counseling
Conflict resolution
Chronic impulsivity
Depression
Divorce Counseling
Eating disorders
Educational assessments
Family counseling
Grief counseling
Health management
Intimacy issues
Reproductive Health/Postpartum
Sleep disorders
Self-esteem issues
Social behavior issues
Stress counseling
Trauma and abuse counseling
Couples counseling
Teen counseling
Types of Sessions Available
Talkspace offers text, voice, media, and live video sessions. Clients can choose the method that is most comfortable and convenient for them. Most sessions are conducted in a chat room setting because this is a quick and easy way for the majority of people today to communicate. You can send a message to your therapist and receive an answer in an easy, non-confrontational, and relaxed atmosphere.
Talkspace has an excellent mobile app (iOS and Android), so chatting is as easy as using any other type of messaging app you have on your phone. This forum is the most convenient and organized to get answers and solutions to your current problems. Just like with other SMS services, you'll be able to view your chat history, so you can review details of your chat, questions you've asked, and answers you were given. This makes the therapy process much easier to process, remember, and go back to when you need it.
Pricing & Special Offers
Talkspace has 3 plans to choose from depending on your needs and budget. If you really need live sessions to get you through the week, then the LiveTalk plan is best for you since it provides 4 monthly live sessions. Otherwise, if you just need someone to talk to, one of the unlimited messaging plans will work great. Here's a look at the plans available:
Messaging Therapy Premium
LiveTalk Therapy Ultimate
Unlimited text, video, audio messaging
Guaranteed daily responses 5 days/week
Unlimited text, video, audio messaging
Guaranteed daily responses 5 days/week
1 live video session/month
Unlimited text, video, audio messaging
Guaranteed daily responses 5 days/week
4 live video sessions/month
Talkspace also offers a discount on couples' therapy for $79/week or $71/week for a 3-month plan. This is helpful if you are having difficulties in your relationship and want to get counseling together. Clients can cancel their plans at any time.
There is no free trial, which is a bummer, but there is something just as good. Talkspace gives you a free consultation to assess your situation and help match you with the best counselor for your needs. In this consultation you can ask as many questions as you'd like, chat as long as you'd like, and get a good idea of how the Talkspace service works.
What's Unique About Talkspace?
Talkspace is recognized as an industry leader in the online counseling field, and that's due in part to the professional therapists it employs. Additionally, Talkspace has some excellent features that really create a winning experience for everyone, including:
Fast and convenient (no wait time)
Talkspace specialists are available at all hours of the day or night. You can message your therapist 24 hours a day, 5 days a week. You can quickly send off a text message and receive an answer to the important issues you're struggling with right now (therapists are meant to respond daily). This is one of the reasons it has such a high success rate. Deal with the issues quickly, get resolution faster. And since your therapist is always just a text message away, it eliminates all wait time.
One of the biggest things stopping people from getting the therapy they need is finances. Long sessions spread out over weeks, months, or even years can seriously drain your bank account, and most people can't afford that kind of investment. Talkspace's unlimited chatting takes care of this issue. You can send your therapist unlimited chats whenever you have a question, or an issue arises. You aren't charged more for each message, so you won't feel inhibited from speaking your mind or asking those burning questions.
Unlimited chatting ensures you say what needs to be said without the stress of money holding you back. It makes the entire therapy process a lot more affordable. Essentially, Talkspace is putting therapy into the hands of people who need it the most by removing this major barrier.
IBM is a machine learning algorithm that helps pair you with the ideal therapist for your personality and therapy needs.
Talkspace has therapists that specifically deal with teens and the issues that are unique to this stage in life. Speaking their language and talking about their issues, teens are able to open up, feel comfortable, and get the much-needed advice, support, and assistance during this difficult stage of development.
Talkspace also has professional emergency resources on the site in case you or someone you know needs them. Direct connections to Suicide Prevention Lifeline, Family Violence Helpline, and Planned Parenthood are a few of the invaluable resources you can reach through the Talkspace network.
What Our Expert Says About Talkspace
As online therapy gains so much popularity, Talkspace is one of the leading contenders as a HIPPA-compliant site that offers a variety of ways to be in touch with experienced therapists on an extremely user-friendly platform. With over 5,000 licensed therapists, Talkspace therapists utilize a number of therapeutic approaches in their work with individuals, couples, and teens. The LiveTalk Unlimited Package offers 4-30 minute video sessions and unlimited messaging for people who want the most out of the therapy experience. Members who don't want live sessions can opt to pay less for unlimited text, video, and audio messaging. This is a nice touch that not all sites offer. This makes Talkspace even more marketable to consumers who want to be able to access therapy privately and conveniently. It is a wonderful site with so much to offer those who are ready to delve into the therapy process.
What Users Are Saying About Talkspace
Michael Phelps, world-renowned swimmer, turned to Talkspace to help him through his struggle with depression, and he's got a lot to say in praise of this service and how much it helped him gain strength, confidence, and peace of mind. Here's what other Talkspace clients have to say about their counseling experiences:
"I'm so glad I gave this a chance… The advantage of this format is that I truly do not feel alone. At any time of place I've got my therapist in my phone, just a message away." - Sept 2014
"Talkspace has been a godsend. They matched me with an amazing therapist who genuinely seems interested in me and my problems." - July 2015
"I spent 7 days with a therapist who only knew me via text message—and I might never go back to traditional therapy again" - Business Insider
Scheduling Live Chats/Video Chats
Depending on your plan, you can schedule a live chat with your therapist. This works on an individual basis as each therapist makes their own schedule. Every Talkspace therapist has 2 days off a week, so you need to speak to your therapist directly to discuss scheduling times. In general, though, all therapists are pretty flexible and eager to work with you to accommodate your needs.
Talkspace Visit Site
Customer Support
Talkspace offers customer support during regular business hours for technical and non-counseling questions via phone and email.
Bottom Line
Talkspace has so much to offer the general public, but its biggest benefits to you are its affordability, accessibility, and professionalism. This online counseling service provides expert therapy to people struggling with real-life issues and helps them work through those issues, so they can continue to lead a healthy, well-adjusted life. With affordable plans, Talkspace even helps those who can't afford more traditional forms of therapy get the counseling they need. Speak with a qualified therapist from Talkspace today, and feel the relief of professional assistance at last.