Talkspace Visit Site
Overview
Talkspace Online Therapy Services Video Review
Watch Top10's Talkspace video review to learn everything you need to know about how their Online Therapy Services work.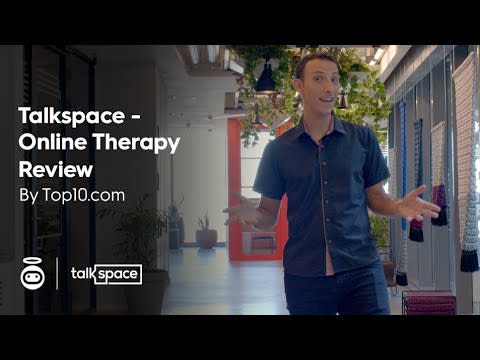 Talkspace at a Glance
How to Get Started with Talkspace
Signing up
Signing up for Talkspace is extremely easy and takes around five minutes. Simply go to their homepage and click on Get Started in the top-right corner. The site will ask whether you'd like therapy as an adult, couple, or for your teen. You'll then need to enter some personal details, such as your name and email address. Next, it'll present you with a brief consultation questionnaire that asks for details about your current situation, such as whether you are experiencing any relationship or emotional difficulties.
You'll then be prompted on whether you'd like to pay out of pocket, through your insurance, or through your work organization. If you select either of the latter two options, you'll need to provide your details for verification. Afterward, you'll be asked which of the three payment plans you'd prefer, and then proceed to the payment screen.
Talkspace does not ask any questions to discern whether your current difficulties are an emergency and prevent you from signing up.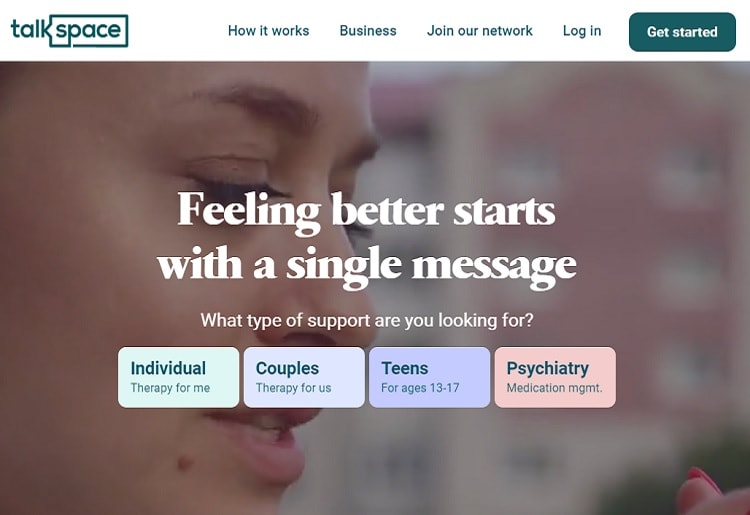 Getting matched with a counselor
The matching process begins as soon as you have paid for your plan. The platform uses your responses to the consultation questions asked during the signup process to match you with a practitioner who has sufficient experience in your areas of difficulty. It also takes into account your preferences for a therapist, such as whether you'd like a male or female therapist.
You don't choose a therapist for yourself, nor can you browse from the therapists available. As such, it's very important to answer honestly during your initial consultation so that Talkspace can accurately connect you with the support you need.
Once the matching process has selected a therapist for you, Talkspace will send you an email. You'll now be able to see your therapist's profile, including their short biography and areas of expertise, when you're logged in to Talkspace. However, if you feel you and your therapist are not the right fit, you can request a new therapy provider at any time, free of charge.
Booking sessions
After you match with a therapist, the Talkspace website will now act as a portal to your therapy "room," a private and secure space you share with your support provider. To book a session, click on Book a Session at the top of your room, select a date and time, and then choose between video, audio, or live chat.
To reschedule or cancel a session, click on the Tools on the left-hand side of your therapy room, then Live Session, and then either reschedule or cancel a session. You have up to 48 hours before your session for rescheduling and cancellation if you want to retain your session credit.
Confidentiality and Privacy
Talkspace is HIPAA compliant and all messages sent between you and your therapist are fully encrypted. This means everything you share, including within your therapy room and during live chat sessions, is private and confidential. However, your therapist is obligated to share details with your emergency contact if you show signs of the need for emergency intervention.
How Talkspace Works
Features and Functionality of Talkspace
Are Talkspace Counselors Licensed Professionals?
All therapists at Talkspace are licensed, accredited professionals who have, on average, nine years of clinical experience. Talkspace extensively evaluates each therapist to ensure they possess valid licensure and training to meet healthcare requirements before they provide counseling.
All therapists are qualified in the field of clinical psychology, psychiatry, and/or mental health, possessing at least a clinical degree in psychology (PhD/PsyD), master of science in counseling or psychotherapy (MS), medical doctoral licensure (MD), nurse practitioner license (NP), or a masters license in marriage and family therapy (LMFT), independent clinical social work (LICSW), mental health counseling (LMHC), or professional counseling (LPC). They also need to have a signed and submitted Council for Affordable Quality Healthcare application and an individual professional malpractice liability insurance policy.
Talkspace Specialties and Areas of Expertise
Talkspace online therapy can cover a wide range of mental health difficulties for anyone above the age of 13. Its website states that, collectively, its therapists are trained in over 40 specialties and clinical approaches that can help with issues such as anxiety and stress, depression, grief, addiction, chronic illnesses, and more.
Specific areas of expertise will depend on your therapist and will become visible once you are matched with them by clicking on their profile. Each therapist lists their clinical approaches and then states areas of expertise within the Focus section of their profile.
Here are some examples of Talkspace specialties.
Cognitive behavioral therapy
Psychodynamic therapy
Humanistic therapy
Dialectical behavior therapy
Somatic therapy
Emotion-focused therapy
Exposure therapy
Grief counseling
Mentalization therapy
Talk therapy
Talkspace Teen Therapy
Talkspace has developed an online therapy platform to provide support to teens aged 13-17. It operates with the same functions as the adult therapy system. However, parental or guardian consent is needed before therapy commences. This must be supplied via both video message (verbally) and text message on the Talkspace app to prove that a guardian is present with the teenager to consent. Alternatively, the Talkspace support team can help you with step-by-step instructions within your initial consultation.
To sign up for Talkspace teen therapy, visit the Talkspace homepage and click on Get Started. Select Online Therapy and proceed through various questions that ask for your details. After entering your age, you'll be prompted that you'll need consent from a parent or guardian before engaging in therapy.
From here, you'll be asked questions about your situation to assess what kind of help you need, such as whether you're feeling anxious or stressed. Your responses are used to match you with a licensed therapist with experience in your areas of difficulty. This matching process commences after setting up your payment details and typically lasts 24-48 hours.
You'll receive an email once you have successfully matched with a therapist. When you're logged in, Talkspace will grant you 24/7 access to your own online, private "room" with your therapist. Here, you can view your therapist's profile, book sessions, send messages, and access the tools section in case you want to leave a review or change provider.
The pricing is the same as therapy for adults on Talkspace: $69, $99, or $129 per week. Note that the lowest-cost option only provides messaging therapy services, including text, video, and audio messaging. The $99 option offers you weekly live sessions instead of messaging therapy, while the highest-tier option provides both of these.
Talkspace Psychiatry
Talkspace also offers psychiatry services, but only to those living in the US. Unlike psychotherapy, psychiatry is a branch of medicine and typically does not involve talking therapies such as psychodynamic or cognitive behavioral therapy. Instead, psychiatrists will listen to you and make an educated assessment as to whether you require a diagnosis and/or prescription medication.
Psychiatrists at Talkspace offer a mix of both pharmacological and psychological support, but this is typically more expensive than their counseling services and only lasts up to a maximum of four sessions.
Signing up for Talkspace psychiatry services is very similar to signing up for its therapy services. Visit their homepage, click on Get Started in the top-right of your screen, and proceed through various questions. These questions are designed to help connect you with a psychiatrist with suitable areas of expertise to ensure you receive the right help.
Once you have selected a payment plan and entered your details, the matching process, which typically lasts 24-48 hours, begins. Once matched, you'll receive an email and be able to view your therapist and book sessions after logging in.
Psychiatrist consultations involve learning about you as much as possible, including your medical and psychological history, so ensure you bring a list of current or past medications and hospitalizations. If you're not sure, your psychiatrist can contact your primary care provider for your records. They'll need this information, including any possible laboratory testing, to rule out any medical reasons for your issues, as well as ensure the prescribed medication is appropriate.
Talkspace offers three different one-time payment packages for psychiatric consultation.
60-minute session: Psychiatry - Initial Evaluation
$374 (Current offer: $9 off)
60-minute session: Psychiatry - Initial Evaluation + 1 follow-up session
$624 (Current offer: $59 off)
60-minute session: Psychiatry - Initial Evaluation + 3 follow-up sessions
Talkspace Couples Therapy
Talkspace offers couples counseling to individuals within a relationship, including straight or gay relationships, interracial relationships, young teen or college relationships, and relationships at any stage (dating, engaged, married, etc). Talkspace couples therapy is great for focusing on specific relationship problems, such as intimacy issues or jealousy.
A subsection of Talkspace practitioners is specifically trained in couples issues where the aim is to treat the relationship rather than the individuals separately. To achieve this, they often employ clinical approaches that are solution-focused and change-oriented with a clear establishment of treatment objectives.
To sign up for Talkspace couples therapy, visit the homepage and click on Get Started in the top-right corner, and then Couples Therapy on the next page. The platform will ask you several questions about your relationship, such as what issues you're facing, what your goals for therapy are, and whether you live together. It'll also ask when you are looking to get started with a counselor, to which you can respond that you're ready now, in the next couple of months, or that you're not sure yet.
Once the questionnaire is complete, you'll proceed to the payment screen. Currently, Talkspace has only one payment plan for couples counseling costing $109 per week. This plan includes four 45-minute live sessions per month, text, video, and audio messaging, and guaranteed daily responses five days per week. You can choose to either pay monthly or three months in advance. If you choose the latter, you'll get 10% off your weekly price.
Talkspace couples therapy is especially suitable if you, your partner, or both of you struggle to join live couples counseling together, due to travel, work, or living separately. Joint therapy in person can be difficult to coordinate, so online therapy may be the right fit for you.
Talkspace Apps
The Talkspace Counseling & Therapy app is available for Android (via the Play Store) and Apple (via the iOS store) and is free to download.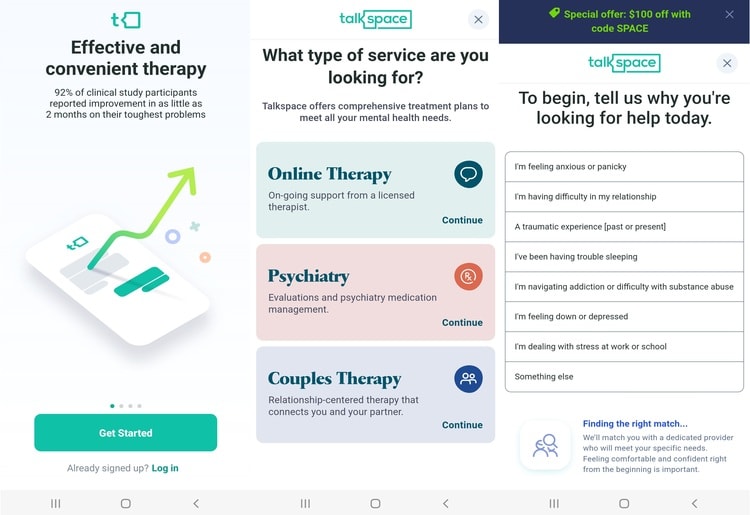 How Does the Talkspace App Work?
I found the Talkspace app very user-friendly and easy to work with. It retains the same features as the website, so you use it can sign up, book appointments, access customer support, and attend your live sessions. Like the website, you can access your therapy room in the app, 24/7, which makes it a great tool if you want to attend live chat when you're not at the computer or send your therapist a message whenever you wish.
Currently, there are no discounts for using Talkspace via the app. It has good ratings, with a 4/5 (4,890 ratings) on Google Play and a 4.7/5 (8,600 ratings) on the App Store.
Talkspace Customer Support
Customer support is available by scrolling down to the bottom of the Talkspace homepage and clicking on Customer Support in the bottom-right of your screen. At the bottom of the next page, click the "Submit a request" button. Here, you'll be asked to enter your details and information on what you need support with.
No information is available as to how long they will take to respond. I sent a support request and received an automated email stating that a member of the Talkspace team would respond shortly and that they were facing slightly longer response times than usual.
Currently, the Talkspace website has no option to contact customer support via email, phone, or live chat. However, they do have an extensive FAQ page that provides information on a range of issues such as therapist qualifications and paying via insurance.
Talkspace Pricing
How Much Does Talkspace Cost?
Talkspace can cost between $69 to $109 per week depending on the plan you choose. It accepts Visa, Mastercard, American Express, and JCB credit cards, and you are billed every four weeks. Currently, Talkspace is offering new users a discount of $100 off their first billing, which is automatically applied on checkout.
You can pay out of pocket, sign up through your insurance, or sign up through your work organization (if applicable).
Messaging Therapy
Text, video & audio messaging
Guaranteed daily responses 5 days/week
Video + Messaging Therapy
4 live sessions/month (45 min)
Text, video & audio messaging
Video + Messaging + Workshops
4 live sessions/month (45 min)
Text, video and audio messaging
Attend weekly workshops
Is Talkspace Covered by Insurance?
Talkspace works directly with many US health insurance plans, including Blue Cross and Blue Shield, Cigna, and Aetna Better Health. Talkspace services are covered by private insurance. To check your eligibility for coverage, navigate to www.talkspace.com/insurance. Alternatively, during the sign-up process, you can check the dropdown menu when asked if you want to pay through your insurance. However, some therapists at Talkspace do not provide therapy if you are paying through insurance, so this may limit your therapist options.
Currently, the Talkspace website does not provide any information regarding reimbursement or partial reimbursement. However, if you sign up and your insurance becomes available, you can check for your coverage by going to your account and clicking on My Coverage.
Talkspace vs Amwell
Video, phone, message, live chat
PsyD, MS, MD, NP, LMFT, LICSW, LMHC, LPC
MD, NP, PsyD, master's level therapists

Talkspace Visit Site
Amwell and Talkspace both connect you with licensed practitioners that offer therapy and can provide prescriptions. The main difference is that on top of therapy, Amwell can offer support for physical ailments with their services, much like a virtual doctor's visit. Conversely, Talkspace focuses solely on psychotherapy. As such, Amwell may be more suitable for you if you want medical attention for general health.
Bottom Line
Talkspace is an online therapy platform that offers mental health support and psychiatry services to adults, teens, and couples. You're matched with a licensed therapist to get tailored support for your needs. Its many therapists average nine years of clinical experience and specialize in over 40 different clinical approaches.
Its affordable and convenient therapy, complete with your own private therapy "room" with 24/7 access, can be great for supporting a wide range of mental health difficulties. It accepts insurance and offers three different plans, ranging from $69-$129 per week, catering to people in a varying range of financial circumstances.